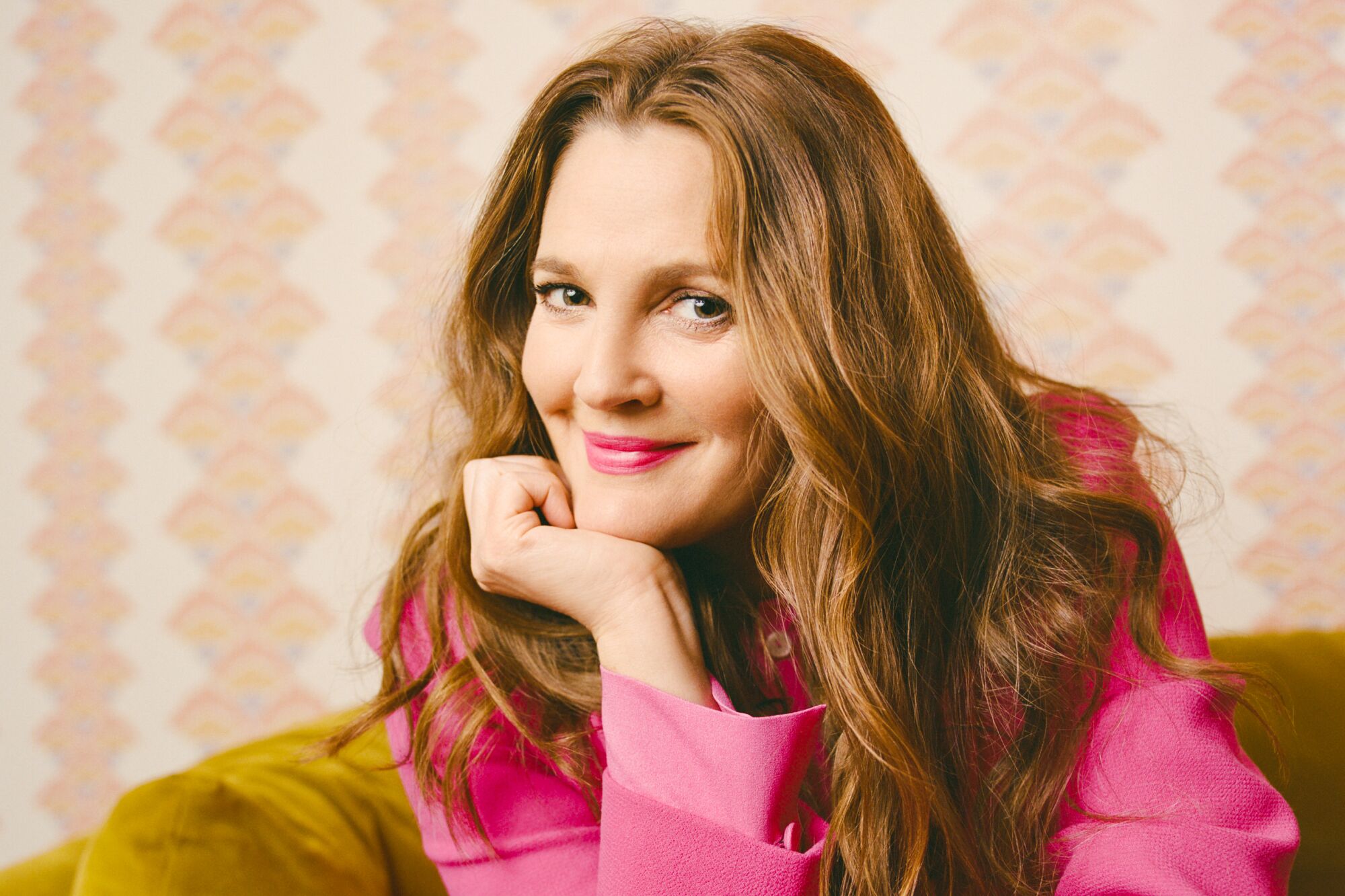 A walk, she decided. That would help. Just some time to process everything.
It was Sunday dawn on the eastern shore of Long Island. Drew Barrymore still had the October morning to herself. But the quiet only amplified her most self-destructive thoughts.
Maybe people were right. Maybe she was annoying. Weird. Wacky. Too much.
That's what the initial feedback had been from the focus groups who'd seen her recent debut as a daytime talk show host. And now this: Just three weeks after "The Drew Barrymore Show's" September 2020 premiere, there was a "Saturday Night Live" skit satirizing it.
She'd awoken at 6 a.m. to a barrage of text messages, and sure enough, there it was on her DVR: Chloe Fineman dressed in a tie-neck blouse, speaking like a Valley girl with a lisp and radiating a cloying level of positivity.
Barrymore watched it once. Anxiety crept in. She left the house.
Who are the people shaping our culture? In her new column, Amy Kaufman will examine the lives of icons, underdogs and rising stars to find out — "For Real."
As she walked by her neighbors' manicured lawns, in the Hamptons, her mind raced through disaster scenarios. If she, Drew Barrymore, was the problem, then her show couldn't be fixed. Her vision of working on a set while raising her kids would evaporate. Something she loved would, yet again, slip away.
Barrymore checked her phone again. Friends, including Jimmy Fallon and Gayle King, had sent texts, saying how great they thought the "SNL" bit was. She resolved to go home and watch it again. This time, it seemed less mean. She started to laugh and documented herself doing so on Instagram.
People who don't matter don't get caricatured on national television. She knew that. She'd hosted "SNL" six times — and still holds the record for the youngest ever to do it, at age 7. This was almost like being anointed.
"Everything shifted in that moment," said Barrymore, 48. "It set me free and stopped me from beating up on myself as much. It opened up doors inside me that went, 'It's OK for you to be silly. Maybe you won't get fired.'"
Two and a half years later, she still has the job. Instead of getting her canceled, her kooky, untamed energy has made Barrymore — whose highly publicized career began when she was in diapers and has since straddled two centuries — a star. Again.
Barrymore began exploring the possibility of a talk show with CBS in the summer of 2019, and she's been fixated on its fate pretty much ever since. It launched in late 2020 when the pandemic was still raging, so she and a skeleton crew were alone in a cavernous 9,000-square-foot space at the CBS Broadcast Center. The audience was virtual, guests beamed in through special effects that made it appear as if they were sitting across from Barrymore.
Kicking off Monday's premiere episode of her new talk show, Drew Barrymore joined forces with her "Charlie's Angels" costars Lucy Liu and Cameron Diaz.
"She was alone in a studio trying to fill a lot of space with a lot of energy," said Jason Kurtz, the program's showrunner. "Everything was sort of heightened."
And that did not go over well.
Barrymore was making ... choices. She interviewed an American Girl doll. She nuzzled a bottle of cleaning spray to show her affinity for stain removal. She invited Billy Porter to sing "Edelweiss" to a fake flower because, apparently, science says singing to real flowers makes them grow.
Reviews described her liveliness as "alarming" and said her celebrity interviews were barely more than "complimentary back-and-forth[s]." And the ratings were bad: Season 1 averaged 694,000 viewers per episode. (By comparison, "Ellen" drew 1.4 million an episode during its last season.)
Barrymore was desperate for the show to work. After a turbulent few years, the potential for a stable routine felt like a beacon.
In 2016, she and her husband of four years, art consultant Will Kopelman, divorced. Barrymore had dreamed of giving their girls, Olive and Frankie, now 10 and 8, the nuclear family she craved. She'd stopped acting to give herself more time with her kids. Instead, she found revenue streams outside of Hollywood, creating brands of cosmetics, hair tools and — through a Walmart partnership — aesthetically pleasing kitchenware.
She'd even agreed to leave Los Angeles and move to New York so her daughters could be close to Kopelman's family. Shortly after, the couple separated.
The divorce cratered her, and alcohol became her solace. Her therapist grew so concerned that he ended their relationship, telling her he could not treat her if she didn't give it up. Close friends threatened to follow suit.
So, after shooting the pilot for "The Drew Barrymore Show" in August 2019, she quit drinking — this time, as an adult.
She thought she'd already done the recovery thing, faced enough to get her off the hook for the rest of her life. Instead, in her mid-40s, Barrymore found herself tapping back into the resilience of her 14-year-old self who — after being outed at rehab by a tabloid — decided to write a memoir coming clean about her addictions. "Day by day Drew Barrymore is making it," the book jacket of 1990's "Little Girl Lost" says. "She knows other kids can make it too."
Everyone has always wanted Drew Barrymore to make it — that impossibly cute, precocious little girl who had to contend with the shadow of her family's lineage. Her sweetness made us overlook her wild behavior and questionable decisions — flashing David Letterman, the one-year marriage to Tom Green, "The Amy Fisher Story" — and her vulnerability made us embrace her absurdity.
Looking back, Barrymore realized the only person not rooting for her was herself. "You seem to be so inspired by everybody else, but you treat yourself like s—," she said. "When are you going to be enough for yourself?"
Maybe now. At 48, she said, she is finally starting to refer to herself as a "grown-up." And in January, "The Drew Barrymore Show" was renewed for a fourth season.
Drew Barrymore interviews and fan-girls over her 7-year-old self in a new promo for her upcoming daytime talk show, "The Drew Barrymore Show."
To celebrate, King gave her a heart-shaped purse; it was yellow, their favorite color.
"I said, 'Drew: You're like freaking Ukraine. You just don't give up,'" King said. "You look at her, and she's so nice and friendly and touchy and loves everything. But it bothers me that people would mistake her kindness for weakness, or being a dodo brain. She's a grown-ass woman. She knows exactly what she wants, she loves doing that show, and she made it clear: 'I am here to stay, I'm gonna get this, and I'm gonna get it right.'"
The pizza was lukewarm, but she'd take it. Some of the Barrymore show staffers had ordered in for lunch, and there were a few slices left over for the boss. They plopped the box in front of the pink velvet couch in her dressing room, where she picked up a piece of veggie and then got cross-legged.
She'd been up since 6 a.m., when a glam squad arrived at her apartment to ready her for a quick hit on "CBS Mornings." Then she'd been driven from that studio, in Times Square, to her own in Hell's Kitchen. By 1 p.m., she had met with her team about her first show of the day, taped that show and retreated to her dressing room, where on the other side of the door, a slew of employees were lying in wait to pounce on her next free moment.
Over the next four hours, Barrymore would go from the head of the table in the writers room back to her studio, where she'd share how her divorce upended her vision of how her life was supposed to be. On camera, she's an agent of controlled chaos — someone who lives in extremes, who isn't ashamed to cry or shriek or fall to the floor or straddle Reese Witherspoon if the spirit moves her.
Completely unburdened. To the eye, anyway.
Barrymore's childhood has been described so many times over the last four decades that its tragedies have almost lost emotional impact. Girl from famous acting family starts working at 11 months old in a dog food commercial. Her alcoholic father is out of the picture; her mother, once an aspiring actor, becomes her manager. At 7, the girl is selected by Steven Spielberg to appear in his next film; in 1982, "E.T." turns her into a movie star. Suddenly, she is treated as an adult. She parties at Studio 54, starts drinking at 9 and moves on to marijuana and cocaine by 12. By 13, she's so out of control that her mom forces her to enter ASAP Family Treatment Center, a now-defunct rehab location in Van Nuys. She stays there for 18 months and, by age 14, has requested and received legal emancipation from her parents.
That year, she also writes a memoir. Revisiting it now — with more than 30 years of understanding about the effects of trauma — it seems nearly impossible that Barrymore survived. Her father, John Drew Barrymore, son of the revered Hollywood and stage star John Barrymore, physically abused his wife (including kicking her in the stomach when she was pregnant) and then his daughter. Drew Barrymore was primarily raised by her mother, Ildiko Jaid Barrymore, who struggled to make ends meet as a single parent. Often left with babysitters, Barrymore experienced feelings of abandonment that contributed to a toxic mother-and-daughter dynamic. During one fight, Barrymore wrote, Jaid called her a "loser," "asshole" and "bitch"; in retaliation, Drew slapped her.
She was sent to rehab at 13 and left two months later against medical advice. She stole her mother's credit card and went on a coke binge before Jaid hired private agents to handcuff her and haul her back to the clinic. After treatment, and Drew's emancipation, their relationship improved but would continue to remain complicated and uncomfortably competitive. In 1995, Drew posed for Playboy; her mother followed suit eight months later.
Drew knows how screwed up it all was, but she still doesn't like when people categorize it that way.
"There's a choice to be had in how you see your circumstances, and I refuse to be stifled as a human being because of what I lived through as a kid," she said. "Don't f—ing cloak me in this dark s—. I don't want to take on anyone else's perception of what it should have been, because I don't feel that way. I think that I'm incredibly rebellious because of it."
Outwardly, Barrymore no longer resembles the 20-year-old with a blond pixie cut who stood on Letterman's desk and flashed him in the '90s. Her on-air wardrobe tends toward the demure — '70s-inspired pantsuits with wide-leg trousers, tie-neck blouses and 6-inch platforms a la Bianca Jagger or Lauren Hutton.
She films two shows a day, three days a week at the CBS studio, where executives from Barrymore's brands and her quarterly lifestyle magazine, Drew, have also taken up residence. One morning in February, after her first taping had wrapped, she retreated to her dressing room to change. She put on a faded Daytona Beach T-shirt and Free City sweatpants that, she had just observed, "apparently have a hole in the crotch."
She was constantly messing with her hair, flipping a handful of tousled waves from one side to the other. What red polish remains on her nails would be, by the afternoon show, picked off, the dried bits deposited in a tiny pile on her coffee table.
In the glow of a neon "Be a Rainbow" sign, it felt incongruous for Barrymore to reflect on the tumult of her adolescence. She doesn't replay many memories from that period, save for one: the men who came into her space, hauled her into a car and dropped her off at rehab.
"I will always have the 'They're coming, they're coming' mentality," she said. "It's the one thing that, unfortunately, I can't shake. I'm pretty sure that this will all go away at any moment, I will get locked up again, and I will lose my job."
She's always been confident at work, though. When she was initially approached about "The Drew Barrymore Show," she thought she'd be excellent at it. For years, her go-to roles were in movies that showcased her wide-eyed softness — "The Wedding Singer," "Never Been Kissed," "50 First Dates" — and the box office receipts proved how endearing audiences found her.
She was famous, but you felt like you knew her — that was what CBS liked about the idea of Barrymore as host, and why Barrymore knew she'd be a good fit.
"It's not enough to just be well known — you need a certain relatability and warmth," said Elaine Bauer Brooks, the network executive who pitched Barrymore on the gig. "When we met, I asked her: 'Why do you think you can do this?' And she said: 'Because I am who you think I am.'"
She felt particularly self-assured about her behind-the-camera experience. At 19, Barrymore co-founded a production company called Flower Films with Nancy Juvonen, a woman with no producing experience whom she hired a couple of weeks after they met during a night out in Seattle. (A dozen years later, Juvonen would marry Jimmy Fallon, whom she met while he was filming "Fever Pitch" with Barrymore.)
It was Juvonen who suggested Barrymore revamp her onscreen image after her racier turns in "Poison Ivy" and "Bad Girls." So she took the lead in 1998's "Ever After: A Cinderella Story," which reminded the industry of the talent Spielberg had discovered in "E.T."
Together, Juvonen and Barrymore rebooted the "Charlie's Angels" franchise and produced the surprise cult hit "Donnie Darko." In 2009, Barrymore directed her first film, "Whip It," about a female roller derby team.
Even so, Barrymore said, she was not prepared for how "intimidating and terrifying and unfamiliar" hosting a daytime show would be.
"I told her how much work it was going to be," said Fallon. "It looks like an hour on TV, but there are so many hours that go into putting that show together that no one really sees — that they shouldn't see. You have to show up every single day, and you can't get sick. Because if you get sick, there's 200 people in the crew that don't work."
On a recent Monday afternoon, Jimmy Fallon sat in the dark, whispering seductively into a microphone.
As it turned out, maintaining her vigor — even while banking 330 episodes a season — would not be Barrymore's problem. She was so enthusiastic that her conversations ran long, and early shows sometimes clocked in at two and a half hours. "That was honestly very embarrassing," she said, adding that postproduction editors had to then cut the episodes down to 42 minutes.
She was also overzealous with her guests. "I realized that I would gush too much, not letting people have the floor because I was going overboard telling them how much I loved them."
This is something Barrymore has tried to work on in other areas of her life too. When Kopelman got remarried to Allie Michler, director of fashion initiatives at Vogue, she found herself eager to get close to her children's new stepmother. "I was like, 'I want to be her best friend!' And my therapist said: 'That's a really nice thought. But take it slowly. Don't overwhelm the situation. Find your rhythms and your boundaries so you can have the long game.'"
She's good at taking notes, Barrymore said. Making mistakes in public as a teenager and her life as an actor had trained her to metabolize criticism. "Somehow, I just learned not to make that an excuse for an identity crisis," she said. "It's important to be open to criticism and problem solve. But having the faith to stay yourself — I'm so convinced that if you try to pretend you're someone you're not, you'll get lost."
But the degree of self-loathing she felt when things weren't going right on the talk show, she said, was unlike any she'd experienced. She wanted it to work so badly for her kids — her schedule at CBS allowed her to make them breakfast, send them to school on the bus and then be home in time to pick them up and have the night together. But the negativity of her internal soundtrack would not dissipate.
You're not good at this. You don't know what you're doing. It's going to fail. You're going to lose something you love.
Even with the post-"SNL"-skit revelation, she said, it wasn't until the start of the third season last September that she decided she couldn't sustain that level of self-doubt. "If you really love this," she told herself, "it can't be an excuse to beat up on yourself anymore. Start f—ing enjoying it, or you're going to miss out on the opportunity because this will likely be your last year."
"Saturday Night Live" cast member Chloe Fineman spoofed Drew Barrymore's new talk show over the weekend, and the host didn't seem to mind one bit.
A format change also helped the show's ratings. With CBS stations looking to expand their news offerings, Barrymore's show was split into two half-hour episodes — giving them the option to air the 30-minute installments back-to-back, or as an hourlong offering. Ratings climbed, with average viewership on the total 60 minutes hitting 1.2 million viewers. That puts her fourth in the syndicated talk show rankings, just behind "The Kelly Clarkson Show" (1.4 million). Though far behind the No. 1 program, "Live With Kelly and Ryan" (2.3 million), she is performing well ahead of other new entrants in the space like Jennifer Hudson, Sherri Shepherd and Karamo Brown.
At a midmorning meeting to brief Barrymore on her first taping earlier that day, the subject of competition arose. Half a dozen writers and producers were seated in front of laptops in a room they'd deemed "the Hookah Lounge" in deference to the paper lanterns hanging overhead. A plush "E.T." toy rested precariously on an air purifier.
Barrymore who was at the head of the table, burped every few minutes. This incited no reaction from her staff; clearly they are comfortable with the boss' quirks. She was excited to show them images from the latest photo shoot she'd done for the magazine, in which she gleefully soaked in a bathtub filled with macaroni and cheese.
"You guys, I've been trying to get [the cover] to be like this for so long, and I feel like I finally broke through!" she said. "I mean, do you want a 'Mona Lisa' smile, or do you want this?"
"Yeah, I want the mac and cheese lady," a writer responded.
After running through the topics that would be featured on Drew's News — first a Zoom chat with the mother of NFL stars Travis and Jason Kelce, followed by discussion of a 6-year-old who ordered $1,500 of food on a delivery app — a staffer entered to update the group on the show's social media numbers. A playful comparison was made to a competing show, and Barrymore grew visibly distressed. A few minutes later, after the employee had left the room, she stood up to close the door.
"We never sit around and talk like that," she insisted. "We're never, like, 'Yay! We're doing better than someone else!' That's not who we are — that's not who I am — and I'm very upset right now."
She was not exaggerating. Later, she would admit that she'd proceeded to go into her dressing room, cry, have a "full-blown panic attack," take a Xanax and call her publicist.
Barrymore's hatred of competition, she explained, stems from the rejection she felt after unsuccessful auditions as a kid. Then, when she was 14, she had an epiphany. She was in the midst of a six-month stay with David Crosby — a recovering addict — and his wife, Jan Dance; a drummer for Crosby, Stills, Nash & Young was a counselor at Barrymore's treatment center, and he thought his friends could provide the teenager a soft landing spot after rehab.
During her time with the couple, they brought Barrymore along on a trip to Hawaii. Walking on the beach one day, she said she began exploring her fear of returning to acting and being considered damaged goods. Suddenly, she said, a thought came to her: "Don't feel bad about yourself. Don't envy what other people have. There's enough space for all of us."
Barrymore has experimented with varying levels of sobriety over the years. Though she said she's now able to trace all of her negative experiences back to alcohol, she long convinced herself she could maintain the habit because of how "highly functioning" she was.
But when her move to New York coincided with her separation from Kopelman, she lost it. California had been her anchor — the one constant that she "wanted from family but didn't have." She'd sold her house near Runyon Canyon, where the Beatles and Elvis had once lived; the new buyers leveled it.
Most of her friends on the East Coast were in Kopelman's family. She had her fledgling brands but hadn't yet gotten the talk show offer. She couldn't stop thinking about how she'd failed her daughters. As her depression worsened, her drinking intensified.
Then, after working with her for a decade, Barry Michels — a renowned celebrity psychoanalyst who has been endorsed by Gwyneth Paltrow and Adam McKay — quit on her.
"He just said, 'I can't do this anymore,'" Barrymore said. "It was really about my drinking. I said, 'I get it. I've never respected you more. You see I'm not getting better. And I hope, one day, that I can earn your trust back.'"
Her friends were fed up too. Juvonen said that after a "grace period" following Barrymore's divorce, she and the star's closest friends rallied together to have a come-to-Jesus talk.
"We were like, 'You've gotta snap out of it,'" said Chris Miller, who worked at Barrymore's company for 24 years before becoming showrunner of "The Tonight Show" last March. "'We fully understand that this is a total f— for you. But you've got two healthy kids, a fantastic career and incredible friends.' And sometimes you have to be reminded of that."
Cameron Diaz, who has been friends with Barrymore since she walked into a coffee shop where the 14-year-old was working after rehab, said the experience was "difficult to watch."
"But I knew that if we all stuck with her and gave her the support she needed, she would find her way," Diaz said. "I have absolute faith in her. You can't even comprehend how hard it was to be her as a child, and then she shot out the other end with the ability to save herself."
After the quasi-intervention, Barrymore didn't step away from alcohol immediately. She wanted to make a conscious choice — one that was her own — and that came when she got a shot at "The Drew Barrymore Show" in 2019. "I think the opportunity at a show like this really hit me," she said. "I was like, 'I can't handle this unless I'm in a really clear place.'"
Barrymore doesn't call herself sober and she doesn't work a program like Alcoholics Anonymous. She makes the delineation because she doesn't want people to think she's "some perfect Puritan," and because she feels that alcohol was her specific poison. "I kept thinking, 'I'll master this. I'll figure it out.' And finally, I just realized: 'You've never mastered this, and you never will.'"
Drew Barrymore invited ex-boyfriend Justin Long to the 'The Drew Barrymore Show' to kick off its third season. 'I love you's, hugs and tears ensued.
After two years apart from Michels, Barrymore called him and he took her back. She told him that for her whole life, she'd felt she was weak because she wouldn't give up drinking. Finally giving up alcohol, she said, made her aware she was capable of change.
"I don't stay stuck," she said.
"There is literally a ball of fire inside of her," said Juvonen. "It can get really turned up, which we all see on the show — people burn even going near it. But in her lowest, most shame-filled moments, this weird little flame just burns. And she's just hovered over this thing, like, 'You will not take this flame out.'"
That weird little flame is arguably what launched her into this new era of stardom. Last June, while in the midst of renovating her apartment in the city, she posted a TikTok of herself crying with joy after discovering a hidden window in a wall.
"I knew there was a window here. I knew it. I knew it!" she said, simultaneously laughing and sobbing. "Something can be so covered up and dark, and you can pry it open and create light!"
A month later, she shared a similarly jubilant Instagram video of herself running through her building's courtyard in the rain. "Whenever you can, go out into the rain," she said, giggling as drops of water clouded her glasses. "Do not miss the opportunity!"
The videos went viral, and once again, "SNL's" Fineman was on Barrymore alert, instantly reenacting both clips on her own social media account.
"I felt like I was trolling her last summer, because she was just giving these undeniable hits," said Fineman. By then, she and Barrymore had become friendly. A few weeks after Fineman's "SNL" skit premiered, she got an invitation to appear on the daytime show and impersonate Barrymore face-to-face. The host had come to feel that Fineman had in fact done her a favor, letting her audience know she wasn't interested in being "taken seriously, but taken silly."
Fineman had been worried, at first, that the "SNL" bit was unkind. "I sent it to a bunch of people, like, 'Is this mean? I love Drew Barrymore. Is this OK?' Because I think she's like our nation's gem," she said. "I'm team 'too much.'"
Ross Mathews, Barrymore's co-host, likes to say that Barrymore has "her own set of rules for being a human." She prefers to kneel or sit on the floor next to the guests she's interviewing instead of remaining in her own chair. She sparks easily to tears, and doesn't try to stop crying once she starts — a trait that frustrates her daughters. ("I totally get it," Barrymore says, "but I'm just like, 'There's not much I can do about it. You're getting your ears pierced or "Father of the Bride" is playing, and it's getting the best of me.'")
Some guests are taken aback by Barrymore's offbeat humor. During a recent episode, "M3GAN" star Allison Williams seemed both amused and wildly uncomfortable when Barrymore opted to interview her dressed as the eerie AI doll featured in the horror film.
"I'm just continuing to adjust to this in real time to this being the way this is happening," Williams said during the show, alerting Barrymore to the fact that her colored contacts had, "um, shifted."
"You hear that a lot from our guests: What is happening?" Mathews said. "Sometimes I'll be reading the teleprompter and she'll just start petting my shoulder because she's so tactile. If you say something that she loves, whether she knows you or not, she will storm through a room or TV studio and just embrace you. And if it wasn't Drew Barrymore, you'd be like, 'Excuse me, ma'am, do I know you?'
"But because it's her and it's not put on, you just find yourself embracing her back. And I feel like that's what's happened with the viewers over the past three seasons. At first, it was like, 'Wait, what?' But now they've seen it's the real deal, and they've embraced her back."
"Oh, my God, is it really five o'clock? I'm going to be late to pick up Olive," Barrymore said.
She had yet to take off the fuchsia suit she'd worn for the afternoon episode — a Valentine's Day special. Her chief of staff handed her a pile of sweats, and she began walking to her dressing room to change, a hairstylist following behind her, removing clip-in extensions on the go.
Outside, a black car was idling, ready to drive her to the hip-hop dance class where her daughter would be waiting. (Barrymore has an apartment in the city and a home in the Hamptons, where she usually spends weekends.) This schedule is why she originally took a hiatus from acting — but she also acknowledges that the job doesn't feel "emotionally available to me right now."
"I just need to be myself. I struggle to be someone else," she said. There are scenarios, like working with Adam Sandler again, that she can imagine pulling her back. She misses directing and says there's been interest from folks who want to reboot some of Flower Films' older properties. "But I just can't see acting right now. I know that sounds sad and dismissive, and I hate when people are like, 'I'm retiring,' or 'This is my goodbye.' I don't want it to come off that way."
She calls being a mother "the role of my life," and it's not one she feels proficient in yet. Last summer, when her kids went to camp, she cried her eyes out and called Michels. The therapist reassured her that the girls were at a safe, special place, and that they weren't being abandoned.
"This is not me being a bad mom. This is not my childhood," Barrymore said. "There's a lot of stuff I have to work through."
She also struggles with the idea that Olive and Frankie will one day know everything their mother did when she was their age. During a recent interview with Pamela Anderson, Barrymore felt relieved when the "Baywatch" star admitted she didn't think she would have children at the time she posed for Playboy. Barrymore had shared the same sentiment at 19 when she did her photo shoot, and was now wrestling with guilt over the decision.
'There was no higher career calling card than to work with Woody Allen,' Drew Barrymore says in a candid interview with Allen accuser Dylan Farrow.
"She has strong instincts as a mother, because she has a playbook of what not to do from her childhood," said Jill Kargman, Kopelman's sister who has remained close to Barrymore. "She'll say, 'God, Olive's so precocious,' because she's a New York kid — really smart and sophisticated — and Drew will get scared. And then in the next breath be like, 'But she's not at Studio 54, which is what I was doing at that age.'"
Kargman, who jokingly refers to herself as a "sister-out-law," hosted a small gathering for Barrymore's 48th birthday at her home last month. She said she tries to encourage Barrymore to do that kind of thing more often — to stay home, travel less, say no to potential work opportunities.
"Sometimes I think she's too nice and needs a little more 'f— you,'" Kargman said. "I told her, 'You can't pour from an empty pitcher, Drew.'"
Barrymore's ambition isn't limitless. It isn't her dream, for instance, to turn her beauty and home lines into a billion-dollar empire.
"I'm much more concerned with knowing when to get off the carousel," she said. "I've been working since I was 11 months old. I'm not sure if I know how to stop."
In November, Barrymore got COVID-19. Though 50 Cent stepped in to take over hosting duties, she was consumed with guilt about missing work. She realized that anytime she's ever been ill, she's felt like she was letting someone down.
"I went to a dark place that I hadn't been near in a very long time," she said. "And then I asked myself: 'What if you retired?'"
After more than 40 years in the business, it was a question she'd never posed to herself. And the answer surprised her. She started laughing. "It was like Dorothy coming out of the house," she said, "and the world went from black-and-white to Technicolor."
She's not about to retire, or quit "The Drew Barrymore Show" anytime soon, especially now that it's on an upswing. Just knowing that she'd be OK without work, that's the first thing to accept.
"My worth has been so wrapped up in this job and this life, because it's given me so much," she said. "I realized that just with me and my girls, I am truly happy. I'd always thought I'd be on this hamster wheel for this whole life. But maybe there will be something different before the lights go out."
Get our L.A. Goes Out newsletter, with the week's best events, to help you explore and experience our city.
You may occasionally receive promotional content from the Los Angeles Times.