Heading into the Democratic and Republican national conventions, it's no surprise that TV has had politics in its sights the last week — from the surprise debut of a once-lost episode of "black-ish" and a rare speech from Marge Simpson to the premiere of HBO's "Lovecraft Country," which confronts the legacy of its racist namesake.
But if the start of the fall election campaign has you reaching the point of political saturation, don't worry. TV also offers an escape, whether to Fiji, alongside the tough-as-nails camera operators of "World's Toughest Race," or to Britain, where (fictional) American coach Ted Lasso is taking English soccer by storm. In fact, there are so many imports coming in from the U.K. and Australia that we devoted a whole separate list to them.
And, as usual, we have five more recommendations for you, from our own streaming queues. Here are the TV shows you should be watching this week:
Animated series "The Owl House," on Disney Channel, and "Star Trek: Lower Decks," on CBS All Access, lead this week's TV recommendations from the L.A. Times.
"Harley Quinn" (HBO Max)
Fun has been a precious commodity during the pandemic, and "Harley Quinn" delivers it in spades. This R-rated animated series follows the titular DC villain as she breaks up with the Joker and sets off to establish herself as more than his ex-girlfriend and former sidekick. For Harley this means assembling her own crew, finding a new lair and pulling off enough big heists to get her noticed. The show is as smart as it is silly, with episodes skewering aspects of superhero storytelling and fandom while packing plenty of nods to past DC comics and animated shows. But within this package of irreverent cartoon violence is a series that examines toxic relationships, the struggles women endure in male-dominated fields and what it really means to love someone. —Tracy Brown
"QI" (Britbox)
This venerable panel show (the title stands for "Quite Interesting"), formerly hosted by Stephen Fry and since 2016 by Sandy Toksvig — better known here as Noel Fielding's co-compere on "The Great British Baking Show," and much better used here — has just begun a new season on the Anglocentric streaming service Britbox. Organized alphabetically, with each season represented by a letter — they are up to "R" now — and each episode loosely organized around a subject beginning with that letter, it's as reliably funny a show as you will find anywhere on television. And you may learn something in the bargain.
This is an obscure knowledge quiz where knowing the answer is less important than what is done with the question, and scoring laughs matters more than scoring points — which are in any case usually in the negative, appear to be whimsically accorded, and are meaningless except as an end-of-show ritual. That things frequently go off on tangents, and off the rails, is a feature, not a bug. Panelist Alan Davies, whom some will know as the star of the magician-detective show "Jonathan Creek," has been with the series since the beginning and adopts the part of a Fool among fools. There is really no American television equivalent for British panel shows — NPR's "Wait Wait Don't Tell Me" is a radio version, Craig Ferguson's short-lived "Join or Die" was created in that spirit, and the old "Match Game" at its most unruly came close — but Britbox has several great ones, including Davies' own "Alan Davies: As Yet Untitled," which might be styled "Five Comics in Search of a Title." —Robert Lloyd
"Versailles" (Ovation, Netflix)
"Versailles" follows a young King Louis XIV (George Blagden) as he builds his opulent palace outside Paris, cementing his legacy as the Sun King. Its 17th century inhabitants are a wily, petulant bunch of twentysomethings, replete with luscious locks, stunning wardrobes and plenty of bedchamber action. But it's how they grapple with power, sibling rivalry and the art of self-promotion — the king was at the forefront of shameless branding — that sets this hourlong drama apart from other stuffy period sagas. The Franco-Canadian-American-British production, which originally aired on Ovation in the U.S. and is now streaming on Netflix, is a bold, modern reinterpretation of the Bourbon dynasty. Louis' flamboyant brother, Philippe I, Duke of Orleans (Alexander Vlahos), a gender-fluid fashionista; Philippe's lover, Chevalier de Lorraine (Evan Williams), who makes Cardi B seem tame; and the dark and mysterious chief of police Fabien Marchal (Tygh Runyan) — one of the show's few fictional figures — come together to create a world that resonates with the present day while still providing an escape into the past. Frequently shot on location at the real palace, this deeply researched series by the team of Simon Mirren and David Wolstencroft is authentic, thoroughly immersive and terrifically naughty. —Lorraine Ali
A roundup of a mess of British shows being imported to American television this month, and thoughts on the trend in a time of reduced production, and of peak American interest in U.K. TV.
"Derry Girls" (Netflix)
Inspired by New Yorker journalist Patrick Radden Keefe's can't-put-it-down, made-me-cry-on-the-beach history of the Troubles, "Say Nothing," I dove headlong into "Derry Girls" — a pungently funny Netflix comedy with the generations-long conflict in Northern Ireland as a backdrop. Drawing on writer Lisa McGee's upbringing in the border city in the 1990s, the series never shies away from the damage wrought by the fighting: In the Season 1 finale, as its quintet of convent-school pals come together for a talent show, the adults are at home, watching news coverage of a bombing. But "Derry Girls" blissfully refuses to depict life during wartime as an unrelenting struggle, and in doing so deflates more than a few hardened Catholic and Protestant stereotypes. Perhaps most of all, it's a perfect vessel for that distinctly Irish sense of humor — cunning, morbid, irreverent to the point of being blasphemous. You'll wear a holy smirk the whole time. —Matt Brennan
"Underground" (Amazon Prime Video)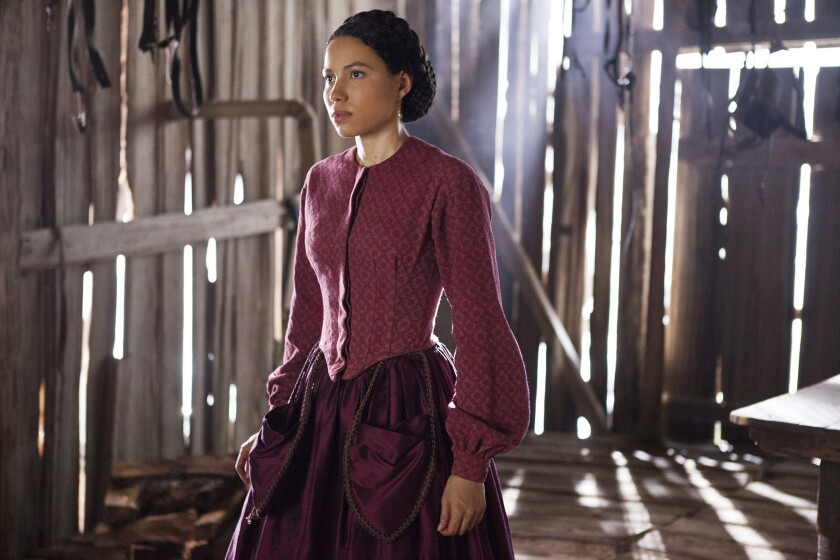 The hubbub over HBO's new "Lovecraft County" is likely to revive interest in "Underground," the short-lived WGN America series about an enslaved man named Noah (Aldis Hodge) who covertly organizes a group of his fellow slaves — including "Lovecraft Country" star Jurnee Smollett — to escape across hundreds of miles to freedom via the Underground Railroad, a network of safe houses. Misha Green, who created "Lovecraft Country," was an executive producer and cocreator of "Underground," and many of the same subjects of race, identity and power are explored — all with much the same emphasis on action and adventure that the HBO series has on horror and fantasy. Despite receiving critical acclaim, the drama, which premiered in 2016, was canceled after just two seasons. —Greg Braxton
---