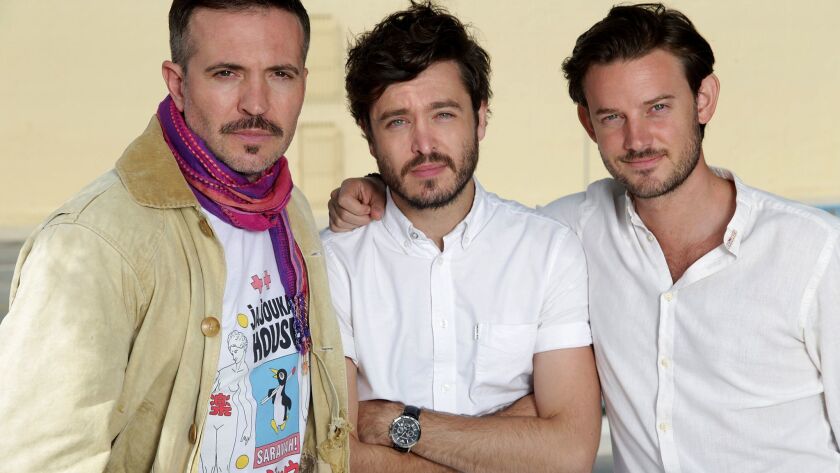 Television Critic
My favorite drama that you've probably never watched is in its third and final season and I'm not ready to let go.
I've spent the last few years lost in the lush gardens, ornate wardrobes and myriad scandals of "Versailles," an hour-long weekly drama that chronicles the rise of King Louis XIV as he constructs the opulent testament to his power just outside Paris.
I've binge-watched the period drama and repeat-consumed seasons when I should have been watching new shows and keeping up with whatever might drop next on Netflix. I'm not sorry.
"Versailles" and I met by chance on Netflix. It was Season 1. A day later, I was hooked. Only a year or so to go until a new season arrived on fledgling network Ovation, its U.S. cable home.
The Franco-Canadian-European-British (have we left anyone out) production has been both an escape hatch and a cathartic reminder of humanity's elasticity. The series is set so far in the past that it feels like fictional entertainment, but is also steeped in so much European history it seamlessly connects that past with the present.
Most of its characters are based on historical figures, though my favorite — the brooding, mysterious and feared chief of police Fabien Marchal — is a product of dramatic license. Ironically, it was this foreboding fellow, or rather the actor Tygh Runyan who plays him, who first addressed my despair over the end of "Versailles."
"It's a little sad, I know," he said kindly, during the cast's final round of promotional interviews for the show. We were seated in a conference room at Ovation's Culver City headquarters, which looked nothing like Louis' ornate war room in "Versailles." Perhaps a powder-blue paint job and some gold trim would do the trick? "We're getting a lot of those messages from fans," he continued. "You're not alone."
The U.K. actor Alexander Vlahos, who plays Louis' peacock of a brother Philippe I, Duke of Orleans, was also in on the interview, along with Evan Williams, who plays Philippe's lover, the flamboyant Chevalier de Lorraine. They weren't wearing wigs or French silk finery of course, though the unprofessional side of me wished they had.
"People fall in love with the show for different reasons," explained Vlahos. Clearly he's had this breakup talk before with fans who just aren't ready to move on. "They fall in love because they're big history buffs, or maybe they fall in love with the scenery or the characters. Maybe it's the way the homosexual relationship is portrayed in a really unique way, or maybe it's more about the blood and guts and the sort of CSI investigative thing. People come for one reason and stay for another."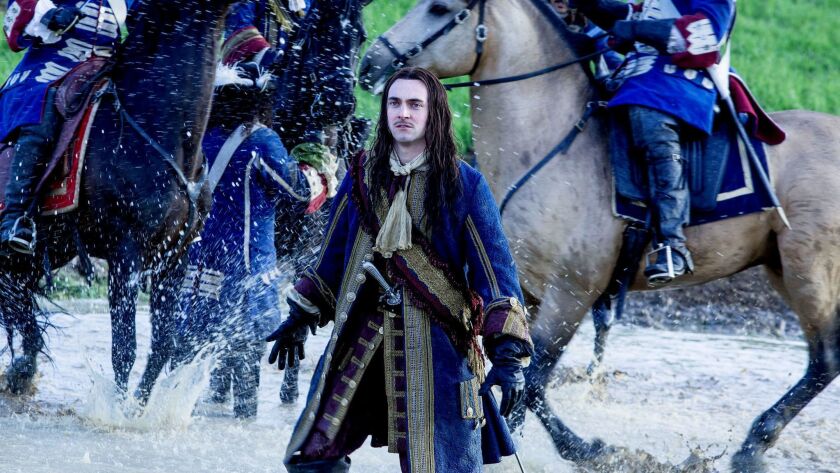 "Versailles'" audience — meaning me and what seemed like two other people in America, but millions more worldwide — are a cultish bunch, and it's a following that stretches across the 191 countries where the show now airs. There are countless sites dedicated to recapping, dissecting and reliving each minute of the show. Characters have spawned unofficial fan clubs, and since there were 16 regulars in Season 1 alone, there's no shortage of love/hate bloggery out there for the long-suffering, pious queen Marie-Therese (Elisa Lasowski) or the treacherous Beatrice (Amira Casar).
The show was created by a British/American team of Simon Mirren and David Wolstencroft, seasoned TV writers and producers who've worked on crime series such as "Criminal Minds" and "Spooks." "Versailles" is a confluence of their international visions and experiences on shows that had nothing to do with French history but everything to do with building an air-tight narrative.
"The thing that really helped transcend cultures was the strong aesthetic of Versailles," said Vlahos. "The whole idea of opulence is a big-ticket item in our present-day culture because of the whole 1% thing. We have the Kardashians and our obsession with celebrities. So "Versailles" gave people an opportunity to sort of invest in that culture without shame. I could tell in the way people responded that they would hate-watch some of the characters and then would love other characters. There was a distance though because it's history, so they could invest themselves in this thing that seemed like a guilty pleasure. A lot of people got into the show thinking that it would be a guilty pleasure, and then they got hooked on everything else there."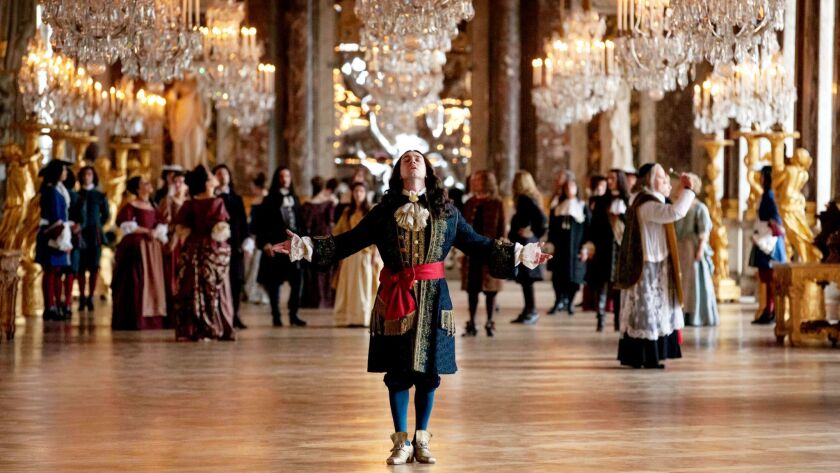 American viewers may also find additional subtext in this tale of a petulant ruler with thin skin, strange hair and a family dynasty that ensured he'd fail up. But the lopsided governance at the core of this particular TV drama is a pleasure to watch because in "Versailles" bad behavior has consequences. Here's hoping for a spinoff simply titled "Revolution."
It's doubtful, however, that the French government would be as enthusiastic about opening up its historic sites for what would inevitably be a blood-drenched production the way it did for "Versailles." Remarkably, the series was frequently shot on location, so when the fictional Louis (played by George Blagden) strolls through the Galerie des Glaces in his exquisite buckle-top heels, he preens in the same mirrors and stands on the same floorboards that the Sun King did more than three centuries ago.
When characters such as his scheming lover Madame de Montespan (Anna Brewster) and her frenemy Madame de Maintenon (Catherine Walker) needed to take in some fresh air — i.e. conspire in secret — their chats may have taken place along the real Grand Canal. Other locations they used around France included Louis' initial inspiration for Versailles, the elaborate Vaux-le-Vicomte estate, the sprawling 19th-century Sceaux and the Château de Maisons just northwest of Paris. In post-production it was all turned into Versailles, or the areas where the king's friends and foes did their off-site dirty work.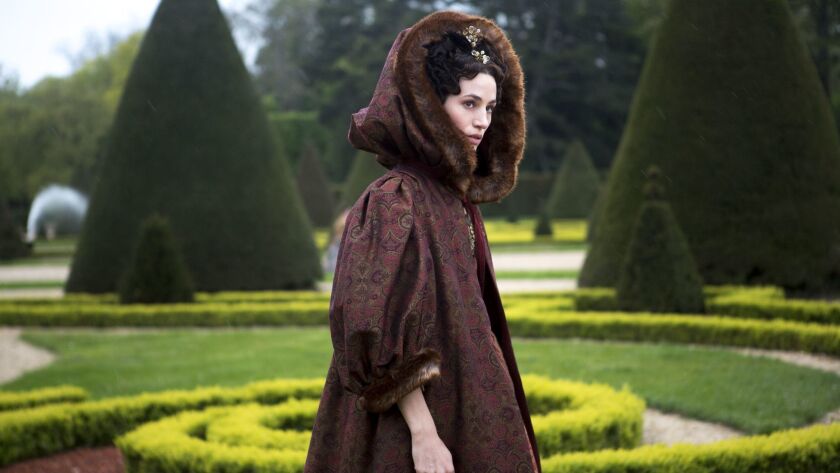 "Louis the XIV was the king of propaganda so we were faced with a really interesting challenge in re-creating this world. Because what we knew about the characters was what he wanted us to know," said Williams, who is based in Silver Lake. He sings with a music project called Bright World. Chevalier would have sung in a band given the chance. "Anything we knew about any of these guys all went through Louis. Our idea was that we wanted to show the unofficial version. So even though the majority of us were playing historical characters, we were trying to get underneath and figure out what would they have been thinking and feeling. We know these big events happened. But we wanted to know how it happened. And then it was our job as actors to mine why."
The settings capture the imagination in a way that "Downton Abbey" did not for me, and that's not meant as another British-versus-the-French comparison, though it's clear whose side I'm on. "Versailles" is a period drama with modern sensibilities. Each episode opens with music by a millennial favorite, electronic outfit M83. Its ethereal, heady number "Outro" is suited more for a chill-out room at the back of a club than a 17th-century dynasty. But it works, perhaps because Louis was in his 20s — younger than the core members of the French electronic band — when he began building Versailles. He "invited" Paris' rich and powerful to live there so he could keep an eye on them and circumvent coups.
In the series, Louis and brother Philippe could pass as eccentric hipsters with their long hair, gender-fluid clothing and flippant attitudes. The women of "Versailles" are masters at seizing power where they can. Almost everyone curses, no matter how pretty, pristine or noble, and there's enough action in the bed chambers to even make HBO take notice. It all means that "Versailles" is crass enough for the 2010s, but still steeped in enough period protocol to make one sit up a little straighter while watching Season 2 for the third (or fourth) time.
The final season, which began this month, features as a backdrop the early rumblings that led to the French Revolution as a backdrop. There's also a new story line about the Man in the Iron Mask, and lots of brewing unpleasantness between Catholics and Protestants. But just as it's done since the beginning, "Versailles" offers up several more relatable subplots about cruel love affairs, sacred parent-child bonds and vicious gossip that threatens to take down a major character. And there's of course the competitive dynamic between brothers. It's a constant conflict at the core of the series — the sort of colorful embellishment that drives historians mad. (There has been plenty of commentary about the series' deviations from actual events.)
"In France the story of the Sun King is part of their cultural heritage," says Williams. "It's a bedrock of their culture. So it was really daring for [the show's creators] to tell their behind-the-closed-doors version. We were part of something that was pushing boundaries. Then there was an extra level of audacity for the dialogue to be in English. It was risky but it worked on a global level."
And it's created superfans who are so obsessed they make me look like a casual observer. Throngs of people used to show up at the palace gates each Monday when Versailles was closed to the public and the show was being filmed.
"One woman tried to hand me her baby," said Runyan. "I was like, 'You know who Fabien is, right? He tortures people. Are you sure you want to do that?'"
"It's a testament to David and Simon's vision from the very start," added Vlahos. "They always thought bigger than France. The branding of Louis, that Sun King logo, that was the Nike tick of its time. He was trying to make a brand and an image that would transcend. Now we're in 191 countries, so David and Simon's vision of Louis the XIV and Versailles was correct."
If only the show's reign lasted as long as Louis'.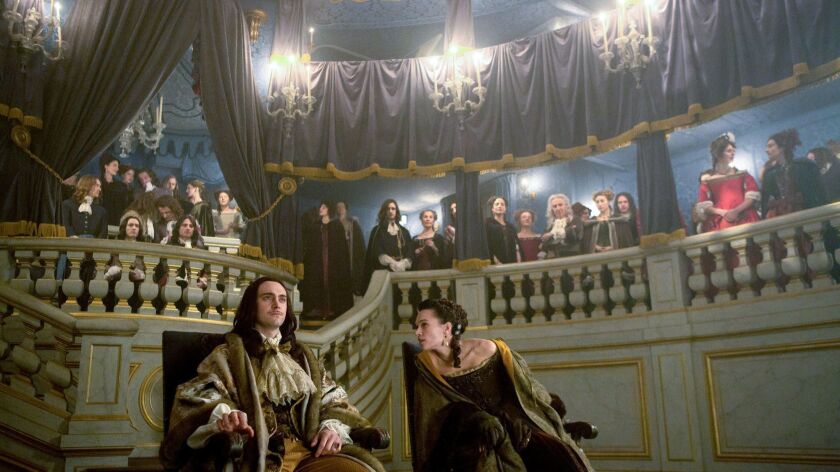 ---