Guests on Sunday talk shows: House Speaker Nancy Pelosi will be a guest on 'State of the Union'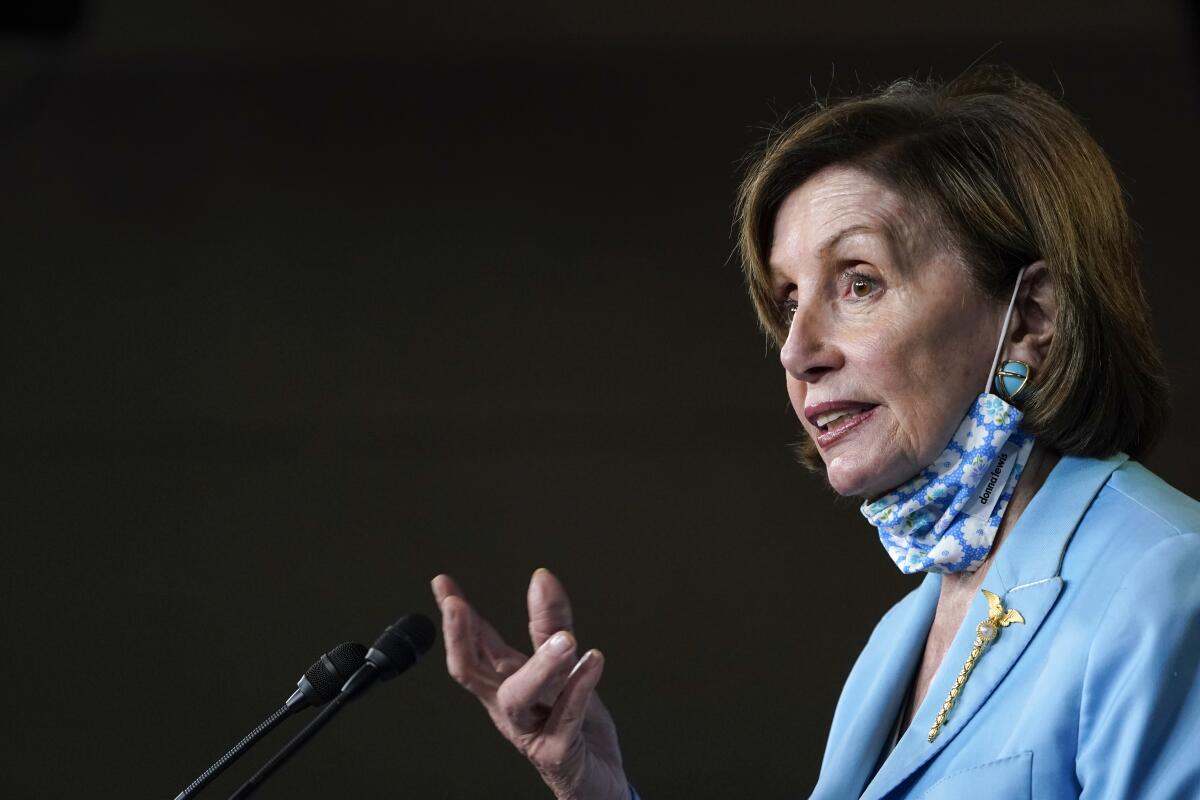 CBS News Sunday Morning Stephen King. (N) 6 a.m. KCBS
Good Morning America (N) 6 a.m. KABC
State of the Union Speaker of the House Nancy Pelosi (D-San Francisco). (N) 6 and 9 a.m. and 8 p.m. CNN
Fareed Zakaria GPS President Joe Biden on the global stage; the 2021 G7 Summit: Zanny Minton Beddoes, the Economist; author Ben Rhodes ("After the Fall: Being American in the World We've Made"). What to expect should there be a new Israeli prime minister: Martin Indyk, Council on Foreign Relations. How humanity doubled its lifespan during the last century: Steven Johnson ("How We Got to Now"). (N) 7 and 10 a.m. CNN
Sunday Morning Futures With Maria Bartiromo Gov. Ron DeSantis (R-Fla.); Brandon Judd, National Border Patrol Council; Rep. Jim Jordan (R-Ohio); Sharri Markson, the Australian. (N) 7 a.m. and noon Fox News
Face the Nation Sen. Susan Collins (R-Maine). Author and former White House advisor for COVID-19 response, Andy Slavitt ("Preventable: The Inside Story of How Leadership Failures, Politics, and Selfishness Doomed the U.S. Coronavirus Response"). Former FDA Commissioner Dr. Scott Gottlieb. (N) 7:30 a.m. and 2:45 a.m. KCBS
This Week With George Stephanopoulos (N) 2 and 8 a.m. KABC,
Fox News Sunday With Chris Wallace Sen. Bob Menendez (D-N.J.); former secretary of State Mike Pompeo; Olympic gold medalist Donna de Varona. Panel: Marc Thiessen; Catherine Lucey, the Wall Street Journal; Harold Ford Jr. (N) 8 a.m. KTTV; 11 a.m. and 11 p.m. Fox News
Reliable Sources With Brian Stelter Was Israel justified in destroying the building housing the Associated Press offices?: Ruth Eglash, communications officer for Israel's ambassador to the U.S. and the U.N.; Ian Phillips, the AP. Secret IRS files spark an ethical debate about anonymous sources and leaked documents: Stephen Engelberg, ProPublica. A preview of the upcoming meeting between news executives and Attorney General Merrick Garland: Sam Feist, CNN. Why Dr. Anthony Fauci is the right-wing media's newest villain: Amanda Carpenter, the Bulwark; Oliver Darcy. The Biden administration tries to broker the release of American journalist Austin Tice from Syria: Mike Holtzman, SEC Newgate. (N) 8 a.m. CNN
MediaBuzz Ben Domenech; Leslie Marshall; Mike Emanuel; Robby Soave, Reason; Marie Harf; Jonathan Hunt. (N) 8 a.m. Fox News
Frank Buckley Interviews Author and former LAPD Chief Bill Bratton ("The Profession"). (N) 4:30 p.m. and 12:05 a.m. KTLA
60 Minutes High-velocity assault weapon ammunition causing devastating wounds; the last known slave ship to bring enslaved Africans to America is discovered in an Alabama river; gymnast Simone Biles. (N) 7 p.m. KCBS
NBC's "Meet the Press" is preempted.
Get our L.A. Goes Out newsletter, with the week's best events, to help you explore and experience our city.
You may occasionally receive promotional content from the Los Angeles Times.