Television will not be kept down. Given the ongoing emergency — not the destruction of American democracy, the other one — the medium produced an impressive number of first-rate programs in 2021, bearing no mark of the straitened circumstances under which they were produced. Nearly all also treat the pandemic as a thing of the past or some other reality entirely. Whether this is good social policy is hard to say, but it's surprisingly easy to get used to this unrestricted other world, where people go about their business in unmasked, relaxed close quarters. It may be an illusion — COVID protocols seem to be more stringent and better enforced on a Hollywood set than, say, among the police department — but that is the business they are in, and each of the shows below has true things to say about who we are or might, mostly for the better, become.
As always my list includes only programs that debuted in the past year.
The complete guide to home viewing
Get Screen Gab for everything about the TV shows and streaming movies everyone's talking about.
You may occasionally receive promotional content from the Los Angeles Times.
"Reservation Dogs" (FX/Hulu)
Seminole Nation member Sterlin Harjo and New Zealand's Indigenous Taika Waititi ("What We Do in the Shadows") created this rich and remarkable, sweet and shaggy comedy, set in and around east Oklahoma tribal lands. Focusing on four teenagers bent on getting out of town by hook or by crook, it mixes ordinary local detail with a drop of daffy magical realism; takes you somewhere television never goes, without making a big deal of it; and sidesteps the usual sensational tropes of onscreen adolescence while capturing its delicate romanticism. (Read our full review.)
"Only Murders in the Building" (Hulu)
Diversity comes in many forms, and there is something gratifying in the fact that two comedians in their 70s — Steve Martin, who co-created the show, and Martin Short — have delivered a broadly popular hit that feels energetic, youthful and physical while not looking away from age. Young Selena Gomez makes a perfect third partner in a mystery about people who love mysteries, with all the misdirection of an Agatha Christie novel. Better than the true-crime podcasts that inspired it. (Read our full review.)
"Maya and the Three" (Netflix) / "Kid Cosmic" (Netflix)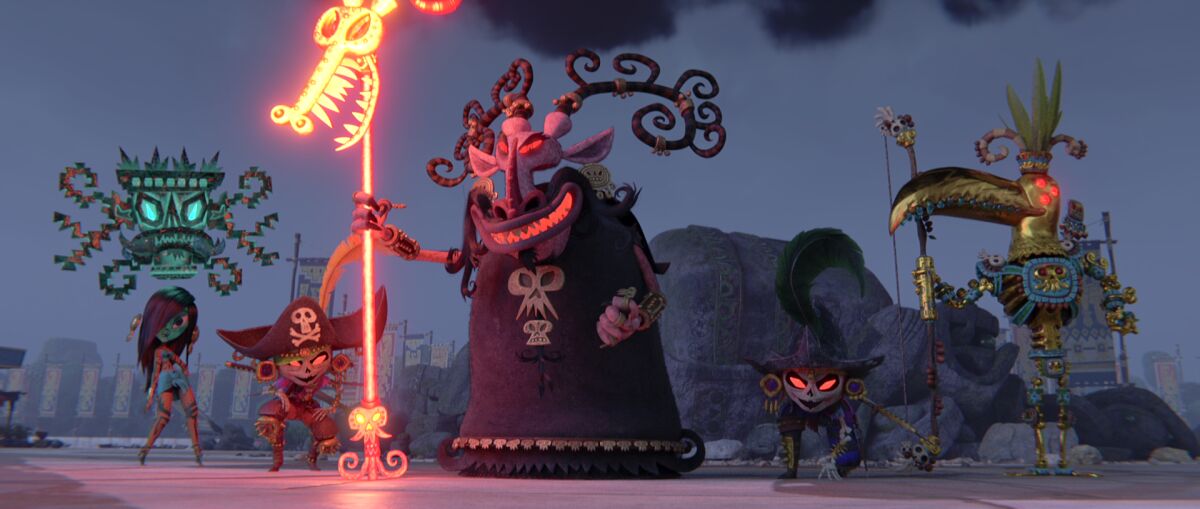 Grand, quirky cartoon epics, comic yet genuinely suspenseful and thoroughly heartfelt. For all the teamwork animation requires, both series come across as highly personal. Craig McCracken's ongoing "Kid Cosmic" applies a sketchbook aesthetic to the story of a desert truckstop community battling forces from space. Jorge Gutierrez's stunning limited series "Maya and the Three," which overcomes the aesthetic deficits of CGI animation through the creator's mad design, applies an original twist to Mesoamerican gods and legends, wrapping love stories in apocalypse.
"100 Foot Wave" (HBO) / "Naomi Osaka" (Netflix)
Sports documentaries as journeys to self-knowledge. "100 Foot Wave" follows maverick surfer Garrett McNamara to a Portuguese promontory on his midlife quest to ride the world's wildest surf; family, community, age, responsibility, daring and age are among its themes. "Naomi Osaka" offers an intimate, impressionistic view of the tennis phenom as she navigates a path between the demands of the court and pop cultural superstardom on the way to adulthood.
"White Lotus" (HBO) / "Hacks" (HBO Max)
Rich white people problems. (Money can't buy happiness, in a well-worn phrase.) Smart writing and fine performances —notably by Jennifer Coolidge in "Lotus" and Jean Smart in "Hacks" — make these shows consistently compelling even when the people in them drive you crazy. Mike White's "White Lotus" finds a mix of edgy vacationers spiritually adrift in a tropical resort. "Hacks," whose main characters sacrifice life for careers, is a generational hate-love story in which Smart plays a Vegas-based comedian in need of a recharge, with Hannah Einbinder as the young writer, also in need of a recharge, sent to recharge her.
We surveyed The Times TV team to come up with a list of the 75 best TV shows you can watch on Netflix. As in, tonight.
"Big Shot" (Disney+)
Intelligent pleasure. This well-crafted, perfectly calibrated family entertainment may represent the umpteenth work erected upon the durable foundation of "The Bad News Bears," but it is very much its own complex, endearing creature. John Stamos stars as a successful men's college basketball coach whose temper bounces him down to a job overseeing a high school girls team. It's a perfect role for Stamos, who has long had a way with characters whose charm has compromised their maturity. With the ever-welcome Yvette Nicole Brown and a host of talented young actresses who find real people within their types.
"The Upshaws" (Netflix)
Wanda Sykes, who co-stars, and Regina Y. Hicks created this deceptively subtle knockabout multicamera sitcom, which recalls a 20th century tradition of working-class comedies — these are not the Huxtables — but with contemporary cheek and issues. Kim Fields and Mike Epps are the semi-suited couple at the center of children, children's children, sundry relations and eccentric workplace associates. (Read our full review.)
"Station Eleven" (HBO Max)
Based on but not entirely beholden to Emily St. John Mandel's highly regarded, bestselling 2014 novel, this late-year arrival, a post-post-apocalyptic story of what's worth preserving and what might be left behind, is set largely just as, and 20 years after, a pandemic kills most everyone on Earth. (Filming began just as our own pandemic set in.) At times nonsensical, leaning heavily on coincidence and likely to trigger some virus anxiety, it is also very beautiful, prizing stillness and reflection — and Shakespeare — over action and mayhem.
"Painting With John" (HBO)
Reclusive former musician and actor John Lurie paints fiddly watercolors and tells stories from his life from his home on an unnamed Caribbean island. He also rolls tires in the garden, crashes drones in the credits, kibbitzes with the help and pretends to be an elephant in this unclassifiable, unaccountable, self-written, self-directed, most likely one-off art piece of a series: It ends with the title "The End." (Read our full review.)
"The Beatles: Get Back" (Disney+)
Peter Jackson's "Lord of the Rings"-sized trilogy recut of the final Beatles film. I have quibbles with the editing — too many cuts, often to obviously unconnected reaction shots, just to get the footage in, when Jackson might as easily have let takes run long for fly-on-the-wall intimacy. But the cumulative effect of this day-by-day record of the creation of the Beatles' penultimately recorded and last released album is a powerful story of shared history, diverging paths and love, which someone once sang is all you need.
---