Watch sober Andy Cohen and Anderson Cooper take 'mystery shots' on New Year's Eve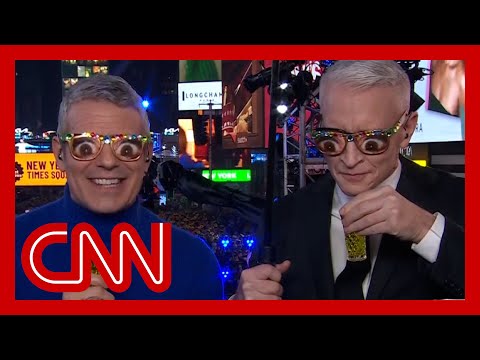 CNN earned a lot of boos for the lack of booze during its 2022 New Year's Eve special. But sober co-hosts Anderson Cooper and Andy Cohen still made an effort to keep things interesting throughout the newly dry countdown to midnight.
At the top of the show — taped live at Times Square — Cohen wasted no time addressing "the elephant in the room": In November, CNN Chairman Chris Licht made the controversial decision to prohibit its New Year's Eve correspondents from drinking alcohol on air.
The sobering announcement was met with outrage from CNN viewers who look forward to Cohen, Cooper and post-midnight anchor Don Lemon's drunken shenanigans each year.
"We can't drink," Cohen said during Saturday's show. "But it's fine."
The boss of CNN told staffers that on-camera drinking — which has become something of a New Year's Eve tradition — damages the network's credibility.
Cooper mused that the drinking ban wasn't "a big deal" for him because he doesn't "normally drink" — to which Cohen replied, "We know, as we see every year. That's the thing" folks tune in for.
Asked by Cooper if he would "be able to make it" to the ball-drop without imbibing, Cohen said, "That's the question. We will see."
"Do I have a pocket full of edibles? I do!" the "Real Housewives" producer added. "Will I take them? I don't think so. I don't know. It's a long night. This is a telethon with no disease. Do you understand? We're here all night, passing time."
"We're enjoying time," Cooper interjected. "We're enjoying every minute."
Ryan Seacrest commended CNN for cutting down on drinking during its annual New Year's Eve coverage. "I don't advocate drinking when one is on the air," he said.
After touting CNN's "great" lineup of New Year's Eve guests and performers, Cohen explained how the pair would be altering their tradition of toasting with viewers at the top of every hour under the network's new drinking policy.
Instead of downing alcoholic beverages, the longtime friends and colleagues took hourly "mystery shots" containing spicy Bloody Mary mix, apple cider vinegar and other surprise liquids. Cooper and Cohen then promptly chased the nonalcoholic drinks with juice boxes allegedly borrowed from Cohen's 3-year-old son.
"I can't see anything," Cooper said while putting on a pair of goofy eyeglasses functioning as a blindfold before throwing back the first mystery shot of the night: pickle juice.
"That's the point," Cohen said. "We will take the shot and then we will guess what it was. Sound fun? I think so. It could be torture. ... I am not gonna smell it because I'm freaked out."
Andy Cohen made disparaging remarks about outgoing New York Mayor Bill de Blasio, Ryan Seacrest and ABC while co-hosting CNN's New Year's Eve special.
Though Cooper and Cohen refrained from directing any serious criticism at their employer, comedian Kevin Hart did not hold back while appearing as a guest on CNN's New Year's Eve special and bashing the network's new drinking policy.
"You guys can't say anything about it, but I can," Hart said. "This is absolute bulls—. I don't like it one bit. I'mma say what you wanna say. ... I'mma do what you can't. I'mma take a shot because you guys have been hoodwinked! ...
"I can't believe CNN telling you guys not to go and cut loose in such a good, true fashion. That's perfect TV. You don't tell you guys not to drink. And I'm pissed off about it. Listen, I'm gonna drink for you. ... This is me celebrating for you, through you. I've always been a fan. And New Year's is special because of the energy you brought to it. I can't believe they pulled this s— on you guys! That's right, CNN. I said s—!"
By the time CNN finally started to censor Hart's expletive-ridden rant, Cohen and Cooper were giggling up a storm.
"Kevin, bless you," Cohen said. "Thank you for that. We appreciate your anger. You are a vessel for us."
While ringing in the New Year live from New Orleans, Lemon wasn't allowed to engage in his usual tipsy high jinks — but that didn't stop him from being the life of the party. In fact, the broadcast journalist accidentally missed the countdown to midnight in the Central Time zone because he was too busy dancing and tossing beads to the tune of Juvenile's "Back That Azz Up."
Appearing to receive a message via his earpiece after the stroke of midnight, Lemon belatedly shouted, "That's how we start it! Y'all ready for this countdown?"
"It's what CNN deserves for making someone stay sober at a NYE party in NOLA," tweeted @sbsestra in response to the countdown gaffe.
Get our L.A. Goes Out newsletter, with the week's best events, to help you explore and experience our city.
You may occasionally receive promotional content from the Los Angeles Times.