Super Bowl LVII nears a TV ratings high. Biden's State of the Union speech hits a low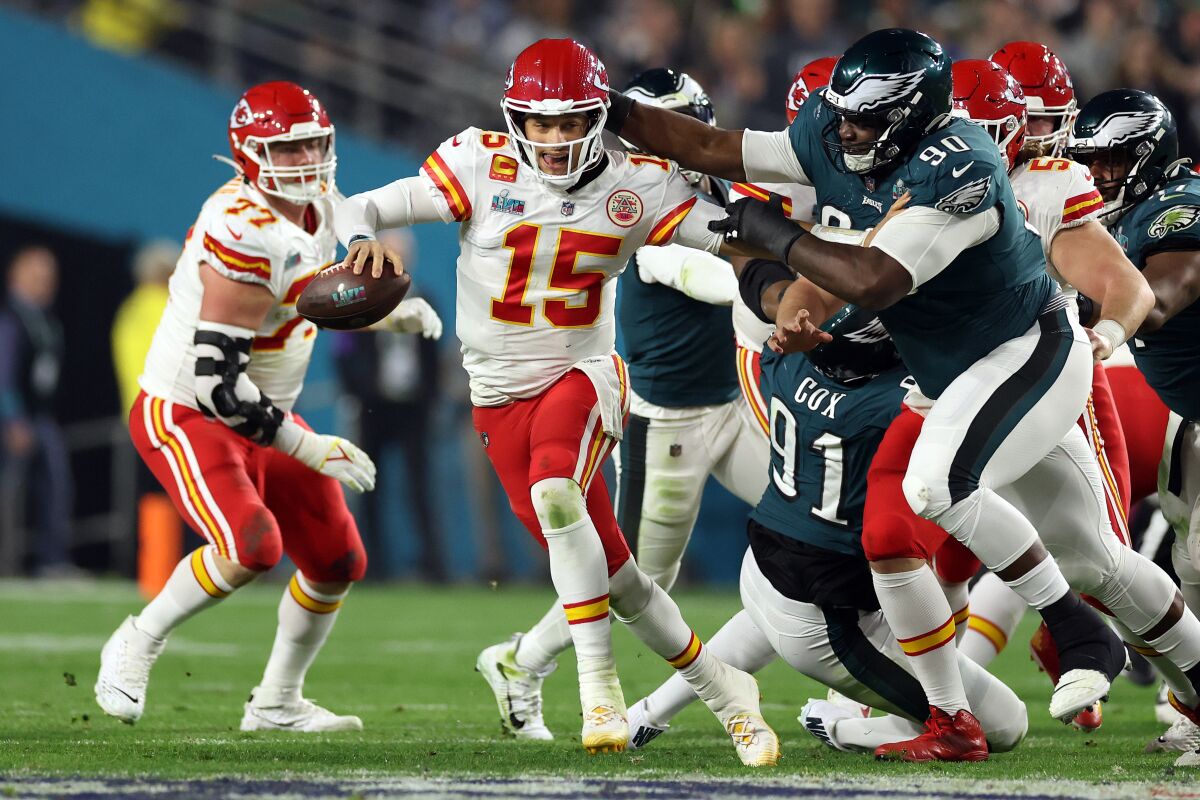 Fox's coverage of Super Bowl LVII was the second- or third-largest audience in U.S. television history, depending on who's counting and how. Nielsen and Fox's figures agree it drew 113.05 million viewers. NBC's coverage of Super Bowl XLIX on Feb. 1, 2015, which averaged 114.81 million for the New England Patriots' 28-24 victory over the Seattle Seahawks, has the top spot.
For the record:
9:51 a.m. Feb. 16, 2023An earlier version of this post attributed the difference in Nielsen and Fox's audience measurements for Super Bowl LI to out-of-home viewing numbers. The difference was in digital audience numbers.
But because of which digital platforms were included in Nielsen's viewership figures before 2019, the 2023 game is No. 2 according to Nielsen and No. 3, behind Fox's broadcast of Super Bowl LI in 2017, in the network's calculations, which included numbers for Fox and NFL streaming options that were not yet in Nielsen's measurements.
The 113.05 million figure for Sunday's game consists of an average of 112.17 million on Fox and 882,000 for the Spanish broadcast on Fox Deportes and includes digital and out-of-home viewing and viewing on the Fox Sports and Fox Now apps and NFL+ streaming service, according to final figures released Tuesday by Nielsen.
Super Bowl viewership increased for the second consecutive year after dropping below 100 million for the second time since 2014 in 2021 in the midst of the COVID-19 pandemic. Viewership for the Kansas City Chiefs' 38-35 victory over the Philadelphia Eagles was 11.8% higher than the 101.085 million average for the Rams' 23-20 victory over the Cincinnati Bengals in Super Bowl LVI in 2022, which aired on NBC.
NFL programming was the top-ranked prime-time program for 21 of the 22 weeks there was prime-time NFL programming during the 2022 season. The only exception was the week of Dec. 26-Jan. 1 when ESPN's coverage of Georgia's 42-41 victory over Ohio State in a College Football Playoff semifinal finished first.
Viewership for "Next Level Chef" was the lowest on record for an entertainment program immediately following the Super Bowl postgame shows. The second-season premiere of the cooking competition series averaged 15.657 million viewers.
President Joe Biden's State of the Union address Feb. 7 averaged the smallest audience for a presidential address to Congress on record, 27.312 million viewers on 16 networks. The previous low was 26.936 million viewers for Biden's speech to a joint session of Congress in 2021.
Viewership was down 28.5% from Biden's 2022 State of the Union address, which averaged 38.197 million viewers on 16 networks. Fox News Channel drew the largest audience for the speech, 4.695 million.
Figures date back to 1993, when then-President Bill Clinton's address to a joint session of Congress in his first year in office averaged a record 66.9 million viewers.
The three State of the Union addresses and one address to a joint session of Congress delivered by then-President Donald Trump averaged between 37.173 million and 47.741 million viewers.
As is typical for the network airing the Super Bowl, Fox overwhelmed its rivals, averaging 25.04 million viewers for its prime-time programming between Feb. 6 and Sunday, nearly three times the combined viewership of CBS, ABC and NBC.
CBS averaged 3.96 million viewers and ABC and NBC both 2.94 million.
Fox's most popular program outside of Sunday was "9-1-1: Lone Star," 25th for the week averaging 3.802 million viewers.
CBS had each of the week's top 10 prime-time programs airing Feb. 6 thru Saturday, led by "Young Sheldon," which averaged 7.725 million viewers. Only one other prime-time program between Feb. 6 and Saturday topped 7 million viewers, the CBS action drama "NCIS," which averaged 7.15 million viewers.
ABC's ratings leader was its State of the Union coverage, which averaged 4.405 million viewers, 20th for the week. Its top-rated entertainment program was "The Conners," 23rd for the week, averaging 4.209 million viewers.
NBC's highest-ranked program was "America's Got Talent: All-Stars," 15th for the week, averaging 4.838 million viewers.
The CW averaged 380,000 viewers. Its biggest draw for the second consecutive week was the magic competition series "Penn & Teller: Fool Us," which averaged 619,000 viewers, 163rd among broadcast programs. Its overall ranking was not available.
The lone premiere on the five major broadcast networks, the ABC comedy "Not Dead Yet," averaged 3.606 million viewers, third in its 8:30-9 p.m. time slot Feb. 8, 34th for the week and seventh among comedies. It retained 85.4% of the audience of "The Conners" episode that preceded it.
A second episode of "Not Dead Yet" averaged 2.882 million viewers from 9:30-10:30 p.m. Feb. 8, third in its time slot, 55th for the week and ninth among comedies. It retained 89.5% of the audience of the "Abbott Elementary" episode that preceded it.
The top 20 prime-time programs consisted of Fox's coverage of Super Bowl LVII, its two postgame shows and "Next Level Chef"; 10 CBS scripted programs; the CBS special "Super Bowl Greatest Commercials: Battle of the Decades"; NBC's "America's Got Talent: All-Stars"; and four State of the Union-related programs, three on Fox News Channel and one on ABC.
Four State of the Union-related programs on Fox News Channel were the week's top prime-time cable programs, lead by a 25-minute analysis program that averaged 4.797 million viewers, 17th overall.
Fox News Channel won the cable network prime time contest for the third consecutive week, averaging 2.437 million viewers. MSNBC was second, averaging 1.318 million viewers and ESPN third, averaging 905,000.
The cable top 20 consisted of nine State of the Union-related programs — four each on Fox News Channel and MSNBC and one on CNN; nine Fox News Channel weeknight political talk shows (five broadcasts of "Tucker Carlson Tonight," three of "Hannity" and one of "The Ingraham Angle"); the MSNBC weekly news and opinion program, "The Rachel Maddow Show"; and TNT's coverage of the Feb. 7 Lakers-Oklahoma City Thunder game where LeBron James became the NBA's career scoring leader.
The fourth season of "You" was Netflix's most-streamed television program, with viewers spending 92.07 million hours watching the 10 episodes of the psychological thriller in the first four days they were available, according to figures released by the streaming service Tuesday.
"Your Place or Mine" was Netflix's top movie, with viewers watching the romantic comedy for 51.23 million hours during the first three days it was available.
Get our L.A. Goes Out newsletter, with the week's best events, to help you explore and experience our city.
You may occasionally receive promotional content from the Los Angeles Times.