Review: Bugs Bunny and pals enthrall the Hollywood Bowl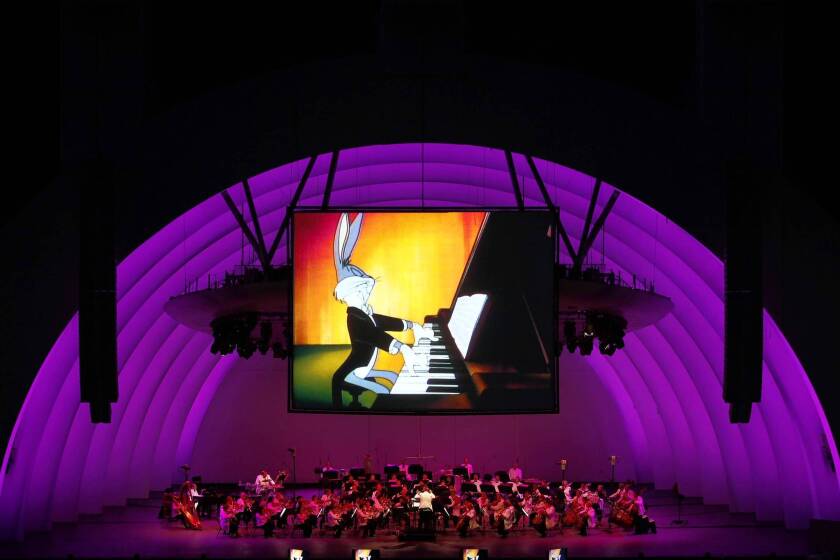 Particularly for those of us with children, Los Angeles residents are often left wondering why we live here.
The basic costs of living are comically high, public transportation is woefully inadequate, and most public schools can't afford rudimentary arts programs. For all its size and sprawl, the city doesn't have nearly enough parks or public spaces but manages to generate choking traffic and diabolical motorists.
And then you take your kids to "Bugs Bunny at the Symphony II" at the Hollywood Bowl featuring the Los Angeles Philharmonic, conducted by George Daugherty, and you realize, oh, yes, this is why we live in Los Angeles.
PHOTOS: LA Opera through the years
The wonderfully conceived program, which opened Friday and was repeated Saturday at the Bowl, continues the winning idea of pairing classic Warner Bros. cartoons with live musical accompaniment. There are few things that can trump video games such as "NBA 2K13" in the lives of my older middle-school-age boys, but Bugs Bunny can.
Naturally, it is a show designed for kids, offering a rare evening to marvel at the beauty and power of a world-class symphony orchestra within one of the nation's most storied performance venues. And on Friday at least, the Bowl wasn't just filled with the squealing laughter of children who delighted in the classic wisecracking cartoons that also included Daffy Duck and the Road Runner. Adults, even those not enjoying their wine, were laughing just as loudly during the roughly two-hour show.
Bugs has been to the Bowl before, of course, and in a couple of ways. First, the show selects cartoons for that Bowl-within-a-Bowl experience — notably with Bugs as conductor in "Baton Bunny" and "Long-Haired Hare." Perhaps most famously, Bugs stars with Elmer Fudd in "The Rabbit of Seville," a seven-minute cartoon that begins at the Bowl and introduced several generations to Rossini's overture to "The Barber of Seville."
The fusion of live orchestra and cartoons, which are beamed onto the Bowl's big screens and a specially added larger middle one, is simply seamless. If there is a minor note to be made here — and it may not be possible from a staging standpoint — the experience would be enhanced if the musicians could be highlighted even more. Looking up at the screens, sometimes it's easy to forget about the live performance.
TIMELINE: Summer's must see concerts
The weekend's show was the sequel to Daugherty's "Bugs Bunny on Broadway," a similar concert of Warner Bros. classics that premiered in 1990. The previous incarnation has toured the world and appeared at the Bowl nine times.
This version of Bugs 2.0, which made its world premiere Friday, weaves a couple of new and worthy cartoons into the program. There's "Coyote Falls," featuring the eternal struggle between Wile E. Coyote and the Road Runner, and "I Tawt I Taw a Puddy Tat," showcasing the eternal struggle between Tweety Bird and Sylvester. (Of the two, "Coyote Falls" is the stronger one, zipping along nicely and imaginatively.)
In all it was a magical night, so much so that driving home amid the blinking, honking chaos of Highland Avenue, we could almost hear "The Barber of Seville." Almost.
---
Your essential guide to the arts in L.A.
Get Carolina A. Miranda's weekly newsletter for what's happening, plus openings, critics' picks and more.
You may occasionally receive promotional content from the Los Angeles Times.