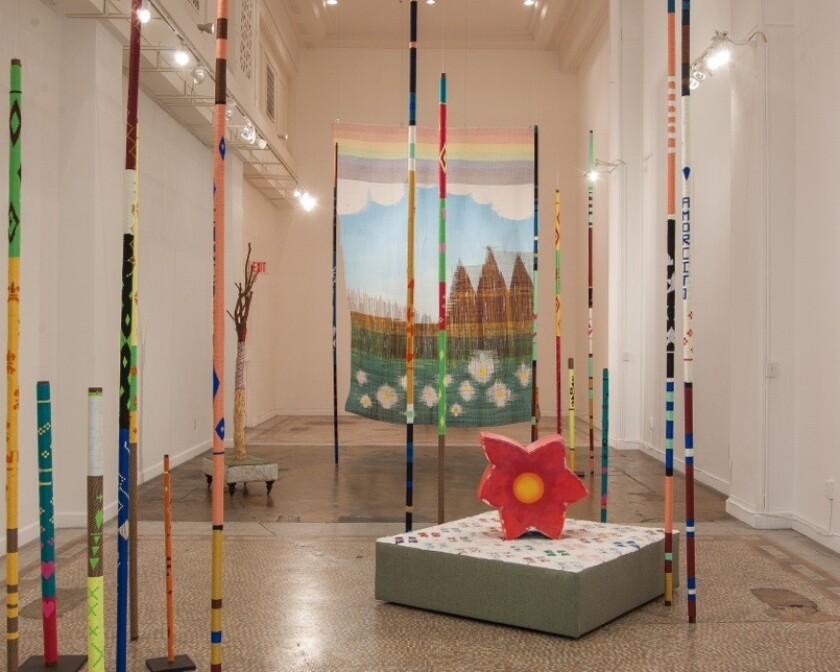 Last year, Lorenzo Hurtado Segovia exhibited a series of dazzling abstractions that he had made by shredding works on paper into long, skinny strips and then weaving the strips into place-mat-style paintings that simultaneously evoked digital transmissions on the fritz, plaid fabrics stretched by swinging hips and banners flapping in the wind.
This year, in a breakout exhibition at CB1 Gallery, Hurtado Segovia expands the range and intensifies the impact of his ingenious works. Making a mess of distinctions between painting and sculpture, not to mention art and craft, the L.A. artist who was born in Ciudad Juárez, Mexico, invites visitors into a world where nothing sits still — least of all, your imagination.
CRITICS' PICKS: What to watch, where to go, what to eat
The high-ceilinged main gallery is one part enchanted forest and one part holy chapel. Not one of its 21 works hangs on the wall, like a painting, or takes up much space, like a traditional sculpture. Yet you're bathed in color. And you'll want to walk around each piece, so as not to miss the golden glow that reflects off a huge woven work suspended in midair and the gorgeous rainbow of tertiary tints that leaps from the 18 freestanding dowels, some 12 feet tall, that Hurtado Segovia has wrapped in colorful cords ordinarily used to weave rugs.
A side gallery includes fewer pieces but no less drama. Three two-sided woven paper pieces, set atop elegant pedestals, revel in the pleasure, and the power, of asymmetry. On the back wall, a big painting similarly celebrates illogic, inconsistency, impossibility. Part interior, part landscape and part street scene, it takes its place in a sophisticated exhibition that makes room for life's multilayered richness without taking up much space or wasting a minute.
ALSO:
Peter O'Toole: 6 notable stage performances
The Norton Simon Museum plays Scrooge with 'Christ Blessing' work
Review: 'A Christmas Carol: Twist Your Dickens!' fun yet scattershot
CB1 Gallery, 207 W. 5th St., (213) 806-7889, through Jan. 26. Closed Mondays and Tuesdays. www.cb1gallery.com
---