Review: 'A Christmas Memory' at Laguna Playhouse shows potential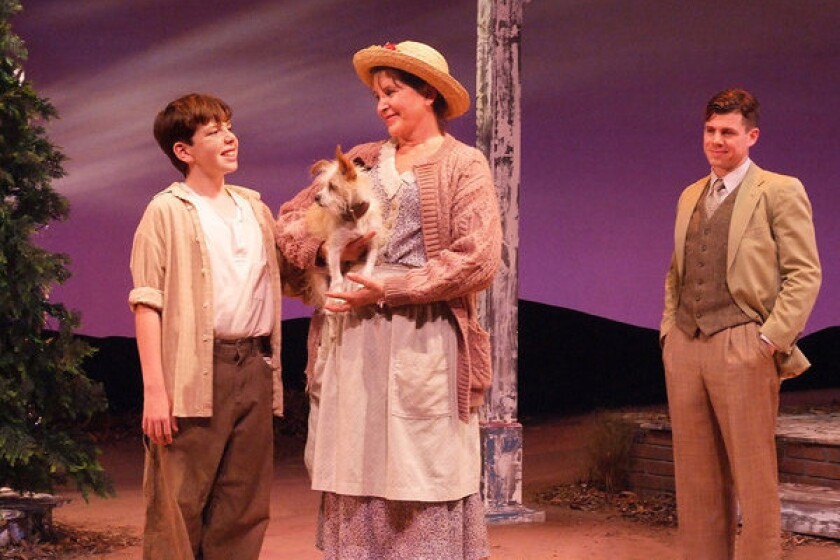 Delicate, bittersweet nostalgia suffuses "A Christmas Memory," Truman Capote's enduring 1956 autobiographical story, and the Laguna Playhouse staging of Duane Poole, Carol Hall and Larry Grossman's 2010 musical adaptation honors that ethos.
Librettist Poole opens on Adult Buddy (Ciarán McCarthy) returning to the Alabama homestead of his childhood, greeted by former laundress Anna Stabler (Amber Mercomes). "Imagine a Morning," he sings, under Darryl Archibald's proficient musical direction. His younger self (William Spangler) and remembered coevals join in, as lyricist Hall and composer Grossman find equivalents to Capote's exquisite prose.
Anna, tomboy Nelle Harper (Siena Yusi) and family dog Queenie (Pickle) notwithstanding, it's Buddy's grown cousins who give "Memory" classic status: Authoritarian Jennie (Tracy Lore), bemused Seabon (Tom Shelton) and, crucially, childlike Sook (Marsha Waterbury), Buddy's best friend, on whom the story turns.
CRITICS' PICKS: What to watch, where to go, what to eat
Director Nick DeGruccio comprehends this, and if Waterbury occasionally echoes Geraldine Page's indelible 1966 TV performance, her fluttery, affecting Sook more often recalls Julie Harris. Lore expertly blends no-nonsense and sensitivity as Jennie, while Shelton essays Seabon, postman Farley Wood and neighborhood bogeyman Haha Jones with real versatility.
Mercomes, Yusi and Pickle are all up to their duties. So are McCarthy and Spangler, though neither exactly suggests a Capote surrogate, and the device of having elder mirror younger is underexplored.
Furthermore, the elusive material, here whimsical, there elegiac, courts overstretched repetition when played out over two halves on a respectable but spare décor with distracting mega-amplification. Although "Christmas Memory" would benefit from revisions to one uninterrupted act, the audible sniffles at the reviewed performance indicate a heartwarming seasonal staple in the making.
ALSO:
Banksy mural from L.A. gas station sells for $209,000 at auction
Paul Robeson is the subject of dueling 2014 L.A. stage productions
'Sound of Music': Watch Audra McDonald sing 'Climb Ev'ry Mountain'
"A Christmas Memory," Laguna Playhouse, 606 Laguna Canyon Road, Laguna Beach. 7:30 p.m. Tuesdays through Fridays, 2 and 7:30 p.m. Saturdays, 2 p.m. Sundays. Also, 2 p.m. Dec. 19, 26; 7 p.m. Dec. 19, Dec. 29; 4 p.m. Dec. 24, 7:30 p.m. Dec. 23. Ends Dec. 29. $36 to $71. www.lagunaplayhouse.com or (949) 497-2787. Running time: 2 hours, 20 minutes.
---
Inside the business of entertainment
The Wide Shot brings you news, analysis and insights on everything from streaming wars to production — and what it all means for the future.
You may occasionally receive promotional content from the Los Angeles Times.