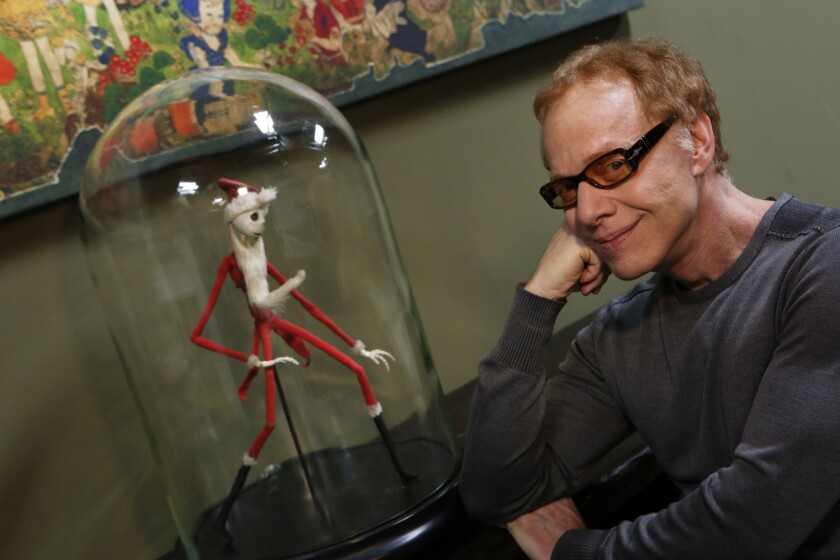 Composer Danny Elfman will celebrate Halloween this year by bringing the music he composed for Tim Burton's "The Nightmare Before Christmas" to the Hollywood Bowl in a live orchestral performance conducted by John Mauceri.
The concert, which will feature Elfman performing alongside an orchestra and chorus to the stop-motion animated movie, will take place at the Bowl on Oct. 31, with a starting time set for 8:15 p.m.
SIGN UP for the free Essential Arts & Culture newsletter >>
Organizers said that the Bowl will be transformed into Halloween Town -- one of the nightmarish worlds from the original 1993 movie -- with pre-show activities that will include an audience-participation costume contest.
Elfman will sing the role of Jack Skellington, the movie's "Pumpkin King" protagonist who hijacks Christmas and kidnaps Santa Claus. (He provided the original singing voice of Skellington in the movie.)
In recent years, the Oscar-nominated composer has sung in a number of Burton-themed concerts, including performances in downtown L.A. and earlier this year in a prestigious slot at Lincoln Center in New York, as part of the Lincoln Center Festival.
The Halloween concert will mark a return to the Bowl for Mauceri, who was the longtime head conductor of the Hollywood Bowl Orchestra. The upcoming "Nightmare" concert will also include other guest singers who will perform other songs from the movie, but no additional names have been announced.
Organizers said that tickets for the Bowl concert will go on sale Friday at noon. They said audiences are encouraged to wear costumes inspired by Burton's movies.
The concert is a Bowl lease event, and isn't produced by the Los Angeles Philharmonic, which manages the venue.
"The Nightmare Before Christmas," which is rated PG, was directed by Henry Selick and was produced by Burton, who devised the story and the characters.
Elfman is a four-time Oscar nominee and has written music for nearly all of Burton's movies, including last year's "Big Eyes." He also composed the theme to Fox's "The Simpsons" and scored this year's Marvel blockbuster "Avengers: Age of Ultron."
Twitter: @DavidNgLAT
MORE:
Danny Elfman talks about Halloween concerts of Tim Burton movie music
Universal Studios Hollywood brings back greatest hits lineup for Halloween Horror Nights 2015
L.A. Opera opens 30th season with Plácido Domingo staying busy
---