L.A. Phil's Gustavo Dudamel, Deborah Borda see compensation increase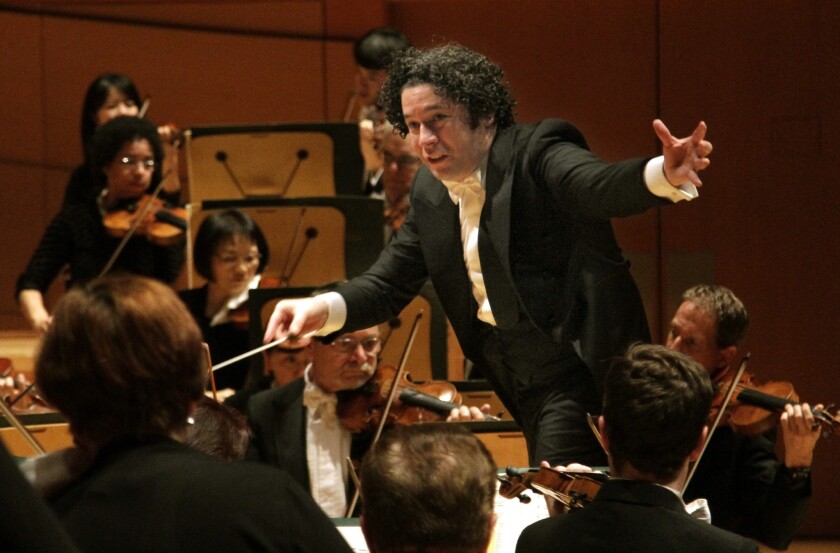 Accolades aren't all Gustavo Dudamel has reaped as conductor of the Los Angeles Philharmonic.
A recently filed public tax return for the L.A. Phil provides the latest glimpse of the financial dimension of being a classical music sensation. It also reflects the orchestra's continuing financial strength during the 2011-12 fiscal year that ended last Sept. 30.
Dudamel's compensation for the 2011 calendar year, his second full year as the Phil's music director, was $1,425,088 including benefits — up 44.6%. Orchestra spokeswoman Sophie Jefferies attributed the increase mainly to a rising workload. She said Dudamel conducted 30% more concerts in 2011 than he had in 2010, when he'd earned $985,363. The orchestra declined to provide financial or earnings information more recent than what was reported in its tax return.
INTERACTIVE: High-earning conductors | High-earning arts executives
Although the latest tax return reflects Dudamel's pay for the calendar year, the orchestra counts his appearances by its fall-to-summer performance season. He conducted the L.A. Phil 47 times in 2011-12 and 50 times in 2010-11, not counting tours such as its performing trip to his native Venezuela during 2012. During his inaugural 2009-10 season, Dudamel led the Phil 34 times, starting with a free "Bienvenido Gustavo" concert at the Hollywood Bowl.
The Phil's extreme satisfaction with its star music director had become evident early in 2011, when 16 months into his tenure it announced it was extending Dudamel's original five-year contract to 10 years.
Despite its conductor's big earnings increase in 2011, the orchestra continued to reap something of a discount because of his youth. Five music directors for U.S. orchestras or opera companies were higher paid than Dudamel. The youngest, Michael Tilson Thomas of the San Francisco Symphony, is 68; L.A.'s maestro is 32.
CHEAT SHEET: Fall arts preview
Riccardo Muti vaulted to the top of the earnings ladder in his first full year as music director of the Chicago Symphony, his $2.17-million compensation package for 2011 passing Tilson Thomas, who was paid $2.03 million. Christoph Eschenbach made $1.93 million during 2011 as music director of the Kennedy Center for the Performing Arts in Washington, D.C. Charles Dutoit, then still leading the Philadelphia Orchestra, earned $1.64 million in 2011, and James Levine received $1.52 million as music director of New York's Metropolitan Opera.
It's not unusual for conductors to lead more than one orchestra, or to appear elsewhere as guest conductors. Dudamel also is music director of the Simón Bolívar Symphony in Venezuela and makes other international appearances. This month he's in Japan, conducting an opera and concert tour by the Italian company La Scala.
Organizations' tax returns paint a broader picture of how they fare during a fiscal year, and for the L.A. Phil, the big picture remained extremely bright during 2011-12, Dudamel's third season in L.A.
PHOTOS: Arts and culture in pictures by The Times
The Phil rang up its 10th budget surplus in 11 years — the only deficit cropping up during the fiscal year that began Oct. 1, 2008, and overlapped a bitter economic recession. That 2008-09 season was Esa-Pekka Salonen's last as music director.
People inclined to find clouds in a bright fiscal sky might point to the fact that the Phil's $5.9-million surplus in 2011-12 and the $6.1-million surplus in 2010-11 represented a bit of a slip: The orchestra's eight other surpluses since 2000-2001 had ranged from $8.4 million to $24 million. But most nonprofit arts groups, especially orchestras, whose difficulties have been manifold in recent years, wouldn't mind having to cope with such slippage.
Fundraising remained a key to the Phil's success, as contributions rose from $33.1 million in 2010-11 to $38.9 million. It was the orchestra's biggest fundraising year since 2002-03, when it was ramping up for its October 2003 debut in Walt Disney Concert Hall. Orchestra leaders have credited audiences' undiminished enthusiasm for Disney Hall as a key factor in the Phil's prosperity.
ART: Can you guess the high price?
Expenditures totaled a record $108.4 million in 2011-12. The next-biggest orchestra, the Boston Symphony, spent $85.8 million. The Boston and L.A. orchestras both have prominent summer homes that keep them busy year-round — the Hollywood Bowl for the Phil and Tanglewood in bucolic Lenox, Mass., for the BSO.
Amid the L.A. Phil's continued prosperity, Deborah Borda, its president and chief executive since 2000, received a 2011 earnings boost to $1.75 million. But the 9.3% increase didn't prevent her from dropping a notch to third place nationally for arts-executive pay. Reynold Levy, president of New York's Lincoln Center, maintained the top spot at $2.1 million, up 18.6%, and Glenn Lowry, director of the Museum of Modern Art in New York, leapfrogged Borda with a 16.7% increase to $1.82 million.
Among the factors influencing arts executives' pay is the broad skill set that the most accomplished leaders must possess. Besides being strong administrators and business strategists, they have to be adept at winning the respect, confidence and cooperation of the donors and artists who are crucial to their organizations' success.
Borda's next big challenge is successfully concluding contract negotiations with the Phil's musicians, whose four-year contract expires Sunday. The contract has boosted their minimum base pay 17% over the last four years, to $148,700 a year.
"We do not comment on negotiations while they are in process," Jefferies said, when asked about the talks' status, and whether the parties might already have agreed to abide by the expiring contract temporarily, allowing negotiations, rehearsals and performances to continue after it runs out. Officials of Professional Musicians Local 47 — the union that represents L.A. Phil musicians — also declined to comment.
The new season is scheduled to open Sept. 30 with a gala featuring Yo-Yo Ma, and continue in early October with concerts celebrating Disney Hall's 10th anniversary.
The Phil declined to provide a financial update on projected results for the 2012-13 fiscal year that ends Sept. 30 and could have a bearing on negotiations. Barring unexpected developments, those figures probably won't be available until next summer, when the orchestra's public financial filings will again be due.
---
The complete guide to home viewing
Get Screen Gab for weekly recommendations, analysis, interviews and irreverent discussion of the TV and streaming movies everyone's talking about.
You may occasionally receive promotional content from the Los Angeles Times.