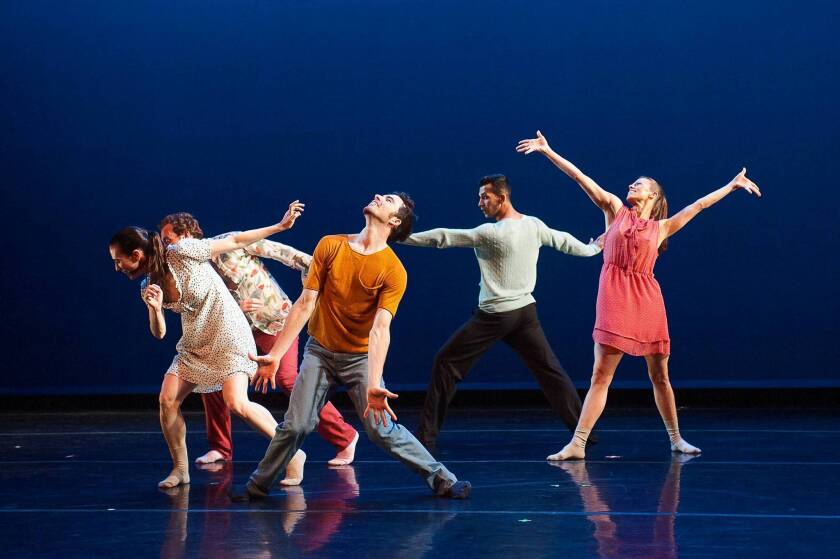 A dance season has tended to be defined by one or two international companies of hefty size that have the selling power equivalent of a blockbuster movie. As with the blockbuster, however, that model has morphed.
It has become prohibitively expensive and difficult to entice the elite, overseas classical companies — think the Paris Opera Ballet or England's Royal Ballet — to tour the West Coast. That said, we still have a strong contingent of impressive talent heading our way this fall, as presenters such as the Center for the Art of Performance at UCLA, the Music Center and the Segerstrom Center for the Arts entice audiences with respected A-list artists, including Australia's Lucy Guerin, the Nederlands Dans Theater 1 and Russian ballerina Diana Vishneva, respectively.
Still, smaller has become the watchword.
PHOTOS: Arts and culture in pictures by The Times
But there is a notable prominence too, as this dance season kicks off homegrown artistry produced in collaboration with local presenters: BodyTraffic at the Broad Stage and David Roussève/Reality at REDCAT, to give just two examples. The Bootleg Theater and producer Miranda Wright are collaborating on a three-week alternative performing arts series, "Live Arts Exchange," that will give a platform to experimental choreographers, overlapping with the anticipated return of Radar L.A.'s international theater festival.
The new Wallis Annenberg Center for the Performing Arts in Beverly Hills, with its 500-seat Goldsmith Theater, represents another opportunity, a smaller venue that this area has sorely needed. The Annenberg Center opens Nov. 8-9 with the New York-based Martha Graham Dance Company performing three classics, including the powerfully sorrowful "Lamentation," as well as a suite of excerpts intended to introduce audiences to the Graham legacy. Will this theater's directors be inclined to give local dancers a prominent place in their menu of offerings? We shall see.
Sept. 21
"Mara: The Mastermind Behind It All"
Commissioned by the Ford Amphitheatre, "Mara" is the creative brainchild of Los Angeles siblings on the leading edge of Indian classical arts: Mythili and Aditya Prakash. Mythili, a celebrated dancer in the Indian tradition of bharata natyam, was trained by her virtuoso mother, Viji. Mythili's brother is a vocalist, composer and head of the Aditya Prakash Ensemble, which combines ragas with jazz, hip-hop and funk. "Mara" is based loosely on the story of the demon that tried to distract Gautama Buddha from a spiritual life of enlightenment. This world premiere brings together a cast of 35, including members of the Shakti Dance Company, Aditya's ensemble and Mythili in leading roles.
The Ford Theatres, 2580 Cahuenga Blvd., East, $20-$50; (323) 461-3673, www.fordtheatres.org
Sept. 24-29
David Roussève/Reality
The fictional protagonist of Roussève's latest dance-theater piece, "Stardust," is, unusually, never actually seen. Instead, the presence of the gay African American teenager is felt through projected texts and tweets. Roussève, a professor at UCLA whose company performs infrequently in Los Angeles, collaborates on "Stardust" with local filmmaker Cari Ann Shim Sham, hip-hop fusion artist d. Sabela grimes and dramaturge Lucy Burns. Part of the Radar L.A. international theater festival.
REDCAT, 631 W. 2nd St., $15-$25; (213) 237-2800, www.redcat.org
Oct. 11-12
BodyTraffic
Co-directed by Lillian Barbeito and Tina Berkett, this Los Angeles-based repertory dance company is coming off key engagements at Jacob's Pillow in Massachusetts and City Center's Fall for Dance Festival in New York. This concert also is significant for its "firsts": the first performance of "Kollide," made for BodyTraffic by New York-based Kyle Abraham. The first time a local theater has presented the group for two nights. Plus, the first chance to see "And at Midnight, the Green Bride Floated Through the Village Square…" by Los Angeles' Barak Marshall and featuring a cameo role for his mother, acclaimed dancer-choreographer Margalit Oved.
The Broad Stage, 1310 11th St., Santa Monica, $32-$55; (310) 434-3200, thebroadstage.com
Oct. 16
Sydney Dance Company
Australia's leading contemporary dance company was defined by the 31-year reign of Graeme Murphy, its chief choreographer and a former member of the Australian Ballet. The company has moved into a new era with its current artistic director, Spaniard Rafael Bonachela, who spent most of his career with London's Rambert Dance Company. The Sydney dancers will perform Bonachela's "2 One Another," a 60-minute sensuous study of human interactions, which recently won several top prizes, including one for choreography, at Australia's dance awards.
Irvine Barclay Theatre, 4242 Campus Drive, Irvine, $22.50-$45, (949) 854-4646, www.thebarclay.org
Oct. 18-20
Nederlands Dans Theater 1
LA's Rite festival at the Music Center — a yearlong series of events celebrating the 100th anniversary of Igor Stravinsky's pivotal score "Le Sacre du Printemps" — concludes with the Dutch company's performance of "Chamber" (a Music Center co-commission). Choreographed by NDT 1 dancer Medhi Walerski, "Chamber" is not an homage; it has its own, original score by Los Angeles-based musician Joby Talbot. Rather, Walerski chose to examine and suggest the place of ritual in society today. The Nederlands dancers, who are known for their virtuosity and versatility, have a loyal following in L.A. Also on the program are two ballets to music of Philip Glass by artistic director Paul Lightfoot and his partner, Sol León.
Dorothy Chandler Pavilion, 135 N. Grand Ave., $34-$125, (213) 972-0711, www.musiccenter.org
Oct. 24
Barak Ballet
Melissa Barak has been planning for this specific moment for several years, but she's had it in mind for even longer: the official launch of her own chamber ballet company. The L.A. native simultaneously followed twin career paths, one as a dancer with the New York City Ballet and, later, Los Angeles Ballet, and the second as a respected neoclassical choreographer. She was only 22 when City Ballet performed a popular piece she had made for students at the School of American Ballet. For Barak Ballet's official debut (there was a prelaunch performance in March), she has created two new pieces, and her troupe of 17 will perform a work by former Martha Graham dancer Pascal Rioult. In addition, Barak will appear in a solo created for her by Danielle Agami, artistic director of a recently transplanted company, Ate9.
The Broad Stage, 1310 11th St., Santa Monica, $45-$125; (800) 595-4849, barakballet.tix.com
Nov. 6-7, 9-10
"Diana Vishneva: On the Edge"
The Russian superstar has moved far afield from classical parts, such as her exquisite, lovelorn peasant girl Giselle, and from neoclassical ones too, as with her indelibly energetic, high-kicking solo turn in "Rubies." That will be quite evident in this unusual project, the second one for Vishneva, co-produced by Ardani Artists and the Segerstrom Center for the Arts, where it will have its world premiere. Vishneva will perform a 25-minute solo, "Woman in a Room," made for her by California-born Carolyn Carlson, who was a star with Alwin Nikolais' company before she moved to Europe in 1971. Carlson has played a pivotal role in contemporary dance in France and Italy but is little known in her native country. The second piece, "Switch," is a pas de trois for Vishneva and two stars of Les Ballets de Monte-Carlo, Bernice Coppieters and Gaëtan Morlotti, which was created for them by artistic director Jean-Christophe Maillot. Danny Elfman wrote the music for Maillot's piece.
Segerstrom Center for the Arts, 600 Town Center Drive, Costa Mesa, $30-$125, (714) 556-2787, www.scfta.org
Nov. 8
Dance Theatre of Harlem
There was a long period when it looked as if this predominantly African American, neoclassical ballet company might never recover from its 8-year hiatus sparked by financial troubles. But it has slowly returned to solvency, and with Virginia Johnson, its former star ballerina, back as artistic director, Dance Theatre of Harlem began performing again last year. The group, making its first California visit in nine years, has scheduled a program of short ballets by George Balanchine, Ulysses Dove, Robert Garland and Donald Byrd.
Cerritos Center for the Performing Arts, 12700 Center Court Drive, Cerritos, $50-$80; 800-300-4345, www.cerritoscenter.com
---