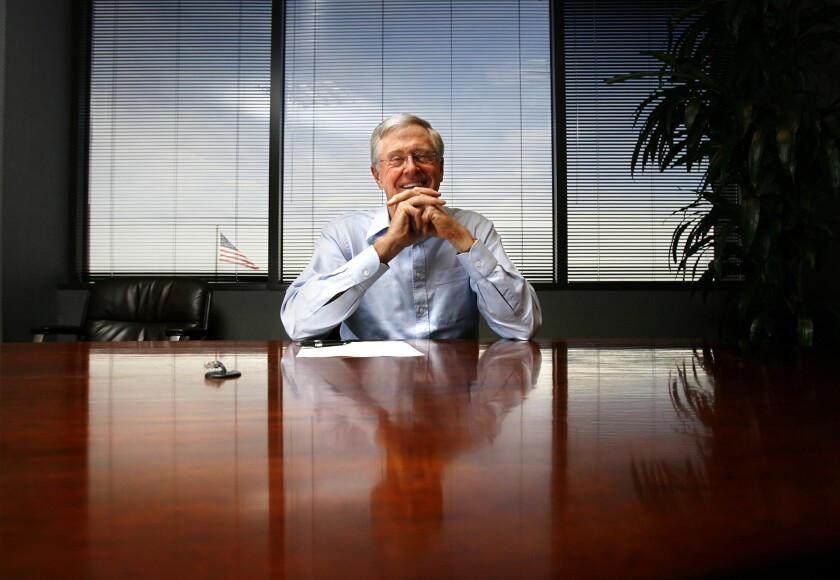 The Koch family -- the philanthropic Kansas dynasty that made its fortune with its namesake company -- is giving back to its hometown with a $10.5-million gift of land and money to the Wichita Center for the Arts, which will relocate thanks to the donation.
The visual and performing arts organization said this week that it is receiving a lead pledge of $2 million from the Fred and Mary Koch Foundation, which will also provide a $4-million challenge grant toward the project. The land portion of the donation, valued at $4.5 million, is coming from the Charles Koch Foundation.
SIGN UP for the free Essential Arts & Culture newsletter >>
Koch Industries is based in Wichita, and remains one of the largest privately held companies in the U.S. The late Fred Koch founded the diversified company, which has interests in oil, natural gas, chemicals, plastics and many other fields.
His son Charles is the chairman and chief executive of the company and has become one of the country's leading philanthropists along with his brother, David -- though not without some controversy.
The Koch brothers have donated money to numerous causes including education, research and the arts. In 2008, David Koch gave $100 million toward the renovation of the New York State Theatre at Lincoln Center, which was renamed after him.
He has also served as a trustee and longtime supporter of the Smithsonian's National Museum of Natural History in Washington and the American Museum of Natural History in New York.
But the brothers' right-leaning political beliefs have irked some members of the arts and scientific communities. This year, a group of scientists urged museums around the country to reject David Koch's money because of what they claimed was his financial support for organizations that deny climate change.
Charles Koch's wife, Liz, has been active in making the gifts to the Wichita Center for the Arts. In a release, she said, "Wichita is our home. Beginning with my mother-in-law, Mary Koch, our family has a 75-year history with the Center. Arts are important to the community and through these gifts from our foundations, we hope to expand offerings and make the arts even more accessible."
The Wichita Center for the Arts, which is a privately funded organization, said it is looking to move to a new 38,000-square-foot home, with plans to break ground in the fall of 2016. The total cost of the project is expected to be about $14 million, excluding the land.
Katy Dorrah, the center's executive director, said leaders are looking to raise $8 million from the community.
A portion of the Koch family donation will be used to create a scholarship fund for students who need financial assistance to pursue their studies in the arts.
The campus of the Wichita Center for the Arts includes a performing arts theater, art gallery and educational facilities.
Twitter: @DavidNgLAT
---