Review: Kronos Quartet makes history in Las Vegas
The opera "Einstein on the Beach," composed by Philip Glass, is influential but infrequently staged.
(Luce Jansch / L.A. Opera)
A scene from Act III of Philip Glass' "Satyagraha" with Richard Croft as Gandhi.
(Ken Howard / Metropolitan Opera)
Countertenor Jochen Kowalski as Akhnaten performs with the Long Beach Opera in the West Coast premiere of one of Philip Glass' most important operas, "Akhnaten."
(Gina Ferazzi / Los Angeles Times)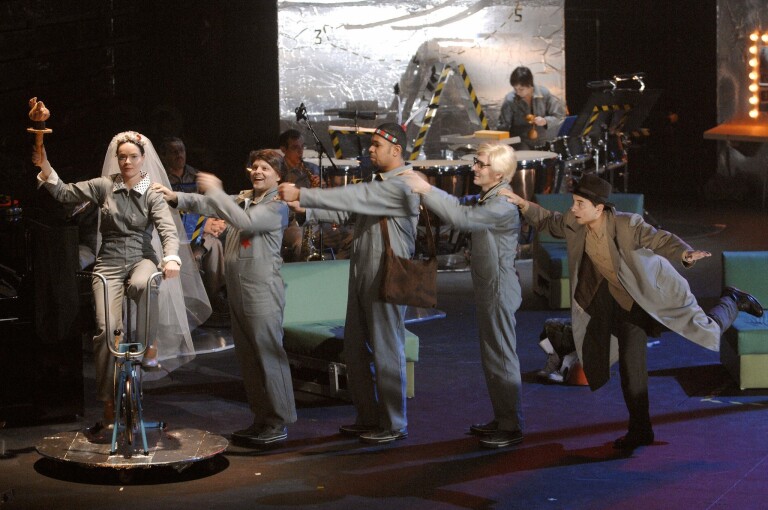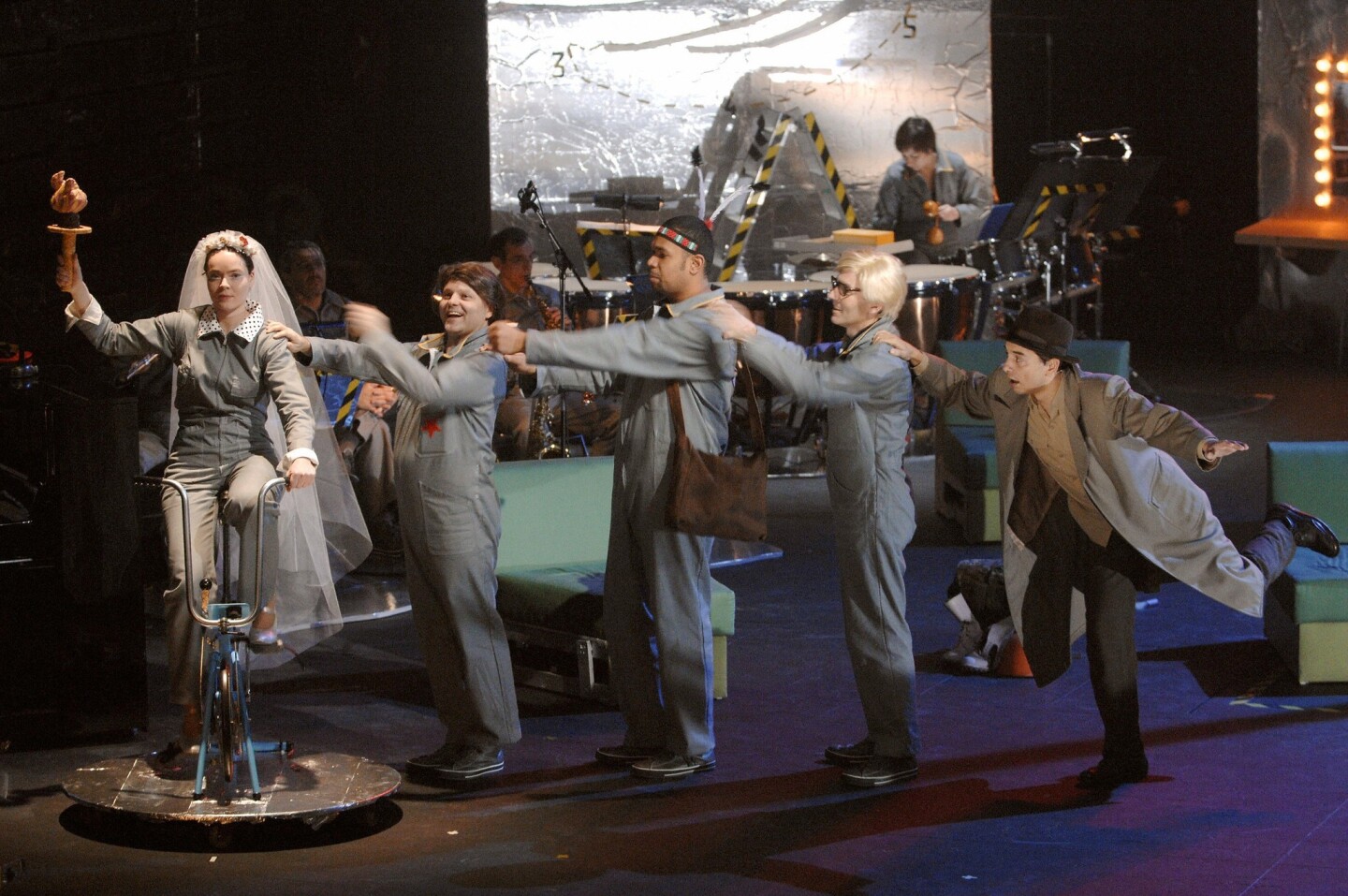 Soprano Mia Delmae, left, performs in 2009 in Nantes, western France, during the rehearsal of "Hydrogen Jukebox," the chamber opera featuring the music of Philip Glass and the poetry of Allen Ginsberg.
(AFP / Getty Images)
The audience at UCLA's Royce Hall donned 3-D glasses in preparation for the world premiere of Robert Wilson and Phillip Glass' "Monsters of Grace."
(Genaro Molina / Los Angeles Times)
At the end of his life, Galileo (John Duykers) muses on his fate in this scene from the Goodman Theatre's world premiere production of "Galileo Galilei," an opera by Philip Glass.
(Liz Lauren / Goodman Theatre)
A scene from "The Sound of a Voice," Philip Glass' operatic adaptation of a play with the same name.
(Richard Feldman / American Repertory Theatre)
The Magistrate shows compassion for a beaten barbarian girl in a scene from Austin Lyric Opera's American premiere of Philip Glass' "Waiting for the Barbarians."
(Ken Howard )
A scene from Philip Glass' opera "Appomattox" at San Francisco Opera. In the foreground, from left: Ulysses S. Grant (Andrew Shore) and Robert E. Lee (Dwayne Croft).
(Terrence McCarthy)
Baritone Martin Achrainer as Kepler in the American premiere of Philip Glass' "Kepler" in a concert staging at the Brooklyn Academy of Music Opera House.
(Jack Vartoogian)
LAS VEGAS — Las Vegas is changing. Not the strip, a symphony of ersatz that only knows how to become more so. Along with a phony Paris or sham Sphinx, the city has a fairly recent faux Frank Gehry design that serves as a home to high-end shops, including Prada and Louis Vuitton (which should know a thing or two about knockoffs).
But funky downtown, always more real, is getting a better face-lift. It boasts an authentic Gehry, the architect's cerebral-cortex design for the Lou Ruvo Center for Brain Health that glints intriguingly in the strong desert sun. And around a Vegas-size corner (which means a 15-minute walk through acres of broken rock eventually to be turned into ever more retail) is the lavish new Smith Center for the Performing Arts.
It opened last year, and Monday night it admirably violated Vegas' maxim: What happens here stays here. What happened at the Smith won't stay at the Smith. The Kronos Quartet gave the U.S. premiere of Philip Glass' String Quartet No. 6, which the Smith co-commissioned. This was the center's first commission and a good gamble in its efforts to help change the town's artistic reputation.
CRITICS' PICKS: What to watch, where to go, what to eat
Although relatively restrained by Las Vegas standards, the Smith, from which you can see the lights of the bigger downtown casinos, is nonetheless built in a grand style. The traditionally shaped main hall seats 2,050 but feels much larger (there is also a small jazz cabaret and a rehearsal studio). It keeps its glitter for its deco interior. The price tag was $470 million, nearly $200 million more than Walt Disney Concert Hall.
The hall serves as the home for the Las Vegas Philharmonic and Nevada Ballet Theatre, and it attracts the occasional touring classical ensemble or opera star. But much of its bread-and-butter is with touring Broadway productions and pop acts equally attractive to locals and tourists.
The Kronos, at least this season, looks to be the center's most cutting-edge offering, and word was that advance ticket sales were disappointing. But by show time the turnout was decent, and the crowd resembled the Kronos audience you find everywhere else in the world, namely a cosmopolitan mix of young and old, many stylishly dressed.
PHOTOS: Arts and culture in pictures by The Times
Glass' new quartet, which had its world premiere in Vancouver on Saturday, is one of the Kronos' projects celebrating the ensemble's 40th anniversary season. The composer's Fifth Quartet was written for Kronos 22 years ago, and it has been showing up a lot lately. Nederlands Dans Theater 1 used a movement from the Kronos' recording of it at the Dorothy Chandler Pavilion last weekend.
Glass' Sixth is in his lush late style and sounds little like his earlier quartet scores (the first goes back to 1966 and is hard-core Minimalist). Convoluted inner lines weave with contrapuntal intricacy through its three movements. There is a direct songfulness to every phrase, but thick harmonies complicate matters. It is Glass' most difficult (technically and emotionally) chamber work, a challenge to the players and the listener.
A classy Glass style has long been in Kronos' DNA, but the players may need more time to grow into the Sixth Quartet, which sounded slightly tentative Monday. Many more performances are on the way, including one presumably in Orange County, because the Philharmonic Society is another co-commissioner (no date has yet been announced).
PHOTOS: LA Opera through the years
For the rest of the program, the Kronos offered a display of its world and pop music interests and it also showed off its new cellist. This year, Sunny Yang (a recent USC grad) joined the three Kronos old-timers (violinists David Harrington and John Sherba and violist Hank Dutt). She demonstrated an unflappable grace, whether imitating a bass rock guitar or bringing cool elegance to the cello solo in "Sim Shaolom," an arrangement of a 100-year-old recording by a Polish cantor.
The Kronos loves finding common ground between extremes. "Sim Shaolom" was paired with Bryce Dessner's "Aheym." The latter (Yiddish for homeland) is a driving post-Minimalist tribute by the rock guitarist of the National to his Polish grandmother.
INTERACTIVE: High-earning conductors
The second half of the program was bookended by a string quartet arrangement of Jimi Hendrix's "Purple Haze" and one of Wagner's Prelude to "Tristan und Isolde," reminding us that each is, in its inimitable trance-inducing way, an expression of euphoria.
In all of these, as well in exquisite arrangements of a Syrian folk song by Omar Souleyman, an Indian raga by Ram Narayan and pieces by Laurie Anderson and Clint Mansell, the Kronos sounded as convincing as ever. The quartet uses creative amplification — appropriately understated in the Glass, appropriately not understated in the Hendrix — so any discussion of the Smith's acoustics will have to wait.
With the U.S. premiere of Glass' Sixth Quartet, Las Vegas' new performing arts center has begun making history. The Kronos, on the other hand, continues with undiminished ferocity to make unprecedented string quartet history, as it has done every one of its 40 years.
---
Your essential guide to the arts in L.A.
Get Carolina A. Miranda's weekly newsletter for what's happening, plus openings, critics' picks and more.
You may occasionally receive promotional content from the Los Angeles Times.