Martha Graham Company comes home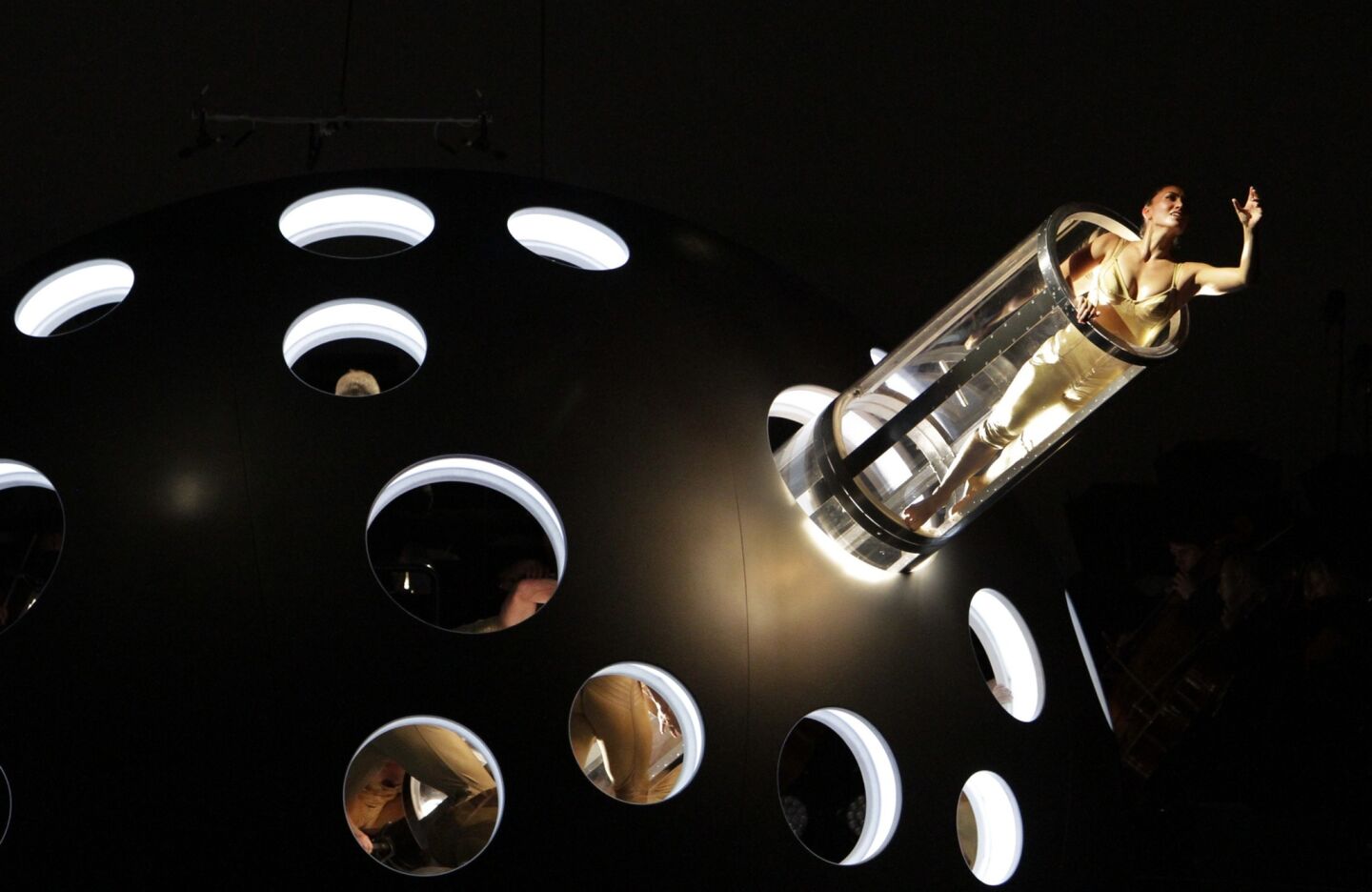 A dancer springs from a glass tube encircled by lightly illuminated halos during a "Fluid Infinities" dance rehearsal.
(Lawrence K. Ho / Los Angeles Times)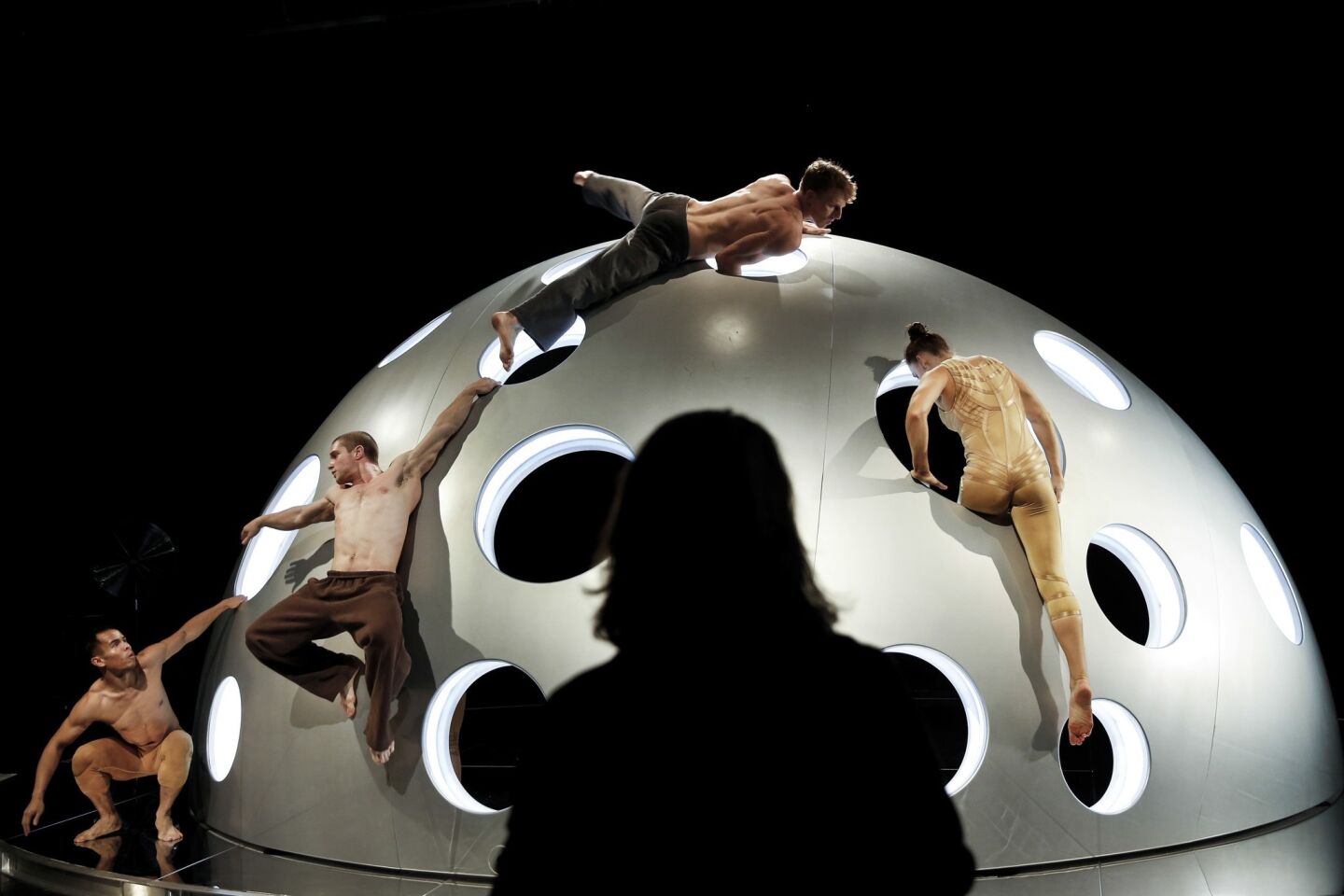 Jacques Heim, artistic director of Diavolo Dance Theater, foreground, watches over a dance rehearsal in their downtown L.A. headquarters.
(Jay L. Clendenin / Los Angeles Times)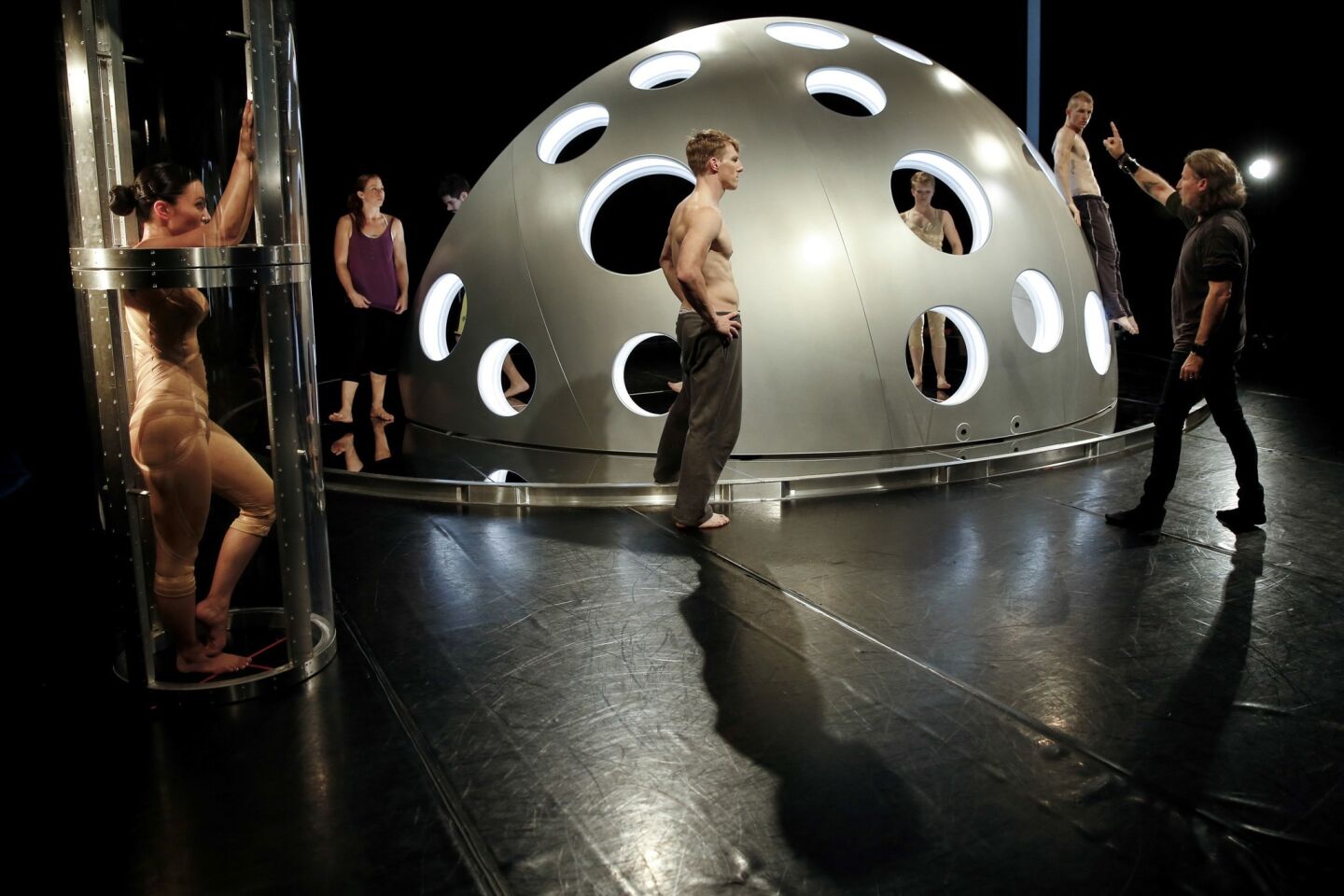 Members of the Diavolo Dance Theater listen as artistic director Jacques Heim gives direction.
(Jay L. Clendenin / Los Angeles Times)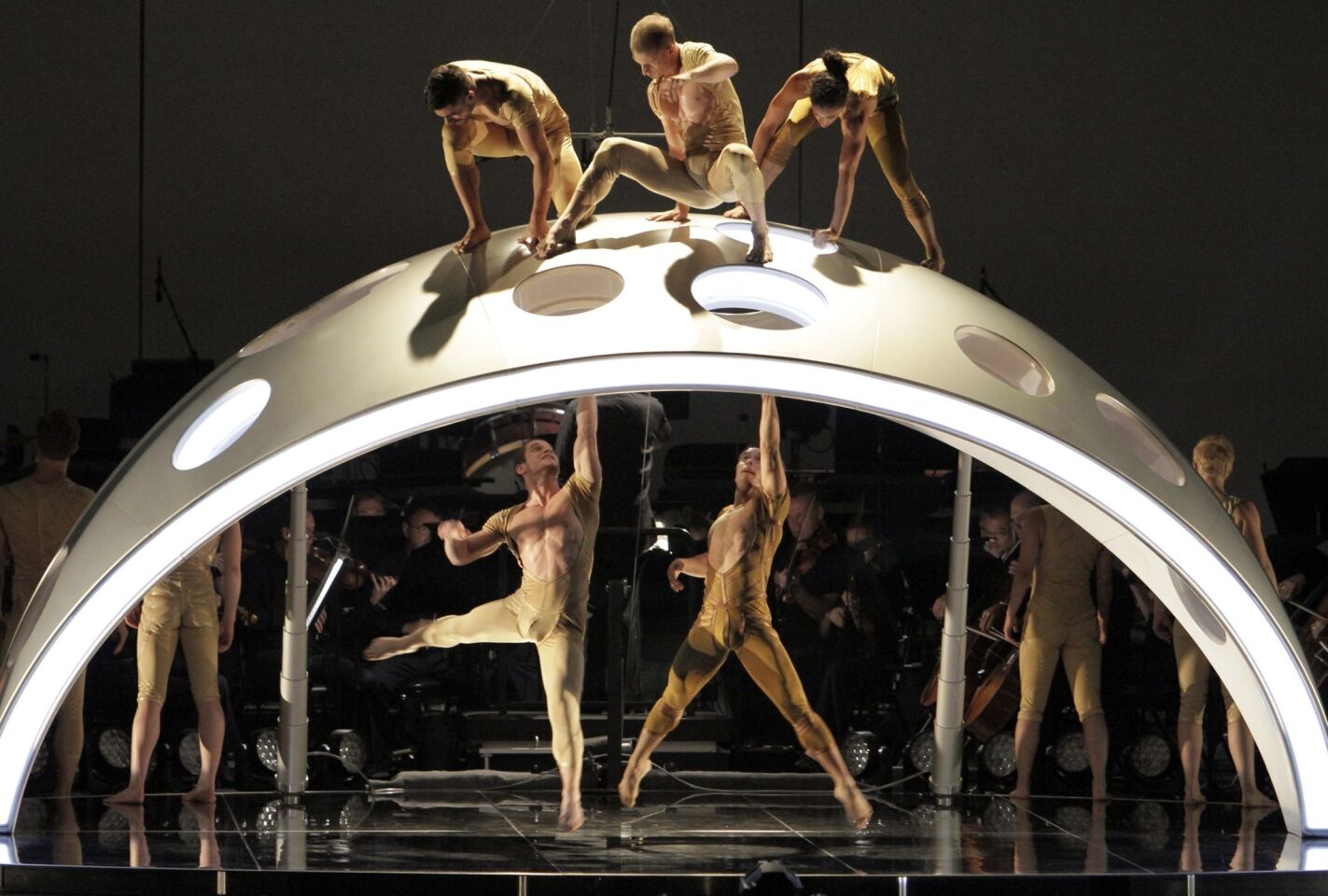 Dancers from the Diavolo Dance Theater leap to reach their teammates above.
(Lawrence K. Ho / Los Angeles Times)
A dancer from the Diavolo Dance Theater cascades through air and awaits to be caught by her teammates.
(Lawrence K. Ho / Los Angeles Times)
Another dancer plunges backward into the arms of her partners.
(Lawrence K. Ho / Los Angeles Times)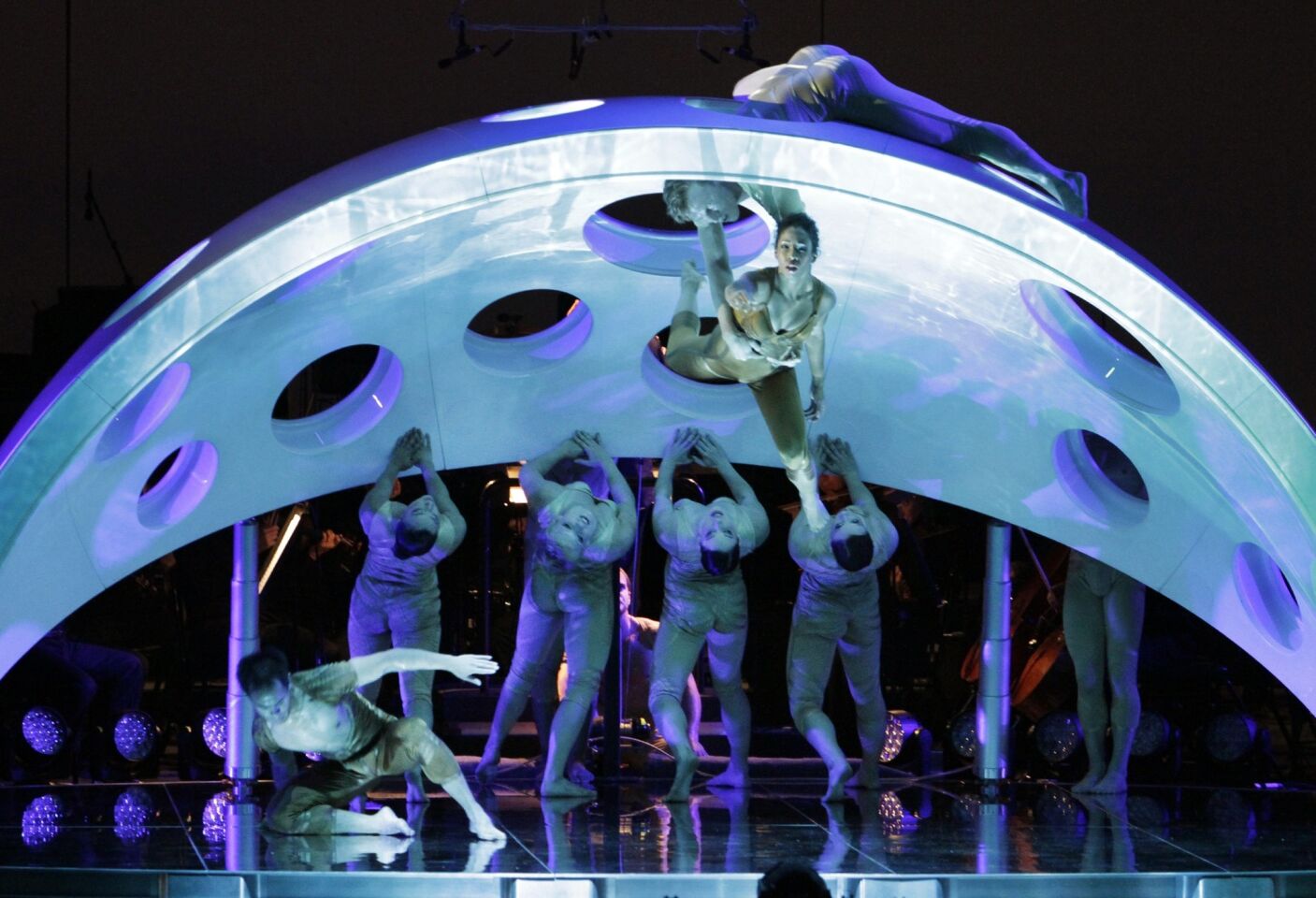 A dancer emerges from the metallic showpiece as she's embraced by her counterpart from above.
(Lawrence K. Ho / Los Angeles Times)
A group of male dancers tilt to their left as the circular centerpiece is covered in a plum colored fabric.
(Lawrence K. Ho / Los Angeles Times)
From the front, the group of male dancers points up as the symphony plays behind them.
(Lawrence K. Ho / Los Angeles Times)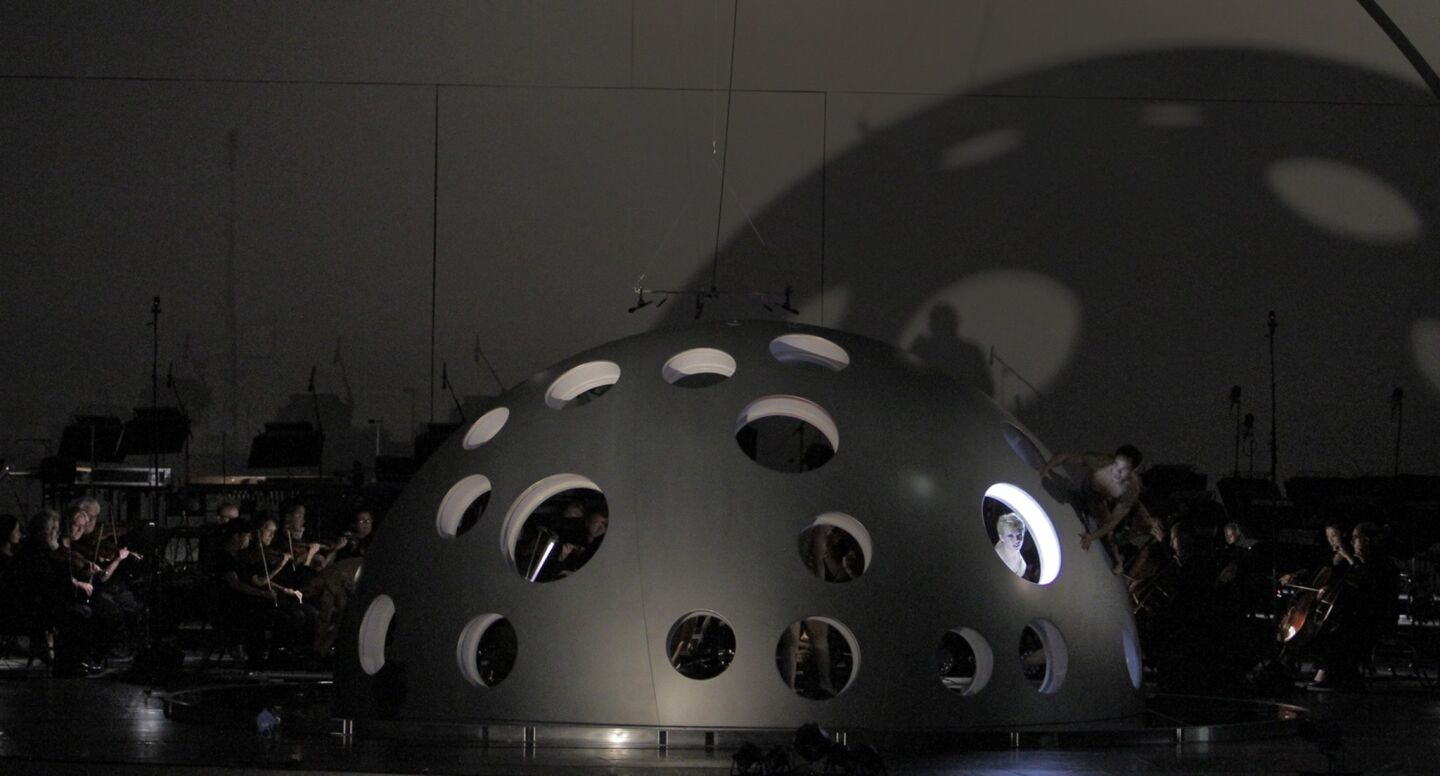 Surrounded by the silver main piece is the Los Angeles Philharmonic performing Philip Glass' Third Symphony; a shadow casts behind them.
(Lawrence K. Ho / Los Angeles Times)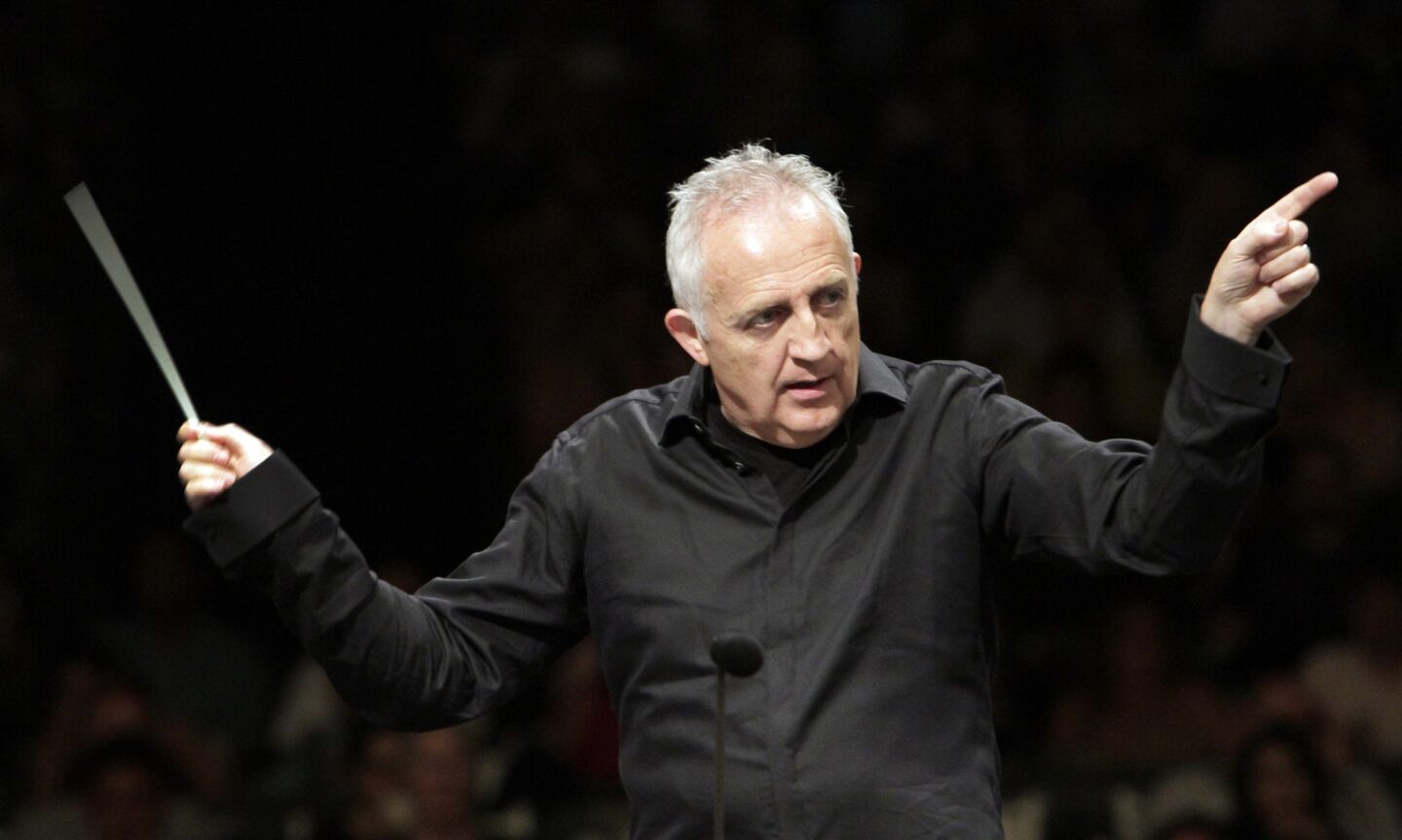 Bramwell Tovey conducts the Los Angeles Philharmonic in Philip Glass' Third Symphony in the world premiere of Diavolo Dance Theater's "Fluid Infinities."
(Lawrence K. Ho / Los Angeles Times)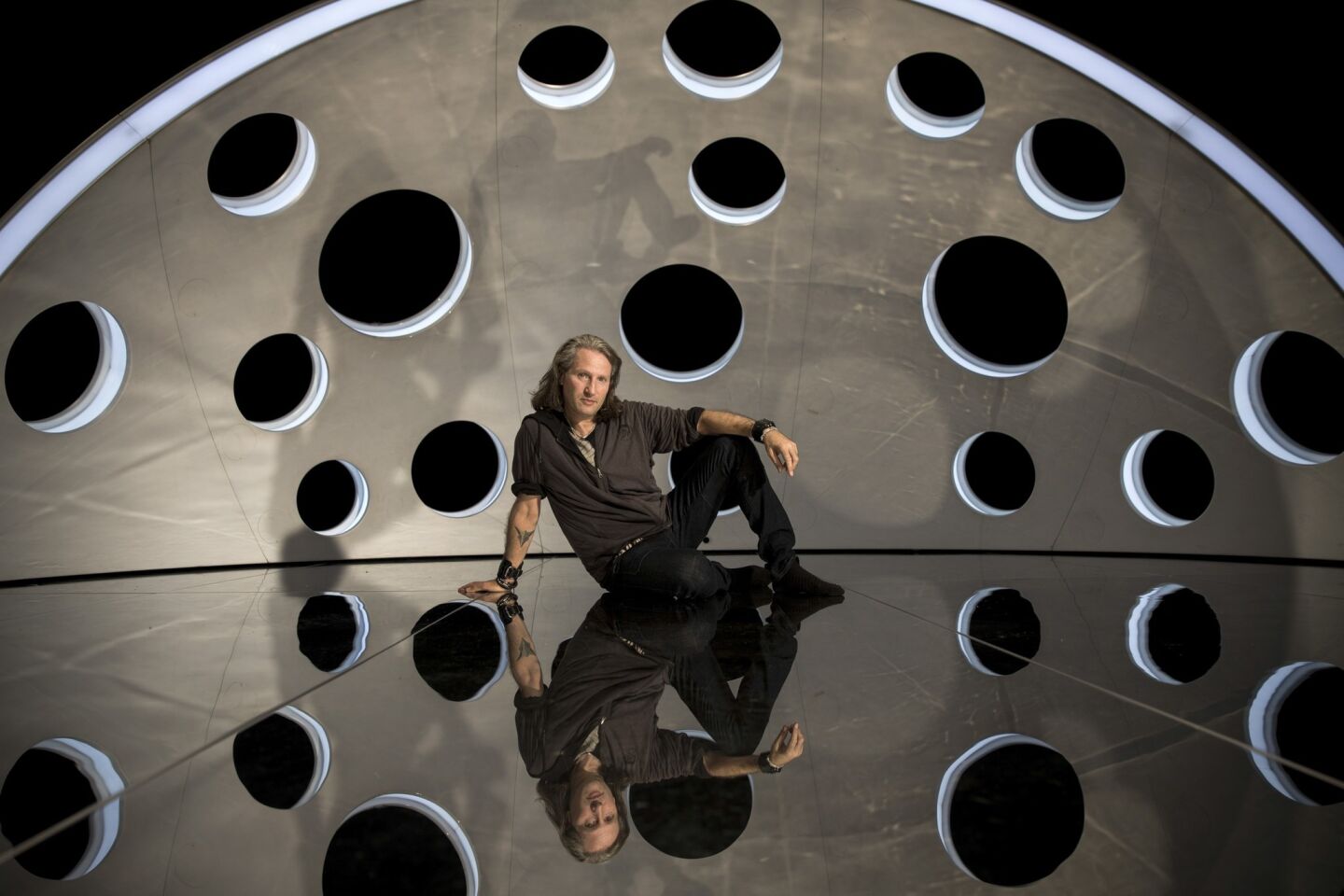 Jacques Heim, artistic director of Diavolo Dance Theater, is photographed during a rehearsal of the company's "Fluid Infinities."
(Jay L. Clendenin / Los Angeles Times)
"It's little known that Los Angeles is the cradle of American modern dance, so if you start with Graham, you've served up the roots of the family tree and can go anywhere from there."
Janet Eilber, talking by phone from New York, should know. The artistic director of Martha Graham Dance Company since 2005, Eilber, 62, began dancing with the troupe while still a junior at the Juilliard School. She also had roles created for her during her 10 years performing with the company.
It's fitting that Martha Graham Dance Company is the inaugural presentation of the Wallis Annenberg Center for the Performing Arts, giving three concerts over two days.
CHEAT SHEET: Fall arts preview
It was, after all, in Los Angeles that Graham first became a student in 1915 at the Denishawn School on a hill just west of downtown. Founded by Ruth St. Denis and husband Ted Shawn, who taught techniques of American and world dance, the school served as a launching pad for Graham before she decamped to New York in 1923, establishing her own company three years later.
Helping bring this history to life, Eilber opens the Wallis' four-part program with "Prelude and Revolt," a 20-minute suite connecting five dances with media and Eilber's live narration. Beginning with Denishawn material from 1916, it includes works that Graham would have performed as a young dancer and out of which her über-theatricality and distinctive movement vocabulary would eventually emerge.
"This gives context to the times and sets up the arc of the whole show," Eilber explained. "We're closing with 'Chronicle,' from 1936, so the audience sees a span of about 20 years and why Martha was a game-changer in American dance."
PHOTOS: LA Opera through the years
Also on the program: Graham's indelible 1930 solo, "Lamentation," and 1990's "Maple Leaf Rag," the last work Graham choreographed before she died in 1991 at age 96.
Lou Moore, executive director of the Wallis, said she specifically requested an all-Graham program to deepen the audience experience: "It's not just observing dance, but also hearing about its history. People appreciate it more when they understand it more."
Moore said she also wanted to spotlight the new theater's history. The 2.5-acre, two-theater arts complex in Beverly Hills began 80 years ago as a post office (a Martha Graham stamp was issued in 2004). The 1933 Italianate-style structure is the heart of the Wallis, which includes a 150-seat black-box theater and classrooms, with the new, adjacent Zoltan Pali-designed Goldsmith Theater accommodating 500. Performances in the inaugural season include theater, opera, music and two more contemporary dance troupes, Les Ballets Jazz de Montreal and New York-based Jessica Lang Dance.
PHOTOS: Best in theater for 2012
The Graham troupe will offer a master class at the new venue. Said Eilber: "We're pleased they thought of us. It makes sense, not only because of Martha's roots in L.A., but also because she is the touchstone for every choreographer who came after her, whether they rejected her or aligned with her. You can't deny she was part of Los Angeles history."
L.A.-based choreographer-dancer Lionel Popkin is touring "Ruth Doesn't Live Here Anymore" (it lands at REDCAT next June), a work inspired by St. Denis. In researching St. Denis' L.A. archives, Popkin discovered her former Hollywood studio, designated a cultural landmark.
"Ruth became this fountainhead of looking at artistic legacy," Popkin said. "She trained Martha, Martha trained Merce [Cunningham], Merce trained Trisha [Brown], I danced with Trisha. Ruth tried to take dance out of a revue vibe and onto the concert stage. Graham tried to make it something of American origins as opposed to something borrowed from the rest of the world."
Eilber, who danced on Broadway and acted in L.A. for about two decades before returning to the Graham fold, points out that "one reason people aren't aware of L.A. as the birth of modern dance is that L.A. is a company town, and this incredible new art form — the movies — was being created at the same time. ... But when the movies exploded in L.A., modern dance moved to New York.
"Graham's is such a fertile legacy," Eilber added. "It's provocative, evocative and kind of limitless — and we hope it will be a regular occurrence in L.A."
---
Get our daily Entertainment newsletter
Get the day's top stories on Hollywood, film, television, music, arts, culture and more.
You may occasionally receive promotional content from the Los Angeles Times.