Review: 'Moskva' fascinates, challenges at City Garage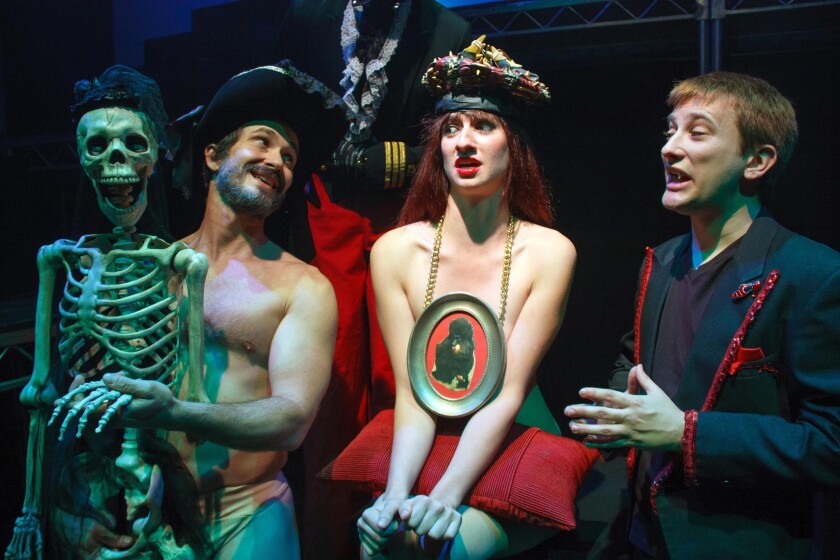 Mikhail Bulgakov meets Sergei Eisenstein at Andy Warhol's Factory in "Moskva." This ornate take on Bulgakov's "The Master and Margarita" is a nobly ambitious, surreally unhinged deep-dish bowl of dramaturgical borscht.
Bulgakov's novel is itself an epic pastiche on the Faust legend, assaulting Stalin's regime with equal parts allegory, polemic, slapstick and satire. Its scenario intertwines the titular suppressed novelist (Etol Dolen) and disillusioned mistress (Kristina Drager) with necromancer Woland (Nathan Dana Aldrich), alias Satan, and his bizarre retinue, using Pontius Pilate's faceoff with a certain Nazarene as counter-narrative fodder.
This intellectually daunting property has inspired stage adaptations by artists from Andrei Serban to Jean-Claude van Itallie, including Richard Helweg's and Michael Franco's acclaimed 2000 Zoo District version.
PHOTOS: Best in theater for 2012
Here, playwright Steven Leigh Morris and the reliably provocative forces at City Garage update the original's 1930s setting to Vladimir Putin's Moscow, aiming for the geopolitical medulla oblongata.
Periodically, director Frédérique Michel, production designer Charles A. Duncombe and a fearless cast -- Justin Davanzo's feverish Ivan/Yeshua, David E. Frank's initial victim and the coven of Jeffrey Gardner, Barret Crane, Megan Kim and Ben Bandel among its standouts -- bring the heady, hedonistic melange to vivid life.
The Django Reinhardt-flavored band is effective, albeit underutilized, and the company's trademark austerity, nudity and red-and-black color scheme are serviceable, although not necessarily shocking or consistently galvanic.
PHOTOS: LA Opera through the years
Understandable, because Morris, as culturally astute a theater writer and critic as any in the nation, supplies enough metaphoric verbiage for three plays -- serious trims and rethinks are indicated. There's fascination afoot, Russophiles should flock, but, to paraphrase Rossini on Wagner, "Moskva" has sensational moments and trying quarter-hours.
"Moskva," City Garage, Bergamot Station, 2525 Michigan Ave., Building T1, Santa Monica. 8 p.m. Fridays and Saturdays, 4 p.m. Sundays. Ends Dec. 15. Adult audiences. $20-$25; Sundays, pay what you can. (310) 453-9939 or www.citygarage.org. Running time: 2 hours, 30 minutes.
ALSO:
Titanic violin sells at auction for more than $1.7 million
Three Romanians plead guilty in 2012 Rotterdam art theft
Disney's 'The Lion King' passes $1-billion mark on Broadway
---
Inside the business of entertainment
The Wide Shot brings you news, analysis and insights on everything from streaming wars to production — and what it all means for the future.
You may occasionally receive promotional content from the Los Angeles Times.