Review: Yellow brick road construction work in 'The Wizard of Oz'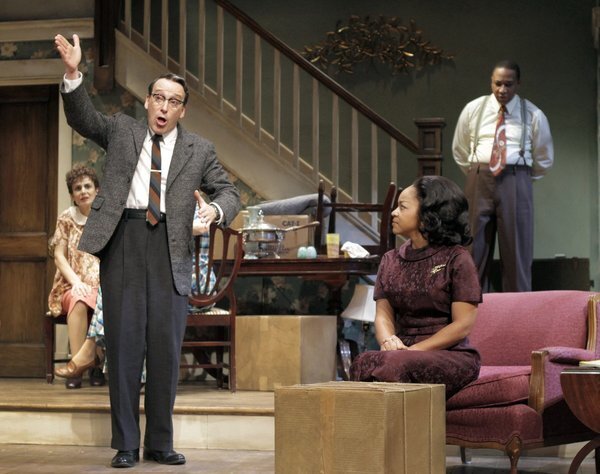 Bruce Norris constructed a provocative history of the house that the African American Younger family is heading to at the end of Lorraine Hansberry's "A Raisin in the Sun." An impeccable ensemble, under the direction of Pam MacKinnon, helped this Pulitzer Prize-winning drama capture the Tony Award for best play after the production went on to Broadway.
(Lawrence K. Ho / Los Angeles Times)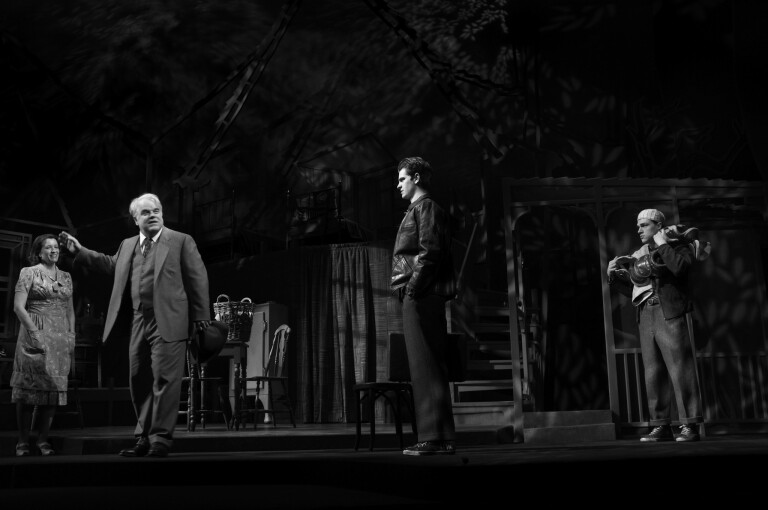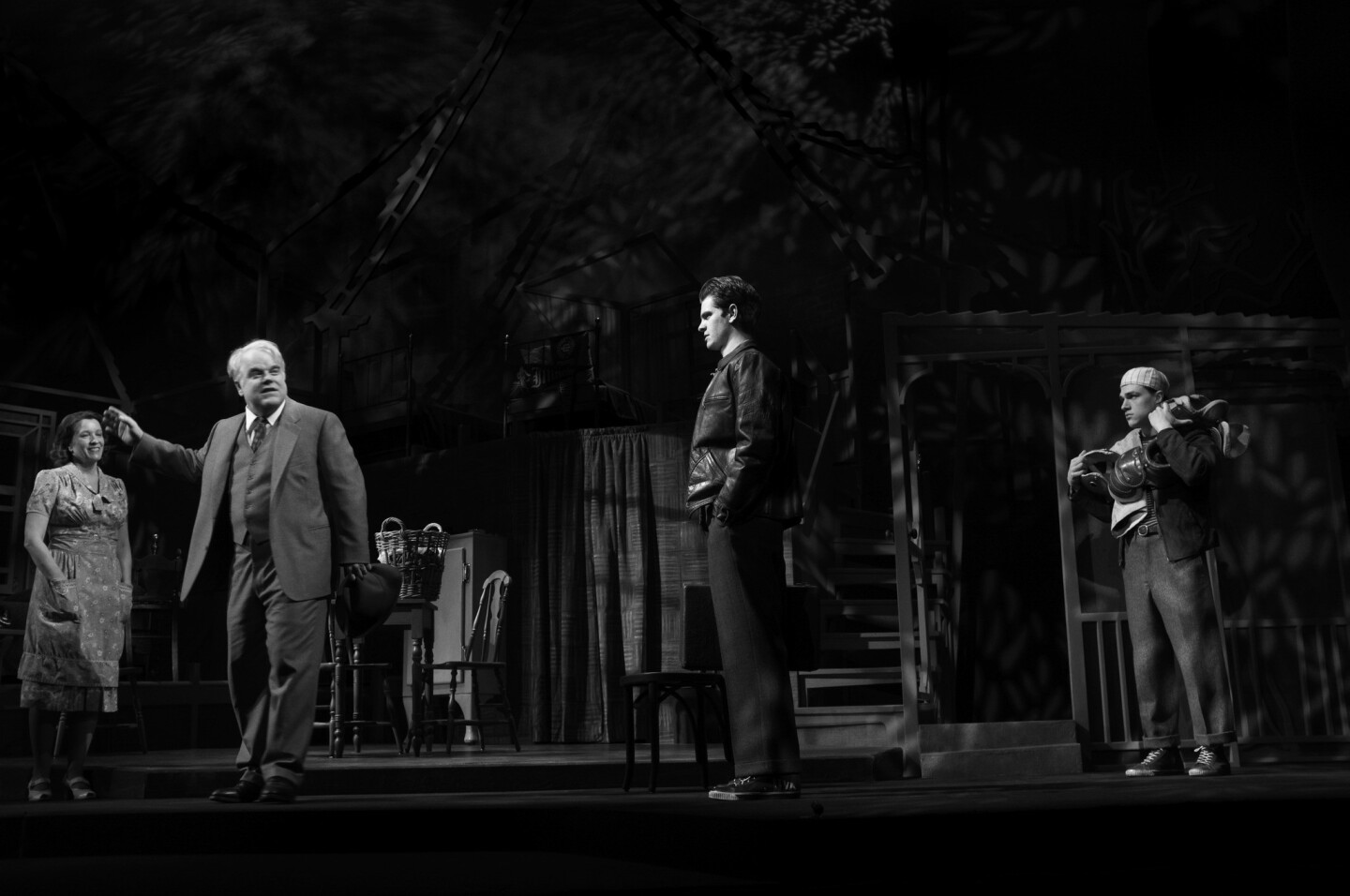 Mike Nichols' Tony-winning revival of Arthur Miller's classic was wobbly in spots, but Philip Seymour Hoffman's Willy and Andrew Garfield's Biff found the emotional combustion when it mattered most.
(Brigitte Lacombe for New York Magazine)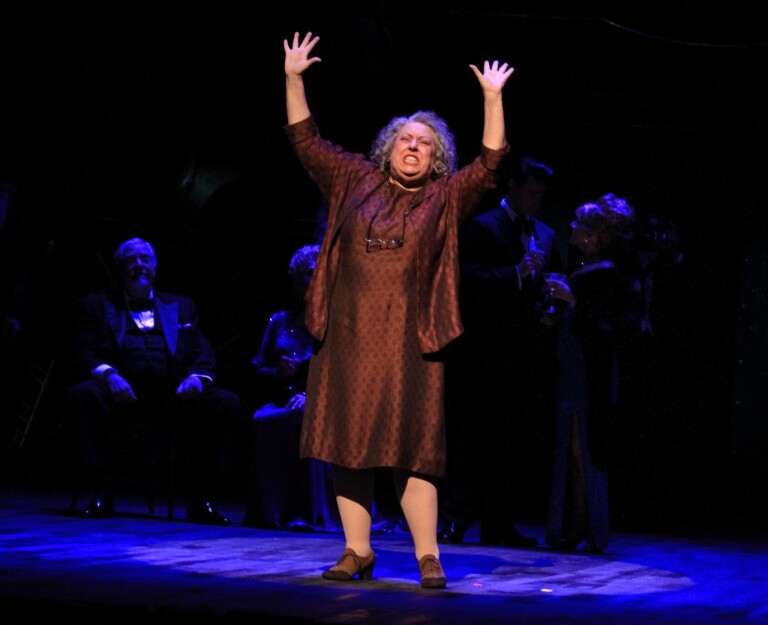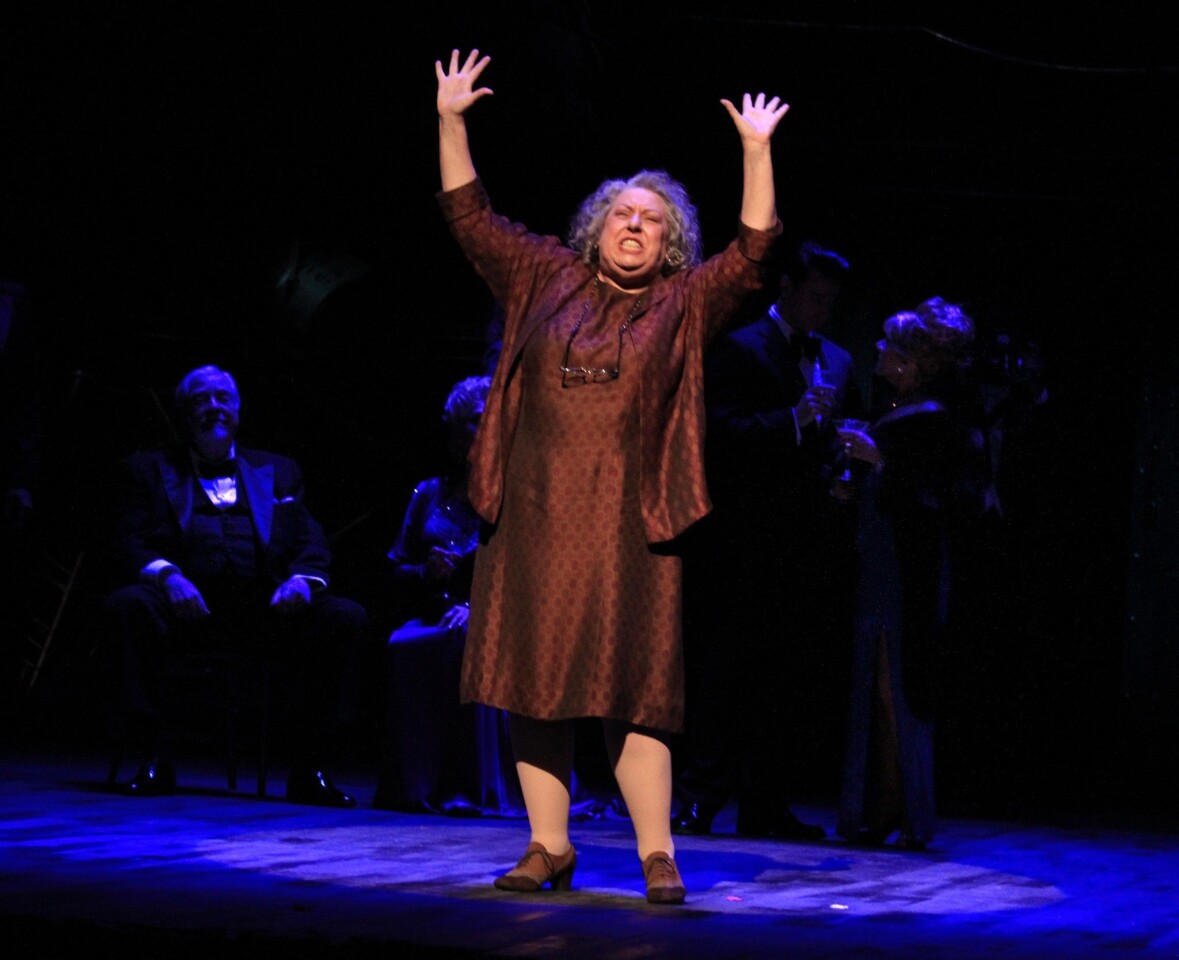 Sheer ecstasy for musical theater aficionados of a Sondheim bent. The side dishes alone (Elaine Paige singing "I'm Still Here," Jayne Houdyshell belting "Broadway Baby") are pièces de résistance by any showbiz standard.
(Glenn Koenig / Los Angeles Times)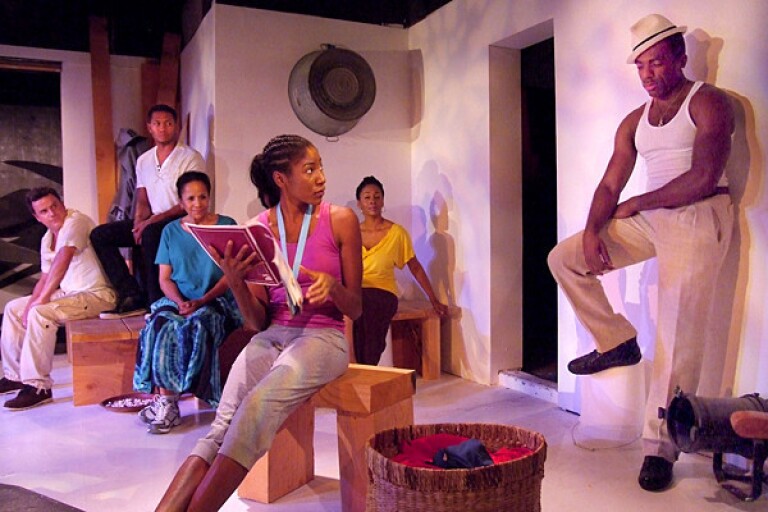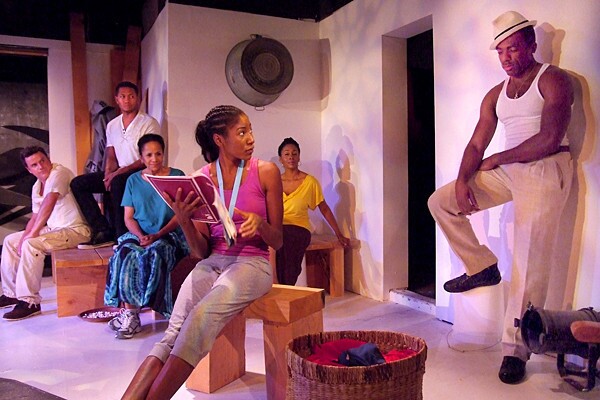 Part of Tarell Alvin McCraney's acclaimed "Brother/Sister Plays," this still-running poetic drama introduces L.A. audiences to an adventurously lyrical talent in a production directed by Shirley Jo Finney that is a marvel of ensemble acting.
(Ed Krieger)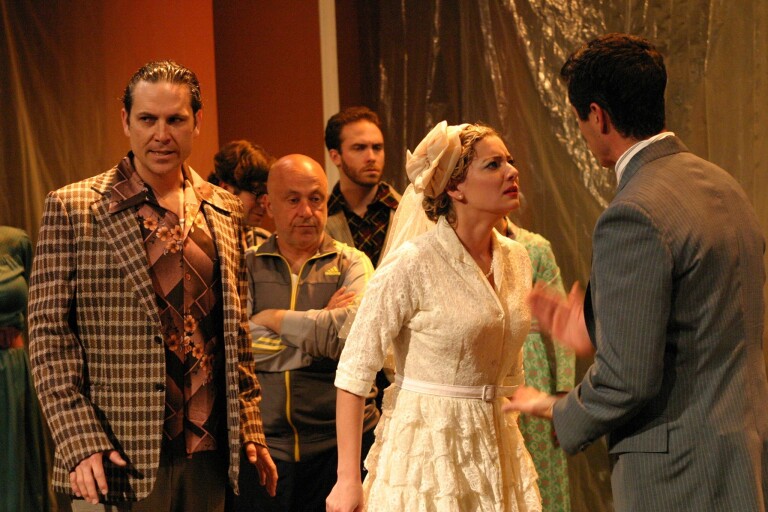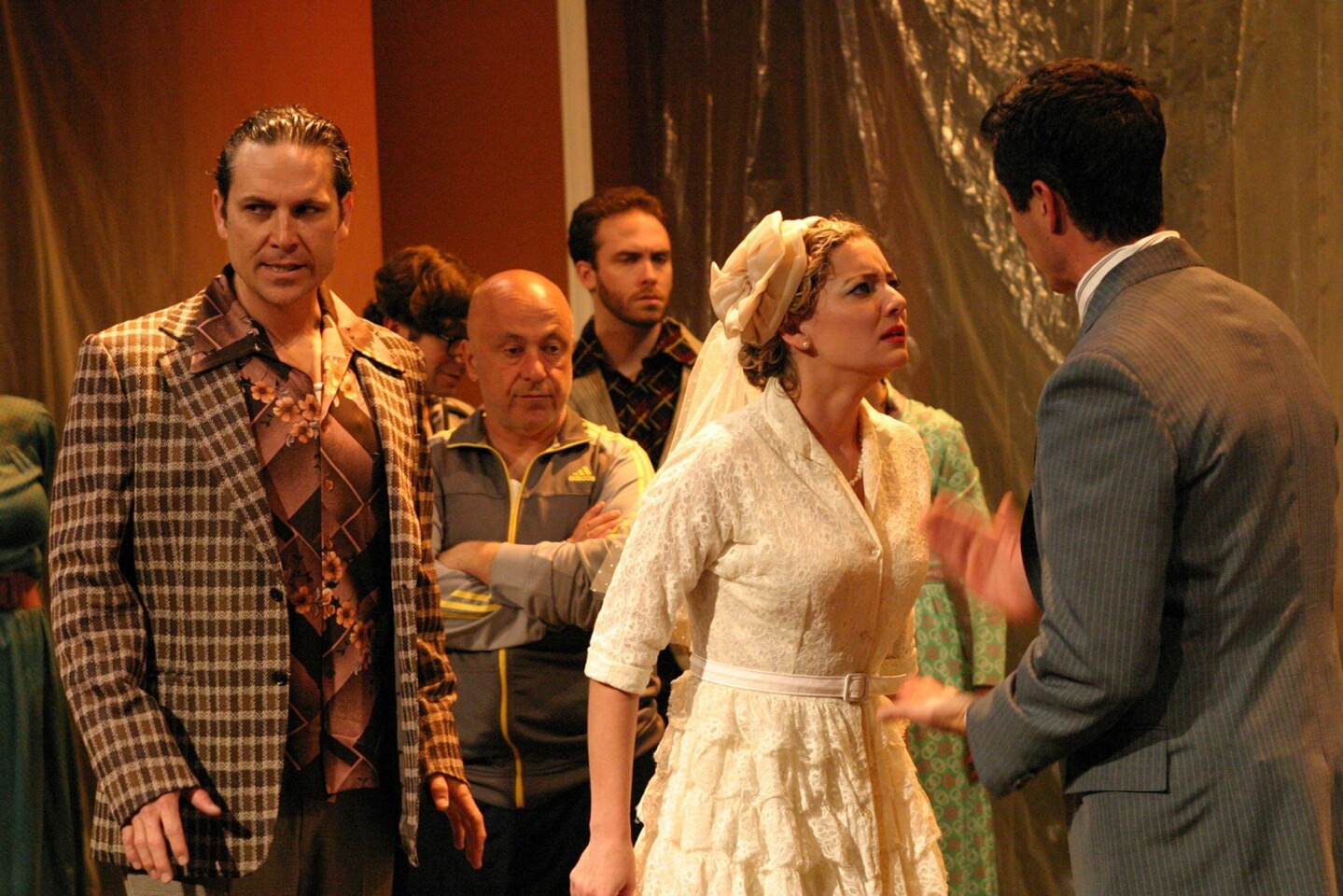 Anton Chekhov's first major dramatic offering was played more comically than usual in an insouciant production by Bart DeLorenzo that still somehow managed to zero in on the tragic pathos of a decent man who cannot make sense of a life that to others seems reprehensible.
(Odyssey Theatre)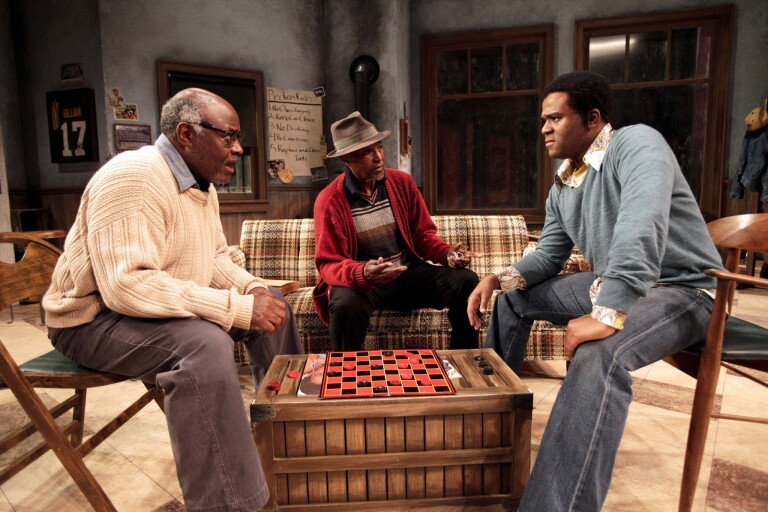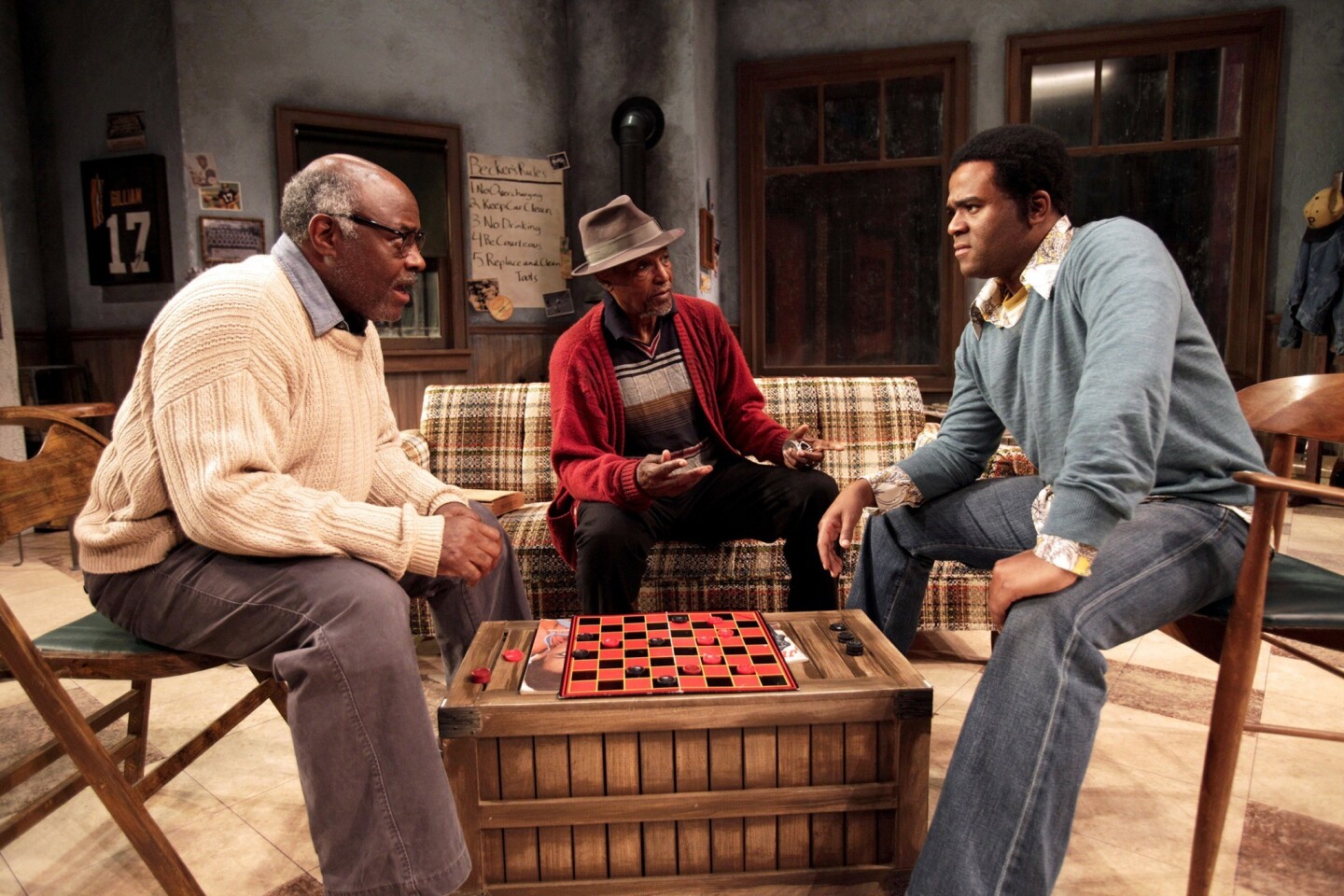 Set in the 1970s, August Wilson's drama was brought to life in all its funky, recessionary, keep-on-trucking glory in a South Coast Rep production, directed by Ron OJ Parson and starring the dependably wonderful Charlie Robinson as the demandingly upright boss of a down-and-out Pittsburgh taxi depot.
(Henry DiRocco / SCR)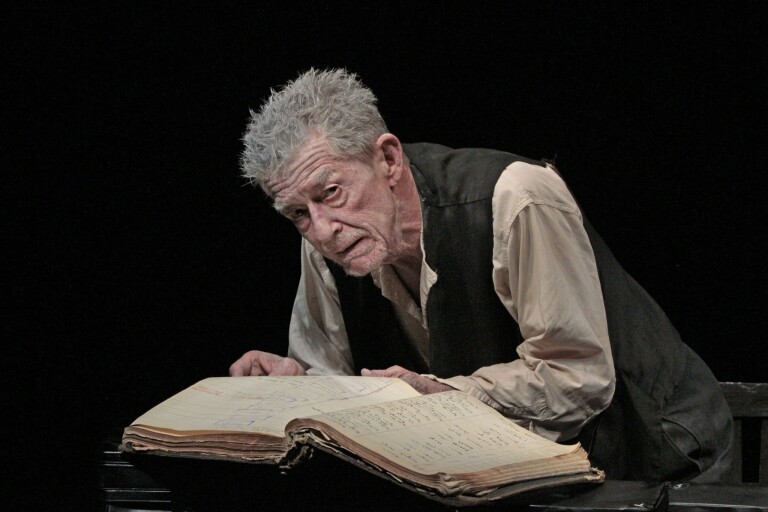 John Hurt's performance in this two-character piece (the aged Krapp and his recorded younger voice on tape) was a tour de force of Beckettian acting in which slapstick and poetry united to scale our common abyss.
(Anne Cusack / Los Angeles Times)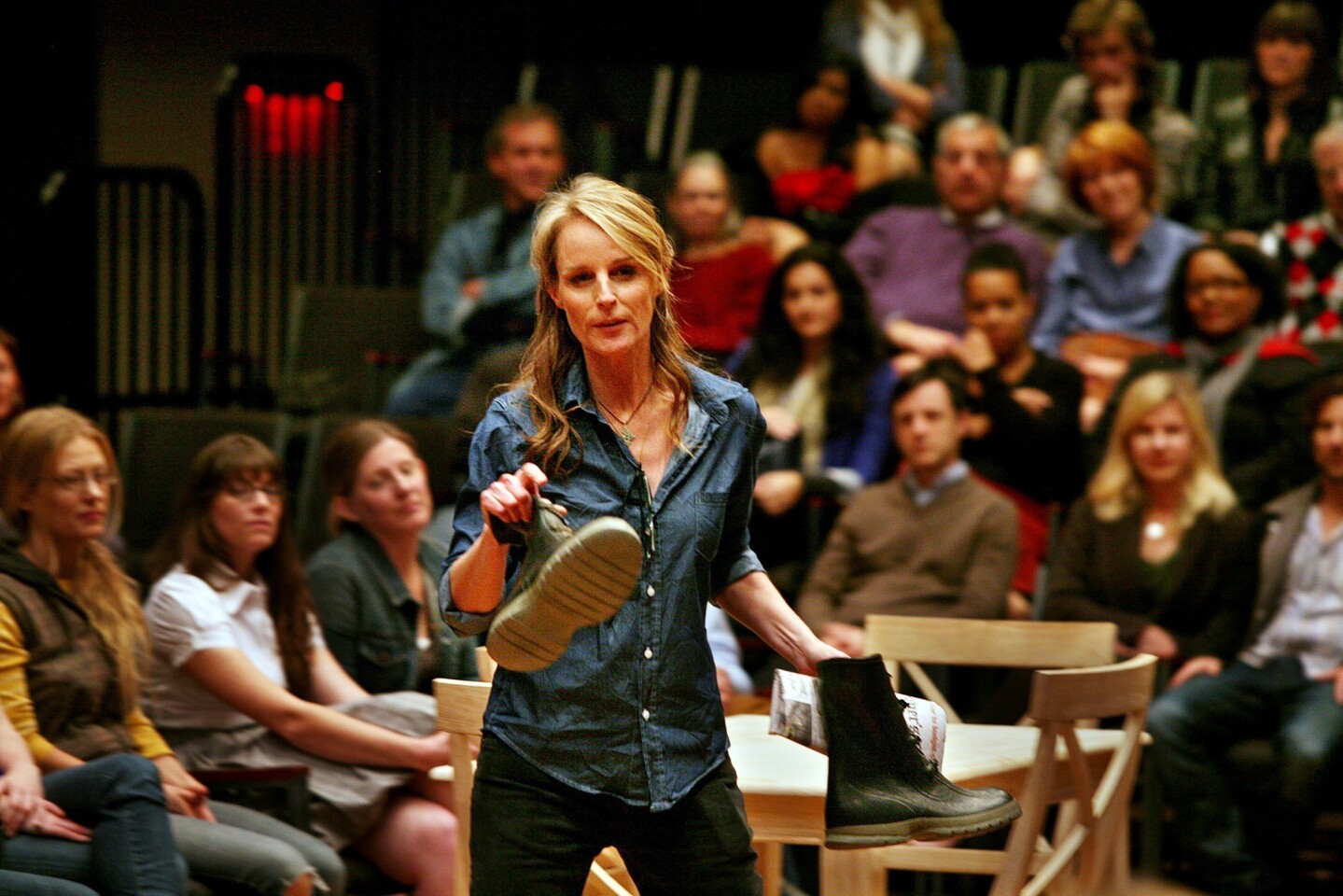 David Cromer's stark revival, starring Helen Hunt as the Stage Manager, wiped away the bittersweet sentimentality of Thornton Wilder's classic to expose the savage beauty lying beneath the years of accumulated theatrical clichés.
(Iris Schneider)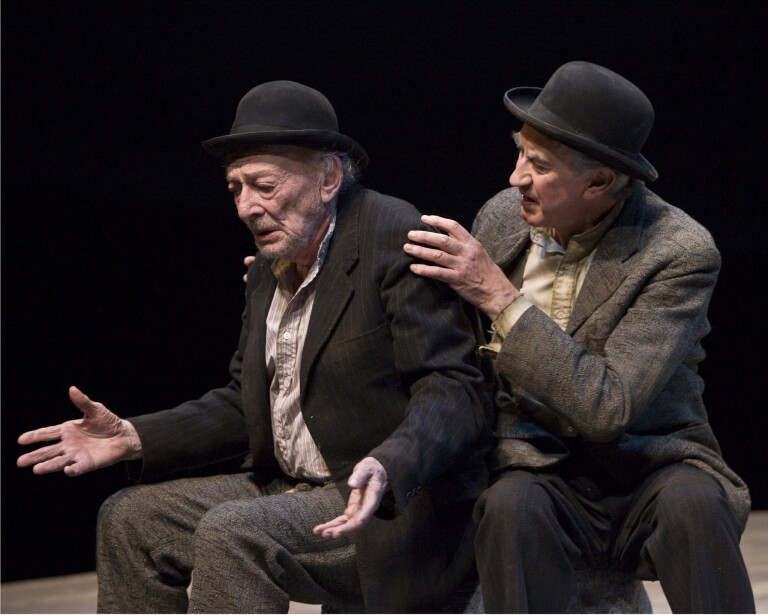 Alan Mandell and Barry McGovern made a Beckettian dream team in this reinvestigation of the absurdist classic incisively directed by Michael Arabian. It's been a long time since existential anguish felt so good.
(Craig Schwartz / Center Theatre Group)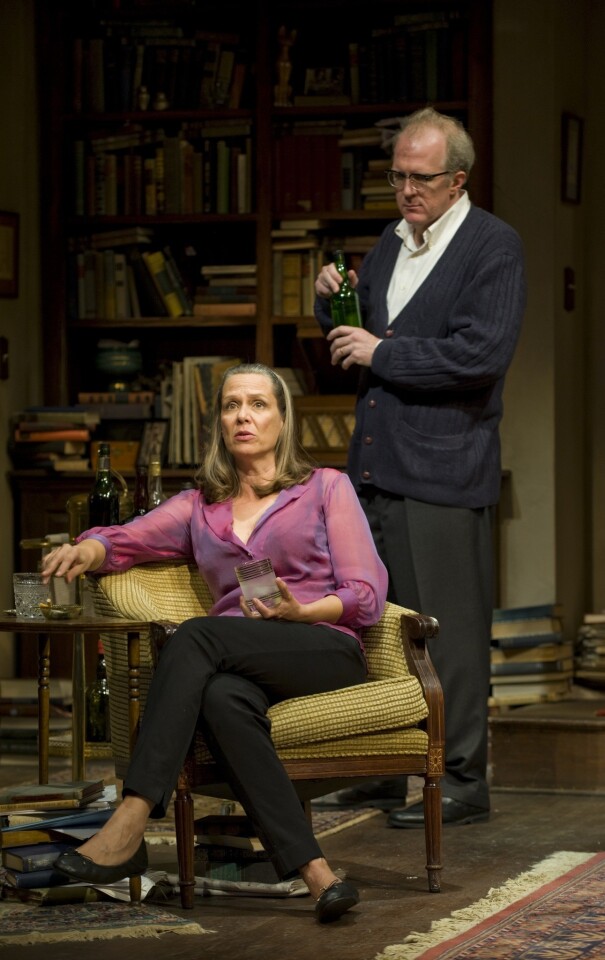 In Pam MacKinnon's justly celebrated revival of Edward Albee's masterpiece, Tracy Letts (author of "August: Osage County" and a first-rate acting talent) and Amy Morton bandy the acerbic zingers with drunken relish but never at the expense of the play's realism.
(Michael Brosilow / Booth Theatre)
Like most little girls, I loved the movie "The Wizard of Oz" even though, or maybe because, it left me with so many questions.
Is Dorothy's visit to the garish Technicolor Oz really supposed to be a dream (that crushing departure from L. Frank Baum's book)? When she wakes up in Kansas, why doesn't anybody mention Miss Gulch's threat to kill Toto?
Also I've never felt right about Dorothy's farewell confession to the Scarecrow, "I think I'll miss you most of all." It's one of the most romantic moments in cinema, but, Dude! The Tin Man and the Cowardly Lion are right there.
PHOTOS: Best in theater for 2012
The new musical adaptation of "The Wizard of Oz" by Andrew Lloyd Webber and Jeremy Sams (who also directs), now at the Pantages Theatre, made me feel, rewardingly, that somebody not only shared my childhood worries about the MGM classic but also went to the trouble of mounting a costly, stylish (if bombastic and intermittently blinding) stage show to redress every scripting oversight and editorial lapse in the famously tumultuous filmmaking process of 1938-39.
This touring production arrives from Toronto with most of its original cast, including the sweet-faced, sweet-voiced Danielle Wade (who won the part of Dorothy on the CBC-TV reality show "Over the Rainbow") and the delightful Cedric Smith as the Wizard. All of its elements — Robert Jones' neon set and plush costumes, Arlene Phillips' playful choreography, Jon Driscoll's trippy video projections, the pupil-shrinking contributions of lighting designer Hugh Vanstone — feel rich, indulgent and targeted, like the salt, sugar and fat in snack foods, to thrill an audience already well fed on extreme stagecraft.
But I admit I have no idea how it would affect somebody (is there anybody?) who had never seen the movie. I enjoyed it not as a remake, reinterpretation or parody, but as a kind of extended dialogue with the original, a labor of love, admiration and puzzlement. The adapters allude to the movie's cultural resonance — its significance for gays, its inspiration of "Wicked" — while updating its technology, revamping beloved scenes and characters, and answering those nagging questions.
CRITICS' PICKS: What to watch, where to go, what to eat
No longer are we obliged to doubt that Oz is a real place. The science of it remains hazy, but the tornado, a stunning film projection augmented by brain-spearing flashes of light, sends Dorothy and her house through a wormhole in space. Before the curtain, we are assured that Miss Gulch has dropped her case against Toto. And when Dorothy reveals her preference for the Scarecrow, the other two grumble: "Thanks a lot."
For bringing me such long-delayed relief, I am happy to grant Lloyd Webber and Sams plenty of license with the rest of the movie, although they clearly perceived gaps I didn't. With lyricist Tim Rice, Lloyd Webber has added new songs to Harold Arlen and E.Y. Harburg's score — and not just in the second half, which in the movie kind of forgets it's a musical.
Dorothy has a new opening number, "Nobody Understands Me," which clunkily spells out this already heavily obvious point (made far more gracefully moments later in "Over the Rainbow"). An equally extraneous final Glinda/Dorothy duet, "Already Home," feels like stalling. But the Wizard and the Wicked Witch of the West's new numbers are fun and clever, if not especially memorable.
CHEAT SHEET: Fall arts preview
Had I the space, I could run down a list of updates and approve or disapprove — my point is, the show is so much a scene-by-scene response to the film that watching it is almost a metatheatrical experience.
But certain missteps deserve mention. The Witch (Jacquelyn Piro Donovan) apparently stole the show in London and Toronto (second only to Toto, who is played here to sighs and coos by Nigel, a rescue dog). While I admired Donovan's vocal range and pealing laugh, I found the character tediously drag-queeny (her desire for the ruby slippers is partially sartorial) and not at all scary.
Lee MacDougall looks adorable in his Cowardly Lion costume and does the best he can with this part rendered nearly unplayable in the shadow of the brilliant Bert Lahr and newly laden with gay jokes ("I'm proud to be a friend of Dorothy!")
But the poor Scarecrow (Jamie McKnight) has lost all his stuffing. No longer the self-deprecating but wise and deeply lovable figure brought to life by Ray Bolger, he's a twit with a blond bob and a short-term memory problem. Dorothy's weak explanation to the others for her preference — "He was my first friend here!" — only works because her bond with the straw man has been gutted. Generations of misfits have taken courage from the movie's message that a brain — which in Bolger's portrayal includes both heart and courage — is the key to happiness.
So Lloyd Webber and Sams, that's where I draw the line on toying with my "Wizard." You can manhandle my Munchkins and cut my colored horses. Just don't mess with my brain!
ALSO:
Trio of Tony winners join cast of NBC's 'Sound of Music'
Bette Midler bringing Sue Mengers play to Geffen Playhouse
Video: A sneak peek at Placido Domingo and L.A. Opera's 'Carmen'
"The Wizard of Oz," Pantages Theatre, 6233 Hollywood Blvd., Los Angeles. 7:30 p.m. Tuesdays through Thursdays, 8 p.m. Fridays, 2 and 8 p.m. Saturdays, 1 and 6:30 p.m. Sundays. $25 and up. Ends Oct. 6. (800) 982-2787 or www.hollywoodpantages.com. Running time: 2 hours, 20 minutes.
---
The complete guide to home viewing
Get Screen Gab for weekly recommendations, analysis, interviews and irreverent discussion of the TV and streaming movies everyone's talking about.
You may occasionally receive promotional content from the Los Angeles Times.