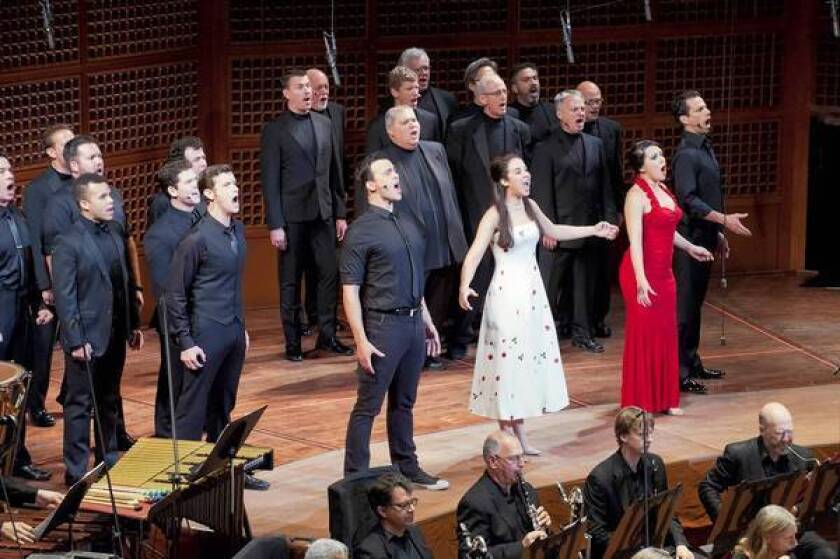 SAN FRANCISCO — "West Side Story," West Coast style, may seem oxymoronic. Certainly, the context for a colorful and wondrous, historic "West Side Story," given in concert by Michael Tilson Thomas and the San Francisco Symphony here Sunday afternoon, was radically exotic for a quintessential New York musical.
Across from Davies Hall, San Francisco celebrated Gay Pride, a huge and hugely flamboyant party that rejoiced in a society coming together rather than, as is the case with the warring gangs in "West Side Story," being tragically torn apart.
Police whistles are blown in the show as warning. Spectators outside blew whistles in noisy jubilation, and the parade began with a San Francisco policeman happily hugging leather-clad (and unclad) motorcyclists.
PHOTOS: Arts and culture in pictures by The Times
Yet the West Coast "West Side Story" connection is, in fact, crucial. An article in the Los Angeles Times about Southern California gang warfare was the inspiration for the story's Italian American Jets and Puerto Rican Sharks. While the Broadway musical was a moderate commercial success in 1957, and the cast recording reached the charts, Leonard Bernstein's songs didn't become a true sensation until the Hollywood film was released four years later.
Moreover, Bernstein's magnificent 1982 recording of the "West Side Story" Symphonic Dances, the first to reveal the full extent of the score's operatic grandeur, happened to be with the Los Angeles Philharmonic. It was made, coincidentally, here at Davies Hall when the orchestra was on tour.
Now Tilson Thomas — a protégé of Bernstein and a musician with a Bernsteinian command of the classics and popular music — is simply the most appropriate conductor to take on "West Side Story." Finally, he has in a series of concert performances to close out the San Francisco Symphony's season. The last one will be Tuesday, but something more is coming: a live recording on the orchestra's own label to be released next year.
Bernstein himself only once conducted a complete "West Side Story" in 1985, nearly three decades after he composed it. That was for a CD with opera singers, and the performance was criticized at the time for being excruciatingly slow and egotistically overblown. It is also glorious. Bernstein was a complex man and musician.
And "West Side Story" is a complex musical, influenced by (along with shameless direct steals from) many composers, including Stravinsky, Ravel, Britten and Shostakovich. Nobody had cast a net so widely before on Broadway, to say nothing of throwing in a cha-cha-cha along with other Latin dances, a 12-tone fugue and some of the best popular tunes of the last half-century.
PHOTOS: Hollywood stars on stage
Elizabeth A. Wells' recent academic study of "West Side Story" brilliantly illuminates all this. Another recent book on the musical by Misha Berson notes that there have been more than 40,000 different productions of the show. You'd think there would be nothing left to learn.
There is, and this is where Tilson Thomas comes in. As with Bernstein, Tilson Thomas waited until he became 68 to conduct his first full "West Side Story." He has, however, steered clear of Bernstein's excessively operatic approach. The San Francisco cast consists of Broadway singers, and quite classy ones. But they can wait.
The real revelation Sunday was the orchestra. There is, for a Broadway show of its era, an unprecedented amount of purely orchestral and important orchestra writing in "West Side Story." This is where much of the music's greatness lies, and Tilson Thomas brought that out through exquisite instrumental details and nuances.
A little emphasis of a celesta line in "Maria," for instance, produced a delicate dabble of glitter that seemed to capture the essence of her allure. Tilson Thomas handled the "Tonight" Quintet as he might a Bach cantata, finding profound meaning in complex counterpoint.
He conveyed the dance soul in the score. And its Ravelian color. The playing was sleek and polished. Dynamic contrasts, impossible to achieve on a Broadway stage, made "One Hand, One Heart" stop time. The Ballet Sequence, with "Somewhere" as the centerpiece, became a grand occasion, showing off startlingly impressive percussion writing on the level of Varèse and even Cage.
Against this orchestral splendor, some of the singers could seem slightly bland. They were placed on a platform behind the orchestra and blatantly amplified. Presumably, they will be well balanced on the recording and sound more natural.
Under these circumstances, the cast couldn't convey much sense of theater. Tony and Maria sang facing the audience, politely holding hands. But Cheyenne Jackson's Tony was suave and sure and Alexandra Silber's Maria, tremulously excitable. Kevin Vortmann was a smoothly cool Riff. Jessica Vosk's Anita brought needed heat.
And then there was a young soprano Julia Bollock, who sang "Somewhere." She comes from somewhere other than Broadway, namely opera and the concert stage, and in this performance a place of transcendence. Still a student, she stood out at the Ojai Festival two years ago. She's arrived.
Tilson Thomas now heads south next week to conduct the Los Angeles Philharmonic in Mahler and Tchaikovsky at the Hollywood Bowl. It's a shame he isn't also bringing this West Coast "West Side Story" as well. The recording can't come out a minute too soon.
---