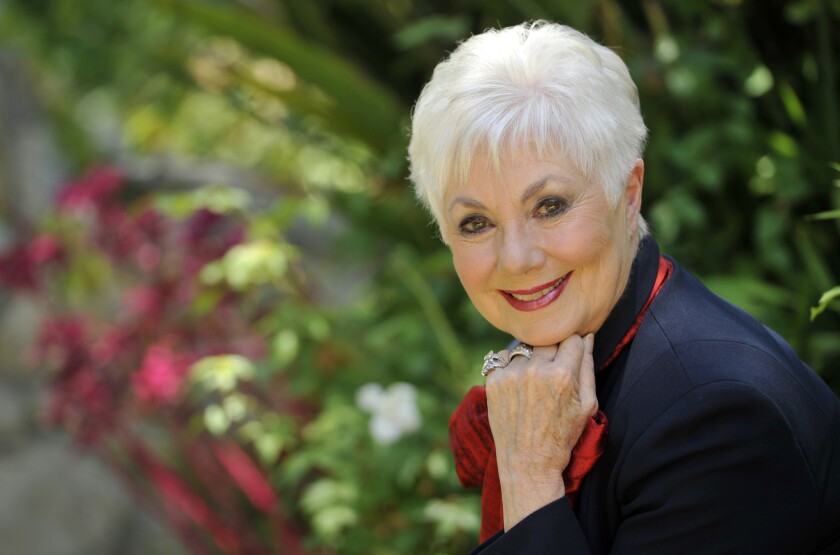 This post has been updated. See note below for details.
Shirley Jones has painted herself a less-than-wholesome portrait in the pages of her just-released autobiography.
The 79-year-old actress, who played the spinster Marian the librarian in "The Music Man," dishes some X-rated content in "Shirley Jones," the Associated Press reports.
"So bring out the smelling salts, hang on to your hats, and get ready for the surprise of your lives!" reads the book's introduction.
Much of the book is focused on her troubled marriage to the late Jack Cassidy, which includes tales of a threesome, Jones' sexual appetite and graphic descriptions of Cassidy below the belt.
PHOTOS: Hollywood stars on stage
The book also includes more innocent recounts of her journey from small-town Pennsylvania to a chance audition in the early 1950s that earned her parts in Rodgers and Hammerstein's musical film "Oklahoma!" In 1962, she starred opposite Robert Preston in the film version of "The Music Man." Later came her 1970s role as matriarch of TV's "The Partridge Family."
Jones turned on her squeaky-clean image by portraying a vengeful prostitute in 1960's "Elmer Gantry." The role earned her an Oscar and many letters from disappointed fans, Jones said.
For 35 years, the star has been married to her second husband, Marty Ingels. Jones says she keeps her appearance and her marriage youthful with healthful eating and doses of passion.
But apparently, for Jones, candor also comes with age.
"I never would have written this book if I weren't the age I am now," she said.
Updated July 23 at 3:40 p.m.: An earlier version of this post said Shirley Jones was in movie version of "South Pacific." She had a small part in the Broadway show.
ALSO:
Jeff Goldblum heading off-Broadway for Bruce Norris'
Hugh Jackman to bring one-man Broadway show to Los Angeles
Jon Hamm, Daniel Radcliffe to return in 'A Young Doctor's Notebook'
---