Steven Soderbergh-directed play 'The Library' opens in New York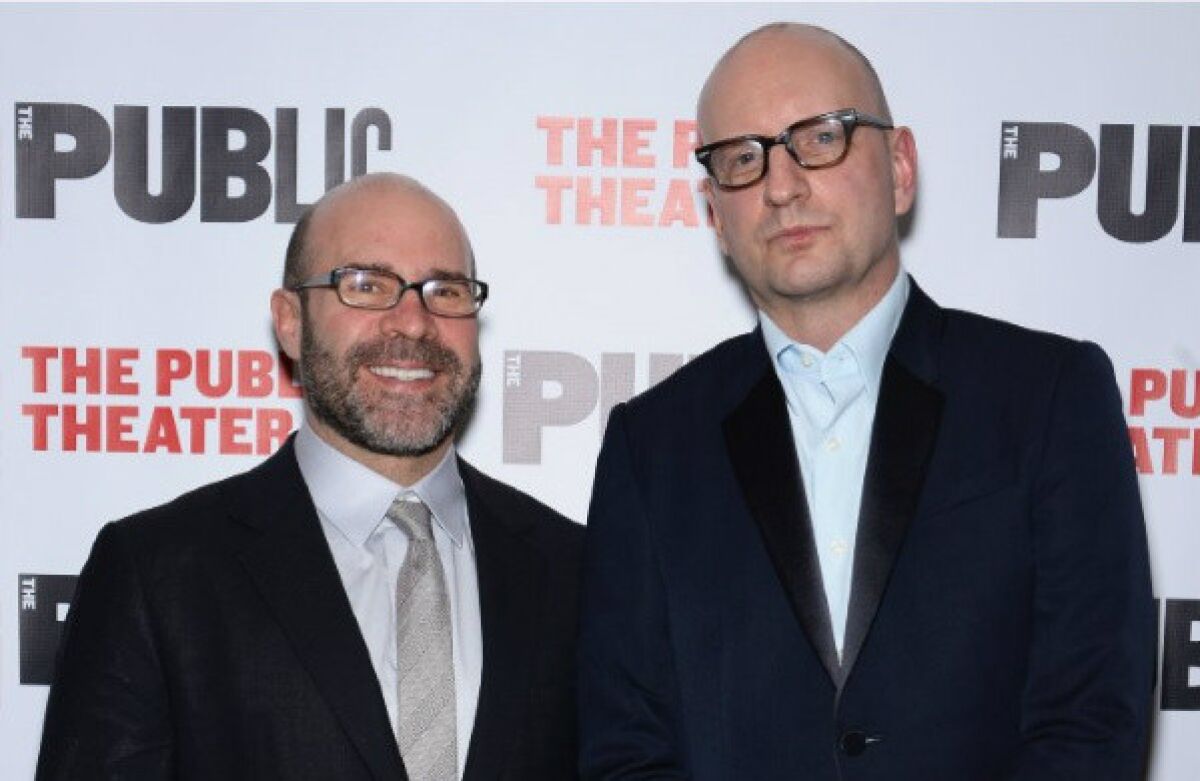 Steven Soderbergh made his New York debut as a stage director on Tuesday with the official opening of "The Library," a school-shooting drama starring Chloe Grace Moretz, at the Public Theater in New York.
Penned by frequent Soderbergh collaborator Scott Z. Burns, "The Library" had been in previews since March 25. The play is scheduled to run at the Public through April 27.
Moretz plays a student who survives a deadly shooting at her high school and then struggles to tell her story to her parents and the authorities. But her version of the truth becomes distorted in the subsequent media coverage of the incident. The cast includes Lili Taylor and Jennifer Westfeldt.
Burns wrote the screenplays for such Soderbergh movies as "Contagion," "The Informant!" and "Side Effects."
PHOTOS: Hollywood stars on stage
This isn't the first time Soderbergh has directed a stage production. The Oscar-winning filmmaker staged "Tot Mom," a production inspired by the Casey Anthony case, at the Sydney Theatre Company in Australia in 2009.
"The Library" is one of a number of projects that Soderbergh has taken on since announcing his "retirement" a few years ago from making feature films. He has since embarked on a Cinemax series titled "The Knick" and has published a novel in tweet form.
Tuesday's premiere brought out some past Soderbergh collaborators, including Michael Douglas and Catherine Zeta-Jones, making their first red-carpet appearance together since the couple briefly separated last year.
Ben Brantley of the New York Times wrote that the play "doesn't make the mistake of trying to find clear motivations for that crime. Instead, it considers how such events warp and contaminate those who survive them." Still, "there's a more interesting, less schematic play lurking within 'The Library.' "
PHOTOS: Arts and culture in pictures by The Times
The Hollywood Reporter's David Rooney described the play as an "undynamic drama" that benefits from Moretz's performance and Soderbergh's "spare, stylish direction." Moretz brings "intelligence and restraint" to her role, but "the wobbly drama is finally undermined by its facile resolution."
Linda Winer of Newsday wrote that the narrative's "stories are pat and the ending tidy -- exactly what these real-life horrors are not." But the production benefits from Soderbergh's direction with an "emotional clarity and an exquisitely discerning eye" and from Moretz's "radiant, delicately powerful talent."
The New York Post's Elisabeth Vincentelli concluded that " 'The Library' isn't a great play, but as staged by Steven Soderbergh, it's a very good show." Some audiences will think the production "is too emotionally detached, but that's actually a strength: It's rare to see a show take a step back so the audience can think."
ALSO:
Steven Soderbergh to direct Chloe Grace Moretz at Public Theater
Concert with L.A. Philharmonic will continue despite singer's death
San Diego Opera's fate still uncertain after final performance of "Don Quixote"
Get our L.A. Goes Out newsletter, with the week's best events, to help you explore and experience our city.
You may occasionally receive promotional content from the Los Angeles Times.