Review: 'A Cat Named Mercy' takes on healthcare with heart, heavy hand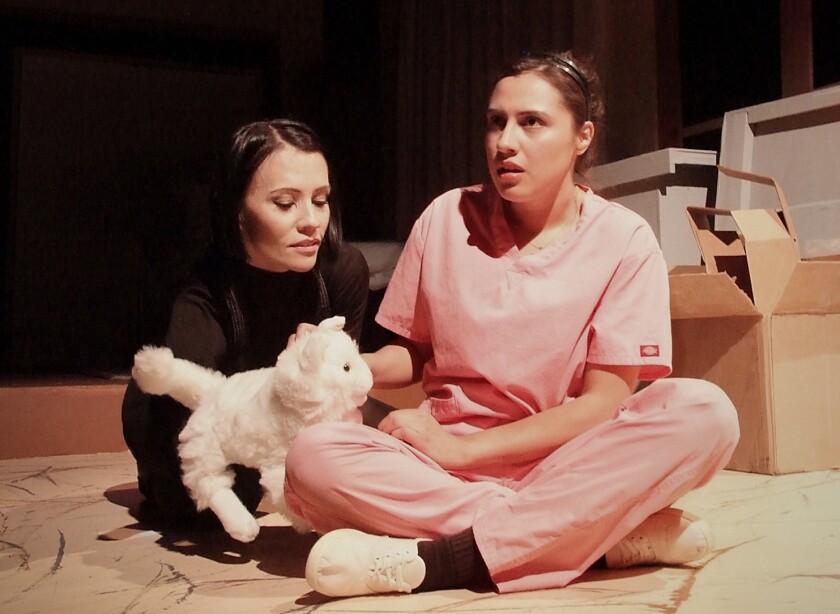 "A Cat Named Mercy," a new play by Josefina López ("Real Women Have Curves") premiering at Casa 0101 Theater, is full of reformist passion but feels underbaked. Perhaps it was rushed into production to capitalize on the Obamacare controversy. A cautionary tale about U.S. health insurance, "Cat" has the fervor and subtlety of an Affordable Care Act public service message.
The script also takes on a wide array of other social ills, from racism to incest, putting its beleaguered heroine, 26-year-old LVN Catalina Rodriguez (the lovely, natural if low-key Alex Ximenez), through a barrage of misfortunes more harrowing than the trials of Job.
Saintly Catalina works in a nursing home to support her blind, suicidal mother (Blanca Araceli). But when a rich new patient, a Southern belle named Kitty (Susan Davis, in a zestfully villainous turn), demands a white nurse (Marquel Skinner), their boss (Minerva Vier) cuts Catalina's hours, stripping her of health insurance. Minutes later, Catalina learns that she has a cancerous tumor, a preexisting condition that makes her ineligible to buy new insurance.
GRAPHIC: Faces to watch 2014 | Entertainment
Caught in this vise, Catalina can't resist when Kitty (now reformed of racism) offers her the money for an operation in exchange for an ethically challenging favor. Her choice puts her on the wrong side of Kitty's seductive but greedy grandson (charming Alex Denney).
Most of these twists feel forced, hinging on coincidences, abrupt about-faces and even interventions from the spirit world, the cosmology of which remains puzzling. (Kitty is somehow able to learn Catalina's bank account number from a supernatural source.) Implausibility adds an unintentionally comic note to the heartfelt efforts of director Hector Rodriguez and the cast.
Then there is the eponymous cat, Mercy, one of those nursing home pets that can tell when patients are going to die. It's played by a puppet on the arm of the sylph-like dancer Beatriz Eugenia Vasquez — an awkward partnership for both.
CRITICS' PICKS: What to watch, where to go, what to eat
When Catalina cuddles Mercy, Vasquez must perch by her side, meowing; when Vasquez gracefully leaps across the stage, Mercy hovers uncannily in midair.
A few more script drafts and a longer rehearsal period could probably eliminate such distracting choices and solve the many plot questions, honing "Cat" into a persuasive social issue drama.
"A Cat Named Mercy." Casa 0101 Theater, 2102 E. 1st St., Los Angeles. 8 p.m. Fridays and Saturdays, 5 p.m. Sundays. Ends Feb. 23. $20. (323) 263-7684 or www.casa0101.org. Running time: 2 hours, 30 minutes.
---
Inside the business of entertainment
The Wide Shot brings you news, analysis and insights on everything from streaming wars to production — and what it all means for the future.
You may occasionally receive promotional content from the Los Angeles Times.