Jefferson Memorial, Confederate statues enter national race debate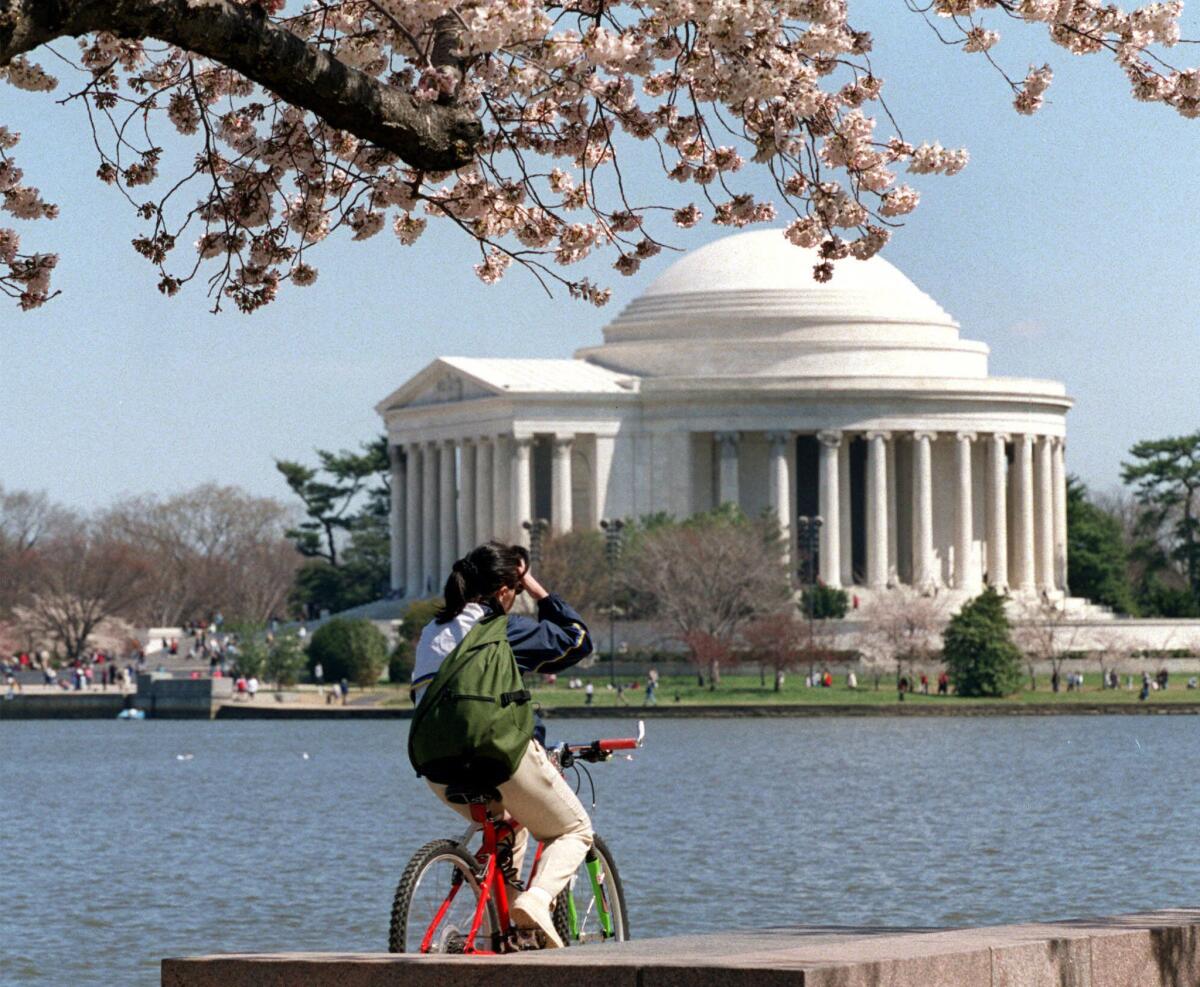 The Thomas Jefferson Memorial, which has stood near the banks of the Potomac River in Washington for more than 70 years, is a classical tribute to the author of the Declaration of Independence and the third U.S. president.
This week, the Jefferson Memorial was drawn into the national debate about race following the shooting deaths of nine people in a predominantly black church in South Carolina last week. It joins other public statues depicting Southern or Confederate figures, including Jefferson Davis and Robert E. Lee, that some are arguing represent the country's racist past and should be removed.
CNN anchor Ashleigh Banfield this week questioned whether the Jefferson Memorial should be taken down because Jefferson owned slaves. "There is a monument to him in the capital city of the United States. No one ever asks for that to come down," Banfield said.
Fellow anchor Don Lemon responded by saying Jefferson represented "the entire United States, not just the South." But he added: "There may come a day when we want to rethink Jefferson. I don't know if we should do that."
Their comments have been picked up by conservative news sites and blogs. On Infowars, blogger Paul Joseph Watson compared taking down the Jefferson Memorial to the logic of Islamic State terrorists "who have spent the last year tearing down historical statues and monuments because they offend their radical belief system."
Jefferson owned slaves and had children with one of them, Sally Hemings, who is believed to have been a teenager when she first gave birth. Several other presidents including George Washington, Andrew Jackson and James Madison also owned slaves.
At the University of Texas, Austin, a public statue of Jefferson Davis, the president of the Confederacy, was reportedly vandalized this week with the words "Black Lives Matter" and "Bump the Chumps." Another Davis statue at the Statehouse in Frankfort, Ky., has come under scrutiny, with some calling for the work of art to be taken down.
One of those advocating for its removal is Republican gubernatorial candidate Matt Bevin, who was quoted in the Hill newspaper as saying, "It is important never to forget our history, but parts of our history are more appropriately displayed in museums, not on government property."
Statues on the Austin campus of Robert E. Lee, who commanded the Confederate army, and Albert Sidney Johnston, a Confederate general who died during the Civil War, were also vandalized in recent days, according to reports.
Students at the university have started an online petition advocating removal of the statues, saying "it is impossible to reach the full potential of an inclusive and progressive learning institution while putting an idol of our darkest days on a pedestal."
A Confederate monument in Charleston, S.C., was vandalized this week with the words "Black Lives Matter," according to the Post and Courier newspaper.
A tarp was placed around the monument, concealing the graffiti, the newspaper said, but later signs were placed over the tarp that read "All lives matter #charlestonunited" and "Take down racist statues."
Much of the national debate on race has dealt with the Confederate flag, and whether state governments in the South should remove it from display on government grounds and/or in state flags.
South Carolina Gov. Nikki Haley, a Republican, has called for the flag to be taken down from the Statehouse grounds, but the state Legislature would need to approve such a measure.
Twitter: @DavidNgLAT
ALSO:
Flag has new meaning for many Southerners since Charleston slayings
Confederate flag paintings to go on display at Laguna Art Museum
The Confederate flag: Where it flies, where it's coming down and why it's still used
Get our L.A. Goes Out newsletter, with the week's best events, to help you explore and experience our city.
You may occasionally receive promotional content from the Los Angeles Times.