Review: Bette Midler makes 'I'll Eat You Last' fun
"Birdman" actress Emma Stone (center), took on Roundabout Theatre Company's "Cabaret." Pictured with Gayle Rankin, left, Andrea Goss, Kristin Olness, Stacey Sipowicz, Kaleigh Cronin and Jessica Pariseau.
(Joan Marcus / Roundabout Theatre)
Oscar winner Helen Mirren once again portrays Queen Elizabeth II in Peter Morgan's play "The Audience," directed by two-time Tony Award winner Stephen Daldry.
(Johan Persson / Associated Press)
Actress Carly Hughes and Sugarland singer Jennifer Nettles perform during a rehearsal for Broadway's "Chicago."
(Astrid Stawiarz / Getty Images)
Sienna Miller, center, and Alan Cumming, right, appear at the curtain call following her debut performance in Broadway's "Cabaret."
(Greg Allen / Invision / Associated Press)
"Nightcrawler" actor Jake Gyllenhaal, left, and Ruth Wilson stand onstage at the opening night curtain call of "Constellations" at the Samuel J. Friedman Theatre.
(Greg Allen / Invision / Associated Press)
Bradley Cooper, left, Alessandro Nivola and Patricia Clarkson perform in "The Elephant Man" at the Booth Theatre in New York.
(Joan Marcus / Associated Press)
"Wolverine" actor Hugh Jackman played The Man in "The River," a play by Jez Butterworth, directed by Ian Rickson, at Circle in the Square Theatre in New York.
(Richard Termine / Associated Press)
Film actors Ewan McGregor and Maggie Gyllenhaal made their Broadway debuts Oct. 30 in Tom Stoppard's "The Real Thing" in New York.
( Joan Marcus / Associated Press)
Four-time Oscar nominee Annette Bening is no stranger to the stage having started her acting career in theater. Above, Bening performs a compilation of four Ruth Draper vignettes in "Ruth Draper's Monologues," scheduled to run through May 18 at the Geffen Playhouse.
REVIEW: Annette Bening pays fine tribute in 'Ruth Draper's Monologues'
(Allen J. Schaben / Los Angeles Times)
"CSI" alum William Petersen made his
Los Angeles stage debut
in this year's "Slowgirl" at the Geffen Playhouse.
(Katie Falkenberg / Los Angeles Times)
Tom Hiddleston
returned to the stage
as the title character in Shakespeare's "Coriolanus" after playing Loki in "Thor," "The Avengers" and "Thor: The Dark World." The production opened at the Donmar Warehouse in London on Dec. 17 to glowing reviews and continues through Feb. 13.
(Johan Persson / Associated Press)
Ethan Hawke took on the
title role
in the Lincoln Center Theater's production of "Macbeth" that opened on Nov. 21, 2013, and closed Jan. 12.
(T Charles Erickson / Associated Press)
Daniel Radcliffe went from boy wizard in "Harry Potter" to baring all in a Broadway revival of Peter Shaffer's 1973 Tony-winning play "Equus."
The casting of the "Harry Potter" frontman as the psychologically disturbed stable boy caused a stir as the then 17-year-old would appear nude in one scene.
Radcliffe
wowed critics
and earned a Drama Desk nomination for his role.
(Uli Weber / Associated Press)
Jude Law, who played the title role in 2009, and most of the British cast transported the Donmar Warehouse production from the Wyndham's Theatre in London to Broadway's Broadhurst Theatre after a successful run.
(Johan Persson / Associated Press)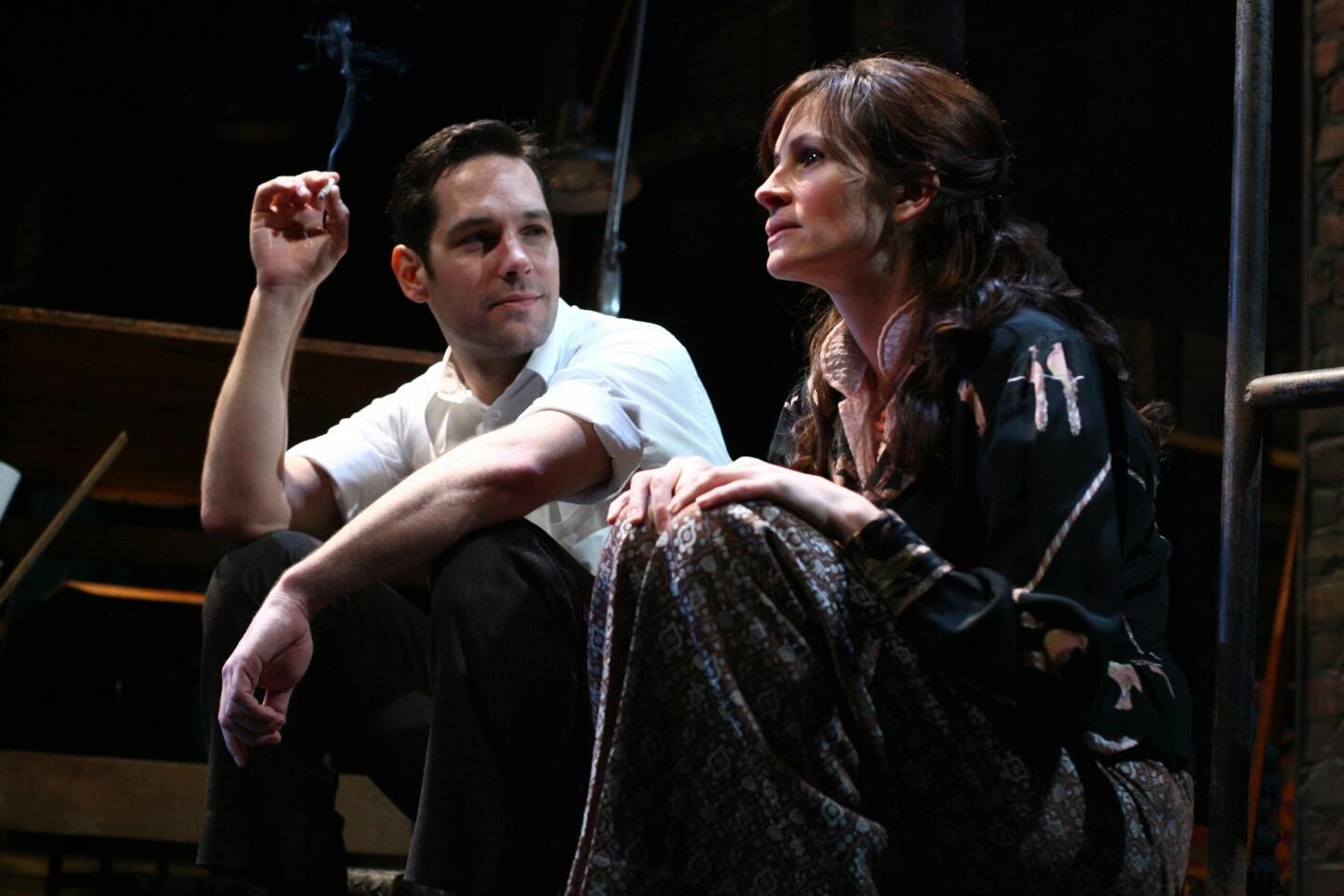 Julia Roberts made her Broadway debut in the revival of Richard Greenberg's "Three Days of Rain," which opened April 12, 2006. Paul Rudd, above, and Bradley Cooper also starred in the play that called for actors to play roles from two generations of family members.
(Joan Marcus / Associated Press)
Oscar winner Denzel Washington and Oscar-nominated actress Viola Davis portrayed Troy Maxson and Troy's wife, Rose in the 2010 version of "Fences." Their portrayals in the August Wilson play netted the pair lead actor Tony Awards.
(Joan Marcus / Associated Press)
Daniel Craig and Hugh Jackman, both with impressive stage and screen credits, starred in Keith Huff's "A Steady Rain."
The two-person play, which cast the duo as a pair of cops, opened Sept. 29, 2009.
(Joan Marcus / AP)
Oscar-winner Al Pacino got to recite the famous "Hath not a Jew eyes" speech multiple times as Shylock in both the 2004 film and the 2010 Broadway production of "The Merchant of Venice."
(Joan Marcus / Associated Press)
NEW YORK — Enthroned on her couch in Beverly Hills, Hollywood superagent Sue Mengers did not go gentle into that good night but, instead, gossiped and tattled against the dying of the light.
Well, she's back holding court in her modest (by neighborhood standards, anyway) palace, which has been relocated to Broadway's Booth Theatre. Here Bette Midler, draped in a turquoise caftan like a sedentary 1980s queen too tired even for browsing on Rodeo Drive, delivers Mengers' ribald wit and agentry wisdom in John Logan's "I'll Eat You Last: A Chat With Sue Mengers."
"Chat" is the key word in this title. Logan, the author of the Tony Award-winning play "Red," hasn't so much written a drama as created a talky vehicle for Midler that exploits the synergy between her brassy humor and the bawdy sass of the woman whose client list (Barbra Streisand, Gene Hackman, Ali MacGraw, Faye Dunaway) reads like a who's who of 1970s cinema.
PHOTOS: Hollywood stars on stage
Midler, a galvanizing stage presence even in a role that barely requires her to move anything but her mouth, makes it fun. Who wouldn't want to hang out with her while she dishes the dirt on yesterday's fabulous and famous in a modified version of her old Sophie Tucker style of patter?
But this 85-minute monologue, directed by Joe Mantello, doesn't ask the ever-Divine Miss M to dig deep into Mengers' character or to make connections between her difficult past (her German Jewish family's rough transition to the U.S., the suicide of her father) and the boundless chutzpah that brought her for a time so much pathbreaking success as a female agent able to outmaneuver most of her male competitors.
Rather, it invites Midler to don a blond wig and tinted glasses and perform the persona that made Mengers the most entertaining dinner party host in this unusually glittering company town.
"Like I always say: If you can't say anything nice about someone, come sit by me," Midler rasps, borrowing a line that sounds tailor-made for Mengers, in a show that just wants to provoke some mildly mischievous laughs.
STORY: 'I'll Eat You Last' chronicles Sue Mengers' old Hollywood
The frame of the play is rather simple: Lounging on a sofa with plumes of cigarette and marijuana smoke braiding overhead, Mengers is anxiously expecting a phone call from Streisand, who helped make her one of the most powerful agents in the business. It's 1981, and Streisand's lawyers have just fired Mengers, who is now steeling herself for the "nothing personal" call from her old friend and long-standing professional trump card.
"What Barbra did was open the window for me," Mengers explains. "Once I was inside, it was up to me. So I went to work. I talked to everyone. I was persuasive, I was funny. Most of all, I was ferocious. To me 'no' always meant 'maybe.'"
While waiting for the phone to ring, she fires off one celebrity anecdote after the next, drawing lessons along the way on the proper management of talent. ("Rule No. 1: Never blow a deal on money," etc.)
The names that are dropped will no doubt titillate the affluent AARP crowd (Broadway's backbone), but the script often feels like a back issue of People magazine.
There's a tale of marital menace involving MacGraw and Steve McQueen, a punch line invoking Jackie Gleason and James Coco and mention of a furtive date between Candice Bergen and Henry Kissinger.
CHEAT SHEET: Spring Arts Preview
Dying to hear how Hackman got his Oscar-winning role in "The French Connection" or how the financial negotiations played out for Dunaway's casting in "Chinatown"? The long wait is over.
"I'll Eat You Last" is a highly packaged theatrical offering, more marketed than written. Indeed, there's more insight into Mengers and the changing nature of the agentry business in Peter Biskind's 2000 Vanity Fair account of her rise from William Morris secretary to unstoppable Hollywood power broker, followed by the sudden fall that was somewhat softened by the prominence of her much-coveted salon.
Vanity Fair editor Graydon Carter happens to be a lead producer on the show, and the play, which has about the depth of a magazine feature, could use a round of his editing. Yet Midler coaxes you into lowering your artistic expectations and just enjoying this experience for what it is: a Broadway bonbon.
This is what they call personality acting, the prerogative of stars of a certain magnitude. There aren't that many of Midler's caliber around anymore, the kind of performers who can charge a room with laughter before even a joke has passed their lips. Talent no longer has to be proved at this stage of the game. Fans, grateful for the years of delight, are content to bask in glow of happy memories rekindled by the snap of a voice or the whisk of a hand gesture.
Mengers' languor limits Midler's natural vivacity. Fewer calories have ever been burned by an actor in a solo performance. (A member of the audience is summoned to the stage to fetch Mengers her pot and then something to drink from a nearby table — she just refuses to leave her seat.)
But Midler's comic audacity sustains the illusion that something is actually happening. It's not, though most Broadway theatergoers won't care a bit.
Get our L.A. Goes Out newsletter, with the week's best events, to help you explore and experience our city.
You may occasionally receive promotional content from the Los Angeles Times.