Roberto Bolle, ABT's latest leading man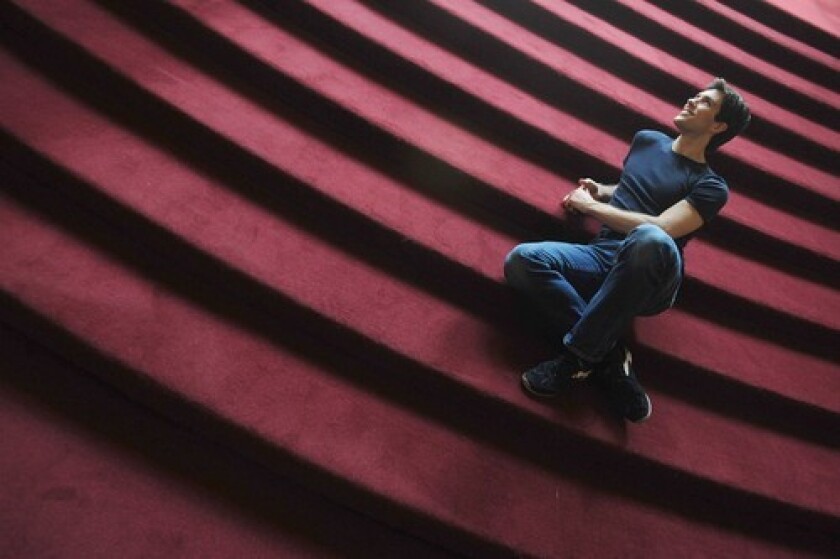 Reporting from New York —
In his native Italy, Roberto Bolle has achieved a degree of popularity unknown to ballet dancers in this country. His chiseled, handsome features -- not to mention his hunky torso -- are featured in magazine spreads and advertising campaigns. But he is also the real deal: a tall, supremely elegant dancer with exceptional line, harmonious plastique and partnering skills that have kept him in demand among leading ballerinas worldwide.
"He's a perfect partner. He's so strong -- it's a pleasure. You can really abandon yourself. He's the strongest person I have ever danced with. For a woman, to be in his arms is very reassuring," says Alessandra Ferri, the celebrated ballerina and compatriot with whom he often danced and whom he partnered in her farewell performances two years ago.
In addition to the ballet company of La Scala in Milan -- his most long-standing affiliation -- Bolle, 34, dances with the Royal Ballet, where he was a favored partner of Darcey Bussell, and other major European troupes. But until this year, his appearances on American stages numbered only a handful, limited to New York City. He partnered Bussell in 2004 when the Royal Ballet performed a Frederick Ashton tribute program at the Metropolitan Opera House, and he brought a suave elegance and dramatic fervor to Ferri's final performances with American Ballet Theatre in Kenneth Macmillan's "Romeo and Juliet" and "Manon" on the same stage.
Kevin McKenzie, ABT's artistic director, liked what he saw enough to invite Bolle to dance with the company as more than a guest, and this year he became its newest male principal dancer. He was scarcely coddled as he adapted to the very different environment of an American company, dancing four leading roles with different ballerinas, none of whom he had partnered before. McKenzie described the process as "integrating him into the company, just seeing who resonates."
His attentiveness, inherently noble bearing and assured partnering allowed each of his new partners to shine brightly in familiar standards such as "Giselle" and "Swan Lake," as well as in "Romeo" and a lesser-known gem, Ashton's "Sylvia." His virtuoso abilities, offset by his inherently modest demeanor, won over audiences immediately, with a devoted following pitching bouquets at him as well as his partner during curtain calls.
Romeo's many masters
On Thursday, the first of ABT's five "Romeo and Juliet" performances at the Dorothy Chandler Pavilion, Bolle will make his L.A. debut, dancing Romeo to Irina Dvorovenko's Juliet.
The company boasts a deep and impressive roster of male principal dancers, and each performance will feature a different Romeo. The quintet includes the company's stalwart experienced interpreters of the role: Marcelo Gomes, who dances with Paloma Herrera on Friday, and David Hallberg, who partners Gillian Murphy on Saturday evening.
Newer to the role are Herman Cornejo, the exceptional virtuoso who has long been a brilliant Mercutio in the ballet, who dances on Sunday (opposite Xiomara Reyes), and the tall, poetic, increasingly authoritative soloist Cory Stearns, who portrays the doomed lover on Saturday afternoon, partnering another rising young company member, Hee Seo.
Bolle has danced Romeo for virtually his entire career. The ever-popular Macmillan production was in the La Scala repertory, and he first danced the lead at 20. During a recent interview in the Metropolitan Opera House's press lounge, Bolle explored his abiding enthusiasm for the role.
"Romeo is a character that can really express all kinds of emotion -- love and passion and then desperation. There are so many emotional moments, which are so well supported by the music, which is fantastic. I discovered the role through the years, dancing with amazing ballerinas. Alessandra was the one I think I've danced the ballet most. We were researching the meaning of everything in the ballet -- for each moment of the story, the character, the emotion I could give to her and to the public. It was really special, to learn how not to pay too much attention to the steps but to think about the character and emotions, to enjoy finally -- you really can, in his role."
Not that he finds it easy, he emphasizes. "The role is very hard. The first act is killing, because Romeo is always there. So many things to do!"
Bolle's English is quite good, with a melodious accent and a charming penchant for pronouncing the final "t" in "ballet," and he punctuates his responses with easy laughter. Opting for the lounge's carpeted floor over the sofa, he stretched, folded and repositioned his long, tapered legs throughout the interview, after which he had a "Swan Lake" rehearsal. With every week bringing a new partner, Bolle had not yet spent as much time rehearsing "Romeo," the final of his roles during the season, but he and Dvorovenko, a Ukrainian ballerina who joined ABT in 1996, had worked on several pas de deux.
"We both did so much now the roles, that we immediately found each other, emotionally, very easily -- it's not always like that. So that was very good, from the first rehearsal," he said.
McKenzie has been impressed with his troupe's newest leading man. "He is not a bombastic individual. He's very quiet, self-effacing and charming, and very accommodating to his partners. He certainly appears to feel very at home."
For his part, Bolle said, "This is really a great opportunity. It's one of the most important companies in the world, so being a principal here is very important."
He admits to being stunned by the intensity of ABT's eight-shows-a-week schedule during the eight-week Met season. He is accustomed to the less intense pace of the opera-house-based ballet companies of Europe, which share the theater with the opera, performing throughout a long season but fewer times per week.
"Here, they work extremely hard. Some of the corps de ballet and soloists are on eight times a week -- and they also rehearse. I mean, wow! I really don't know how these guys do it," he said with an appreciative laugh.
Elegance and goodwill
As a 15-year-old student at La Scala's school, Bolle was noticed by none other than Rudolf Nureyev, who was staging "Nutcracker" for the company. One day, the young student was practicing in a studio when the great dancer came in to warm up. "I was leaving, and he said to stay and show him what I was able to do," he says, laughing at the recollection of the momentous encounter. "I did exercises at the barre, and he was correcting me, trying things. And for the next few days he would give some corrections."
Nureyev, who was about to perform in a production of "Death in Venice," requested that the young dancer be cast as Tadzio, but logistics prevented Bolle from being able to leave school long enough to do so. "I was very young, and maybe not ready for that. But it was very important to have the chance to meet him."
Had Nureyev lived longer, he would have seen his faith in the young student confirmed.
Ferri, speaking by phone from Spoleto, Italy, recalled Bolle as "very green, very shy at the time we first danced together. But it was obviously apparent that he was a beautiful dancer, a very classical dancer, with an elegant, refined technique." She remarks on his "vulnerability," and adds, "Dancers today really want to show off all the time, at any cost. I think Roberto has maintained a sense of elegance about his performance."
These days, Bolle is happy to make use of his celebrity to promote, and broaden, awareness of the art form to which he is dedicated. "So many people know me as a dancer and start to come to the theater to see ballet, and before they didn't," he said. His extracurricular activities include being a UNICEF goodwill ambassador for the last 10 years, raising awareness and funds for Sudan in particular.
Taking note of Bolle's degree of visibility, McKenzie says, "This is an art form that, in America, does not resonate like it does virtually anywhere in Europe. Roberto is to Italy what Julio Bocca was to Argentina. They're national figures, stars -- and rightly so."
Bolle's arrival in America has already been greeted with big-name photo spreads in Vanity Fair and Vogue. The glossy images will no doubt help lure audiences, but the performances will prove what he is really about.
---
The complete guide to home viewing
Get Screen Gab for weekly recommendations, analysis, interviews and irreverent discussion of the TV and streaming movies everyone's talking about.
You may occasionally receive promotional content from the Los Angeles Times.