'Amélie' musical's creators bring to the stage a 'love letter to imagination'
Amélie Poulain sees the world as no one else does.
Her imagination is a fun-house mirror that magnifies the oddities, intensifies the colors and warps every random detail of her environs in Paris' Montmartre.
Audiences experience the 2001 French film "Amélie" through her eyes, and much goes unexplained because the title character is a young woman of very few words. But Amélie sees magic everywhere, and that seems rather wonderful.
It works well on film — and was extraordinarily well received by audiences — because director Jean-Pierre Jeunet uses movie technology in all sorts of playful ways and because Audrey Tautou's mischievous half-smile, seen in close-up, wordlessly conveys volumes.
But try translating all of that into a stage musical. That's the doozy of a challenge embraced by the makers of "Amelie, A New Musical," which opens Friday at the Ahmanson Theatre and plays through the holidays before heading to Broadway for a spring opening.
SIGN UP for the free Essential Arts & Culture newsletter »
The creators are an eclectic group — the sort that Amélie, a surreptitious community-builder, might matchmake for their varied yet complementary traits. Daniel Messé, the composer, co-lyricist and project originator, is principal songwriter and guiding spirit for the alt-Americana band Hem. The other lyricist, Nathan Tysen, collaborated on this year's preternatural Broadway musical "Tuck Everlasting." Script author Craig Lucas is a playwright whose often fantastical vision has resulted in such works as "Prelude to a Kiss." And director Pam MacKinnon is known for such kaleidoscopic dramas as "Clybourne Park."
Amélie's story is at once cautionary and eternally, infinitely hopeful. Blessed — or possibly cursed — with an active imagination, she's so busy remaking the world into a Technicolor adventure that she lets reality drift into the distance. Yet this obstacle is also what frees her. Time and again, someone or something fascinates her and draws her beyond her fantasies.
The movie resonated with the team in different ways.
"It was this beautiful love letter to imagination," Tysen says.
"I see it very much as a coming of age story," MacKinnon says. "I don't think we see that many stories about a young woman coming of age — it's more frequently a boy to a man."
Messé responded to the themes: "How we recover from our past and move forward, and how important it is to move past your own limitations and connect with other people."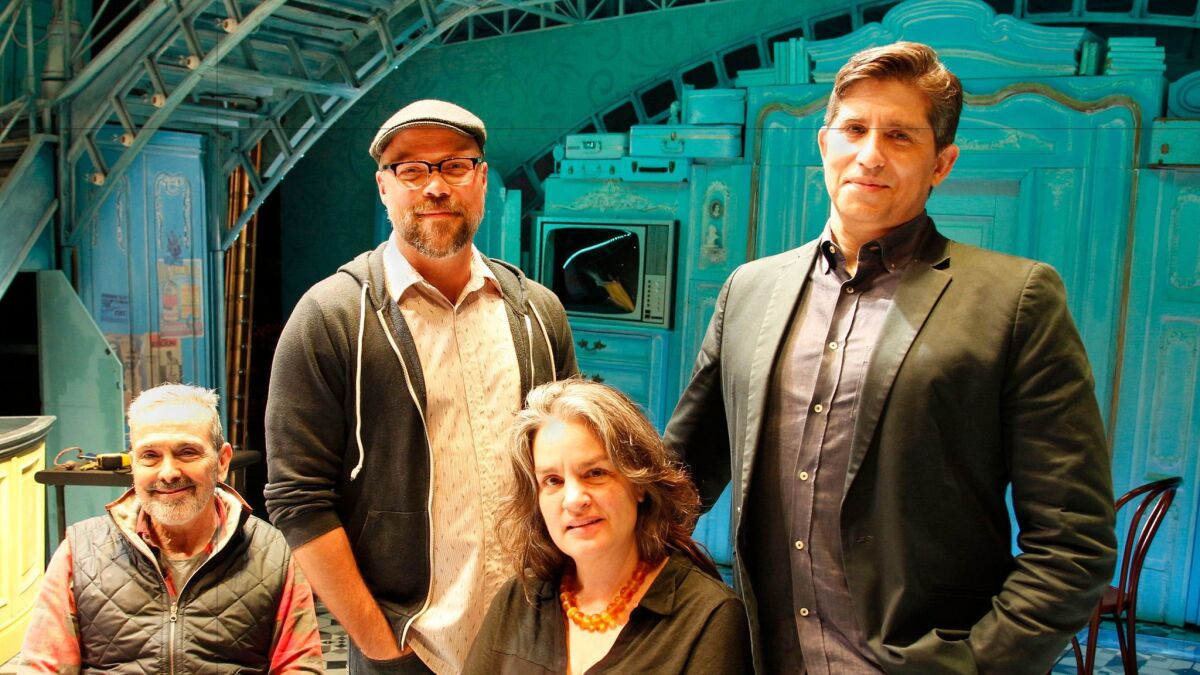 The story follows Amélie from her birth in 1975 through her early 20s in the 1990s. In her adult years she is portrayed by Phillipa Soo, leading a cast of 13 in her first post-"Hamilton" project.
Amélie cultivates her imagination to compensate for a shut-in life prescribed by her overprotective parents. Once old enough to leave home, she heads to Montmartre, where she rents a small apartment, takes a job at a neighborhood cafe-bar and continues living in her head. Then a chance discovery sends her on a do-good mission, which inspires more. Gradually, she is drawn into the wider world, where a young man catches her eye — a strange young man she repeatedly encounters rooting around beneath photo booths. He's a mystery she tries to solve.
Finding a man is not the solution. That's not the moral here. Rather, MacKinnon says, it's learning that "stepping into something that is scary, at first, can be worth it — taking that risk, crossing that threshold, demanding that your life be full."
The visuals of "Amélie" the film are perhaps its most talked-about quality, so one challenge for the stage team was to reward theatergoers expecting a similar experience.
"The movie uses very sophisticated lens craft, lighting," says Lucas. "The mise-en-scène was right at the cutting edge of what you could do. There's some deep focus, some things that are very, very hard to accomplish, and cinephiles love it."
In a few especially heightened moments, special effects — a talking lamp figurine or a heart glowing beneath a shirtfront — rupture the line between fantasy and reality.
Rather than try to compete with all of that technology, the "Amélie" theater team embraces the old-fashioned, the tried-and-true.
If the movie is "a kind of love letter to cinema," Tysen says, then the stage version is a "love letter to theater and simple, magical stagecraft — a kind of DIY approach where it's a small group of actors playing many, many characters and a very simple set that is full of surprises."
The buildings of Montmartre are constructed of armoires, chests of drawers and suitcases, adorned with picture frames and lamps.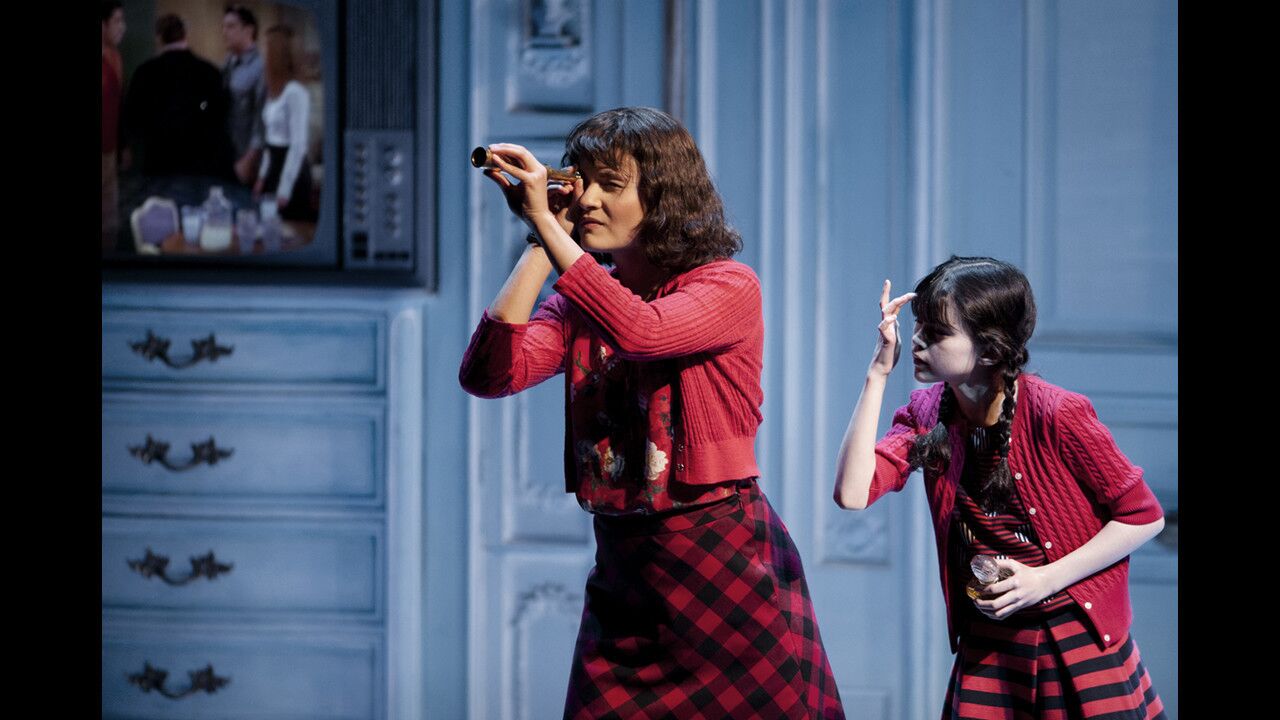 Phillipa Soo (Amelie) and Savvy Crawford (young Amelie) perform during dress rehearsal of "Amelie, a New Musical."
(Mariah Tauger / For The Times)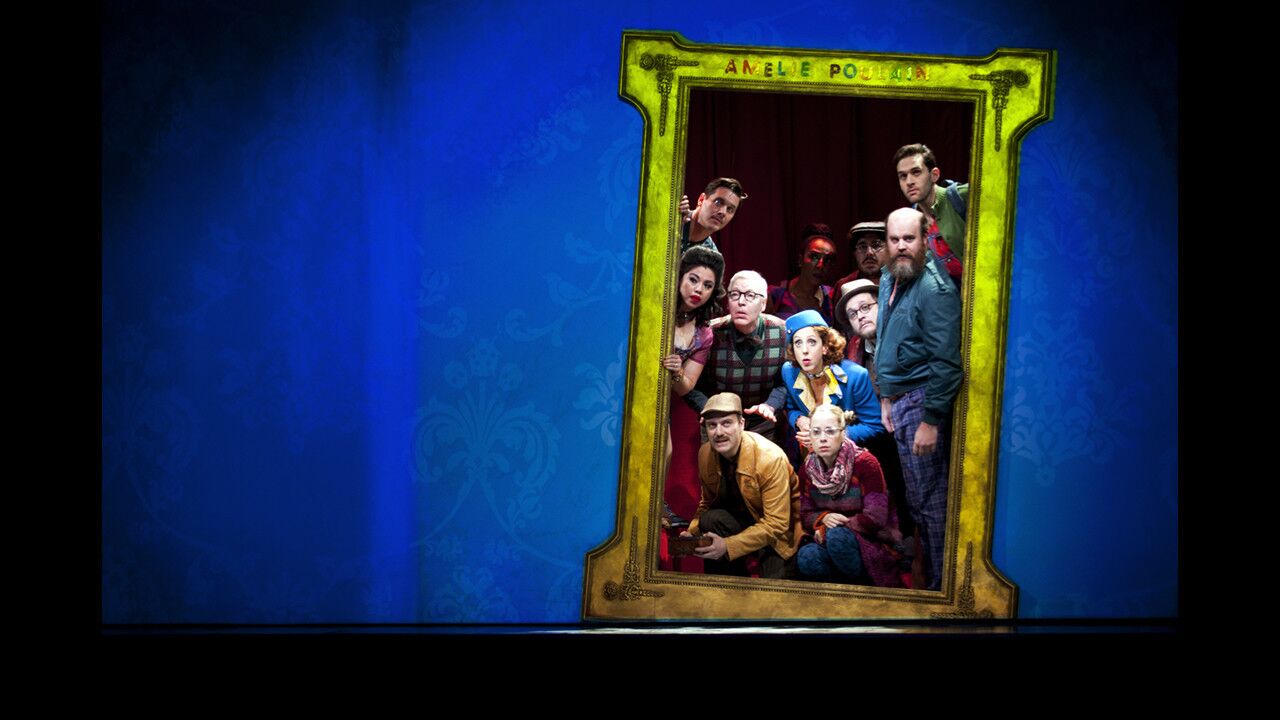 Cast members of "Amelie, a New Musical" during a dress rehearsal at the Ahmanson Theatre.
(Mariah Tauger / For The Times)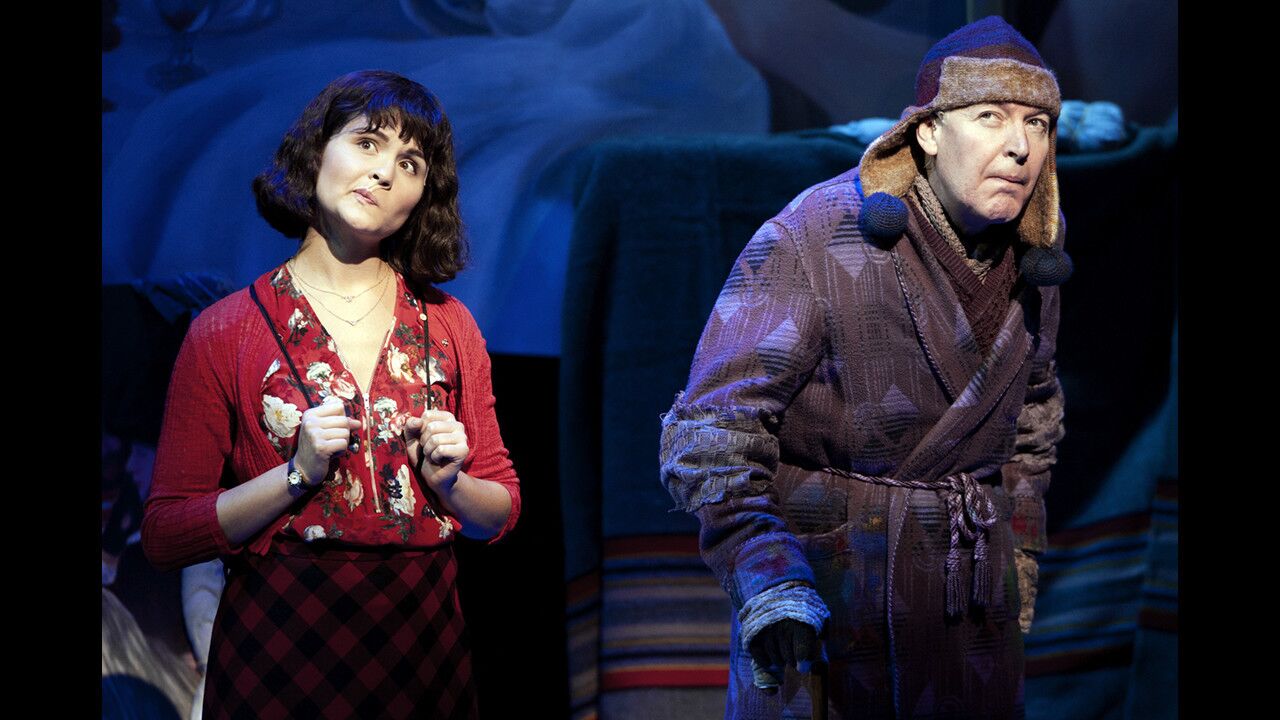 Cast members Phillipa Soo (Amelie) and Tony Sheldon (Dufayel) during dress rehearsal.
(Mariah Tauger / For The Times)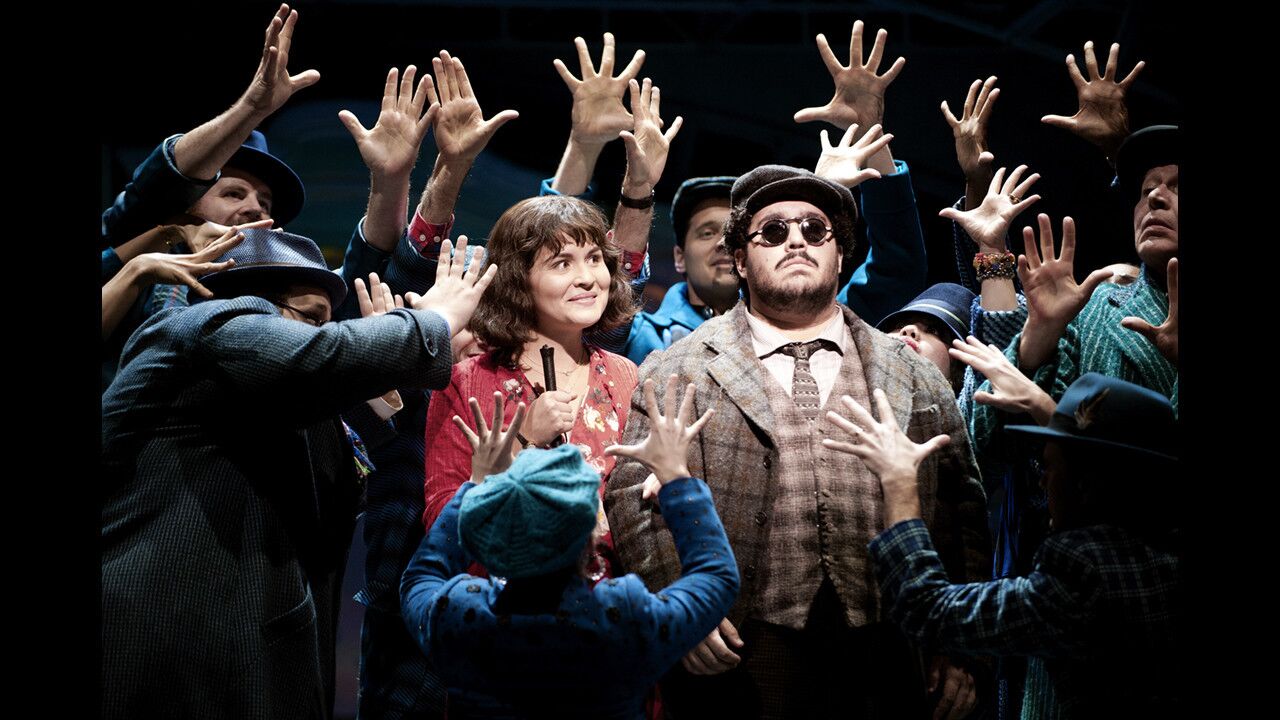 Phillipa Soo and David Andino in "Amelie, a New Musical."
(Mariah Tauger / For The Times)
Phillipa Soo and the cast of "Amélie, a New Musical."
(Mariah Tauger / For The Times )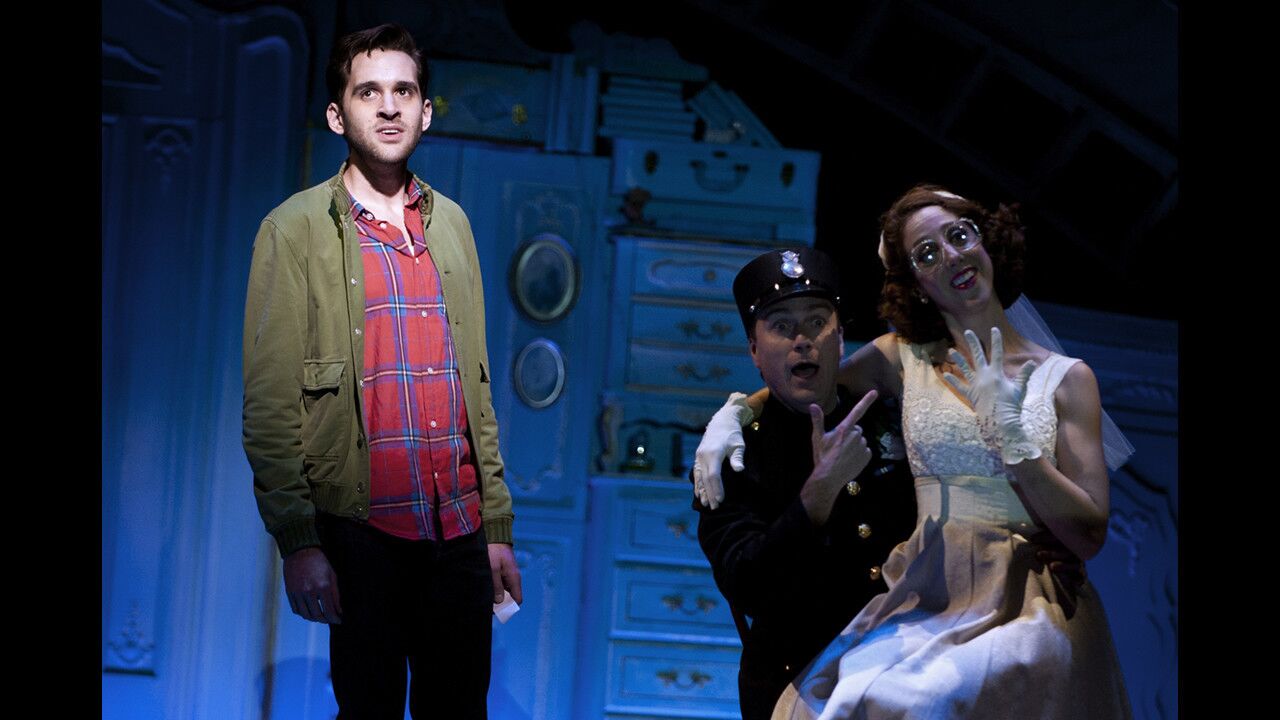 Adam Chanler-Berat during dress rehearsal of "Amelie, a New Musical."
(Mariah Tauger / For The Times)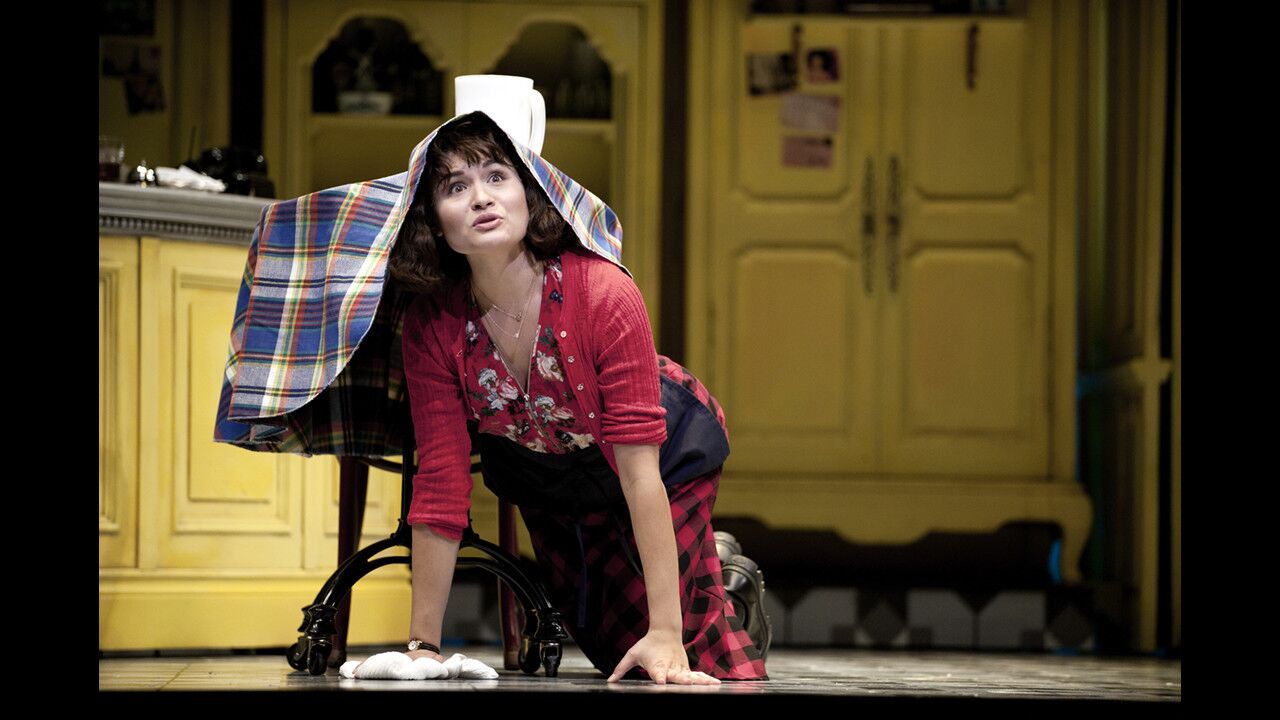 Phillipa Soo as Amelie.
(Mariah Tauger / For The Times)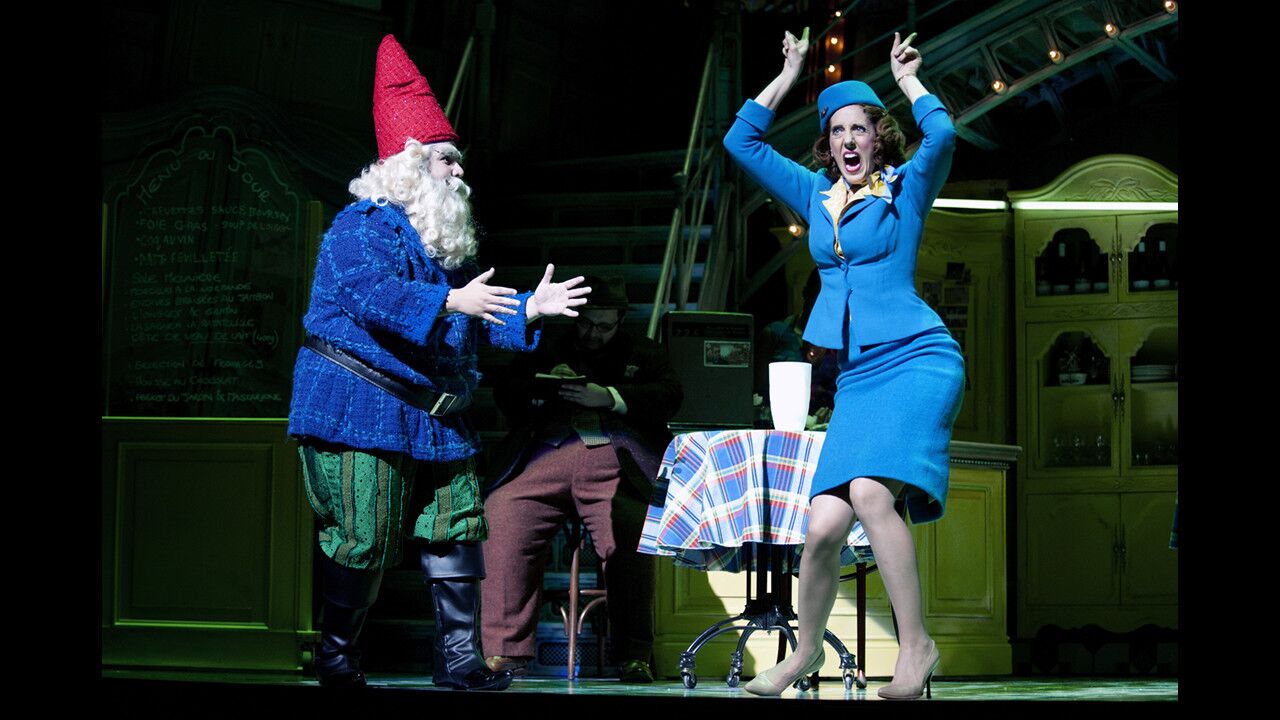 David Andino and Alison Cimmet perform in an "Amelie" dress rehearsal.
(Mariah Tauger / For The Times)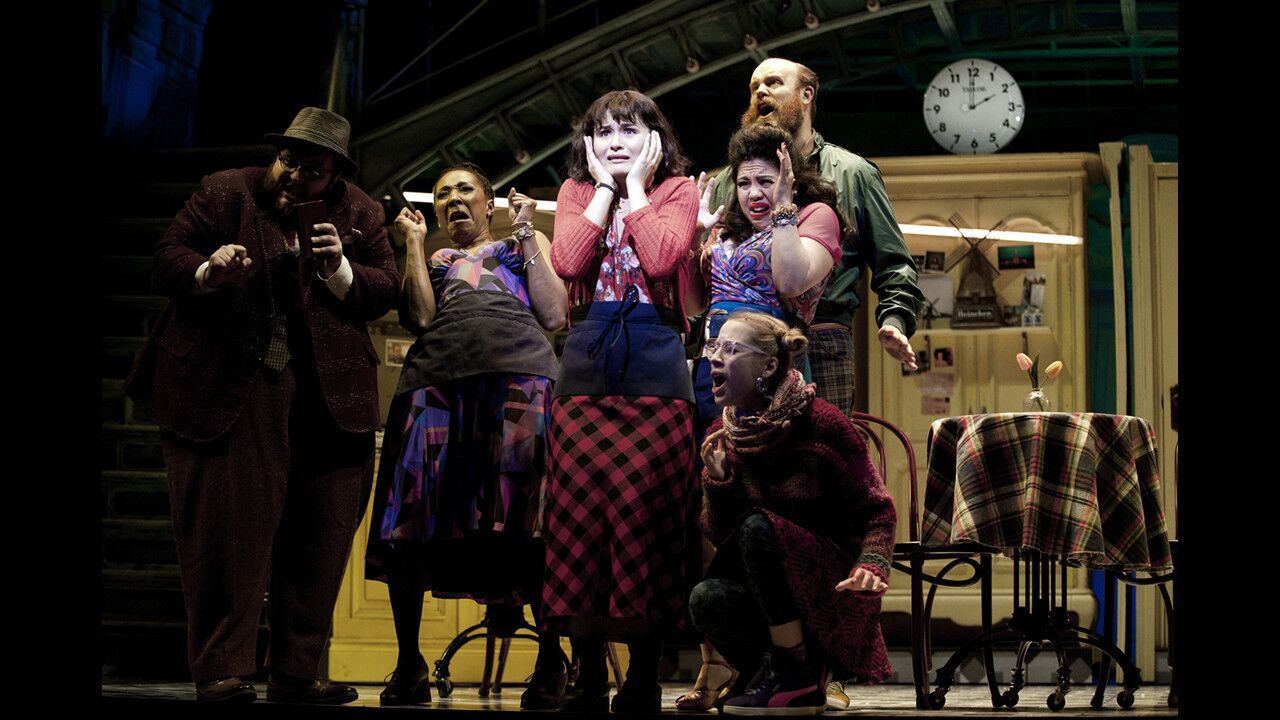 Phillipa Soo and the cast of "Amelie."
(Mariah Tauger / For The Times)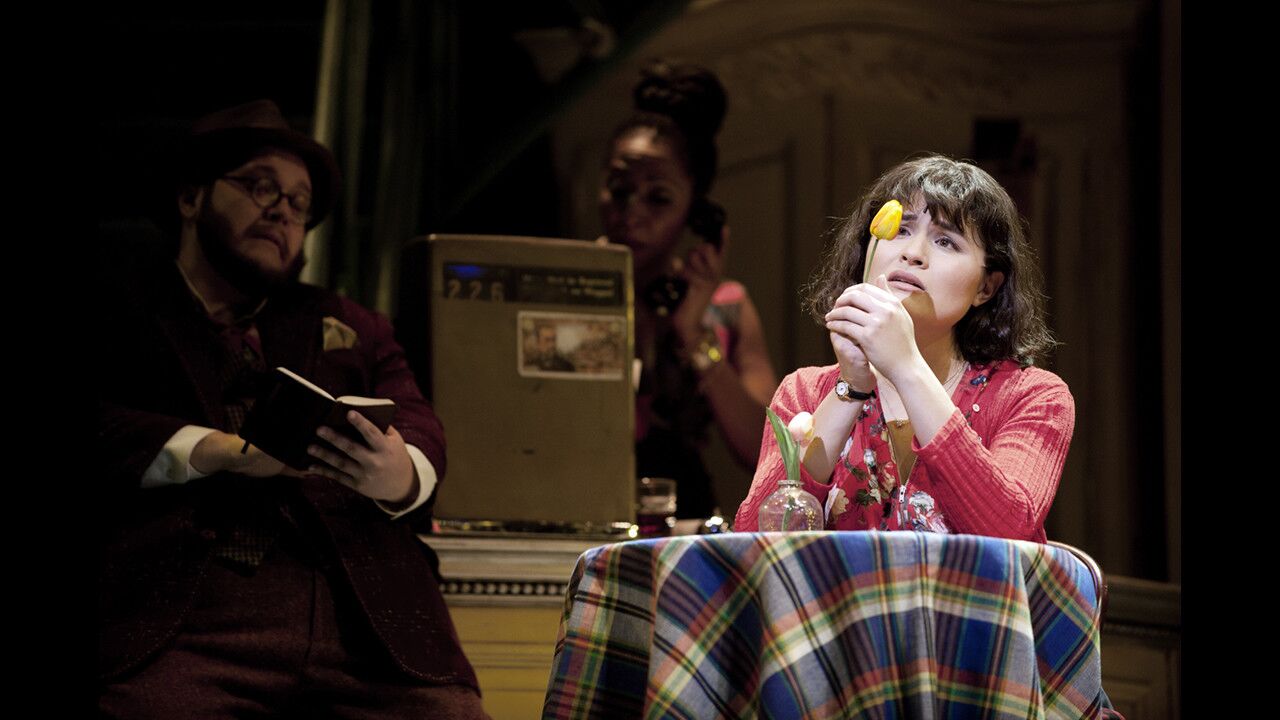 Phillipa Soo as Amelie.
(Mariah Tauger / For The Times)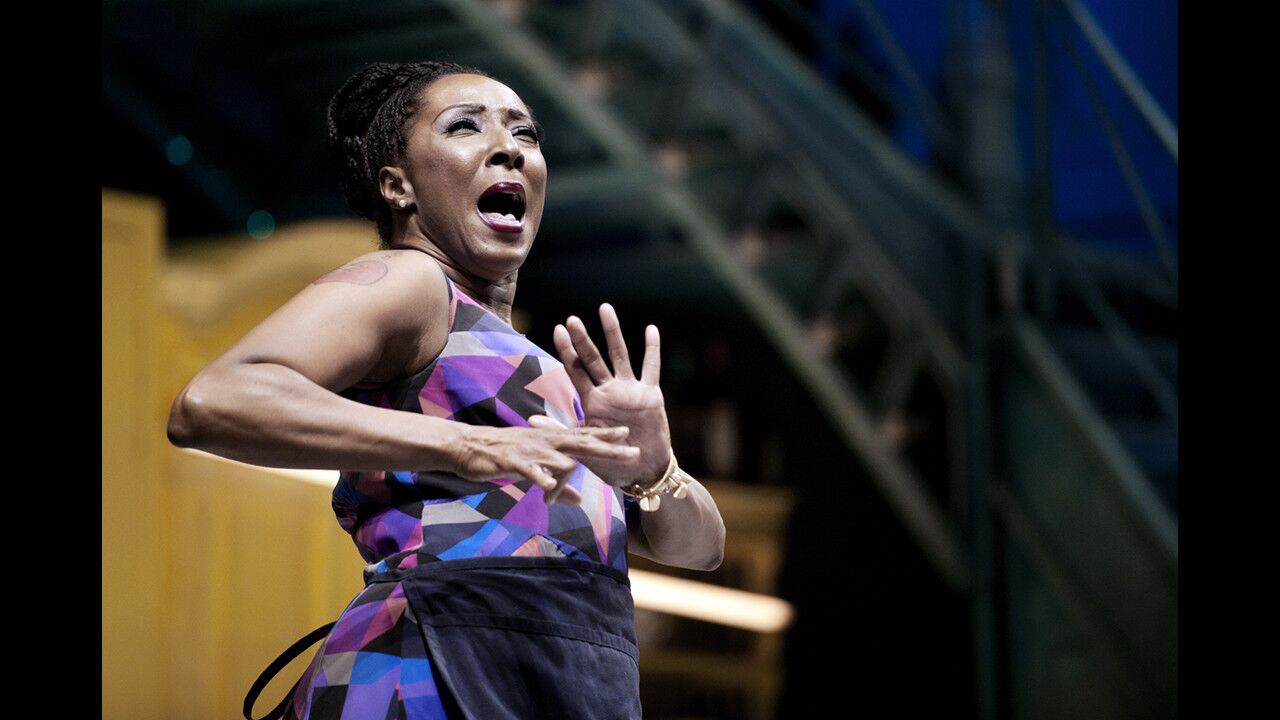 Cast member Harriett D. Foy in "Amelie."
(Mariah Tauger / For The Times)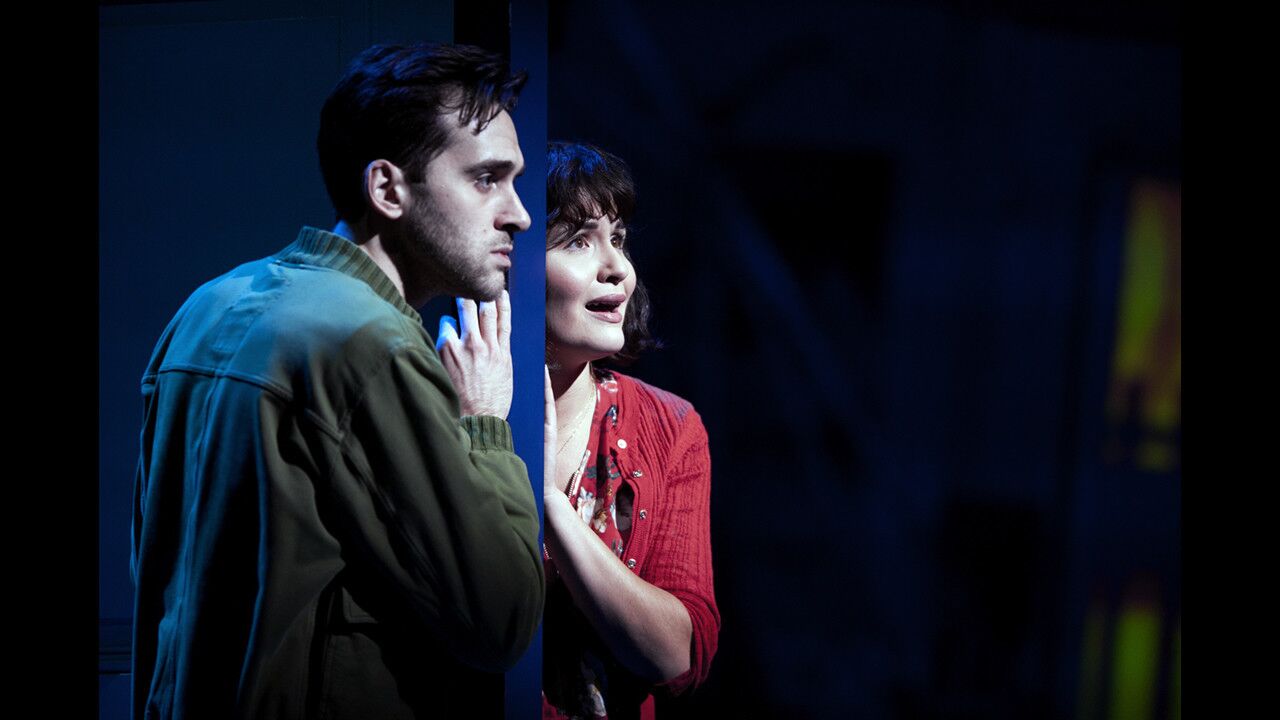 Adam Chanler-Berat and Phillipa Soo in "Amelie" rehearsal.
(Mariah Tauger / For The Times)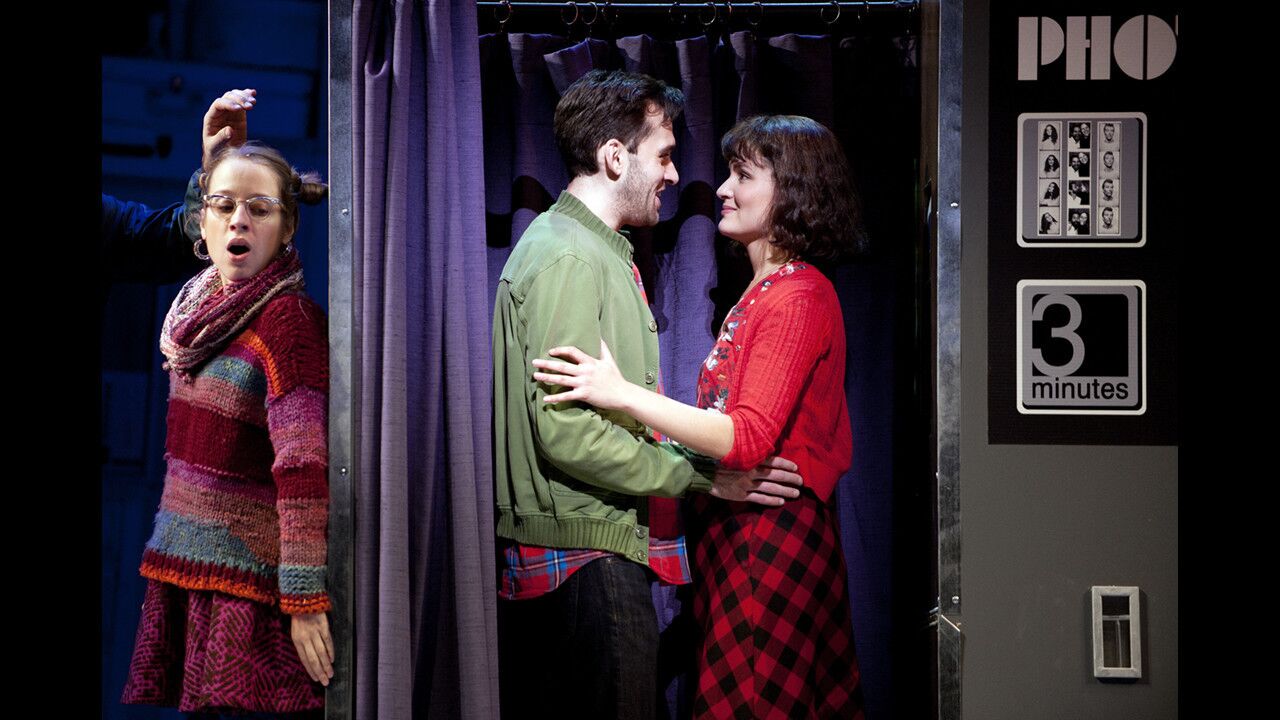 A scene from the the dress rehearsal of "Amelie, a New Musical."
(Mariah Tauger / For The Times)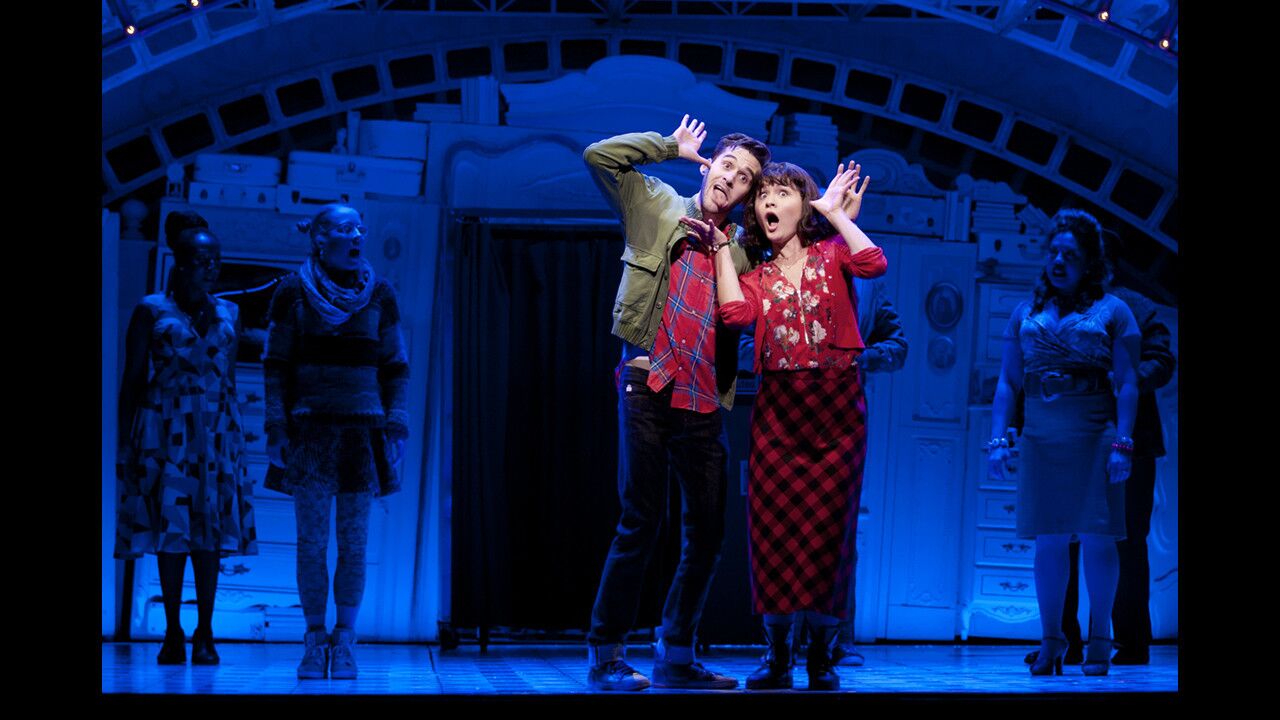 Adam Chanler-Berat and Phillipa Soo in "Amelie."
(Mariah Tauger / For The Times)
The effect is at once mundane and magical. The neighborhood is built of the objects with which Amélie has surrounded herself in her cozy apartment, but it's also an enticing environment for her to explore whenever she ventures farther afield.
"In the movie she's in her apartment a lot," MacKinnon explains, and "looks out at other people. The apartment and that cloistering is very important to her. We wanted, even in her exterior moments, to bring that to bear."
Above all, the surroundings look like fun. "She's enchanted by every place she goes," says set and costume designer David Zinn. "She sees the quirky interestingness in everything."
As in the movie, colors set moods and make statements: Magritte-ian blue, chalkboard green, sunny yellow, amorous pink.
"The world is very vivid for her," MacKinnon says. "In the movie, there's almost no frame where there isn't some red." Here, that color is largely reserved for Amélie — it's the color she wears. "It's passionate," Zinn says. "It has strength. It's a little punk rock."
Fantasy is never far away, as when young Amélie, yearning for a best friend, decides it'll have to be her pet goldfish. The part is played by an actor with a goldfish puppet on his head. And keep your eyes on that garden gnome.
A much bigger challenge emerged in trying to give voice to Amélie — trying to explain all of the things that in the movie just played across Tautou's expressive face.
"We had to unpack the inner life," Lucas says.
The solution, obviously, was songs. After all, that's what songs usually do: They express an inner state.
But Amélie is not your typical central character. She isn't, at first, filled with the grand tensions that make for exciting music.
Amélie is "really, really pleased with her life," Messé explains. She doesn't realize that her active inner life — which leaves her happily alone with herself — is distracting her from making richer connections with other people.
This stumped the creators for a long time. "She doesn't know she has a problem," Lucas says, "which is part of what makes her so refreshing — and part of what makes writing a musical about her really next to impossible."
Even at the world premiere at Berkeley Repertory Theatre a year ago, they didn't have her fully figured out. "Amélie didn't sing very much in Berkeley," Messé points out, but in the time since, they've unlocked more of her secrets.
He is particularly pleased with a new number, "Times Are Hard for Dreamers," which Amélie sings as she settles into Montmartre. In it, she lists the small joys she's finding in her new world: a room of her own, a window to look out of. But the song also hints at the insularity that she hasn't yet acknowledged.
"The verses start out really big," Messé says, "and then get very quiet."
To illustrate, he slips into song: "They say times are hard for dreamers / and who knows maybe they are," he sings in a voice swollen with enthusiasm, but by the end of the statement, a stillness settles in: "And I might be a dreamer / but it's gotten me this far / and that is far enough for me."
Amélie's excitement ebbs just enough for a whispery thought to emerge. It's coming from the furthest edge of her awareness, and even if she doesn't seem to notice, the audience does.
Amélie has an instrumental voice, as well: a trombone that stands out among the mostly quieter instruments divided among the eight musicians. This delights MacKinnon to no end. "If she were in a marching band, she'd play the trombone. Here's the outlier."
The songs have none of Yann Tiersen's popular movie score in them. "I have my own voice as a composer," Messé says, "and my voice is very American. But American music is very much based on European music, so I'm just one step removed. And I've always loved Debussy and Honegger and Les Six, all those great French composers."
"You actually," Lucas interjects, "have a great deal in common with them in terms of the intervals that you prefer."
Messé hopes the music is, essentially, a welcome mat. "I am a big fan of beautiful melodies and hook-y tunes. I want music that brings the audience in." He sweeps his arms toward himself, as if welcoming people. Once they're in, he can engage them with ideas.
"Isolation is the disease of the age," Messé says, "and I want to talk about it.
"I firmly believe that the cure is available. It takes guts, and Amélie's got guts. Love and community are the answer."
------------
"Amélie, A New Musical"
Where: Ahmanson Theatre, 135 N. Grand Ave., L.A.
When: In previews now, opens Friday, ends Jan. 15. Performances at 8 p.m. Tuesdays-Fridays, 2 and 8 p.m. Saturdays, 1 and 6:30 p.m. Sundays (call for exceptions and additions).
Tickets: $25-$125 (subject to change)
Information: (213) 972-4400, CenterTheatreGroup.org
Twitter: @darylhmiller
ALSO:
'Hamilton' star Phillipa Soo on bringing the magic of 'Amelie' to the stage
'Amelie' musical coming to L.A., then Broadway, with a 'Hamilton' star
The musical adaptation of the offbeat French movie 'Amélie' sparkles
---
Get our L.A. Goes Out newsletter, with the week's best events, to help you explore and experience our city.
You may occasionally receive promotional content from the Los Angeles Times.