Review: Before 'Hamilton,' 100 years of American music theater and how it's told the story of who we are
Music Critic
"Hamilton" didn't come out of nowhere. For the past century, American music theater has been struggling with how exactly to represent our national character on stage and who we are. It's a long story.
Consider that a remarkable centennial few are paying attention to is the premiere of the first meaningful American opera to have any real national success: The Metropolitan Opera's production of Charles Wakefield Cadman's "Shanewis (or The Robin Woman)." The 1918 opera is about a Native American singer who leaves her reservation in Oklahoma to study voice with a Santa Monica socialite at a "bungalow by the sea" (I'm not making this up).
Perhaps the Met had hoped to capitalize on the success of Puccini's "La Fanciulla del West" ("The Girl of the Golden West"), which the New York company had commissioned eight years earlier. But "Shanewis" was nothing like "Fanciulla," the melodramatic Italian operatic take on the American west and essentially the first spaghetti western. Cadman's opera was meaningfully American in that it was by an American composer on an American subject with music attempting to be indigenously American. It caught on well enough to be brought back to the Met the next year and attract national attention.
A Philadelphian who attended USC and permanently settled in Los Angeles, where he finished "Shanewis," Cadman was one of the so-called American Indianist composers. His most famous attempt to integrate indigenous American music into the concert realm was his song, "From the Land of Sky-Blue Water." He was also a favorite guest of L.A. women's clubs, which is where he tried out parts of "Shanewis."
At a time when Hollywood was notorious for its condescending portrayal of Native Americans, Cadman dealt sensitively with his subject.
Thanks mainly to the support of the women's clubs, "Shanewis" was staged to inaugurate a newly constructed stage in 1926 for the Hollywood Bowl, and the opera was big and important cultural news. At a time when Hollywood was notorious for its condescending, and far worse, portrayal of Native Americans, Cadman dealt sensitively with his subject. Native American opera singers Creek/Cherokee Princess Tsianina Redfeather Blackstone and Mohawk Chief Oskenonton had leading roles in the cast.
COMPLETE COVERAGE: The new sounds of protest
Princess Tsianina's own story, in fact, was the inspiration for the opera, in which the heroine, disillusioned by urban life and caught in a romantic triangle, returns to the values of her tribal society. The well-meaning and fascinating "Shanewis" may not have passed the test of time (its only revival since 1926 has been in Chattannooga, Tenn., five years ago), but it did nonetheless set a special tone for American opera as a genre distinct from the European model, as was proven by the first two American operas to reach repertory status.
Both Virgil Thomson's "Four Saints in Three Acts" in 1934 and George Gershwin's "Porgy and Bess" a year later boasted exclusively African American casts, and "Porgy" famously also presented a current African American theme. Neither had music anything like this come out of Europe. Both scores were entirely homegrown with a profound populist streak (literary and avant-garde as Gertrude Stein's libretto to "Four Saints" may have been). They premiered not in opera houses but on Broadway.
That's right, a female African American conductor in the 1930s played an essential role in the creation of American opera.
And as an aside, can we please have a loud shout out for Eva Jessye, the chorus conductor for "Four Saints" and Gershwin's music director for "Porgy"? That's right, a female African America conductor in the 1930s played an essential role in the creation of American opera.
All of this comes to mind not only because the Fourth of July is upon us but also because of an unusual recent occurrence here in Southern California where American opera may trace some of its origins but where it has never much flourished. In April, over a period of little more than two weeks, three very different music theater works based on iconic Americans — Alexander Hamilton, Susan B. Anthony and Walt Whitman — opened. An enterprising theatergoer could see all three in a single weekend.
What is striking is that it hasn't been part of our national character until lately to celebrate our great historic and cultural figures on the lyric stage. In fact, the first American opera of note to do so wasn't until 1947 with "The Mother of Us All." This second Thomson and Stein opera centered on Anthony and her mission to give the women the vote. A full 30 years passed before the first significant American opera to attend to a U.S. president: John Adams' "Nixon in China."
In fact, for most of the history of American music theater — a key characteristic of American lyric theater has been from the start a blurring of the distinction between Broadway and opera — the tradition was to either parody our politicians or dwell on the tragic dark side of national politics. The examples are many.
George Antheil's 1930 opera, "Transatlantic," concerns an oil baron as president maker; Douglas Moore's 1966 opera "Carry Nation" is a melodramatic take on temperance warrior Carrie Nation, who took a hatchet to liquor bottles during Prohibition; Carlisle Floyd's "Willie Stark," which premiered in 1981 at the Houston Grand Opera, is based on the fiery Huey Long-inspired protagonist of Robert Penn Warren's novel, "All the King's Men."
Shockingly, our greatest presidential Broadway shows with opera-house-worthy scores may well be Stephen Sondheim's "Assassins" (1990), chronicling the darkest of all political enterprises, and Gershwin's exceptional satires, "Of Thee I Sing" (1931) and its follow-up, "Let 'Em Eat Cake" (1933).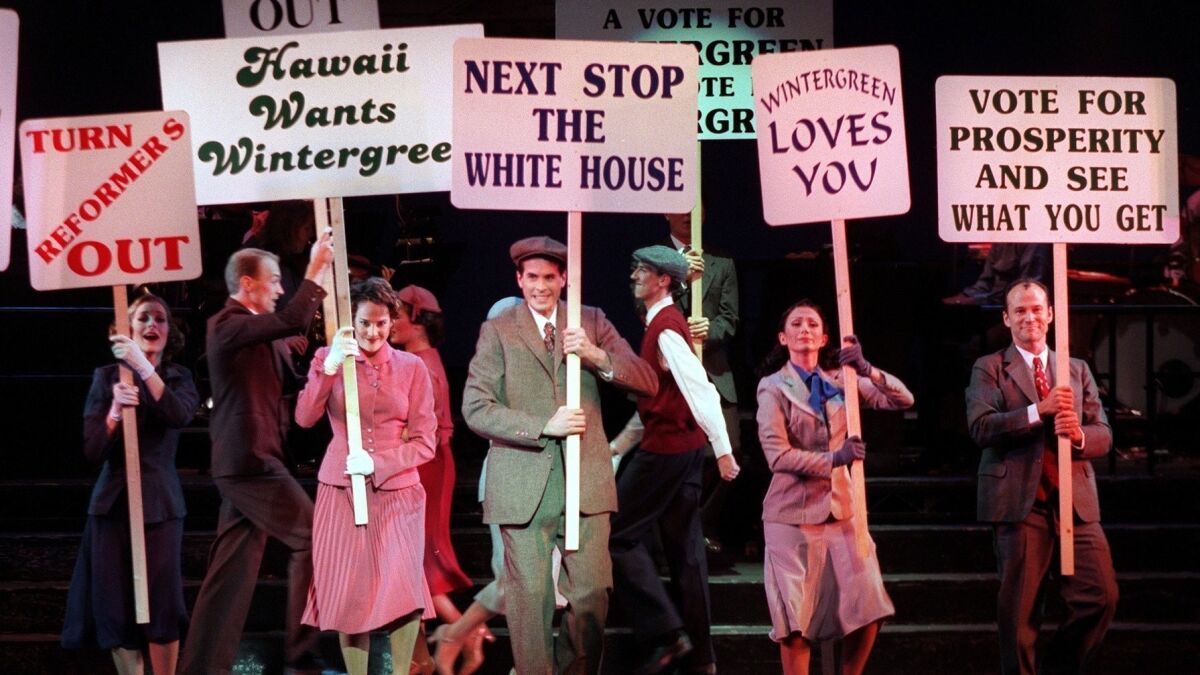 "Of Thee I Sing" deserves special attention at any time because it has great songs with great Ira Gershwin lyrics as well as some highly sophisticated, nearly operatic ensemble writing. With intimations of "Porgy," it pointed Broadway in a new direction. But it is also startling to recall a show from more than three-quarters of a century ago that revolves around a candidate for president whose singular campaign tactic is to stage a beauty contest in Atlantic City. He will then marry the winner so that the first lady will be the most beautiful woman in America.
John P. Wintergreen wins by a landslide, but he winds up falling in love with and marrying the woman who ran the contest instead. The jilted beauty queen starts a scandal and sues the president. In a press conference (Gershwin's immortal "Who Cares"), the president and his first lady ask who cares which banks fail in Yonkers or if the sky falls in the sea or what the public chatters.
Celebrating great figures, however, has been much less in our national music theater character. Roger Sessions, for instance, chose the subject for his monumental 12-tone opera, "Montezuma," because he could include every form of outrage in it, be it cannibalism or torture, without implicating the United States in any way.
All that changed in 1987 with "Nixon in China," which presented a nuanced Nixon at his consequential meeting with Chairman Mao. Since then, Philip Glass has given distinct operatic treatments to Columbus ("The Voyage"), Walt Disney ("The Perfect American"), Lincoln (the Rome section of Robert Wilson's "the CIVIL warS") and the Civil War, itself ("Appomattox"). In the last three decades, the likes of Harvey Milk, Malcolm X, Allen Ginsberg and other notable Americans have become worthy subjects for opera.
Even so, there has never been on the American stage a phenomenon quite like "Hamilton," and seeing it at Segerstrom Hall along with the Los Angeles Opera West Coast premiere of Matthew Aucoin's Whitman opera, "Crossing" (2015), in context with Opera UCLA's revival of Thomson and Stein's "The Mother of Us All," was telling.
America's particular way of celebrating our national figures has...been to dwell on their imperfections, to avoid king making. This remains an important topic.
America's particular way of celebrating our national figures has always been to dwell on their imperfections, to avoid king making. Clearly this remains a timely topic.
The genius of Thomson and Stein was to create a phantasmagoria around Susan B. Anthony and her slightly transgressive world. Far more is implied than revealed in which Stein's imaginative sing-song verse mingles almost indistinctly with Anthony's own words. The characters are both real and imagined, dead and alive. Stein projected her own domesticity with Alice B. Toklas onto Anthony and her partner.
Anthony's adamancy, the eloquent obviousness of her observations on gender, comes across in Thomson's music through understatement. The music flows like clear water in a crystalline stream, every note American. Midwestern hymn tunes, folk song, marches and other American musical traits are streamlined, their excesses filtered, and we have a panorama of peoples, ideas and emotions, individuals all, somehow riding the same canoe on the river. The case for women being a part of the process has never been better made.
This further reminds us that essential to the most progressive character of American music theater has been the role of women and people of color from "Shanewis" to Adams' newest opera, "Girls of the Golden West," a look at the California gold rush from the perspective of women and African Americans, given its premiere in San Francisco in November.
Aucoin, L.A. Opera's artist-in-residence, is being heralded as the future of establishment American opera. He is a composer, conductor, pianist and poet with major commissions from L.A. Opera and the Met. "Crossing," which was written when Aucoin was just 25, follows in the footsteps of many who have come before him in America — Adams and Glass, Thomson and even the Puccini of "Fanciulla."
Aucoin's Whitman bears the weight of history, the poet's Civil War time and our own. He is a magical presence, a poet able to distill suffering and wonder into one. He was a heroic figure, devoting himself to healing the battlefield wounded. But in "Crossing," a Whitman's altruism and self-sacrifice are never altogether selfless, complicated by his sexual attraction to the young men with whom he surrounds himself to serve.
Opera is the medium to explore such desires. In a libretto that merges fact and fiction, Whitman's words with Aucoin's own, "Crossing" follows Stein's lead if not her effortless, airy style. Musically, though, Aucoin tries to absorb pretty much everything in a densely layered score that ends on a sentimental note.
A new recording, "Transcendent," on the Delos label and featuring the Asia/America New Music Institute, opens with two Aucoin Whitman songs sung with transfixing directness by the baritone Davóne Tines. These were studies for "Crossing" and reveal a stunning elemental directness not unlike Thomson's, some of which is lost when the young composer attempts to encompass so vast a swath of the rich American operatic tradition.
What's left to say about "Hamilton"? Lin-Manuel Miranda has been almost unanimously hailed, and probably rightfully, as the future of Broadway. A decade older than Aucoin, he absorbed Broadway history and came up with something original, if not perhaps quite as new as has been trumpeted.
That Miranda has found a way to bring American history to vivid life and done so with musical style that is fresh, contemporary and urban yet firmly rooted in the best of Broadway, is exactly in the tradition of the best of American music theater. But Miranda does fall into some of the same traps that Aucoin does, especially that of sentimentality at the end.
Sticking close to historical facts, Miranda does not take the liberties of Thomson or Aucoin to invent. Instead he compensates by changing the hue of history. Harkening back to the Thomson's "Four Saints in Three Acts," the Great White Way gets some color.
The problem, though, is that the Great White Way is no longer great, and "Hamilton" has to go through debilitating commercial hoops that lessen its impact. That successful shows are also big business, with exorbitant what-the-market-will-bear ticket prices, means a show like "Hamilton" is far more elitist than opera is or ever was.
If $400 seems like a lot pay for opera, try double that for "Hamilton." Plus, just about every opera company everywhere has inexpensive seats, often as low as $20. With "Hamilton," you need to win the lottery.
"Hamilton" is also less accessible than the typical opera presentation. The Broadway-style amplification at Segerstrom was oppressive and indistinct. The majority of sung words, and even some spoken, were unintelligible. There were no projected titles as at the opera. There was not even a plot synopsis in the program booklet. For that, the show is happy to sell you a hardbound $40 souvenir book.
Many who attend, of course, know the songs by heart from the cast recording. But I found it completely against the whole idea of live performance that listening to a hi-res download of the recording on decent equipment that cost around the price of four top seats to the Broadway show was vastly more illuminating musically.
Lin-Manuel Miranda is creature of a Broadway that is no longer good enough for him.
Much theatrical immediacy must have been lost as well watching "Hamilton" in Costa Mesa's large multi-purpose hall rather than in an intimate Broadway theater. But even then, the compensation for one form of unintelligibility is the over-intelligibility of conventional athletic dance, entertaining at first until it becomes numbingly familiar, as is the generally banal, old-fashioned staging.
Where does this leave us? Miranda is creature of a Broadway that is no longer good enough for him. Its withering commercialism of the past quarter-century has made it a place incapable of contending with Peter Sellars wanting to stage Gershwin or Paul Simon's "Capeman" with Mark Morris' original contributions. I may be in the minority, but I maintain that the producers' extravagant dumbing down of Julie Taymor's intriguingly mythological "Spider-Man" original concept was exactly was what made the show meaningless.
Well, Broadway didn't bite with "Mother of Us All," either, 70 years ago, as Thomson had hoped it would. But it did after that give us works of greatness, particularly when Leonard Bernstein and Stephen Sondheim were in the picture. America is a country that makes, with its great figures, myths; and one way or another, we have come to depend on, and find a way, for our music theater, with its traditions and inventiveness, as a special place to unpack those myths.
Anyone out there willing to give "Shanewis" another try?
Get our L.A. Goes Out newsletter, with the week's best events, to help you explore and experience our city.
You may occasionally receive promotional content from the Los Angeles Times.