Barbara Carrasco's mural comes 'full circle,' on view at the Natural History Museum of L.A. County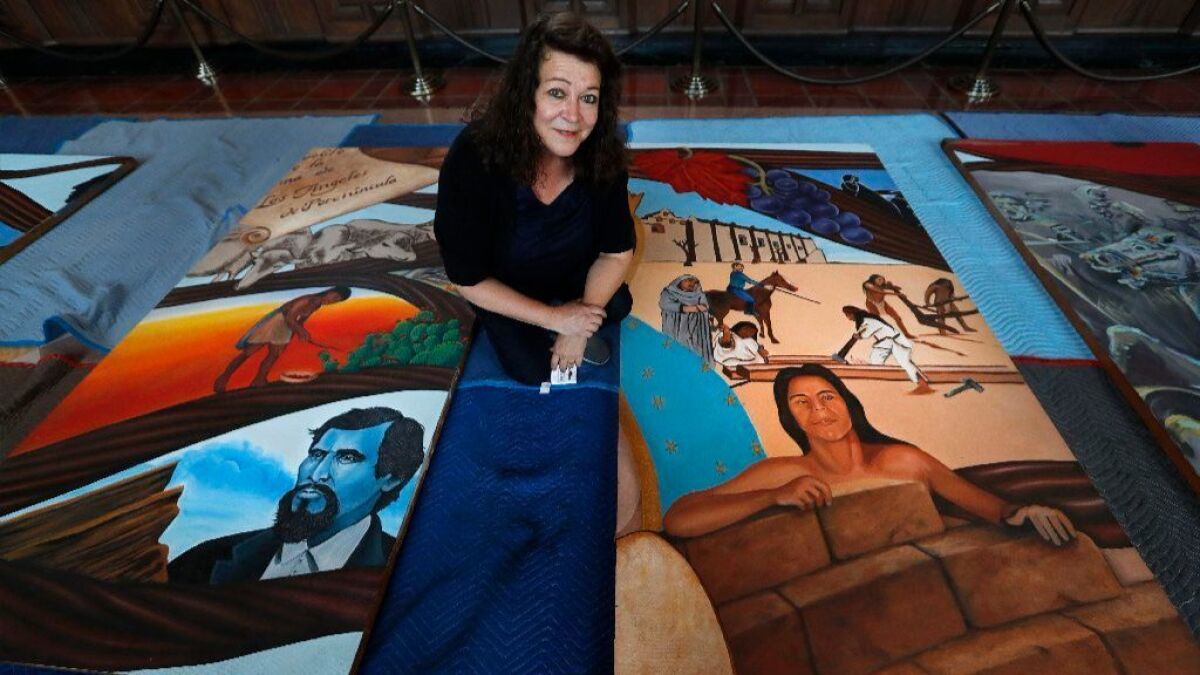 Barbara Carrasco's 80-foot-wide mural, "L.A. History: A Mexican Perspective," is coming out of storage — again.
The 43-panel painting, a symbol of free speech, has spent far more time packed up, in the dark, than in the public eye. It was a target of censorship in the 1980s and has been displayed in its entirety only twice since Carrasco painted it in 1981.
Now the mural is headed to the Natural History Museum of Los Angeles County, where it will be on view from March 9 to Aug. 18 as part of the exhibition "Sin Censura: A Mural Remembers L.A."
"I'm just so happy," Carrasco said. "It's one of the first museums I went to as a young person. And the people who go there are a lot of young people — and really diverse — and it's so great to have the mural accessible to them."
Carrasco painted a chronological history of Los Angeles, from prehistoric times to the founding of the city in 1781 to the year she created the mural, for Los Angeles' bicentennial. The mural was a commission from the Community Redevelopment Agency, where she worked as a drafting artist at the time.
But the CRA canceled the project when Carrasco refused to whitewash 14 images it felt were too controversial, including depictions of former African American slave-turned-entrepreneur and philanthropist Biddy Mason, the internment of Japanese Americans during World War II and the 1943 Zoot Suit riots, in which Navy personnel attacked Mexican American youth.

The finished mural went into storage for nearly a decade before it was shown briefly at Union Station for the Los Angeles Festival in 1990. It was on view at Union Station again last fall as part of a Pacific Standard Time: LA/LA exhibition.
When it goes on display at the Natural History Museum, visitors will be able to learn more about the historical vignettes in the piece. The events depicted in the wavy hair of "La reina de Los Ángeles" (the queen of Los Angeles) will be explained in more depth on an adjacent digital touch screen that incorporates behind-the-scenes photos and English and Spanish text.
Seeing the mural on view at the Natural History Museum has special meaning for Carrasco, she said. When she was doing research, poring over L.A. history books and speaking with historians, she relied heavily on the museum.
"As I was sketching the piece, it was important to me I had everything historically accurate," Carrasco said. "And the museum is such a great resource. William M. Mason, a curator there, he lent me all these photographs, let me look through the archives. He was so informative.
"That cliché about it coming full circle is really true in this case. I've been going there since I was a Girl Scout. And I'm just so incredibly pleased it's going back to a place where it all originated."
Follow me on Twitter: @debvankin
ALSO
After 27 years in a warehouse, a once-censored mural rises in L.A.'s Union Station
A deeper look inside the "¡Murales Rebeldes!" book
The godfather of Chicano art — and the son who's keeping his memory alive
'Urban Light': Everything you didn't know about L.A.'s beloved landmark
Get our L.A. Goes Out newsletter, with the week's best events, to help you explore and experience our city.
You may occasionally receive promotional content from the Los Angeles Times.