Ben Feldman on his new play, nerdy man-boys and, yes, the 'Mad Men' nipple thing
On "Mad Men," he was Michael Ginsberg, the neurotic copy writer who cut off a tender part of his anatomy and presented it in a box to poor Peggy. Now he's a "Superstore" employee on NBC, and though the series has been picked up for a third season, actor Ben Feldman also is taking to the stage to play Ethan, a lovesick NMB (he'll explain that in a minute) chasing his ex in the Michael Mitnick comedy "The Siegel." The play runs through April 23 at South Coast Repertory in Costa Mesa.
Feldman paused from his busy schedule to answer our rapid-fire questionnaire. The conversation has been lightly edited for length.
How did you end up in this production?
The playwright is also a nerdy man-boy, and we NMB's all tend to be aware of each other, so he sent me the script because that was the type he was looking for.
You've described "The Siegel" as hilarious, bizarre and melancholy. In three words, how would you describe your character?
Other than NMB, I'd say aggressively, deceitfully earnest.
What's the difference between Ethan in "The Siegel" and your "Superstore" character, Jonah?
While Jonah may have his quirks, Ethan is probably far along on the spectrum. But both characters (and the real life me) are attracted to women who roll their eyes at anything we do.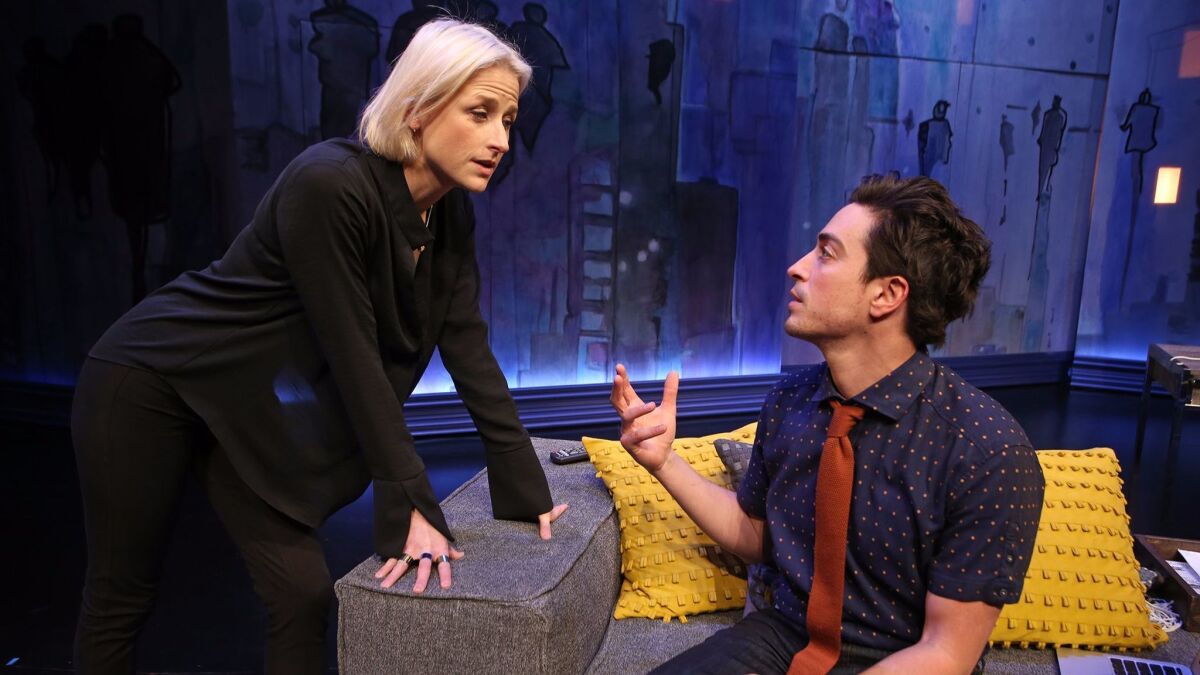 What do you hope fans see in your performance?
It's a great show and all any of us want is for people to laugh hard enough that they're surprised when they end up feeling something deeper for the characters and our strange little story. And if that's not enough, there's an incredible mall across the street.
Toughest part of switching from TV to stage?
Nerves. The inability to mess up. The energy it takes to fill a theater.
Best part of switching from TV to stage?
Nerves. The inability to mess up. The energy it takes to fill a theater.
What's the routine before "The Siegel" every night?
I try to get there early, eat something light, make horribly offensive jokes with the other guys in the dressing room, and then text my wife if I think I'm gonna blow it or not that night. Afterward, I drink a glass of whiskey and text my wife if I was right or wrong.
How do you spend days off?
House stuff, wife stuff, mom stuff, dog stuff and watching my stories.
Your TV series got renewed. Why not take a break? Why theater too?
I love what I do more than most things on Earth, and I'm insanely lucky that I get to do it for a living, so the notion of taking a break just sounds ridiculous to me. I know that'll probably change and when it does, I'll take that break.
What "Mad Men" questions do people still ask the most?
I still get nipple jokes on a consistent basis. Everyone thinks they're the first to make them. And then of course the standard question: "Were you guys actually drinking and smoking the whole time?" The answer being that we were responsible adults at work just like anyone else — so probably closer to half the time.
SIGN UP for the free Essential Arts & Culture newsletter »
Follow The Times' arts team @culturemonster.
ALSO
The review: 'The Siegel' at South Coast Rep
Why Hillary Clinton's next big stage should be at the Tony Awards
Lynn Nottage on her Pulitzer win for drama: 'I'm representing for women'
Clearing up confusion over 'Hamilton' tickets: What you need to know
A backstage conversation with 'The Encounter's' Simon McBurney
---
Get our L.A. Goes Out newsletter, with the week's best events, to help you explore and experience our city.
You may occasionally receive promotional content from the Los Angeles Times.