Want your own Dumbo from Disneyland? An authentic Skyway car? Why park history is headed to auction
Richard Kraft has collected Disneyland memorabilia for more than 25 years. Now, he is auctioning it all off. He and his son, Nicholas, discuss how they got all the pieces, their favorites, and what they will do with the proceeds.
Once upon a time, deep in the San Fernando Valley, a talent agent lived in a shining manor with a 700-pound Dumbo from Disneyland suspended from his living room ceiling.
Dumbo once made the man and his young son very happy. But now the son was grown and the man was alone in the house, his empty nest feeling all the more empty thanks to the 12-foot-wide, 5-foot-long flying elephant. But that was not all. A 48-foot-long animatronic sea serpent from Disneyland's original Submarine Voyage sunbathed by the swimming pool, and an animatronic parrot named Jose from Disneyland's Enchanted Tiki Room held court in his son's bedroom, which had been decorated to resemble the original, complete with bamboo walls and thatched carpeting.
Those nostalgia-dusted novelties were just the beginning of the man's vast collection of Disneyland artifacts, which had proliferated to such an extent that his residence had become known to those close to him as Kraftland, a play on the man's name, Richard Kraft.
When wandering his childless kingdom became too much, Kraft decided to move. He called his then-23-year-old son, Nicholas, and asked him to come over. Dumbo was now perched on a gigantic furniture dolly in the driveway, and as Richard and Nicholas watched, movers rolled him onto a flatbed truck. Father and son clambered up beside him to say their farewells. Then they stood together and watched Dumbo, with his shy, sweet grin and little pink hat, recede into the distance.
For the next five years, Dumbo lived in an unremarkable storage facility in the Valley. Then in late July he was transported to an abandoned Sports Authority store in Sherman Oaks, where he was put on display beside more than 800 items of Disneyland memorabilia for a pop-up exhibit called "That's From Disneyland!" which will culminate in an auction Aug. 25 and 26. Everything from what is believed to be one of the most substantial private collections of Disneyland memorabilia in the world must go. Even Dumbo.
One man's Disneyland obsession
"There's a Betty Ford Center for other types of addictions, but with this one I'm on my own," Kraft says on a recent afternoon while giving a tour of the exhibit.
He is a tall man with a jolly midsection, white hair and close-cropped white beard. With his puppy-dog eyes, infectious smile, round cheeks and glasses, he resembles a full-size version of Doc from "Snow White."
Despite his flair for whimsy and his childlike predilections, Kraft is not childish. He is one of the most influential talent agents for film and Broadway composers, with a roster of clients including Disney legends Danny Elfman ("The Nightmare Before Christmas"), Richard Sherman ("The Jungle Book") and Alan Menken ("The Little Mermaid"). Nicholas says it is no coincidence that his father ended up repping clients with close ties to Disney. He says his father is also a collector of people, and he jokes that he expects to one day arrive at Richard's home to find the legendary Disney Imagineer and amusement ride designer Bob Gurr in a Lucite cage.
Composer John Debney agrees. Debney has been a client of Kraft's for years. His work for Disney includes scores for "Hocus Pocus" and "The Princess Diaries," and his music can be heard in Disney theme-park attractions around the world including Phantom Manor in Paris and the Iron Man Experience in Hong Kong.
More impressive still, Debney's father worked for Walt Disney for 40 years. He dropped out of high school at age 16 during the Great Depression and sold newspapers on Hyperion Avenue in Silver Lake. Disney drove by on his way to work. One day Disney hired the boy, known as "Whitey" for his shocking blond hair. His first job was as a clapper boy on "Snow White." He went on to become a producer.
Debney grew up on the lot. The man he called Uncle Walt was kind to him and would tousle his hair. When Debney met Kraft as a grown man, the two shared an instant bond.
"It is a Hollywood story, isn't it?" Debney says of Kraft and his collection. "I don't know if it was by design, but he does gravitate towards those of us who have a bit of Disney history in our DNA."
This also explains Kraft's friendship with fellow Disneyland collector John Stamos. The "Full House" actor proposed to his wife at Disneyland and has the "D" from the original Disneyland sign on Harbor Boulevard in his backyard. Kraft has the neon "D" from the Disneyland Hotel sign and is fond of saying that his "D" is bigger than Stamos' "D." Stamos likes to say that he put his "D" in his backyard because he didn't want his house to end up looking like Richard's house. Collector humor abounds.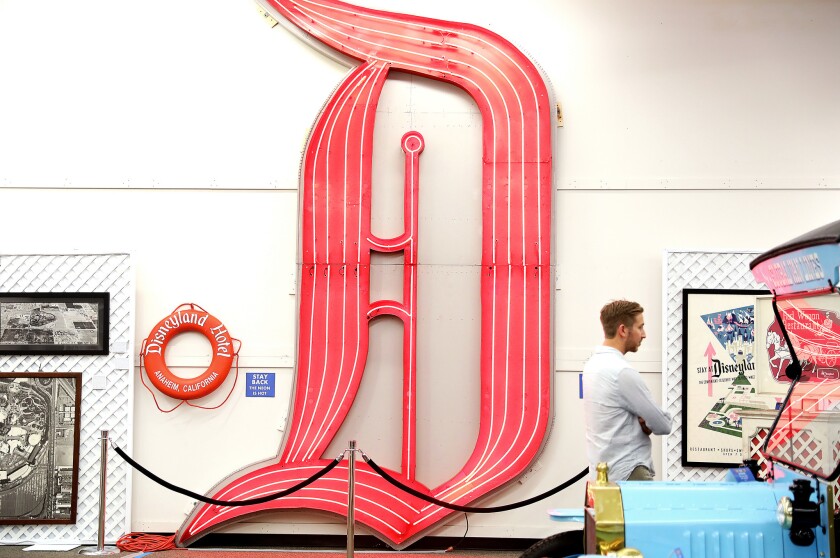 "We have fun with this kind of stuff," says Stamos, who likens Kraft to Willy Wonka.
Stamos attended an opening party for the Kraftland exhibit and admits to being a bit flabbergasted that Kraft is auctioning off his collection — a collection that took a quarter century to amass and includes posters, maps, parking lots signs, concept drawings, trash cans, window displays, original Haunted Mansion stretch paintings, a People Mover vehicle, a Skyway Bucket (which shuttled visitors between Fantasyland and Tomorrowland), a Global Van Lines truck that legend has it Disney himself used to drive down Main Street and all manner of attraction vehicles, including ones from Space Mountain and Mr. Toad's Wild Ride.
"He's a fascinating guy to just watch. He's a big, sweet child," Stamos says. "And he's a really great father."
Being a father is a large part of why Kraft is holding the auction. He has a 4-year-old daughter, Daisy, who has the extremely rare genetic disorder Coffin-Siris syndrome, which causes physical and mental delays. Daisy does not need a collection of Disneyland memorabilia, but charities that help children like her could certainly use the money that Kraft's auction will generate. He says he intends to donate a portion of the proceeds to the Coffin-Siris Syndrome Foundation and the Chime Institute's early education programs, though he has not yet disclosed how much that may be.
Dumbo alone is estimated to sell for $100,000 to $150,000.
If Kraft is sad about letting go of his mementos, Stamos says, he will likely feel much better when he sees the auction's grand total.
The elephant in the room
Nicholas Kraft thinks of the auction as a garage sale, albeit the best garage sale ever. He has derived joy not from the collection itself but from sharing the collection with others and clocking their reactions to it — their happiness, and sometimes their shock.
Kraftland could be overwhelming to the uninitiated. Years ago, one of his father's new clients came to a party with his wife for a screening of an elaborate home movie titled "Finding Kraftland." A few minutes into the movie, she whispered in her husband's ear, "We've made a huge mistake. This man is a lunatic. I can't believe you just put your career in his hands."
By the end of the film, she realized the Kraft's Disneyland obsession was more tender than creepy, and she and her husband are now longtime friends of the family.
Nicholas ended up producing the pop-up exhibit because his father was busy directing Hollywood Bowl concerts celebrating his favorite Disney films, including "The Little Mermaid" and "Beauty and the Beast," featuring stars such as Sara Bareilles, Rebel Wilson, Zooey Deschanel, Taye Diggs and Stamos.
Meanwhile, at the 40,000-square-foot, two-story former Sports Authority space, Nicholas launched into his task with alacrity. Like any good millennial he set about driving attendance via social media. His @thatsfromdisneyland Instagram feed has more than 20,000 followers, and he invited 500 fanatical Disneyland lovers known as the Disneybounders to a pre-opening-night celebration.
Disneybounders dress in street clothes that are inspired by Disney characters, and they often hold season passes to whatever park they live near. The group spun out of a Disney fan-and-style blog that Leslie Kay started eight years ago.
Today Kay has half a million followers across her social media channels, and Vogue showed up at the party to write a piece on the Disneybounders, one of whom happens to be Stamos' wife, actress Caitlin McHugh, who was dressed like Princess Jasmine. The couple's infant son was decked out in a hand-sewn vest and fez to resemble Aladdin's pet monkey, Abu.
Disneybounders, Kay says, "have seen it all and done it all and are always looking for new ways to experience Disneyland." The pop-up exhibit was just the ticket, and the resulting #thatsfromdisneyland posts online no doubt helped to attract some of the 20,000-plus people who came to the exhibition in its first two weeks.
Another reason the crowds keep coming: the fact that Disneyland, the Krafts say, is a shared hometown, everyone's refuge from the real world. When you are there, it is safe to be a child again.
"It hit me that it's all going to be gone, and this is the only time it will all be under the same roof," says Nicholas, who also produced a concert by Menken, a night with the artist Shag and a Charles Phoenix Retro Disneyland Slideshow. "So this is truly the ultimate bon voyage."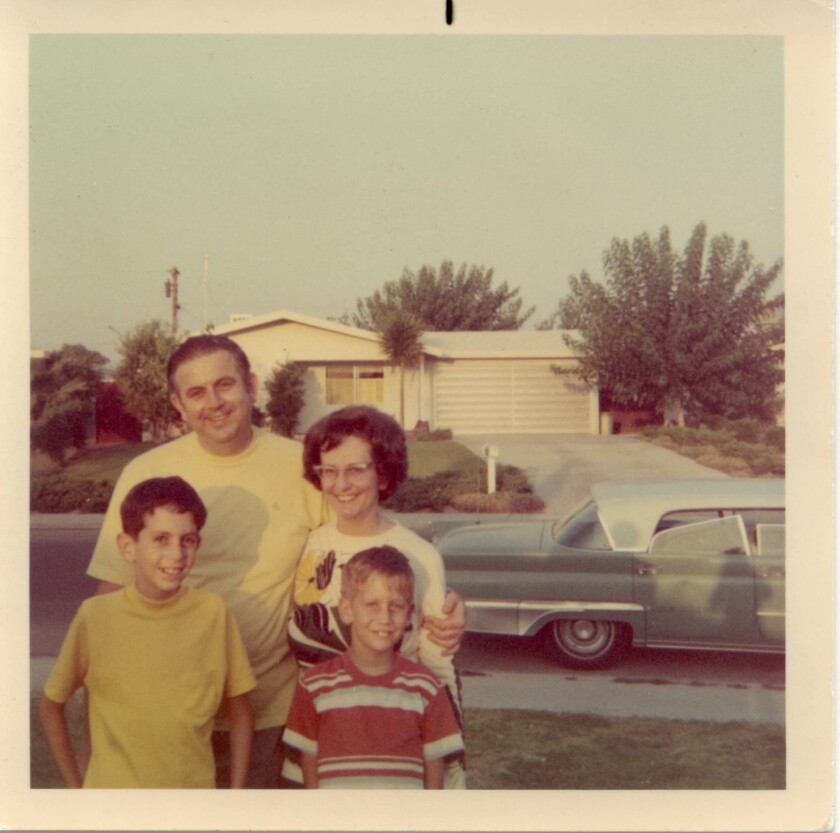 A dream rises in an orange grove
Richard Kraft grew up in Bakersfield, three hours away from where Walt Disney built a castle out of chicken wire and plaster in the middle of an Anaheim orange grove. Kraft's parents were teachers and would save up all year for an annual trip to Disneyland.
Kraft had an older brother, David, who was sick with Crohn's disease. In order to go to Disneyland, two things had to line up for the family: the money to travel and David feeling well enough to make the trip.
"Disneyland was the greatest day of my life every year because everything came together," Kraft recalls. "And my family was healthy and whole."
David died 25 years ago, and soon after Kraft found himself wandering down Main Street, looking at the lights and hearing the whir and whiz of the rides, smelling the distinctive scent of the aquamarine water in Pirates of the Caribbean and tasting the sweet pineapple tang of the Dole Whip at the Tiki Juice Bar.
His sensory synapses crackled, memories came rushing back and a collector was born.
"Richard is an aggressive collector," says Mike Van Eaton, co-owner of Van Eaton Galleries, which is presenting the exhibition and auction. "When he was buying this stuff, he was buying as much as he could get."
Van Eaton is gaining a reputation for its Disney-themed auctions (Kraft's collection is its fifth), and Kraft was a regular. He also acquired many of his pieces from other collectors as well as from auctions Disney held on EBay, including a sizable one in 2000.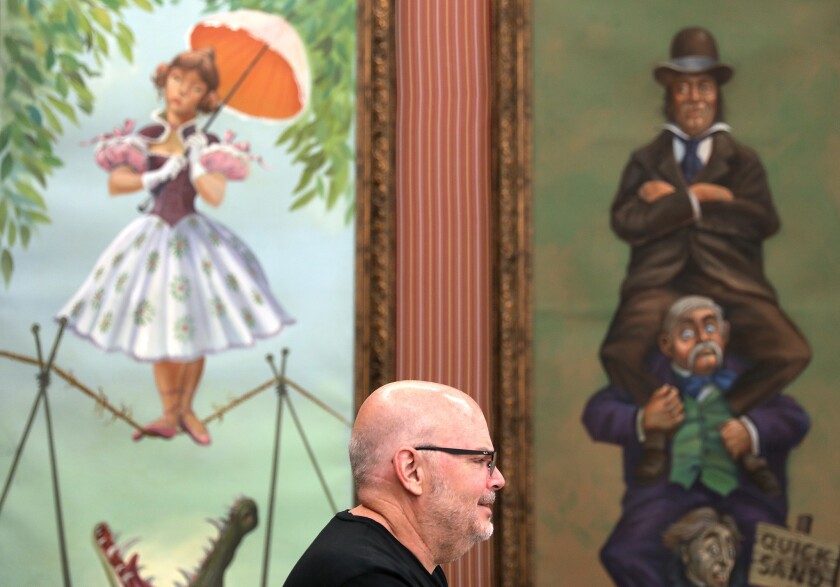 Representatives from Disneyland declined to comment about the auction and about some of the online grumbling that the collection belongs in a museum, but they did say Disney does save collectibles through its archives.
The pieces of pop-culture history from Kraftland will likely end up scattered all over the globe. Kraft doesn't know how he will feel when he stands in the empty Sports Authority after the fact, but he does know where he will go: with his daughter, to Disneyland.
------------
'That's From Disneyland!'
Exhibit: Noon-8 p.m. Wednesdays-Sundays, through Aug. 24
Auction: 11 a.m. Aug. 25-26
Where: 13730 Riverside Drive, Sherman Oaks
Admission: Free
Info: (818) 788-2357, vegalleries.com/thatsfromdisneyland
---
The complete guide to home viewing
Get Screen Gab for weekly recommendations, analysis, interviews and irreverent discussion of the TV and streaming movies everyone's talking about.
You may occasionally receive promotional content from the Los Angeles Times.