In the American dream, with every boom comes a bust. How these women turned that cycle into music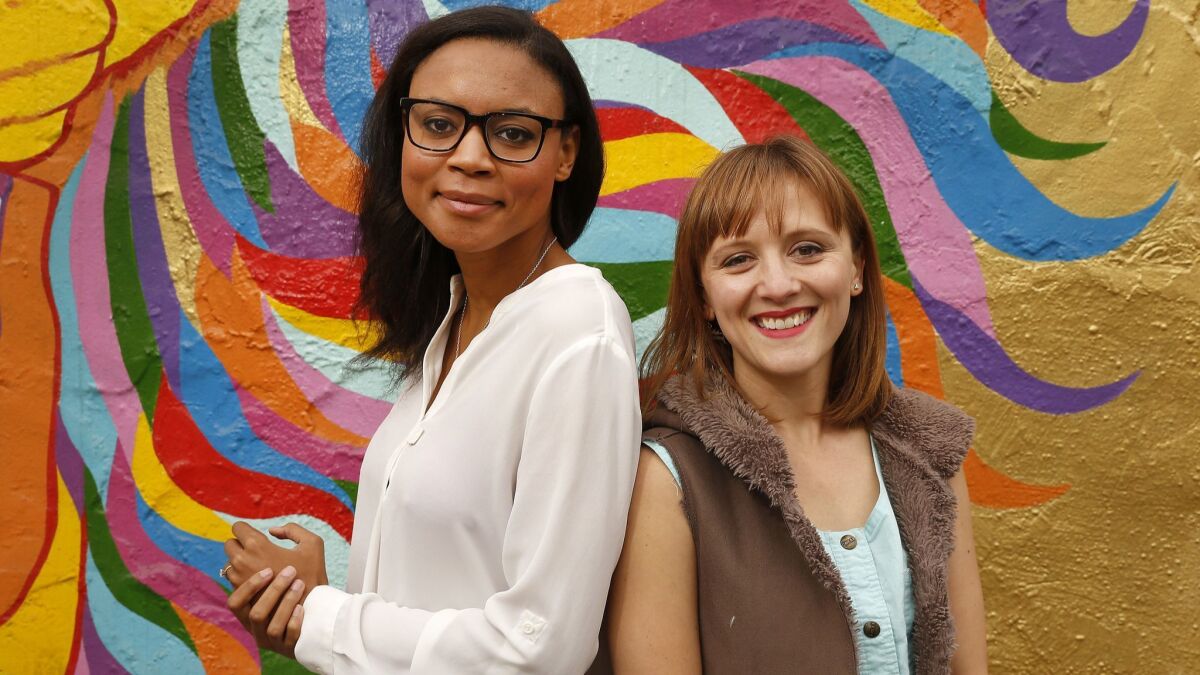 Composer Ellen Reid and writer Sarah LaBrie are sitting down for coffee at Cafe Tropical in Silver Lake. The topic of discussion: hope.
It's all about balance, the two say. Hope for the future is a necessary and essential ingredient of American life, but too much pie-in-the-sky optimism can lead to blind spots, to ignoring the challenges and realities of the past and present.

For the record:
4:35 p.m. May 10, 2018An earlier version of this article misstated the university where Sayd Randle is a PhD candidate. It's Yale, not Columbia.
For the last two years, Reid, LaBrie and sociocultural anthropologist Sayd Randle have embarked on a sustained conversation about hope and the history and future of the American dream. That exploration was integral to "dreams of the new world," a 40-minute choral work that will receive its world premiere Sunday at Walt Disney Concert Hall.
The Los Angeles Master Chorale commissioned this work from Reid, a 35-year-old composer and sound artist from Tennessee who splits her time between L.A. and New York. Under the baton of artistic director Grant Gershon, the Master Chorale will premiere the work alongside musicians from contemporary music ensemble Wild Up.
Since she contributed to the Industry's groundbreaking opera "Hopscotch" in 2015, Reid's music has been in high demand in contemporary classical circles. The Los Angeles Chamber Orchestra premiered her "Petrichor" in February. This fall L.A. Opera and Beth Morrison Projects will co-present her new work "Prism."
Gershon first approached Reid about writing a piece for the Master Chorale in summer 2015. The commission came with the twin gifts of time and freedom: Reid would have two years to write the piece, and she could do anything she wanted within 40 minutes.
It was the perfect opportunity for Reid to explore some of the bigger philosophical questions she tends to ponder as she composes, like the nature and sustainability of the American dream, the American frontier spirit and westward expansion. What is behind this quintessential brand of American optimism? And what gets left in its wake?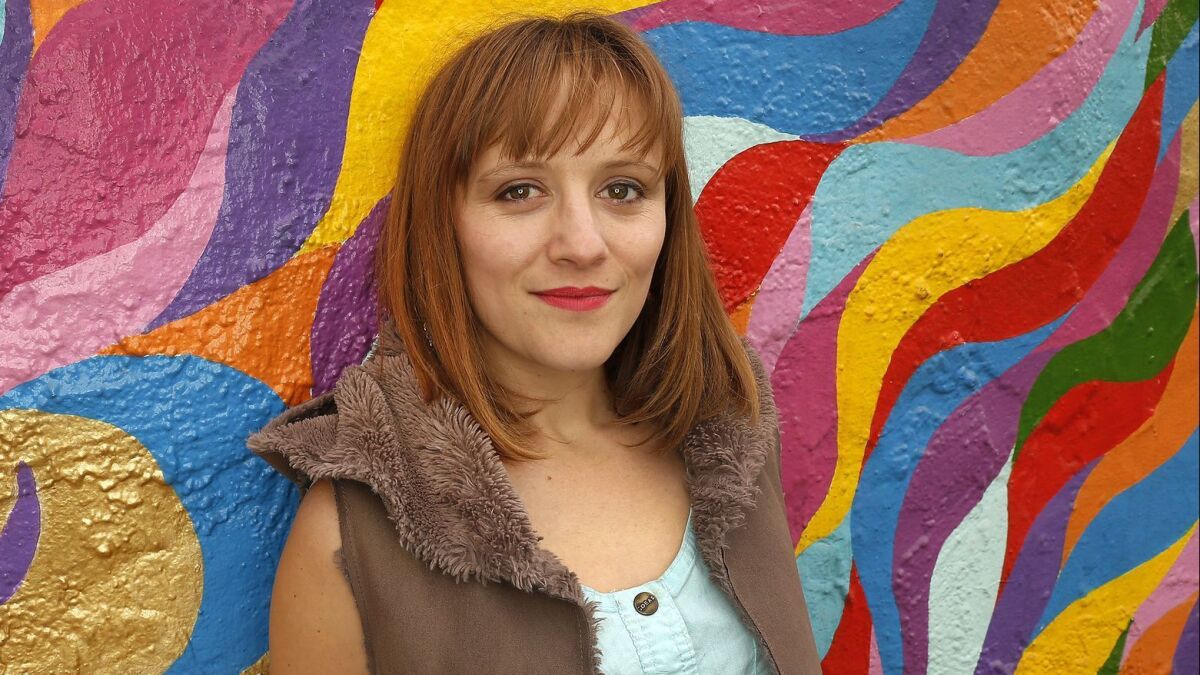 As a woman, I do feel that people are listening to me differently this year than they were last year.
— Composer Ellen Reid
To tackle this complex topic, the composer focused on three American cities and three distinct moments in history: the growth of black prosperity in Memphis in the 1890s, the oil boom in Houston in the 1970s and the future of space exploration as viewed from contemporary Los Angeles. By studying these specific places and times, she hoped, larger truths would emerge.
Reid asked Randle to participate as lead researcher on the project. She knew the Yale PhD candidate had the skill set to examine philosophical questions about America through a theoretical and critical lens.
To distill that research into a libretto, she turned to L.A.-based novelist LaBrie, who also contributed to "Hopscotch." Reid was impressed by the way LaBrie connected seemingly unrelated elements to reveal universal themes in "Hopscotch," and she liked that LaBrie is from Houston, one of the cities that "dreams of the new world" explores.
Reid, LaBrie and Randle conducted their research during the summer and fall of 2016. They traveled to Memphis, where they studied the life and work of one of America's first black millionaires, Robert Church. They learned about Church's contributions to his community and how his legacy had been systematically erased during the Jim Crow era, most notably at the hands of Tennessee politician E.H. Crump.
In Houston they interviewed leaders in the energy sector about the oil boom of the 1970s. In Los Angeles they spoke with scientists and tech entrepreneurs about asteroid mining and the potential colonization of Mars.
"The piece is about boom and bust cycles, about these periods of great hope and optimism where everyone is sort of on the edge of the future, on the brink of something new," LaBrie says. "And then, of course, what happens after that?"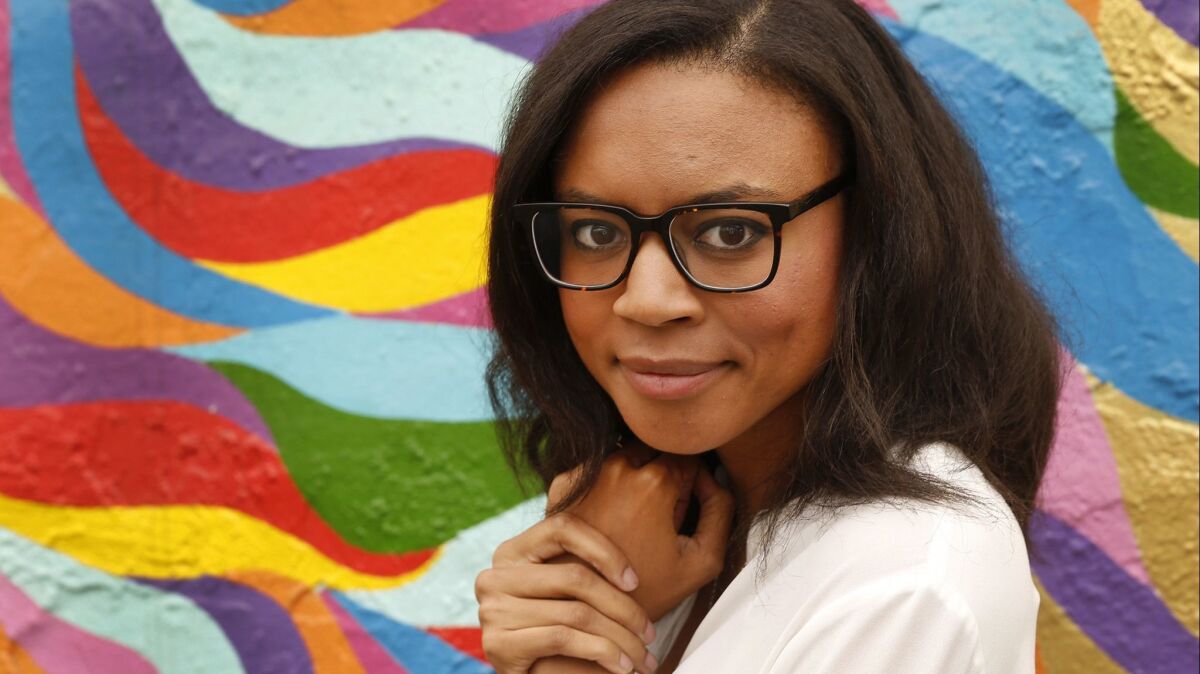 As she set LaBrie's text to music, Reid says she tried to use texture and harmony to evoke a sense of time and place.
In the first movement, which relays Church's story, the composer says the lush harmonies of the Master Chorale evoke "a slower, less frenetic time and the ease and beauty of the South, the golden haze, the pollen in the air."
In the second movement, samples of the clanging, industrial sounds of an oil rig are transformed into gritty rhythms and merged with "Houston diva funk."
In the final movement, the music expands "with echoes of reverb until you eventually blast off into oblivion."
The process of researching and writing "dreams of the new world" took Reid and LaBrie away from the coastal cities where they make their lives today and back to the southern states in which they were raised.
"It's exciting for me to be able to foreground black voices in the story of the evolution of the American dream," LaBrie says. In Houston, she was fascinated by the way an interview subject described oil as the "black blood that runs the city."
"That black blood was there, underground, fueling the American dream in my hometown," she says. "My grandmother owned her own business in Houston and was a thriving part of that black community of entrepreneurs. Robert Church was not an anomaly. Black people were able to build lives for themselves, but too often those legacies were eradicated."
For Reid, it was painful to discover that one of her own ancestors had worked for a company that was founded by the villain in Church's story, Crump.
"It was shocking and confusing," she says, "but also a strong reminder of how easy it is to be complicit in something. My initial response was to distance myself from that past. But I think that sort of distancing is one thing that keeps us from looking at painful realities and working through them."
That black blood was there, underground, fueling the American dream in my hometown.
— Librettist Sarah LaBrie
Reid and LaBrie's trips to Texas and Tennessee coincided with the 2016 presidential election.
"Here we were writing about these moments of profound change in America, and at the same time living through a moment like that," LaBrie says. "In so many ways this piece has shaped the way that I look at America's future. There is incredible possibility available in this country, but if we don't also look at what happened in our past we won't be able to change our future."
Reid agrees, adding that working on "dreams of the new world" gave her a constructive outlet through which to view current politics.
"This moment right now makes me both incredibly devastated and incredibly hopeful," she says. "As a woman, I do feel that people are listening to me differently this year than they were last year. Overall, I think our piece allows a conversation. We're putting voices that are not necessarily agreeing with each other into a tapestry that can be heard through the beauty of music."
That music is key, LaBrie says.
"The Master Chorale's voices are transcendent. This story needed to exist now, it needed this large group of voices to sing it, and it needed Ellen's music."
♦ ♦ ♦ ♦ ♦ ♦ ♦ ♦ ♦ ♦
'dreams of the new world'
Who: Los Angeles Master Chorale with Wild Up (program also includes Terry Riley's "In C")
Where: Walt Disney Concert Hall, 111 S. Grand Ave., L.A.
When: 7 p.m. Sunday (pre-concert talk at 6 p.m.)
Tickets: $29 and up
Info: (213) 972-7282, lamasterchorale.org
See all of our latest arts news and reviews at latimes.com/arts.
ALSO
Becoming John Luther Adams: The evolution of an American composer
A guide to the best L.A. dance companies and where to see them
Why an Asian cast remains a radical idea for American theater
Tony Award nominations 2018: The complete list
Get our L.A. Goes Out newsletter, with the week's best events, to help you explore and experience our city.
You may occasionally receive promotional content from the Los Angeles Times.