Review: 'Hopscotch' moves around L.A. and sometimes transports
Los Angeles Times Music Critic
Was it Buckminster Fuller who said that when something was supposed to be impossible, that told him what to do?
By now the opera world and a remarkably sizable segment of social and other media without the slightest interest in opera have credited director Yuval Sharon — mastermind of Los Angeles' strikingly inventive opera company the Industry — with accomplishing the impossible. "Hopscotch: A Mobile Opera for 24 Cars" does, as hyped, seem to herald a transformative moment for an art form. But not the transformative one all the hype is about.
SIGN UP for the free Essential Arts & Culture newsletter >>
"Hopscotch" is, of course, the logical nightmare of an opera that opened Halloween day with a fleet of stretch limousines coursing through downtown, Elysian Park and Boyle Heights. You pay your money, and you and three others hop in a limo like big shots or big-spending revelers. Singers, actors, dancers and instrumentalists are your personal performers. Scenes take place as you drive around. You get out at unexpected locations where parts of the work take place, and then you get into other limos for more in-your-face operatic encounters.
"Hopscotch" will be performed three times daily on weekends Oct. 31 to Nov. 15. Artistic director Yuval Sharon and production designer Jason H. Thompson have dreamed up an idea so far-fetched, the main production question has simply been "Is this vi
A couple of these scenes are drop-dead gorgeous. Others take your breath away for their audacity. To stand on the roof of one of those fancy new arts district apartment buildings, with stunning city and mountain views, and hear a faint trumpet playing from atop a distant tower can prove ineffably moving. To be in a limo while an actor is in earnest conversation with a motorcyclist driving alongside, thanks to the magic of wireless microphones, is unnerving.
Not all of this is new. "Mobile opera" and "city pieces" have been around for a while. In 1969 Robert Moran's "39 Minutes for 39 Autos" transformed San Francisco into a massive performance site with 100,000 performers, and for a while staging something in a car became a Bay Area thing. Chamber Music in Historic Sites has for three decades been putting on concerts throughout L.A. in places like the Bradbury Building, for which "Hopscotch" also finds arresting use. Operas with multiple composers and librettists, like "Hopscotch," go back to the Baroque.
Chapter 19: Peter Howard as Man in Car and Stephen Beitler as Jameson on the green route of "Hopscotch Opera," the mobile opera driving around town in Los Angeles.
(Anne Cusack / Los Angeles Times)
The music continues in the limo.
(Anne Cusack / Los Angeles Times)
Chapter 9: Angels Point, Lauren Davis as Lucha, left, and Jessica Mirshak as Jameson kiss.
(Anne Cusack / Los Angeles Times)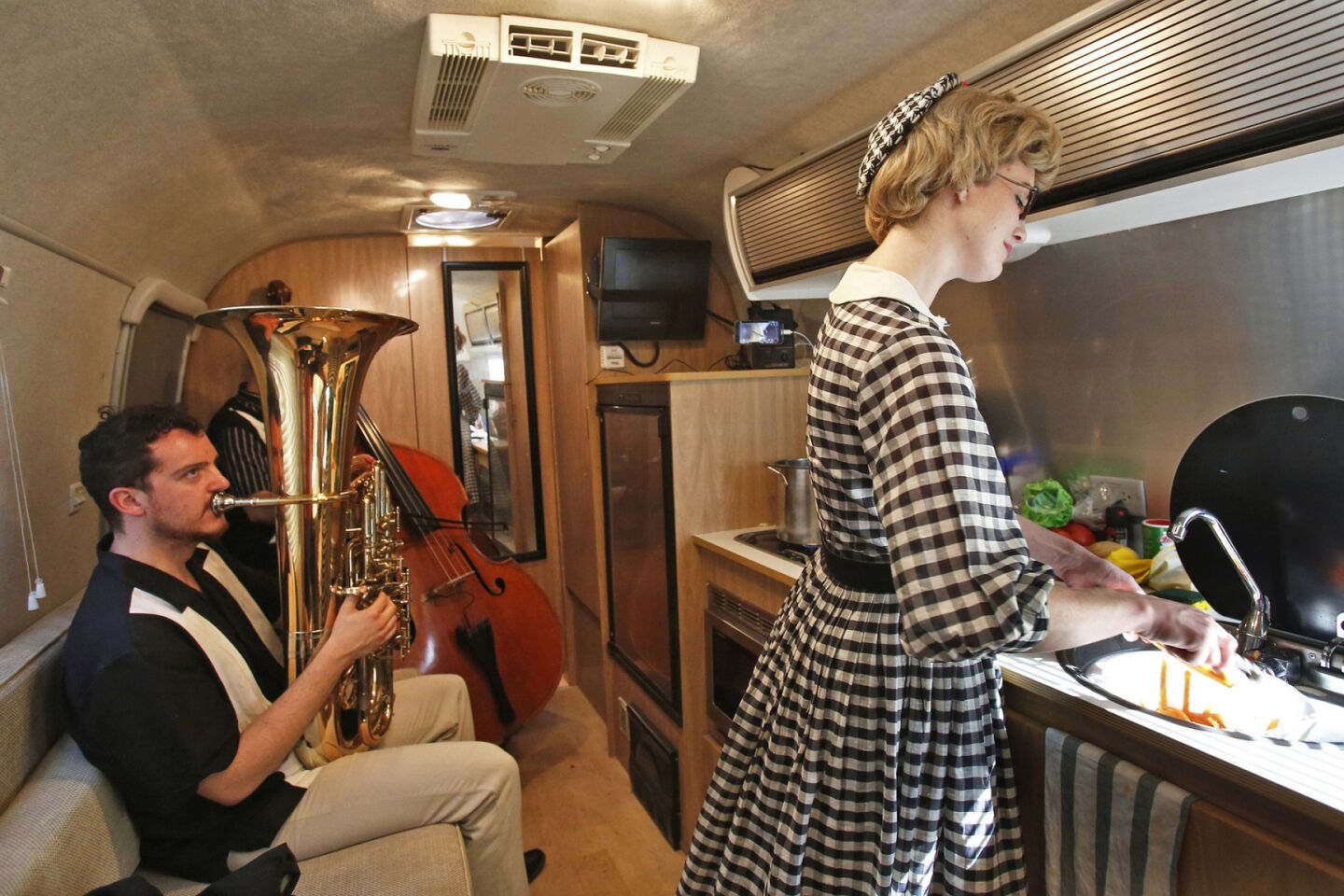 Chapter 18: Interlude, Victoria Fox as mother and Brandon Davis with tuba.
(Anne Cusack / Los Angeles Times)
Chapter 9: Angels Point.
(Anne Cusack / Los Angeles Times)
Stephen Bietler as Jameson.
(Anne Cusack / Los Angeles Times)
Chapter 26: Hades, Rebekah Barton as Lucha and Nicholas LaGesse as Jameson.
(Anne Cusack / Los Angeles Times)
Chapter 26: Hades, Rebekah Barton as Lucha.
(Anne Cusack / Los Angeles Times)
Chapter 11: The Floating Nebula, Alisa Guardiola as Lucha, left, Micaela Taylor as Jameson and Quayla Bramble as Angel.
(Anne Cusack / Los Angeles Times)
Chapter 11: The Floating Nebula, Micaela Taylor as Jameson.
(Anne Cusack / Los Angeles Times)
Chapter 11: The Floating Nebula, Quayla Bramble as Angel, left, and Alisa Guardiola as Lucha.
(Anne Cusack / Los Angeles Times)
Chapter 11: The Floating Nebula, Quayla Bramble as Angel.
(Anne Cusack / Los Angeles Times)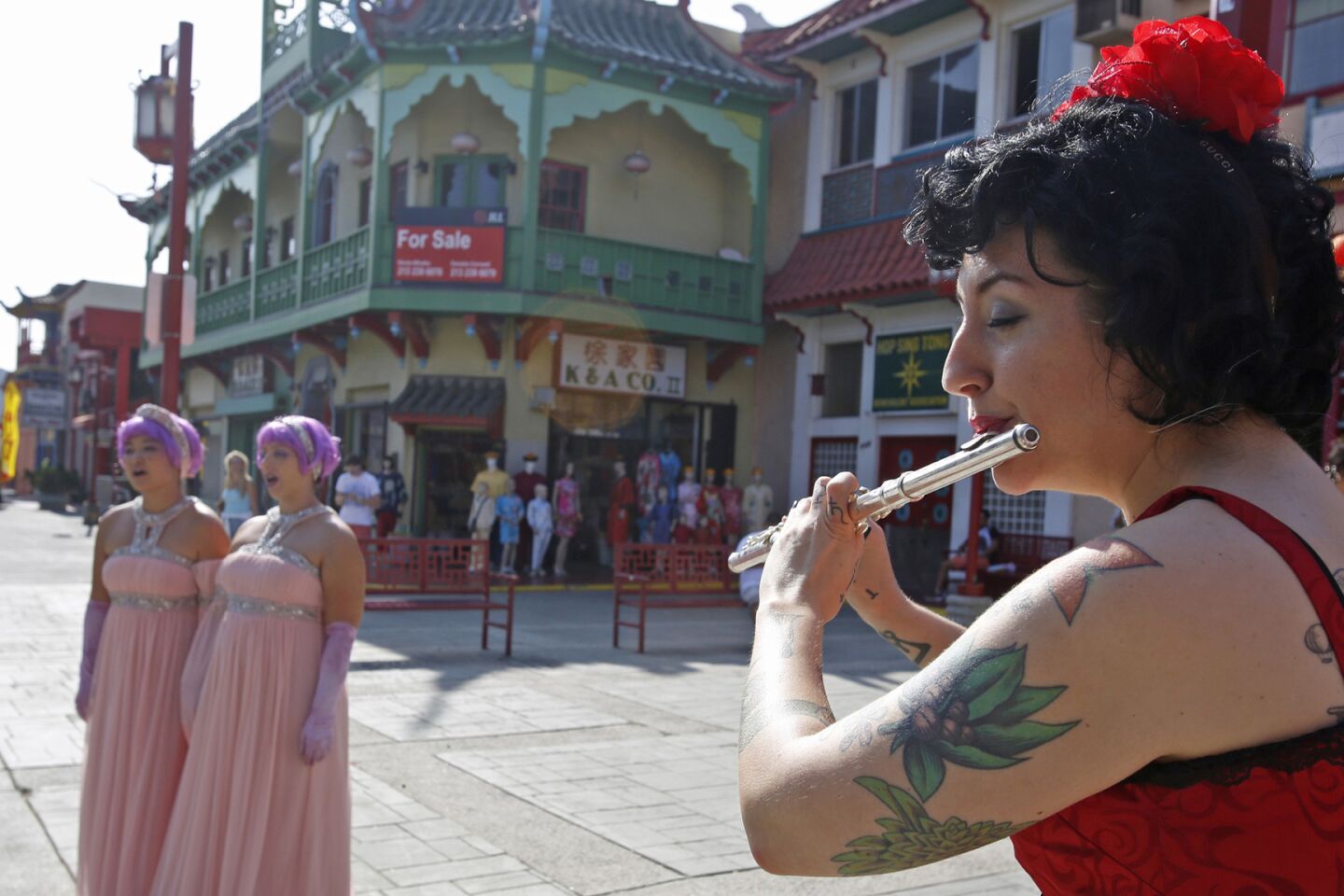 Christine Tavolacci plays flute in China Town.
(Anne Cusack / Los Angeles Times)
Chapter 35: The Phone Call, Suzanna Guzman speaks.
(Anne Cusack / Los Angeles Times)
The frame of "Hopscotch" is a story told in 36 chapters. Most consist of live performances of scenes by six L.A. composers and six L.A. librettists that are divided along three limo routes and performed out of sequence. Ten chapters are animations with music improvised by the L.A. group gnarwhallaby. The creative team includes additional composers and writers and choreographer Danielle Agami, and it is no simple matter for the audience to piece this all together.
Sharon's inspiration is Argentine novelist Julio Cortázar's 1963 novel "Hopscotch," which has expendable chapters at the end and may be read linearly or by jumping around. The characters of "Hopscotch" are vaguely based on Cortázar's. Lucha hits a motorcyclist, Jameson. He's a scientist at JPL and a cybernetic dreamer. She's involved with an avant-garde puppet troupe in East L.A. headed by the intellectual quester, Orlando, who, inspired by Cortázar's novel, goes to Paris after his wife dies. Jameson disappears; Orlando returns and ultimately marries Lucha.
These are the bones of something dizzyingly larger. The actual experience of the opera is to be lost. With each of the 90-minute limo routes (labeled Yellow, Green and Red, and each featuring music by all the composers) we visit sights of the story. Lucha and Jameson have their first kiss by the lake in Hollenbeck Park, for instance, and we are there to witness it, while an ice cream vendor plays percussion. There are dozens of different Luchas, Jamesons and Orlandos — and they can be actors, singers, instrumentalists, dancers or various combinations of them all. There are different mixtures of composers and librettists, plus the contributions of outliers.
This and the engineering feat of making it all work, which includes the contribution of impressive technology by the headphone firm Sennheiser, are all part of the cool factor that has given the opera international attention. I, however, found nothing cool about riding around in a limousine through economically disadvantaged parts of L.A. These appallingly tacky vehicles are designed to keep you far removed from your environment.
The intimacy inside is also highly artificial. Being that close to an opera singer, who is pretending to ignore you and who may not have a perfectly coordinated costume, can make the character less rather than more believable. The audience becomes awkward voyeur.
And yet for every problem "Hopscotch" creates, it finds an unexpected solution. A fortuneteller looks you straight in the eye as she sings to you, and you are part of the story. Observe a veteran opera star like mezzo-soprano Suzanna Guzmán up close, and the rest of the world simply vanishes from your consciousness.
The "adventure" of so much situation causes music, without which there is no opera, to struggle for prominence. But when it achieves it, the sense of triumph is particularly powerful. On the Red route, for instance, composer Veronika Krausas sends Orlando to Paris with a haunting scene for the mesmerizing tenor Timur Bekbosunov, and Ellen Reid creates her wonders with the rooftop trumpet.
On the Green route, one of Andrew McIntosh's chapters involves the beauteous majesty of four saxophones on Angels Point at the top of Elysian Park, and David Rosenboom creates a vivid depiction of Hades in a lonely spot along the Los Angeles River. On the Yellow, Marc Lowenstein riffs on Monteverdi's "Orfeo" in the tattered splendor of the Million Dollar Theatre. Andrew Norman is responsible for the finale at the Hub, where for the late afternoon performances all routes and all performers convene in a communal moment of lush, melancholy spirituality that makes everything worthwhile.
Not all of "Hopscotch" is elitist. There are lotteries for cheap tickets, and every episode in every limo is filmed live and shown on screens at the Hub, the central headquarters for "Hopscotch" in the parking lot of the Southern California Institute of Architecture downtown, which anyone can visit for free during performances.
But none of that does what is ultimately necessary to clean up the mess of "Hopscotch," to completely counter the kind of self-involved, isn't-this-cool response that this opera can seem to be engineered to produce or to make urgent the often unintelligible libretti.
One last stage is now needed for "Hopscotch." I never thought I'd say this, but the first epic L.A. opera requires not artificial immersive reality but virtual reality. Let the Industry assemble all the episodes as transmitted to the Hub, all the animations and all the expendable material together online (or on an app or disc), and "Hopscotch will surely and with irresistible suitability become the first exceptional hyperopera.
Follow me on Twitter @markswed
Get our L.A. Goes Out newsletter, with the week's best events, to help you explore and experience our city.
You may occasionally receive promotional content from the Los Angeles Times.