Baryshnikov, Diavolo, BodyTraffic and more: L.A.'s dance scene gears up for a breakout season
It's payoff time: Los Angeles' dance community, after decades of slow progress, is poised to have a season that's unprecedented in its breadth and quality.
The biggest stages — Royce Hall and the Dorothy Chandler Pavilion — will present the national and international troupes that we have come to expect. But the striking difference this season is that so much worthwhile dance will be generated from companies that call L.A. home.
SIGN UP for the free Essential Arts & Culture newsletter »
The training of dancers and cultivation of choreographers, directors and audiences has been, and probably will continue to be, a painfully slow, two-steps-forward, one-step-back process, and a major venue dedicated to dance still eludes us. But an increasing number of theaters are stepping up to provide more consistent support to companies based here.
The Wallis Annenberg Center for the Performing Arts in Beverly Hills will have L.A.-based Jacob Jonas' company on Jan. 13, and the renovated Ford amphitheater in Hollywood will host contemporary Invertigo Dance Theatre on Sept. 30. Barak Ballet is collaborating with the Jet Propulsion Laboratory for a Nov. 6 performance at ARC Pasadena inspired by Mars exploration, and next month USC opens its Glorya Kaufman International Dance Center. Jodie Gates, school director and vice dean, is partnering with the Music Center and the Los Angeles County Museum of Art for an extravaganza of October shows, exhibitions and discussions celebrating the work of choreographer William Forsythe.
Other dance highlights in the months to come:
SEPT. 23-25
Diavolo and "Passengers"
Diavolo, an L.A.-born troupe that has made it to the international stage, will celebrate its 25th anniversary with a program that includes the new work "Passengers."
The Broad Stage, 1310 11th St., Santa Monica. $40-$90. (310) 434-3200. www.thebroadstage.com
FULL COVERAGE: Your fall arts and culture guide to L.A.
SEPT. 29-OCT. 23
William Forsythe
Born in New York but long based in Frankfurt, Germany, William Forsythe is a theatrical provocateur whose radical innovations changed classical dance. Now he's an artistic advisor and professor at USC's Glorya Kaufman School of Dance, where vice dean Jodie Gates is one of Forsythe's former dancers. Members of Houston Ballet, Pacific Northwest Ballet and San Francisco Ballet will perform classics and newer pieces at the Dorothy Chandler Pavilion. USC will host three days of events, the Music Center will have a costume exhibition and LACMA will host site-specific performances by professionals and students.
"Focus Forsythe: The Choreographer's Process," Sept. 29-30, and "Futures in Motion," Oct. 14, Glorya Kaufman International Dance Center, USC, 849 W. 34th St., Los Angeles, free. "Forsythe Designed: A Costume Exhibition," Oct. 1-23, Music Center, 135 N. Grand Ave., Los Angeles, free. "Site-Specific Forsythe," Oct. 15-16, LACMA, 5905 Wilshire Blvd., Los Angeles, museum admission $10-$15. "Celebrate Forsythe" with Houston Ballet, Pacific Northwest Ballet and San Francisco Ballet, Oct. 21-23, Dorothy Chandler Pavilion, 135 N. Grand Ave., Los Angeles, $34-$138, (213) 972-0711, musiccenter.org/forsythe. General info: kaufman.usc.edu/fall-for-forsythe/.
OCT. 8, 22 and 29
Los Angeles Ballet and "Untouched"
Co-directors Thordal Christensen and Colleen Neary kick off the ballet's second decade with a fall repertory program that includes the company premiere of "Untouched," a 2010 piece choreographed by New York-based Aszure Barton. Also scheduled: Bournonville's Pas de Six and Tarantella from the ballet "Napoli" and the return of Balanchine's brilliant and still-provocative "Stravinsky Violin Concerto."
On Oct. 8, Alex Theatre, 216 N. Brand Blvd., Glendale. On Oct. 22, Redondo Beach Performing Arts Center, 1935 Manhattan Beach Blvd. On Oct. 29, Royce Hall, UCLA, 340 Royce Drive, Westwood. $29.50-$104. (310) 998-7782. www.losangelesballet.org.
Los Angeles Times Ideas Exchange: Christopher Hawthorne in conversation with Frank Gehry
On Now
Frank Gehry's thoughts on the Broad? Watch his hilarious groan
On Now
Watch Frank Gehry in conversation with architecture critic Christopher Hawthorne
On Now
Why Frank Gehry never showed up to work for Richard Neutra
On Now
Frank Gehry recalls Rudolph Schindler style: Rough, raw and unpredictable
On Now
How Frank Gehry defended his Santa Monica home against a critical neighbor
On Now
Frank Gehry wants the L.A. River Revitalization project to help the neighboring communities
On Now
With the L.A. River, Frank Gehry thinks L.A. won't need to import as much water, saving a lot of money
1:28
On Now
Frank Gehry's approach to the L.A. River – a lot of collaborators
OCT. 15-16
Deborah Hay and Cullberg Ballet
A founding member of the influential Judson Dance Theater collective of the 1960s, Deborah Hay is as focused on the process of creation as the performance. She began exploring the use of technology in choreography back with Bell Labs computer experts in the late '60s and developed large-scale works with untrained dancers who executed simple, everyday gestures. The Center for the Art of Performance at UCLA will present adaptations of a Hay solo in two separate but related events: longtime Hay collaborators Ros Warby and Jeanine Durning in an afternoon performance of "As Holy Sites Go," and then in the evening, Sweden's cutting-edge Cullberg Ballet performing "Figure a Sea," with a sound score by Laurie Anderson.
Freud Playhouse, UCLA, 245 Charles E. Young Drive, Westwood. $29-$49 per performance (10% discount with purchase of both). (310) 825-2101. www.cap.ucla.edu.
OCT. 27-29
BodyTraffic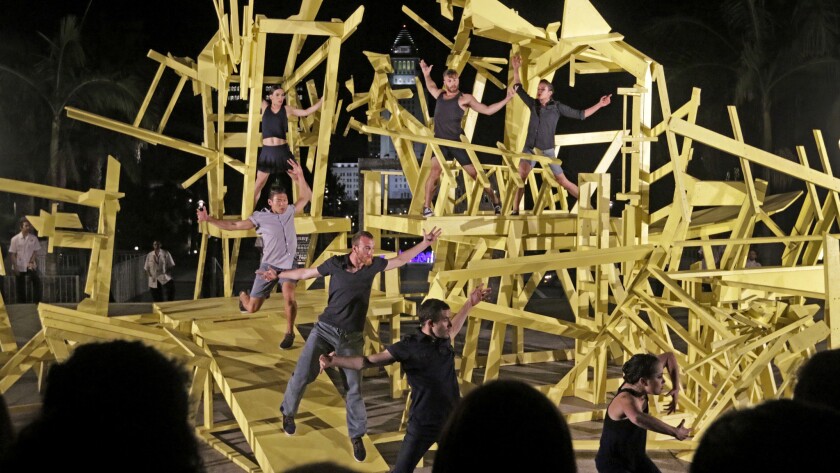 This homegrown, high-energy contemporary company will be all over Southern California in the next two months. It's in Orange County for the Laguna Dance Festival on Sept. 24 and at the new Musco Center in Orange on Oct. 15. But co-directors Lillian Barbeito and Tina Finkelman Berkett also have found an important landing spot at the Broad Stage, where the company had a residency over the summer. There, choreographer Richard Siegal will present a new work to Gershwin, "3 Preludes," his third piece in the rep (with a fourth planned for next year). The group also has commissions from London-based choreographer Arthur Pita, who has compared his style to that of filmmaker David Lynch, and from Anton Lachky, Czech maker of high-octane and occasionally dark pieces. Barbeito and Finkelman Berkett continue to populate the repertory with works by exciting choreographers who are lesser known in Los Angeles.
The Broad Stage, 1310 11th St., Santa Monica. $40-$90. (310) 434-3200. www.thebroadstage.com.
OCT. 28
Carmen de Lavallade
Born in Los Angeles 85 years ago, Carmen de Lavallade has had a remarkable life as a dancer, choreographer and actress. The one-woman show that she co-wrote and stars in, "As I Remember It," hits the high points and some of her struggles. After she moved to New York City with Alvin Ailey, whom she introduced to Lester Horton's L.A. dance studio, De Lavallade spent most of her life on the East Coast. This is a rare chance to spend an evening with a legend.
Bram Goldsmith Theater, Wallis Annenberg Center for the Performing Arts, 9390 N. Santa Monica Blvd., Beverly Hills $50-$75. (310) 746-4000. www.thewallis.org.
OCT. 29
Ragamala Dance Company
This Minneapolis-based company is headed by mother Ranee Ramaswamy and daughter Aparna Ramaswamy, who returned annually to India for months at a time for intensive study of the classical dance form bharata natyam. From that base, the Ramaswamys create works using nontraditional story lines and contemporary hybrid musical compositions. The audience will be sitting onstage for "Written in the Water," their latest piece, in which the space is transformed into an ancient board game on which the dance is partly based.
Valley Performing Arts Center, 18111 Nordhoff St., Northridge. $43. (818) 677-3000. www.valleyperformingartscenter.org.
NOV. 3-6
Pat Graney Company's 'Girl Gods'
For more than 25 years, Seattle-based choreographer Pat Graney has been exploring female roles in her dances and using her art to improve women's lives. Her most recent performance-dance piece, "Girl Gods," continues that examination with the all-female cast expressing some red-hot rage at the system.
REDCAT, 631 W. Second St., Los Angeles. $10-$25. (213) 237-2800. www.redcat.org.
NOV. 18-19
Robert Wilson and Mikhail Baryshnikov
"Letter to a Man" is not your typical one-man show: Mikhail Baryshnikov stars in Robert Wilson's adaptation of Vaslav Nijinsky's diary, written in the 6½ weeks before the renowned dancer was confined to a mental institution. This is theater with movement, featuring Wilson's trademark slow-motion and his complex lighting designs.
Royce Hall, UCLA, 340 Royce Drive, Westwood. $99-$129. (310) 825-2101. www.cap.ucla.edu.
NOV. 18-20
Mikhailovsky Ballet's "Le Corsaire"
If the forthcoming season is short on anything, it's classical ballet. "Le Corsaire" provides some of that with choreographer Marius Petipa's precise, crystalline lines, as revised by Konstantin Sergeyev and by Mikhailovsky ballet master in chief Mikhail Messerer. The story is pure movie matinee — about pirates, slave girls and harems. Check reality at the door and enjoy the dancing.
Segerstrom Center for the Arts, 600 Town Center Drive, Costa Mesa. $29-$149. (714) 556-2787. www.scfta.org.
DEC. 9-10
Benjamin Millepied and L.A. Dance Project
Some wondered if Benjamin Millepied would abandon L.A. Dance Project when he left the city to be artistic director of Paris Opera Ballet in 2014, only two years after founding the L.A. troupe. But the company, started with Music Center support and fanfare, is clearly Millepied's baby, and here he is, back in town. L.A. Dance Project will come to the Theatre at Ace Hotel with a Millepied premiere to music by Rufus Wainwright, who will be singing and playing, and the first local showing of Millepied's "On the Other Side," with a backdrop by L.A. artist Mark Bradford. Theatre at Ace Hotel, 929 S. Broadway, Los Angeles. Call for ticket prices. (213) 623-3233. www.acehotel.com/losangeles/theatre.
JAN. 28
BalletBoyz
Created in 2000 by Michael Nunn and William Trevitt, former principal dancers with the Royal Ballet of London, this all-male company broke ground with choreography and cheeky videos. Nunn and Trevitt wanted to make ballet more fun and interesting for general audiences, and though they have retired from the stage, BalletBoyz's reason for being remains the same. In Long Beach they will perform two new works themed on life and death.
Carpenter Performing Arts Center, 6200 E. Atherton St., Long Beach. $50. (562) 985-7000. www.carpenterarts.org.
Follow The Times' arts team @culturemonster.
ALSO:
Plácido Domingo on playing Macbeth in L.A. Opera's season opener
Jeffrey Kahane to end 20-year run as LACO conductor with his most ambitious project
A classical critic's picks for fall: 'Breaking the Waves,' John Adams' 70th, Philip Glass' 'Akhnaten'
---
Get our daily Entertainment newsletter
Get the day's top stories on Hollywood, film, television, music, arts, culture and more.
You may occasionally receive promotional content from the Los Angeles Times.