He's Lin-Manuel's right-hand man: the 'Hamilton' arranger who hasn't let hearing loss derail the dream
Alex Lacamoire has hearing loss. But the Tony-winning music director of "Hamilton" wants you to know, he's no Beethoven.
He's heard that you can see teeth marks on the wood inside Beethoven's piano "because he would bite it to try to be able to hear the vibrations," Lacamoire said. "I mean, that's passion. My hearing is not that bad."
When he was 2, growing up near Los Angeles' Koreatown, Lacamoire would sit in front of the stereo and stare into the speaker, drawn to music like a drug. When he was 3, his mother observed him sitting too close to the TV, following the characters on "Sesame Street" with his eyes.
"I noticed that when I called him, he'd run away like he wasn't paying attention," Maria Lacamoire said.
She took him for a hearing test, where it was discovered that he had mild hearing loss.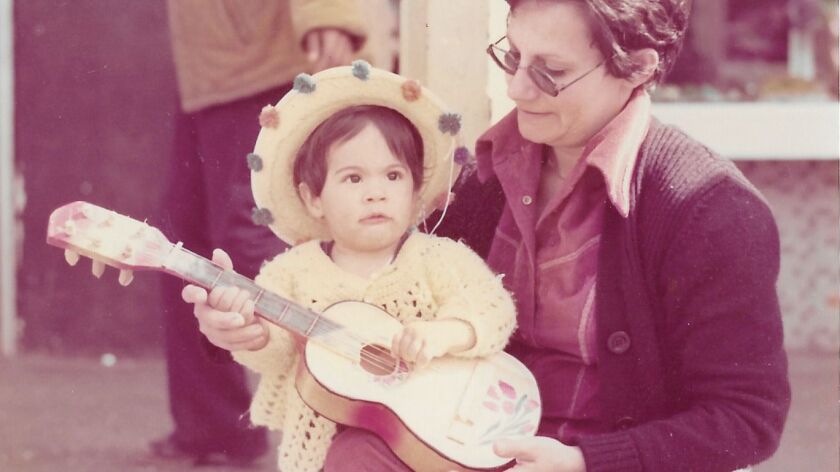 "I think I was a little bit too young for it to really understand," Lacamoire said. "All I remember is, like, oh wow, they're putting this weird goop in my ear to mold me [for hearing aids] and then I walked away and I had these little apparatuses behind my ears."
When he was 6, the school district recommended that Lacamoire attend a special class that combined sign-language instruction along with spoken language.
"That was devastating for me," his mother said, "because I didn't notice any other problem with him, because he was very smart."
She appealed the decision, and Lacamoire was given an IQ test. He scored 165. He not only joined a mainstream class at Commonwealth Avenue Elementary School but also skipped the first grade.
"Alex was the most outstanding student I ever had," said his second-grade teacher, Dorothy Chapman, who taught at Commonwealth for 25 years and retired in 2002.
Children with hearing loss, especially when that loss is identified late, often lag behind their peers because they've absorbed less vocabulary and less information. Chapman said the charming little 6-year-old would finish his assignments in five minutes, whereas it took his classmates 20, so she would give him third-grade work.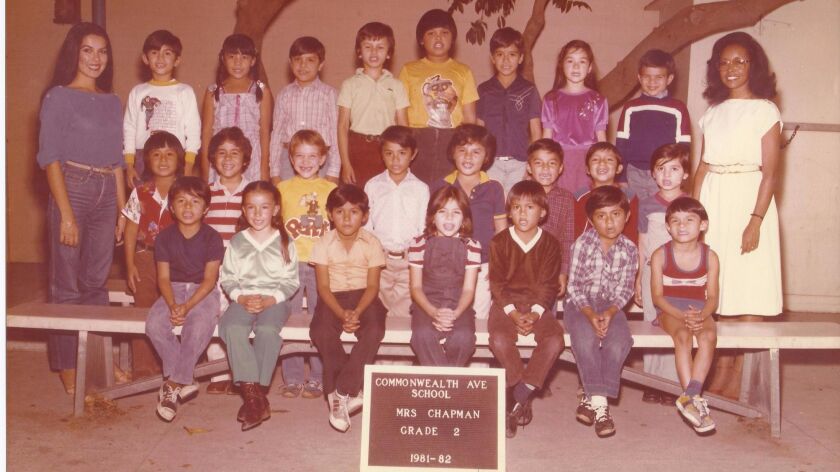 "I've just always been drawn to design, whether it's uniformity or harmony — and by harmony I mean symmetry and balance and those kinds of things," Lacamoire said.
He found beauty and design in the piano, and starting lessons at age 4. After his family moved to Miami when he was 9, he attended an arts high school and then the New World School of the Arts.
For Lacamoire, music was "as fluid to me as writing down words. When I see music and you see a chord, I see design. I just, very early on, started to get some kind of translation between what is on the written page to what my fingers actually do and what my ear actually hears."
In high school, Lacamoire stopped wearing his hearing aids out of embarrassment. He said he developed a bad habit of banging on the piano to produce the volume he wanted. The loneliness and angst most kids experience in adolescence was exacerbated by hearing loss.
"All my life I've missed punchlines — where people just say that one joke and then the whole room starts laughing, and I have no idea what they said," Lacamoire added. "Sometimes I feel bold enough to ask the person next to me, 'Hey, what'd he say?' Other times I'm too embarrassed. And, somewhere in my soul, that just is another thing to add to the list of ways that I feel left out."
Music, and particularly musical theater, became the bridge — "a salvation," in his words. He found that entertaining his peers with pop songs or accompanying them in shows was a potent, almost magic connector.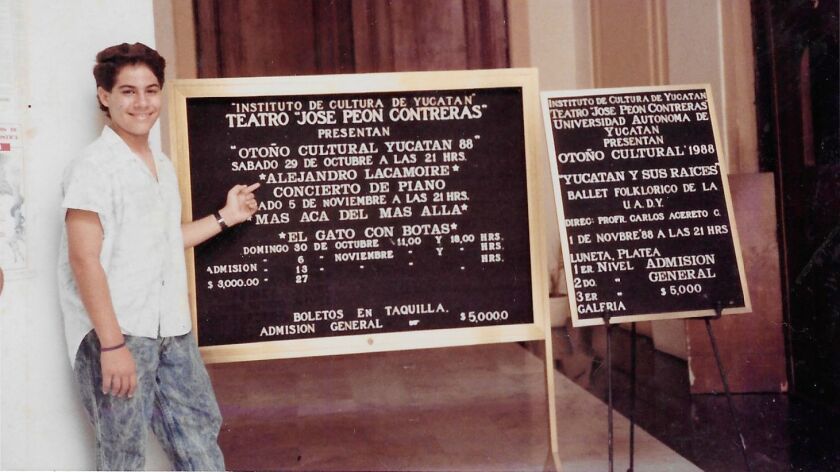 "I've worked with a few musicians like this, where there's just sort of no distance between their ear and their hands," said "Hamilton" creator Lin-Manuel Miranda. "He'll just hear something and it's coming out of him a second later. I think he learned early on what the band geeks in my life learned, which is: If you have that talent, that's a superpower."
After graduating from the Berklee College of Music in Boston, Lacamoire went to Broadway, where he quickly rose from rehearsal pianist in "The Lion King" to music director for the biggest phenomenon in theater.
His role in what has been dubbed Hamilton's "cabinet" began with orchestrating Miranda's songs. The numbers Miranda writes don't change, Miranda said, but "sort of grow and blossom" with Lacamoire's orchestral nuances and hip-hop swagger.
"I'll make these extensive Logic sessions, so I've played out the bass part and the guitar part and the piano part, but then Alex brings all of these other colors to it," he said.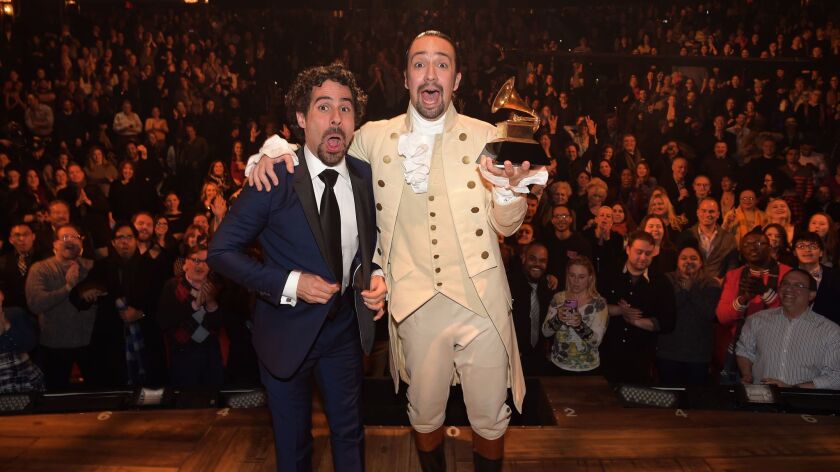 SIGN UP for the free Essential Arts & Culture newsletter »
Lacamoire accompanied Miranda on keyboard when they first workshopped "Hamilton" for the Obamas in the White House. He conducted the pit band during the show's initial Broadway run, and he produced the cast recording album, which won a Grammy and was certified triple-platinum this past spring.
An orchestrations Tony for "Dear Evan Hansen" in June raised Lacamoire's count of Broadway's biggest award to three, and he was just hired as executive music producer on the upcoming musical film "The Greatest Showman," starring Hugh Jackman. The hearing loss certainly hasn't hindered his meteoric rise; with hearing aids, he only loses some volume and certain high frequencies.
Yet, even in the midst of "Hamilton" mania two years ago, he had one day that plunged him right back into his teenage self. He was getting a routine hearing test, sitting in an isolated booth and being asked to repeat random words that got increasingly quieter.
"There were so many words I wasn't hearing, that I just knew I couldn't hear and make out, that I just started to feel sorry for myself," Lacamoire said, with a self-deprecating laugh. "I felt lonely. I felt disconnected. I felt inept. And that's rough. But you deal with that and you move on — or you use it as fuel to work harder."
♦ ♦ ♦ ♦ ♦ ♦ ♦ ♦ ♦ ♦
The 'Hamilton' Ideas Exchange
What: Lacamoire will be joined by other members of Lin-Manuel Miranda's "Hamilton cabinet" — director Thomas Kail and choreographer Andy Blankenbuehler — in conversation with Mary McNamara, The Times' assistant managing editor for arts and entertainment. They will discuss the show's origins, creative choices and relevance.
When: 7:30 p.m. Monday
Where: Hollywood Pantages Theatre, 6233 Hollywood Blvd., L.A.
Tickets: $30 and up
Information: latimes.com/ideasexchange
You can find all of our latest "Hamilton" coverage at latimes.com/hamilton.
Support coverage of the arts. Share this article.
MORE 'HAMILTON':
Behind the scenes of the national tour
Meet Aaron Burr: Why 'Hamilton' brings actor Joshua Henry to tears
Meet Angelica Schuyler: How Emmy Raver-Lampman rose into the spotlight
A critic's take on why 'Hamilton' matters more than ever
How a YouTube video went on to change theater history
---
The complete guide to home viewing
Get Screen Gab for weekly recommendations, analysis, interviews and irreverent discussion of the TV and streaming movies everyone's talking about.
You may occasionally receive promotional content from the Los Angeles Times.