Jason Alexander directed Karen Zacarias' 'Native Gardens' — but he dreams of Barry Manilow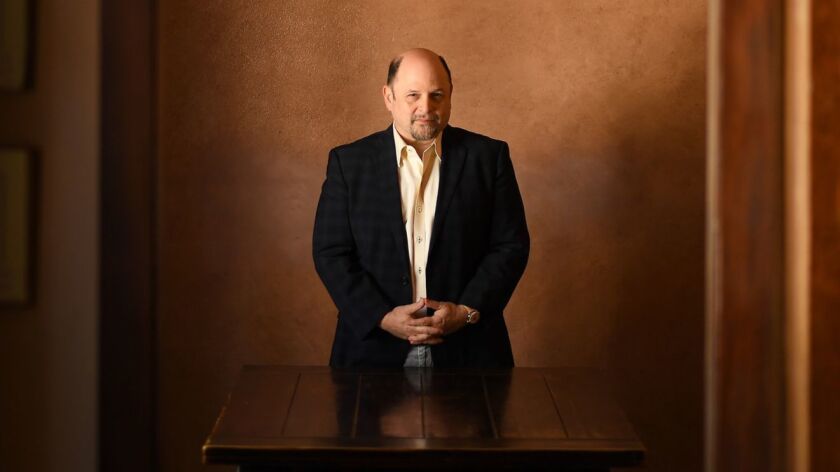 Jason Alexander directs the latest iteration of "Native Gardens," Karen Zacarías' popular play that has already sprouted up in theaters across the country. Playing Wednesday through Sept. 30 at the Pasadena Playhouse, the 95-minute comedy centers on two neighboring couples — played by Christian Barillas and Jessica Meraz, as well as Bruce Davison and Frances Fisher — whose budding disagreements over a shared property line grow into farcical backyard brawls.
These days the "Seinfeld" alum, whose acting roots trace back to Broadway, has been actively pursuing and fruitfully tending to his directorial endeavors, pruning his approach with patience and perspective. He previously served as the artistic director of Los Angeles' Reprise Theatre Company and helmed productions of "Sunday in the Park With George," "Damn Yankees" and "Broadway Bound," among others.
Ahead of the opening of "Native Gardens," Alexander, 58, spoke with The Times at the theater's neighboring restaurant Trejo's Cantina about his directorial roots, his affinity for the stage and why he's genuinely itching to develop a jukebox musical.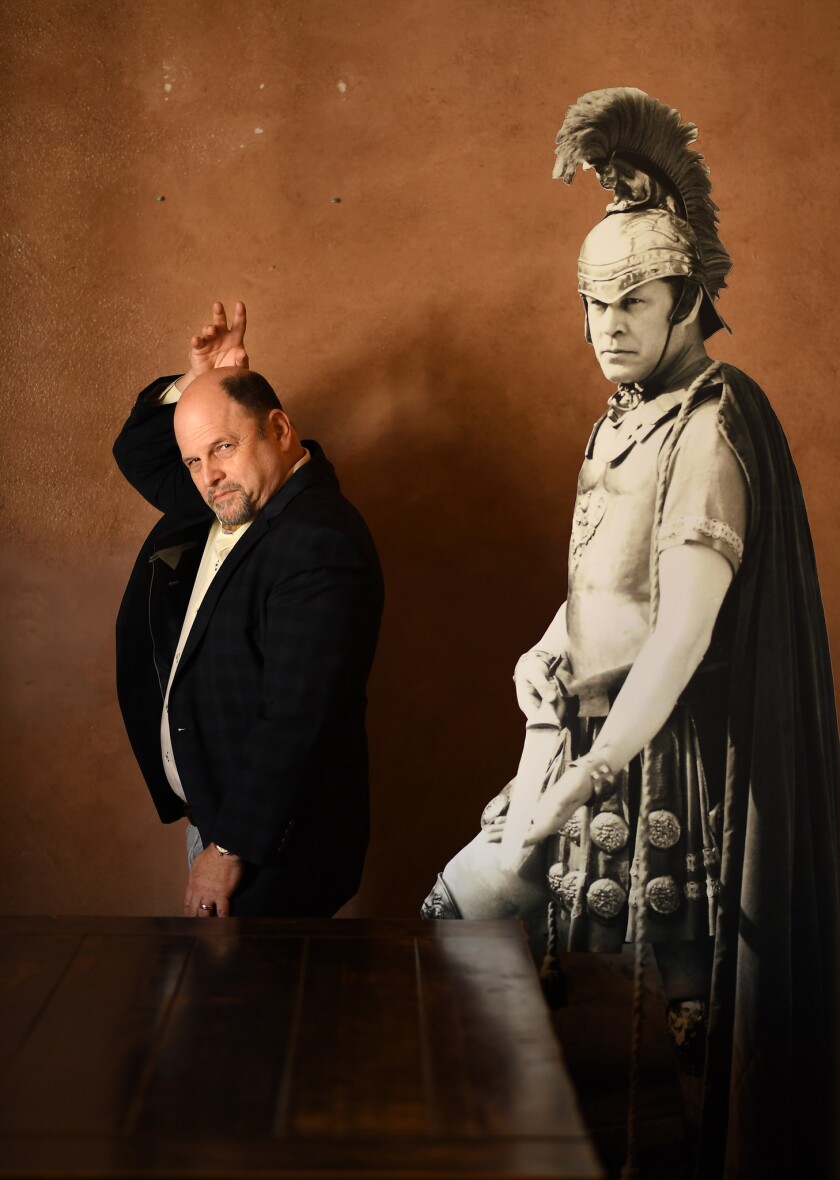 Why do you think this play is so popular?
It's a "message-y" play hidden in a lighthearted comedy of manners. All the "-isms" are represented in this play at some point — racism, sexism, ageism — but none of them are racist or sexist or ageist. They're four good people who are faced with what we are all faced with to a certain degree: what I call "differentism," this quiet thing about wanting to be in the same place, but being a little bit different. When you live in an apartment building in New York and your next door neighbor, whom you share that thin wall with, is the nicest person in the world but she gets up at 6 o'clock in the morning to go to work and the first thing she does is put on her high heels, and you go, "I work at night and those high heels are clopping right through my wall." Those small adjustments in the day-to-day craziness of living your life are a lot to ask of someone who just happens to be your neighbor. The reality of those asks and answers are where the comedy comes from.
What's your approach to such an oft-produced play?
I contacted Karen to talk through the piece, and she was also open to some new ideas. She's done a little cutting and restructuring. For example, there's one scene where, for the first and only time, both couples are onstage, and I asked Karen if we could intersperse the dialogue more, because we work for 11 scenes to show all their differences between them, and now they're side by side. She was really amenable to that.
The 12 scenes have transitions with three gardeners who provide a silent commentary, so I've decided to make them into a Greek chorus. They dance to fun bits of music that's evocative of their energy and honors the fact that the characters and actors are Latinx. Cha-cha's, boogaloos, some Latin jazz. These interstitials should be fun, light entertainments — a little more so, perhaps, than previous productions have done.
And the very last moment of the play is something I pitched to her, and she really liked it. It's really just a silent moment, but it's a final observation about what isn't discussed in this play.
'Seinfeld' has cameras, but it's theater.
— Jason Alexander
What's your directing style?
I love shows that are very directed but look like there was never a director there. So I'm trying, to some degree, to make it look like — within those scenes — I never showed up for rehearsal. Most of the things I've done — especially Reprise [Theatre Company] or even an episode of "Criminal Minds" — have a very truncated rehearsal period. So the director must show up going, "This is what's gonna happen. I'm gonna plug you guys in, and then if it really doesn't work for you, we'll rethink, but basically you have to make your performance fit this model."
But with a real play and three to four weeks of rehearsal, I have to step back and let actors make discoveries of their own, things that I haven't thought of or seen the possibilities for. My process now is patience — to be prepared but not finished, to allow things to have an organic collaborative development.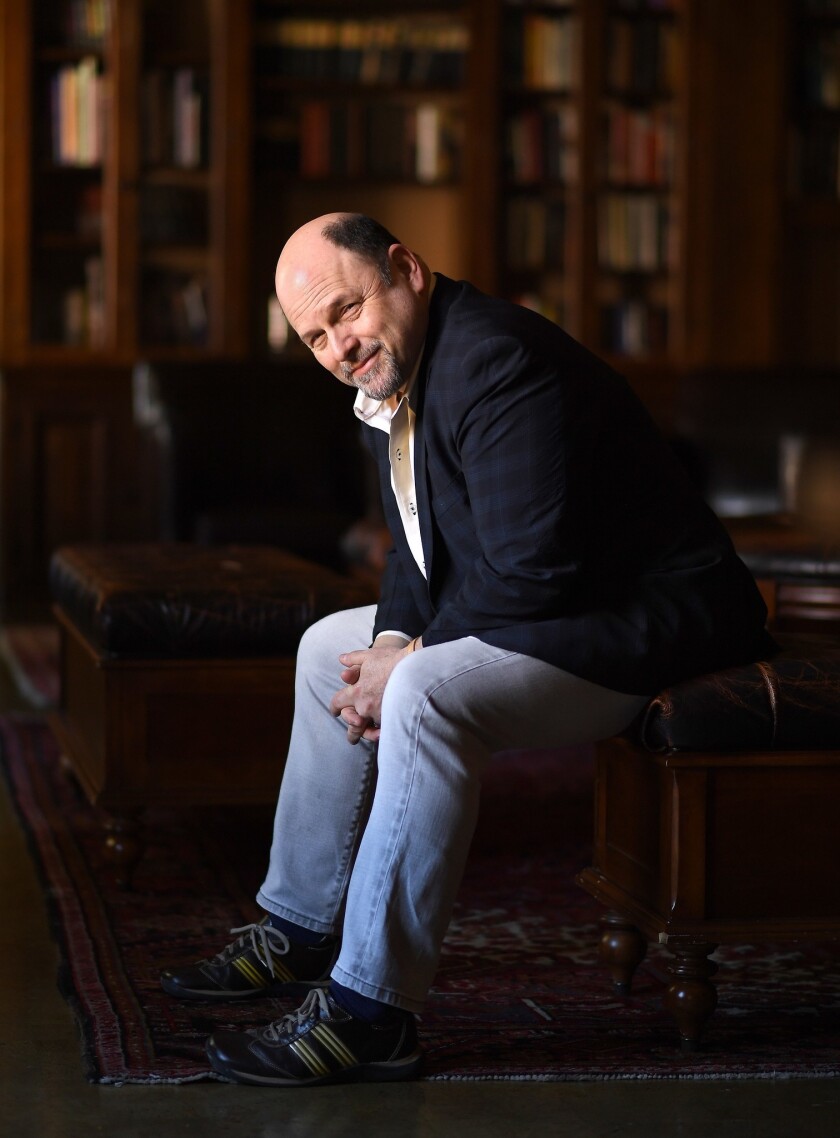 Though you had directed theater for years, you got your first professional directing credit on "Seinfeld." How did that happen?
"Seinfeld" has cameras, but it's theater. We have a live audience, and we were just playing it like it was a play. Around three or four years in, I went, "I'm gonna be here a while, maybe I should pick up another skill." I started watching [director] Tom Cherones and then Andy Ackerman for how to capture this stuff, given the very real limitations of four-camera comedy, and asked them for an opportunity. A lot of it was a combination of arrogance and ignorance. And, I mean, anything I was gonna do wrong, Larry David was gonna go, "Noooooo!" I certainly had a parachute.
The next thing I did after "Seinfeld" was a feature film ["Just Looking"], and I had no personal aesthetic. I had never gone to film school. I took my "Seinfeld" crew with me because we already had a trust level. That was a great film school.
What would you like to direct in the future?
Of what I've done, I understand theater best. I love the magic of musicals, and making an audience believe that this thing is happening in front of them, while people are actually singing and dancing. I'd love to work on some new work because otherwise you're kind of locked in a blueprint.
For a long time, I've been trying to figure out: Is the Barry Manilow songbook something that lends itself to storytelling?
— Jason Alexander
The jukebox musical continues to be disliked by critics but adored by ticket holders. Would you ever get into that space?
The jukebox is hard. These are not my favorite musicals, but sometimes a musical is just a good time. "Smokey Joe's Café" is great, it's not asking to be anything that it can't deliver, and those are fine. When you do a jukebox musical right you get "Jersey Boys." There was a real story there — it could have been a play, it just happened to be about a musical group and their music told that story beautifully. There are people that will go to the mat and swear that "Mamma Mia!" is a great jukebox musical; I can't deny its success, and I pat it on the head and go, "Good for you." It didn't work for me.
For a long time, I've been trying to figure out: Is the Barry Manilow songbook something that lends itself to storytelling? Most of his songs are about yearning and wanting and unrequited love, and a lot of it is about music and performing. It has elements that suggest a story, and I just haven't found it yet. Also, his songbook is ballad-heavy — can that ballad become an up-tune and still work, or will the audience that loves Barry Manilow songs will they shoot me at the stage door? I've mentioned it to Barry Manilow, but I've never said, "Hey, Barry, I'm working on it." So this might be news to him.
These days, what pulls you to an acting role?
I have one strict rule: I will not do roles that are not offered to me. I will not do it. That's where I put my foot down. [laughs] What I get offered now, more often than not, are variations on the overall effect of George [Costanza from "Seinfeld"]. I thoroughly understand why those come my way. The problem is, I kind of did the best one of those I'm ever going to get. And so you don't want to repeat it, but you also don't want to go into anything going, "Well, it's never going to be that." I started teaching and directing more and more because you can give me a piece of material that's not terribly good but if I'm directing, I have all kinds of problems to solve, and it's intriguing and engaging. If you give me either a bad role or a bad piece as an actor, yeah, I can't get too excited about that.
What are you directing next?
Right after this, I'm going to New York to direct a reading for the Manhattan Theatre Club of Lauren Gunderson's play "The Revolutionists." And — talk about the other end of the spectrum — have you ever seen the Improvised Shakespeare Company? It's usually four of them or five of them with no sets, no lighting cues, no props, and they get an audience suggestion for a title and create a two-hour Shakespeare play with all the tropes, iambic pentameter, rhyming couplets and psalms that they're making up on the spot. I've seen them six times and I'm breathless every time. I'm trying to find them somebody to give them a home for a real run in New York because I think it could be the next Forbidden Broadway.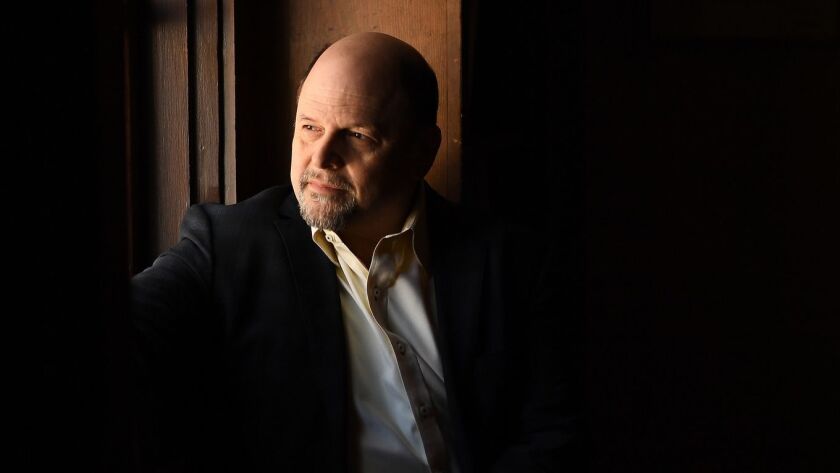 'Native Gardens'
Where: Pasadena Playhouse, 39 S. El Molino Ave., Pasadena
When: Wednesday-Sept. 30
Tickets: $25-$74
Info: (626) 356-7529 or www.pasadenaplayhouse.org
---
From the Oscars to the Emmys.
Get the Envelope newsletter for exclusive awards season coverage, behind-the-scenes stories from the Envelope podcast and columnist Glenn Whipp's must-read analysis.
You may occasionally receive promotional content from the Los Angeles Times.