'Fun Home' composer Jeanine Tesori hears the music in everyday life
The sounds of a rambunctious household are turned into music as "Fun Home" sifts through one woman's 1970s childhood, seeking clues to her father's abrupt death.
Jeanine Tesori, the show's composer, thought back to her own youth as the creative team envisioned the household of Alison Bechdel, author of the popular graphic-novel-style memoir on which the stage musical is based.
Tesori and her three sisters studied piano, flute or dance. "We were practicing all the time," she says. "With four girls in the house, there was a fair amount of noise."
She replicates that cacophony in "Fun Home," which won the 2015 Tony Award for best musical and just opened at the Ahmanson Theatre in a touring production.
Typically, the noise is a happy sound. There's even a song in which young Bechdel and her brothers devise a chirpy commercial for the family funeral business. But the soundscape darkens as the adult Bechdel wrestles with the cloudy circumstances of her father's death, as well as the timing: She'd recently come out to her family as lesbian, then learned that he too was gay, though deeply closeted.
"I'm very interested in the counterpoint of the household," Tesori says, neatly repurposing a musical term to describe the family's separate yet simultaneous activities.
SIGN UP for the free Essential Arts & Culture newsletter »
Family life is a repeated reference point as Tesori, 55 and mother of a 19-year-old daughter, reflects on the career that has made her one of the most-nominated composers in Tony Award history.
She grew up in a home where science met the arts. Her father was a doctor, her mother a nurse, but "both parents really believed that every kid had to have some kind of artistic expression," she says.
That duality imbues the way that Tesori talks about music. "It's where the mystery and the science meet," she says by phone from her apartment on New York's Upper West Side. "Music, for me, is like the architecture of a beautiful thing you're envisioning, and the way to get there is intervallic, it's mathematic. And then there is the soul and the heart."
Her first musical, 1997's "Violet," is about a disfigured young woman from rural North Carolina who yearns to be healed. In 2003's "Caroline, or Change," two more lonely souls seek wholeness. One is a Jewish boy who's lost his mother, the other is his family's single-mom black housekeeper, who worries about her children's future in early-'60s America.
Life for these characters is messy, contradictory and unresolved — a straightforward realism that exists even in Tesori's more mainstream projects.
She contributed to the musical pastiche of 2000's "Thoroughly Modern Millie," a daffy rom-com that plumbs unexpected depths as a wannabe flapper finds wholeness that far surpasses her original notions of thoroughly modern womanhood. And the outwardly conventional "Shrek: The Musical" from 2008 gives the lovelorn ogre's tale a proudly nonconformist spin as it champions its bookshelf-full of shunned and demeaned storybook characters.
"Millie" bounces to the beat of the early 1920s; "Violet" twangs with bluegrass; "Caroline" throbs with klezmer and soul; and "Shrek" bounds through the Top 40 and animated-musical catalogs. The shows sound entirely different, but they share the Tesori hallmarks of close-to-the-surface emotion, structural rigor and rhythmic drive. Her music is brainy yet immediately accessible.
"Angels in America" playwright Tony Kushner, who asked Tesori to collaborate with him on "Caroline," says she has "that gift of liberating very deep feeling in an audience. There's an openhearted emotionality, a way of using music to make your heart explode."
Sutton Foster, who has played more Tesori heroines than anyone else — in "Millie," "Shrek" and a 2014 revival of "Violet" — enjoys the variety in Tesori's scores. "Everything she has done has been so different; she's always curious about making the left turn and stretching and doing the unexpected — different sounds, different feels."
Outsiders figure prominently in all of Tesori's shows, whether she initiated the project, as with "Violet," or was asked aboard. She describes the characters as "the people who are deemed invisible, are outside the power structure in some way."
"I have felt like that," she says. "I went outside myself a lot as a kid. I had a very complicated relationship with my dad, who was a very brilliant and dissatisfied person. So I became an observer, and when you pull out of yourself and you are watching the world, you really begin to see in a 360 the people who are not getting the attention. I feel like that's where my heart goes."
Tesori was nominated for Tony Awards for "Millie," "Caroline" and "Shrek," as well as for her incidental music for a 1998 Lincoln Center Theater production of Shakespeare's "Twelfth Night." She finally got to take home a trophy when she and "Fun Home" librettist Lisa Kron won the 2015 original-score Tony, contributing to the show's total of five.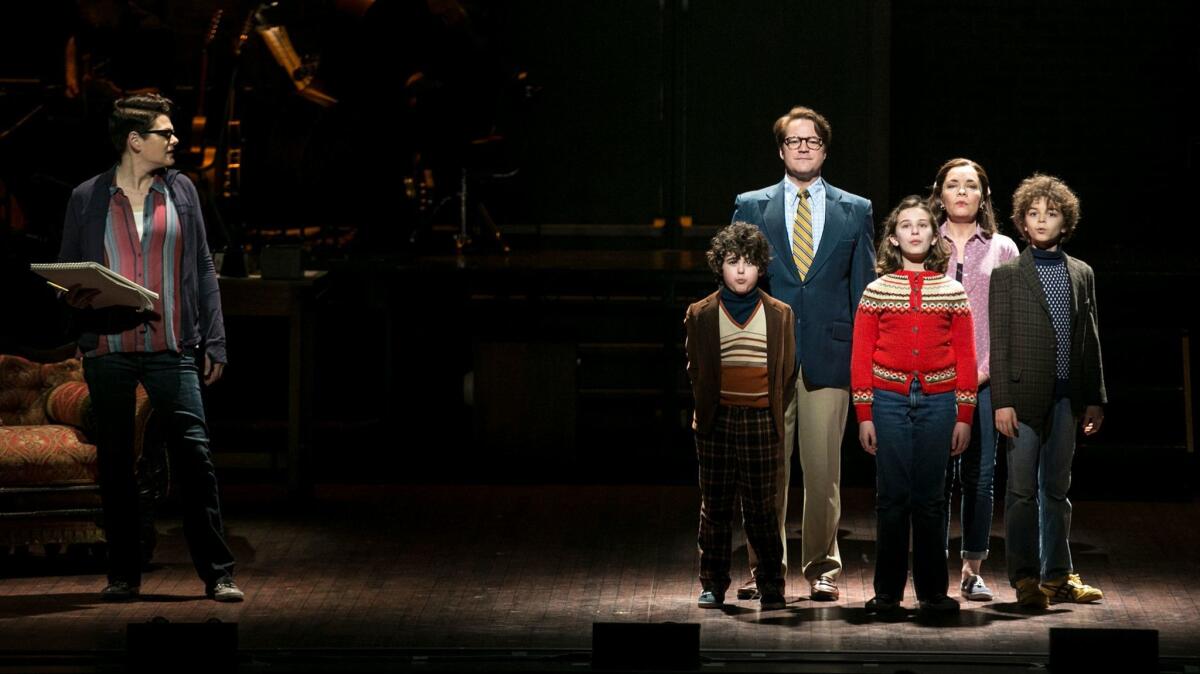 "Fun Home" zigzags and circles through three stages in Bechdel's life: as a girl, as a young woman of college age and as an omnipresent adult watching the other two.
The key events unfold across the '70s and dawn of the '80s. "I grew up then," Tesori says, which meant she didn't need to do much research into the era — too bad, in a way, because she loves to dive into different periods. "I'm a real musicologist at heart," she says.
Tesori had in mind the women singer-songwriters of the era, especially Joni Mitchell. Also playing in her head were Billy Preston; Talking Heads; Cat Stevens; Blood, Sweat & Tears and Stevie Wonder.
She also dipped into classical music as she and Kron sought to depict a crucial dichotomy in the Bechdel household. "Come to the Fun Home," the romping, '70s-style commercial that the Bechdel children concoct, gives way to the infinitely more complex sounds of "Helen's Étude," in which Helen, the mother, practices a Chopin-like melody at the piano while in another room the father, Bruce, makes small talk, subtly sprinkled with come-ons, with a young man he's hired to do yardwork.
"Everyone is siloed in their own world," Kron explains. "By having everybody singing a different thing, there's a sense of them together as this family, and yet there's a cacophonous separateness."
Audiences emerge talking about the songs "Ring of Keys," the tomboyish young Bechdel's flash of recognition when she encounters a close-cropped, work-booted deliverywoman, and "Changing My Major," in which college-age Bechdel goes giddy over her first girlfriend.
The most telling moments, however, are less obvious, as in "Pony Girl," a snippet of lullaby that Bruce sings to settle his daughter as he tries to sneak out for a night on the town. The simple, a cappella melody gently rises and falls — a slow-motion tug of war between contentment and mournfulness — as the repressed father yearns for the courage that his daughter exhibits in her youthful independent streak. "Some folks get the call to go," he sings, "some folks are bound to stay."
Magical and painful and cathartic and just beautiful.
— Alison Bechdel on seeing the stage version of herself sing with her family
Bechdel says that when she first heard the song, she found it "almost too sentimental, but now I've come to see that it adds a perfect dimension to the play, which is this story of the father and the daughter, and the daughter moving on in a way that the father couldn't."
But then, Bechdel, who was periodically interviewed but not part of the creative team, has been continually surprised by this show. Turning her memoir into a musical at first seemed "the craziest thing I'd ever heard," she says, yet witnessing the stage version of herself sing with her family has been "magical and painful and cathartic and just beautiful."
Kron, a first-time librettist, underwent an intensive apprenticeship under Tesori, yet even now, she says, "I just get glimpses of all the ways she's operating in that score. Nothing stands alone; everything is building and intertwined with everything else."
Tesori admits to her own naiveté back in her early 30s when she switched to composing after being mentored by prolific record producer and music supervisor Buryl Red and gigging relentlessly as a musical-theater conductor.
"It was all guesswork," Tesori says of creating "Violet" with librettist Brian Crawley. "It was so hunt and peck, absolute learn by doing."
Her output now includes operas, film scores and animated musicals.
Tesori doesn't write lyrics because, she self-deprecatingly says, "you can't get more average than me." She prefers to collaborate with playwrights, who already "work with the musicality of language" even if they aren't musicians.
She is working on projects with Kushner and "Shrek's" David Lindsay-Abaire, but the next new score that Angelenos likely will hear is for David Henry Hwang's "Soft Power," in which a present-day U.S. incident gets enshrined, several decades hence, in a Chinese musical. The commission for Center Theatre Group is being prepared for spring 2018 at the Ahmanson.
That show will require Tesori to imagine how musical theater might evolve on the other side of the globe — yet another episode in an adventure that began when she first sat down to learn piano at age 3.
Music is "an odyssey," Tesori says, "where you go away from home, you develop, and then you return different because of all the changes that have happened on the way."
♦ ♦ ♦ ♦ ♦ ♦ ♦ ♦ ♦
'Fun Home'
Where: Ahmanson Theatre, 135 N. Grand Ave., Los Angeles
When: 8 p.m. Tuesdays-Fridays, 2 and 8 p.m. Saturdays, 1 and 6:30 p.m. Sundays. Ends April 1.
Tickets: $25-$125, subject to change
Contact: (213) 628-2772, centertheatregroup.org
Twitter: @darylhmiller
Get our L.A. Goes Out newsletter, with the week's best events, to help you explore and experience our city.
You may occasionally receive promotional content from the Los Angeles Times.