'Come From Away,' 'Amélie' and the long, bumpy road from West Coast to Broadway
Theater Critic
"New musicals are never finished, only abandoned," director Christopher Ashley quipped by phone a few days before flying to New York for the start of rehearsals for "Come From Away," the musical with an upbeat 9/11 (yes, you read that right) story to tell.
The line, a rephrasing of French poet Paul Valéry's famous remark on poems, comes in handy in theater circles. Ashley, a Tony-nominated director who has helped usher many new works to Broadway in his role as artistic director of La Jolla Playhouse, knows as much as anyone about the challenges of readying a production for New York's dangerous shoals.
Pam MacKinnon, who made her name directing plays by male dramatists with pugnacious styles (Edward Albee, David Mamet and Bruce Norris), is learning all about this fight with the clock as she preps her first musical, "Amélie," for its Broadway unveiling. Still digesting the recent run at the Ahmanson Theatre with the show's authors (Craig Lucas, Daniel Messé and Nathan Tysen), MacKinnon said she's approaching the task much like she does a new play, which is to say she's homing in on the storytelling.
Both "Come From Away," which premiered at La Jolla Playhouse in 2015, and "Amélie, A New Musical," which debuted at Berkeley Repertory Theatre in 2015, made favorable first impressions on me despite their shortcomings. "Come From Away," by the married writing team of Irene Sankoff and David Hein, overcame its style hiccups with humble emotion. The cavernous Ahmanson magnified some of "Amélie's" problems, but I still have a soft spot for this offbeat charmer based on the 2001 film starring Audrey Tautou.
Broadway, however, isn't likely to be as forgiving in a busy spring season that will see a traffic jam of new musicals opening before the Tony Award cutoff date at the end of April. In addition to the fall hits "Natasha, Pierre & the Great Comet of 1812" and "Dear Evan Hansen," both of which look like awards front-runners, there will be a retooled version of "Charlie and the Chocolate Factory," "Groundhog Day" and "Anastasia." For "Come From Away" and "Amélie" to have a fighting chance, the shows will have to make significant leaps from their California tryouts.
"Needs Improvement" is no longer a grading option. But how often do profound improvements actually happen? After more than a decade of tracking new musicals as they make the trek from the West Coast to Broadway, I have yet to see a clunker transform itself into a hit. More surprising, I can't remember the last time I saw a promising show overcome whatever it was that was keeping it from realizing its full potential.
Musicals en route to New York receive an enormous amount of tinkering, polishing and sharpening. Rarely, however, does all this primping smooth over structural cracks in the book or holes in the score. A Broadway-bound show in need of a major overhaul is like a new car with engine trouble that the dealer tries to assure you only needs a good wax job.
Major overhauls are, of course, expensive. But money isn't necessarily the biggest stumbling block. Identifying what's wrong with a show can be tricky. (Is it the songs or the story or the synergy between them?) Finding a workable artistic solution can be trickier still. Critics are used to seeing their advice ignored. But the pileup of all-too-predictable Broadway casualties can make you wonder about the business sense (never mind the artistic acumen) of producers, the real cockeyed optimists.
Center Theatre Group has contributed its share of Broadway lemons (recall the holy mess "Leap of Faith"). But the list of duds that opened in San Diego and subsequently fizzled on Broadway is especially impressive.
"The Times They Are A-Changin'," "A Catered Affair" and "Bright Star," all launched by the Old Globe with a yawn from me, came to relatively swift ends in New York. "Cry-Baby," "Bonnie & Clyde," "Chaplin" and "Doctor Zhivago," greeted by me with a wan smile when they debuted at La Jolla Playhouse, traced similar trajectories in their failed bids to conquer the Great White Way.
Many of these shows had promise. A few found appreciative critics. But none was able to figure out a winning formula in that window of time between California and New York.
To be fair, works like the bluegrass "Bright Star" and the country-and-western "Hands on a Hardbody" (another La Jolla Playhouse musical that crashed on Broadway despite some glowing reviews) weren't ideal fits for the flashy New York marketplace. But marketing challenges aside, is there any hope for a musical still working out its kinks?
"New shows don't always bend toward progress," Ashley said. "A musical can take five to 10 years to reach Broadway, without any guarantee of success." "Memphis," the Tony winner he directed, took about 10 years, he said. "Come From Away," which has had a number of readings, workshops and full-scale and concert productions, has taken roughly six.
Something was learned from each outing of "Come From Away," which has its official Broadway opening at the Gerald Schoenfeld Theatre on March 12. "An intimate black-box venue tells you something very different from an 800-person house, where you find out whether the show can hold that larger space," Ashley said. "We knew that audiences in Washington, D.C., were going to have strong feelings about a show that takes place during the week of 9/11. We did shows for survivors of the Pentagon attack to see if we were stepping on nerves that we didn't know about. New York will be a new test."
Set in a forgotten Canadian backwater, where airlines were rerouted after American airspace was restricted after the terrorist mayhem, "Come From Away" is a warmhearted, folksy affair that might seem a natural for Broadway given its gentle approach to a story that is still emotionally difficult for New York theatergoers. But the scale of the work (containing just enough drama for a one-act) and its mild-mannered appeal struck me in La Jolla as better suited to a more modest off-Broadway venue, where audiences don't expect to be surfeited with glitz.
Ashley says it's impossible to predict what will work on Broadway these days. He detects an openness to untold stories and new modes of storytelling, but the economic perils have only grown more fearsome. Complicating the calculus, audiences aren't as homogeneous as they once were and Broadway is no longer a local phenomenon. Out-of-towners are buying a greater share of tickets.
A show with a 9/11 angle might seem to be an obvious lure for New Yorkers, but Ashley said his conversations with folks at the National September 11 Memorial & Museum have led him to understand that tourists are the ones who are flocking to Ground Zero.
The importance of marketing isn't lost on him. There are no marquee names in "Come From Away," and "9/11 musical" could create a misleading impression for a show about a small Canadian town rising to the challenge of housing, feeding and comforting strangers from across the world who were stranded by the events of a dark day.
"The objective is to communicate as honestly as you can about the nature of the show," he said. "This is a warm musical that explores the necessity for generosity and for taking care of each other."
This description has guided him as a director. "The show has evolved immensely but the scale of the production has remained remarkably consistent," he said. "I tried to add more glitz, tricks, production stuff and the show itself has resisted."
There has, however, been an "October surprise." (Yes, Broadway shows apparently have them too.) "The Trump administration has created a second lens for viewing our show," Ashley said. "As you and I are speaking, people are protesting at airports. We're telling a story that takes place in an airport. This new lens is one that we would never have known when we were working on the show in 2012."
All of the rewrites of the past four years have been about "sharpening the edges" and "offsetting the warm tones" with a richer depiction of individual struggle. (The absence of conflict and suspense is the reason this compact musical occasionally felt sluggish in La Jolla.) One of the characters, a Muslim man, is now subjected to a strip search. The tension is heightened around a woman whose son is a firefighter in New York.
Ashley said his role in the revisionary process has been to coordinate and create coherence. MacKinnon described herself as "a nonwriting writer" on her team and "the keeper of the story."
"I've worked a lot on new plays and usually I'm brought in when there's a full draft," she said. "I started working on 'Amélie' on the heels of a project I did with Craig Lucas. At the time there were only about five songs and 12 pages of treatment. Having started so early in the process, I feel this huge sense of ownership. It's like I'm sitting on the shoulders of the writers as opposed to sitting next to them."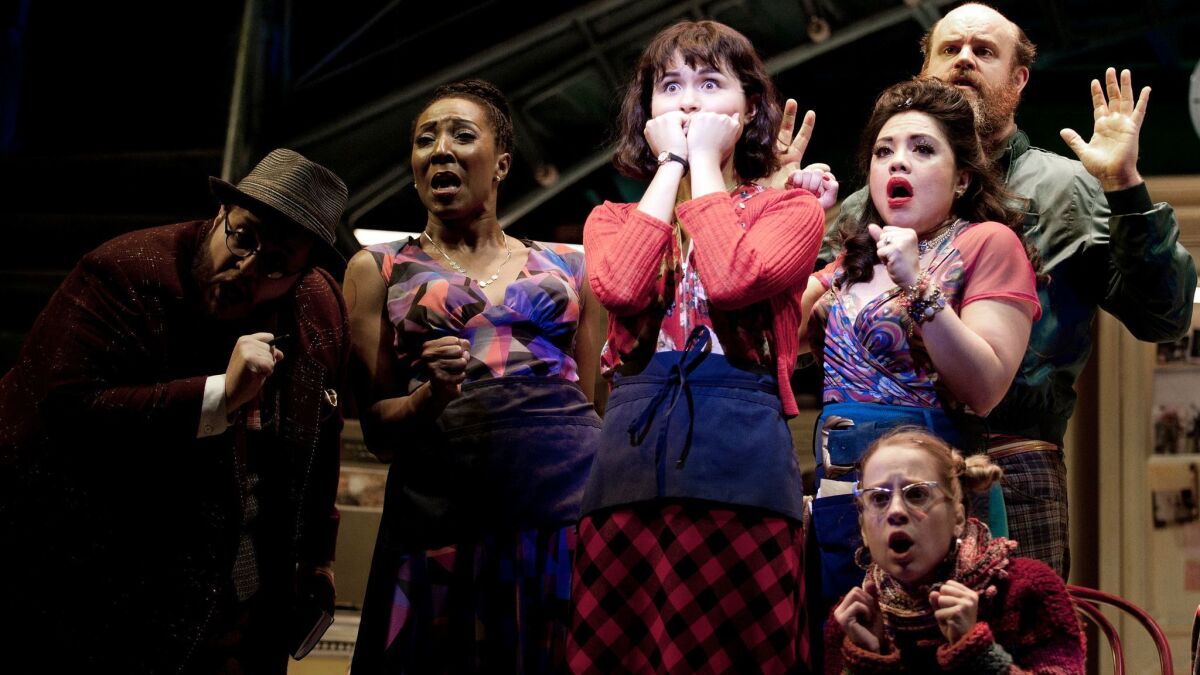 MacKinnon isn't worried that the whimsical musical at times seemed adrift at the Ahmanson. The Walter Kerr Theatre (where "Amélie" has its official opening April 3) is closer in size to Berkeley Rep, she said. The journey for her parallels that of "Clybourne Park," Norris' Pulitzer Prize-winning drama that began at off-Broadway's Playwrights Horizons and eventually went to the Mark Taper Forum (another tricky house) before landing (quite successfully) on Broadway.
Like Ashley, MacKinnon is grateful to have had the opportunity to work with the same group of actors over an extended period of time. The biggest change has been in the casting of Amélie herself. But Phillipa Soo, who was starring in "Hamilton" when the show opened at Berkeley Rep with Samantha Barks, had played the part in workshops and so her entry was something of a homecoming.
Between Berkeley Rep and the Ahmanson, the focus was on developing "Amélie's" voice. (Three new songs were introduced in L.A. to sharpen our understanding of her point of view.) MacKinnon's primary concern now seems mostly about storytelling nuance and character complexity — the fine points rather than the foundation.
"I just want to see how deep we can go," she said. "I want to learn more about the core of this title character. The intimacy of the Walter Kerr will help us, but I feel really fortunate that we have 2½ weeks of rehearsals before previews. Not all of the performances had dropped in by the time the show opened at the Ahmanson, but that changed by the end of the run. That work will continue."
SIGN UP for the free Essential Arts & Culture newsletter »
There comes a point in the journey of a new musical when the focus has to shift from creating the best version of the show to presenting the best version of the production. Figuring out this cutoff is one of the toughest calls to make in Broadway producing.
The show that handled this best in my experience is "Fun Home," the Tony-winning musical based on Alison Bechdel's graphic memoir. I admired "Fun Home" at the Public Theater, but the off-production was still finding its legs. It wasn't until director Sam Gold reworked his staging for an in-the-round presentation at Broadway's Circle in the Square that the musical's layered handling of time, the daring architecture of the piece, lucidly came to life. (The touring production of "Fun Home" opens Wednesday at the Ahmanson Theatre, and I hope the return to a more traditional house doesn't reverse-engineer the improvements.)
William Goldman's oft-quote remark about the movie business, "Nobody knows anything," is tempting to apply to Broadway musicals. But it might be more accurate to say that in addition to talent and luck, educated guesswork is what leads to success. It's a crapshoot, but the sharpest theatrical minds are prepared to do whatever it takes to shorten the odds.
Follow me @charlesmcnulty
Get our L.A. Goes Out newsletter, with the week's best events, to help you explore and experience our city.
You may occasionally receive promotional content from the Los Angeles Times.