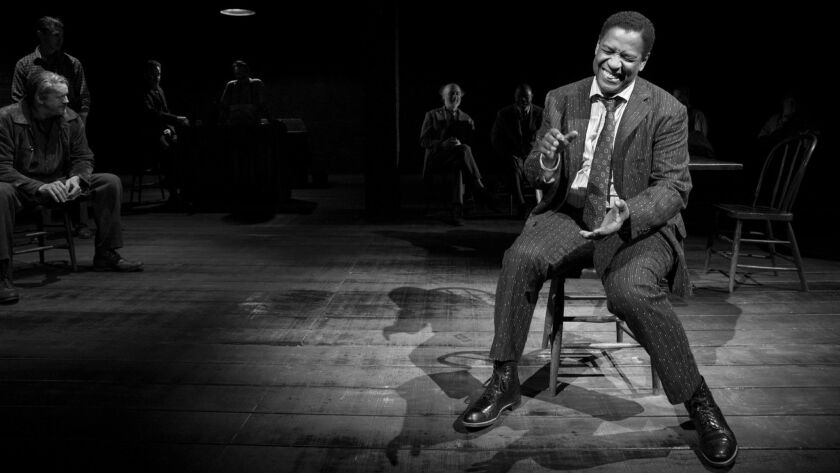 L.A. Times' theater critic Charles McNulty said the performance in "The Iceman Cometh" was "revelatory." The New York Times wrote that it was a "center-of-gravity" turn, equal parts joyful and heartbreaking.
Denzel Washington, in an ordinary year, would be a favorite for the Tony Award for lead actor in a play.
But this is no ordinary year.
Washington finds himself competing against similarly acclaimed performances by Andrew Garfield ("Angels in America"), Tom Hollander ("Travesties") and three-time Tony winner Mark Rylance ("Farinelli and the King"). And the least known actor in the running, Jamie Parker, comes attached to the most decorated new play of the year, "Harry Potter and the Cursed Child."
TONY CONTENDERS: Lauren Ambrose on a new voice for 'My Fair Lady' »
Still, when the lights go up at Radio City Music Hall on Sunday, Washington may be the best Tony hope for director George C. Wolfe's revival of Eugene O'Neill's sodden masterpiece.
The production is nominated for eight awards and will face the powerhouse revival of Tony Kushner's "Angels in America," the likely winner in several of those categories, including revival of a play, director and featured actor. (That last race is another crowded field, with David Morse of "Iceman" nominated alongside frontrunner Nathan Lane of "Angels in America," Michael Cera and Brian Tyree Henry for "Lobby Hero" and newcomer Anthony Boyle, a scene stealer in "Harry Potter and the Cursed Child.")
Critical praise for Washington's performance in the role of Theodore "Hickey" Hickman, a reformed alcoholic proselytizing to a rag-tag team of the world's weary in a downtown Manhattan saloon, however, has been prolific. If Washington can pull off the win, it will be his second Tony — eight years after he won in the same category for playing immovable patriarch Troy Maxson in August Wilson's "Fences."
♦ ♦ ♦ ♦ ♦
'The Iceman Cometh'
Total Tony nominations: 8
Other key races: Lighting design
---