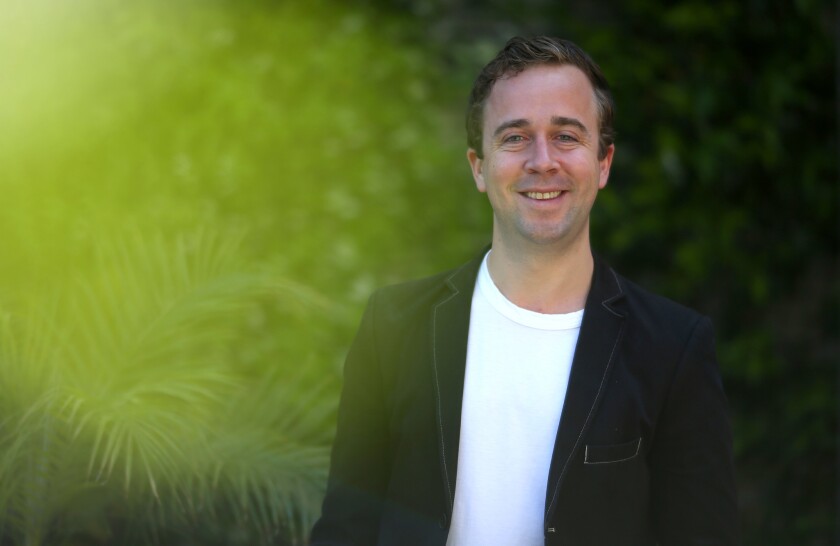 Will Von Vogt, who plays the endearingly neurotic gay protagonist of Joshua Harmon's play "Significant Other" at the Geffen Playhouse, brings so much to the role — not least his big, blue eyes, quicksilver comic timing and eloquent dance moves — that L.A. audiences can't help wondering where he's been all our lives.
The 32-year-old Chicago actor sat down with The Times for this edited conversation about what he was up to before we started paying attention, and where he'd like to go next.
---
Your performance as Jordan Berman seems like such a perfect marriage of actor and character — the role could have been written for you.
It wasn't, but I love Jordan. I love his humor. I love his passion — and his heart on his sleeve. And I also really love his flaws. He seems like a total human to me. Just going through something. It's been a really nice finding of each other.
It was totally by surprise. I was actually beginning the emotional journey of stopping acting. I was going to intern at a film studio in the Hudson Valley. And then Stephen Brackett, the director, emailed me out of the blue and was like, "I'm doing 'Significant Other' at the Geffen; would you put yourself on tape?"
I had auditioned for him in Chicago two years before and didn't get the part, but had had a really nice audition experience with him — he's so magical — and we had had a nice correspondence afterward. Like, "You didn't get the part, but I think you're great." And he did it in such a genuine way that I was like, "Oh, my gosh, that's so nice." And so to hear from him two years later out of the blue was crazy.
I put myself on tape, and I didn't hear anything for a very long time. I thought, "Well, OK." And then they were like, "Can you put yourself on tape again?" and then I didn't hear anything for a long time again. And then I heard. I was making eggs, and I spilled them everywhere. And I was like, "I guess I'm going to California."
OK, back up a step. Why were you thinking of stopping acting?
I was part of a theater company in Chicago that, to be frank, was really unhealthy, and it had turned this thing that I loved doing into something that was confusing and guilt ridden, and there was no joy. So it totally freaked me out. I removed myself from them two years ago now. And I was curious about other things I could do with my life. I like storytelling, so there's a couple of movies I want to make maybe one day.
But I'm so glad, if nothing else, to have a joyful acting experience. It had been almost two full years since I had stepped out on the stage. You get rusty. Don't take breaks!
Did you grow up around Chicago?
I grew up in Maine. I was a weirdo kid who was always putting on shows in my living room, and my mom was finally like, "Enough. Go be in a play."
I went to college at the theater school at DePaul in Chicago. I moved to New York and ended up becoming a talent manager through a wild series of events. But then I wanted to go back to acting, so then I moved back to Chicago, and I've been there for about five years.
But it wasn't a positive experience?
The theater scene in Chicago is gorgeous. And it provided at first a really healthy [prospect] that, like, anything is possible. The thing I'm most proud of is that I produced a weekly series called "Salonathon." It took place every Monday at a bar, and anybody could come and perform anything that they were just trying out, wanting to take a risk, seeing how an audience would respond. That lasted for six years. We just ended it.
Here's another good Chicago thing: I have wanted to play Prior Walter in "Angels in America" since I was 14, when my theater teacher was, like, "You should read this play." I'm getting to the age where I'm like, "Oh, that's maybe not ever gonna happen." And so I was, like, "Screw it. I'm just going to make it happen."
It was a little self-indulgent, but I got together with this amazing director and this amazing theater company, and we asked Victory Gardens if we could use their space, and then I asked every amazing Chicago actor I could for one night, and we split up all the roles, and I was like, "You can play your dream." Then we were like, "Let's make it a fundraiser," and so we raised like $7,000 for the ACLU, and it's because everybody said yes. It ended up being the most gorgeous thing I've ever done.
That's what I love about Chicago. People are there because the passion for what they want to do is there. Because nobody's making any money.
Had you seen "Significant Other" when it played in New York or Chicago?
No. I had been passing ships with it. I had seen [Harmon's play] "Bad Jews" in Chicago, so I was familiar with his writing. And I had somebody secretly send "Significant Other" to me to read. I don't know if I should say that that happens, but it happens.
I was like, "I love this play." First, just the rhythm. It's so fun to speak. And I love that Josh has put a gay character at the center of this particular story. So often, gay characters are the second fiddle, or the tragedy, or the "Yuk yuk yuk" and gone. At the end of the day, this is a universal story, so it's not a gay play. It's a play for everybody. The main character just happens to be gay, and I think that's really healthy.
It definitely seems to be coming into the zeitgeist — I'm thinking of "Love, Simon."
I haven't seen it yet. I have one afternoon, and I'm going to go to the theater by myself and just cry.
I get the sense that the play is at least partly autobiographical — so in a way, you're playing a young Joshua Harmon. Have you met him?
No. [Costar] Vella Lovell is friends with him from college and was in the first reading. So she talks, and Stephen is a friend of his too, so I sort of quietly listen. I think I can say, yeah, this feels sort of like it might be autobiographical, at least at the time it was written — I don't know about now.
Maybe it was easier, not having met him, to make the character your own?
I think maybe it would be, "Could I buy you a glass of wine after the show is done?" That would be the ideal circumstance.
Had you spent much time in L.A. before?
I had been here once 10 years ago for two days, for my college showcase from acting school, which is the most bizarre thing that can happen to a person, so I didn't have a normal understanding of what Los Angeles was. This amazing theater has given me a Malibu Barbie dream house down the street, and I love it. I'm going to stay for a little while and just see.
Are there particular opportunities you're looking forward to exploring?
I love being on TV. It's so fun. I'm praying somebody wants to represent me and then tries to put me on a sitcom. That would be the bee's knees. It never felt right to come out here for nothing. But I'm here now. Let's see what happens.
Do you worry that you won't find a role so perfect for you again?
Um, no. Is that OK to say? I'm excited for what comes next. "Significant Other" has been a healthy reminder that just because it's not on your horizon doesn't mean it's not there. I've been told many times, and sort of discovered for myself, that I am a particular actor. Specific. It's like anything with a type. You can use that against yourself. But then the universe is lovely and will give you a slice of your pie when it's time. Like, "Here, have it, it's delicious."
See all of our latest arts news and reviews at latimes.com/arts.
ALSO
Review: Say 'I do' to 'Significant Other'
Review: Anna Camp and Thomas Sadowski in 'Belleville'
Review: Ayad Akhtar's 'The Invisible Hand'
---