Best art of 2018: Jasper Johns, Renaissance nudes, 'Made in L.A.' and a sleeper hit at LACMA
Art Critic
In chronological order of their opening, these were the 10 most engaging art museum exhibitions that I saw this year within L.A.'s immediate orbit. (Good news for the holiday break: Six of them are still on view.)
"Jasper Johns: Something Resembling Truth," The Broad
A big survey, not a full retrospective, the show offered a deep, satisfying dive into how Jasper Johns' work launched a compelling critique of pure abstraction in the 1950s and beyond, changing American art's direction. Review. Feature. Performance review.
For the record:
1:45 p.m. Dec. 11, 2018An earlier version of the article misspelled Harald Szeemann's name as Szeeman.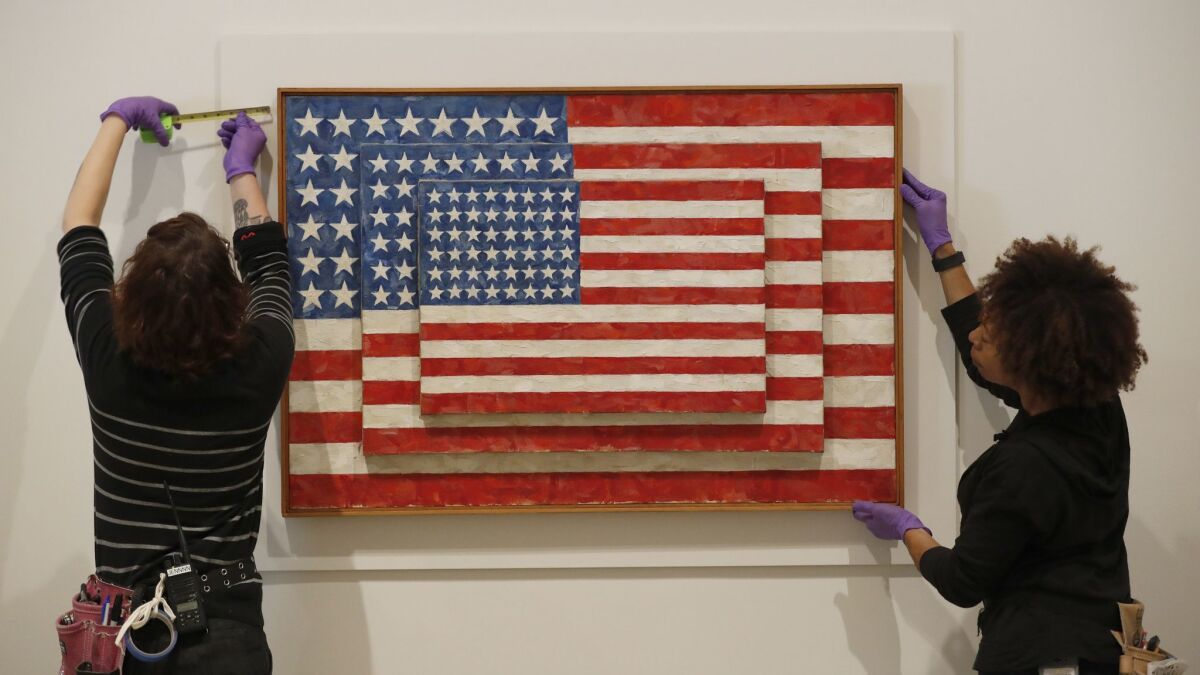 "Tony DeLap: A Retrospective," Laguna Art Museum
By 1974, Tony DeLap was making eye-bending hybrids of paintings and sculptures, distinctive for their mix of craftsmanship and discerning wit. Review.
"Made in L.A. 2018," UCLA Hammer Museum
With a smart focus on a wide variety of recent art keenly attuned to the turbulence of our socially disturbed time — notably, two-thirds of the artists were women — this was the best Hammer biennial yet. Review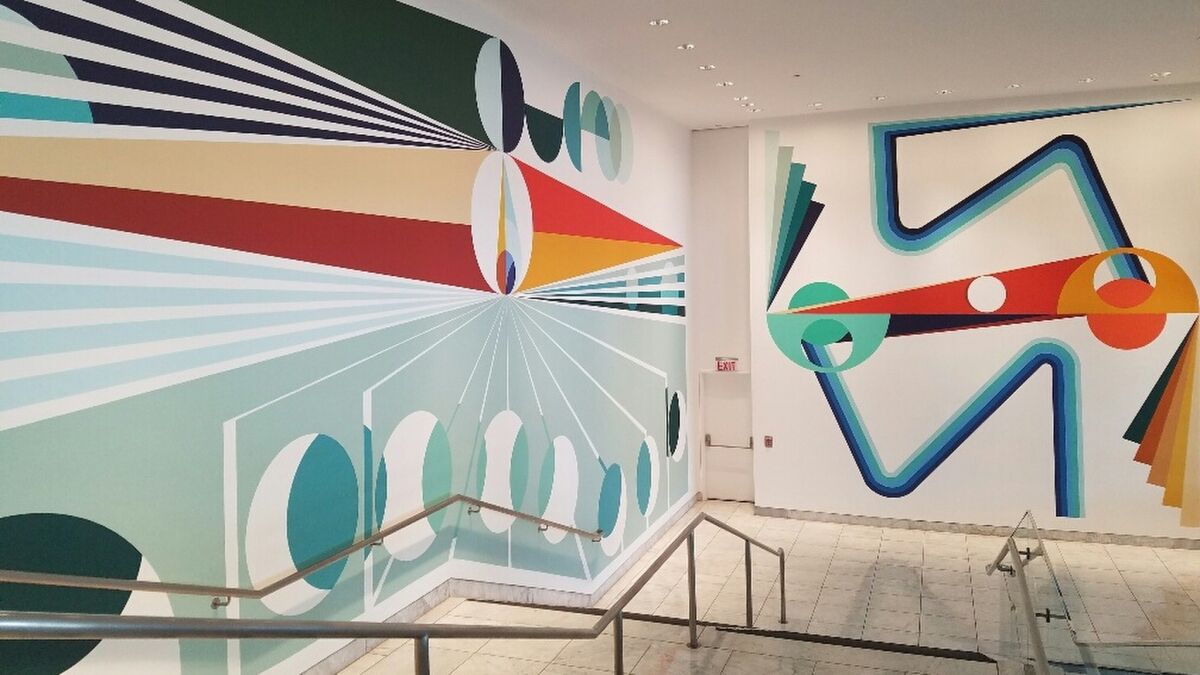 "The Chiaroscuro Woodcut in Renaissance Italy," Los Angeles County Museum of Art
Sleeper hit of the year, this splendid, unprecedented array of 107 woodcuts showed how Italian Renaissance printmakers crafted an illusion of illumination emerging from the shadows as a metaphor for unfolding thought. Review.
"3D: Double Vision," Los Angeles County Museum of Art
A provocative survey traces how, since the proliferation of camera images began in the mid-19th century, artists have grappled with the simple fact that physical depth is missing from a likeness found in any two-dimensional picture. (Continuing through March 31.) Review.
"Striking Iron: The Art of African Blacksmiths," UCLA Fowler Museum
More than 225 remarkable iron objects crafted in Africa, mostly in the 19th and early 20th centuries, embody power as a trait of human knowledge and facility rather than merely physical might. (The show ends Dec. 30.) Review.
Best of 2018: A look back at the year in movies, TV, music and more »
"Adrian Piper: Concepts and Intuitions, 1965-2016," UCLA Hammer Museum
A big retrospective of the Berlin-based American Conceptual and performance artist ricochets between her enthusiasm for soulful popular culture (psychedelia, funk music) and academic philosophy (Immanuel Kant, David Hume), building on the powerful precedent of artist Sol LeWitt. (The show continues through Jan. 6.) Review.
"One Day at a Time: Manny Farber and Termite Art," Museum of Contemporary Art
Full of surprises, this wide-ranging group exhibition is keyed to San Diego-based artist Manny Farber (1917-2008). His paintings, like his influential film criticism, value unexpected, down-to-earth, rigorous points of view over grandiosity and flash. (The show is on view through March 11.) Review.
"The Renaissance Nude," J. Paul Getty Museum
A fascinating look at how — and why — naked male and female bodies emerged as an artistic staple during the European Renaissance, this is the dazzling kind of art historical exhibition that only the Getty seems to do. (Catch it before it closes Jan. 27.) Review.
"Laura Owens," Museum of Contemporary Art
An entrancing midcareer survey of the L.A.-based painter lays out her pictorially savvy way with unexpected imagery, gathered from sources as far-flung as mainstream European art history, children's books, greeting-card racks at the drugstore, traditional Chinese scroll-painting, wallpaper and — of course — the internet. (The show remains on view through March 25.) Review.
Honorable mentions
"Olafur Eliasson: Reality Projector," Marciano Art Foundation. Review. Feature.
"Harald Szeemann: Museum of Obsessions," Getty Research Institute and Institute of Contemporary Art, Los Angeles. Review.
"King Tut: Treasures of the Golden Pharaoh," California Science Center. Review. Feature.
"Robert Pruitt: Devotion," California African American Museum.
"Stones to Stains: The Drawings of Victor Hugo," UCLA Hammer Museum. Review.
The artist Olafur Eliasson, best known in this country for his 2008 installation of giant waterfalls in New York Harbor, has a new L.A. installation: a film-themed light artwork called "Reality projector" at the Marciano Art Foundation.
christopher.knight@latimes.com
Twitter: @KnightLAT
---
Get our L.A. Goes Out newsletter, with the week's best events, to help you explore and experience our city.
You may occasionally receive promotional content from the Los Angeles Times.