'First Wives Club' is forming in San Diego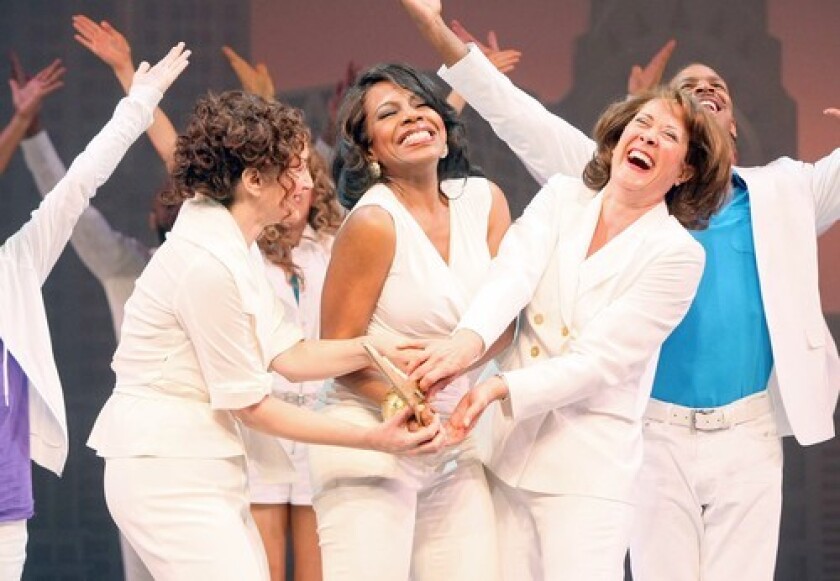 Reporting from San Diego —
Everybody here? This afternoon's run-through of the new musical "The First Wives Club" -- based on the 1996 movie and Olivia Goldsmith's 1992 novel -- is about to begin in a rehearsal room at San Diego's Old Globe Theatre.
Everybody isn't. "Stop! Where is Karen?" demands director Francesca Zambello, referring to Broadway veteran Karen Ziemba, who portrays Annie, the perpetually apologetic "wife" played by Diane Keaton in the movie.
Continues Zambello dryly, "OK, things are going well . . ."
Anxious group scurrying ensues. From somewhere, Ziemba -- apologetically -- materializes to take her place alongside the other wives: Barbara Walsh, who plays doting Jewish mother Brenda (movie: Bette Midler) and former Broadway "Dreamgirl" Sheryl Lee Ralph, who is transforming Elyse, the character played by Goldie Hawn in the film, from an insecure blond actress into a glamorous black pop diva. (Ralph replaces Adriane Lenox, who dropped out of the cast for health reasons before rehearsals began.)
Also here is Rupert Holmes -- Tony Award winner for "The Mystery of Edwin Drood" and Tony nominee for the book for the Broadway musical "Curtains," which premiered at the Ahmanson Theatre in 2006 -- writer of the book for "First Wives Club." Holmes smiles and points to his neck. "If you see this vein in my neck at any point, you are probably seeing something in the show that you will never see again," he says pleasantly.
Everybody's here. Let the opening number, "Wedding Belles," begin.
At this point in the rehearsal period -- just over a week before the first preview performance -- it would be incorrect to say that Holmes wrote the book for "First Wives Club." Rather, Holmes is still writing the book. Just as the former Motown songwriting team of Brian Holland, Lamont Dozier and Eddie Holland remain in the middle of rewriting the music and lyrics they've been polishing for two years, and choreographer Lisa Stevens ("Disney's High School Musical 1 and 2" in London's West End and on tour; "Bombay Dreams") is working up a sweat crafting the energetic dance moves.
Even this close to unveiling "First Wives Club" to the public, the phrase "work in progress" remains an understatement for this Broadway-bound production getting its first outing at the Old Globe. The show opens Friday.
And right now, the vein in Holmes' neck is probably as good an indicator as any as to which way the creative wind is blowing.
Steady at the helm is Zambello, who is crossing out dialogue, moving things around, monitoring the emotional temperatures of the cast and pulling it all together. Although she remains deeply involved with opera, serving as artistic advisor to San Francisco Opera, where she is directing Wagner's "Ring" cycle, she has come to prefer directing more populist entertainment. Her last high-profile musical was Disney's "The Little Mermaid" on Broadway.
It'll be easier next time
While the rehearsal process for any production is essentially the same, the creation of a new musical has more moving parts than presenting a revival. "It's always easier to do the second production," jokes Old Globe artistic director Louis Spisto.
Spisto says the budget for the Old Globe production is about $2.5 million -- a fraction of what the show will cost to produce on Broadway, where budgets for musicals routinely pass the $10-million mark. Old Globe audiences will see a fully staged show, but with perhaps a slightly smaller ensemble and fewer musicians in the pit.
And although "First Wives Club" has a commercial future, the Old Globe is a nonprofit theater, so the performers trade lower-than-Broadway salaries for the chance to be part of something new. While the Old Globe does not share producer credit with Paul Lambert and Jonas Neilson -- the show is being presented by "special arrangement" with the Broadway producers -- the Old Globe will be a profit participant through the life of the Broadway production as well as major touring productions of the show, as the regional theater originating the show.
For those who missed the novel and movie, "First Wives Club" tells the story of three well-off, middle-aged New York City women whose perfect marriages crumble when their husbands indulge their midlife crises by hopping into bed with younger women. In the Old Globe production, all three of the girlfriends are played by the same actress, Sara Chase. The philandering husbands are portrayed by Brad Oscar, John Dossett and Kevyn Morrow.
Zambello won't get her most reliable input until the two weeks of previews that follow the five-week rehearsal period -- when the laughs, fidgets and silences of the audience begin to shape the show. Audience reaction, Zambello says, provides needed perspective after actors have heard the comic lines so often that they just don't seem funny anymore.
"You generally do a lot of work the day and afternoon before each preview," she says. "You generally can only work on one scene, or one dance . . . It's always a race against the clock."
The Old Globe has established something of a reputation for shepherding new musicals to Broadway: "Dirty Rotten Scoundrels," "The Full Monty," "A Catered Affair" and a revival of "Damn Yankees." Creating a new musical in temperate, beachy San Diego, say those involved, is like being at a summer camp -- a scary, vein-popping kind of summer camp that offers nonstop rehearsals instead of archery and crafts, and evenings of Shakespeare at the Old Globe's outdoor amphitheater instead of campfires and s'mores.
The process, Holmes says, is always easier away from the distractions of New York. He arrived from the Big Apple about midway through the rehearsal period after keeping in touch with choreographer and director via video conferencing "so I could see the expressions on their faces when they said: 'This scene needs to be shorter,' " Holmes says.
"Most of the time I write brand new musicals," he says. "But it's always exciting to write a musical or play of something that has existed in another medium. I get to write scenes that might have happened in the film, or the play version of a musical -- but didn't."
For "First Wives Club," the idea was to take a deliberate detour from, well, the first "Wives Club."
Unlike another recent show about women's empowerment based on a movie -- that would be "9 to 5: The Musical," which premiered at the Ahmanson last year -- "First Wives Club" is not a period piece. While the musical "9 to 5" is set in the 1980 movie's pre-Internet era, "First Wives Club" is updated from the mid-'90s to 2009.
The novel's author, Goldsmith, died in 2004 at age 54 -- ironically, of complications from cosmetic surgery. And Holmes says he never considered contacting the movie's screenwriter for input. "I knew from the beginning we were going to make huge, fundamental changes in the story, including having Elyse be a black vocalist," he says.
Both Holmes and Zambello thought that racially integrating the cast would give the story a more contemporary feel. Adds Holmes: "I wanted to make sure there was one vocal timbre in our cast that would be the kind of sound that we associated with so much of the music of Holland-Dozier-Holland."
But aren't Holland-Dozier-Holland, also known as HDH, most associated with Motown hits of the 1960s, writing for the Supremes, Marvin Gaye, the Four Tops and others? Zambello says that, even though these songs hail from a bygone era, the women would have grown up with those tunes, whose popularity continued for decades after their release on vinyl.
"These songs haven't gone away," Holmes says. "Everybody knows you can't hurry love; everybody knows to stop in the name of love, for gosh sakes, before you break my heart. Our 'wives' were hearing these songs when they were 5, 6 or 7 years old and started wondering what dating would be like, what boys would be like. And here are these women who now are seeing that maybe it's not all as simple as that."
One thing about portraying the complicated lives of complicated women is very, very simple: Even in 2009, opportunities to play multifaceted lead roles are hard to come by for actresses on the up-side of 50. All three jumped at the chance.
The decision required some quick schedule changes for Ralph, 52, who had already booked a tour for her one-woman show, "Sometimes I Cry: The Lives, Loves and Losses of Women With AIDS," when the chance to step into the role of Elyse came up. She's still playing catch-up. "Girl, it was like rolling a big snowball uphill, and then suddenly you turn around and it's rolling downhill," she says. "In the first 10 days, I lost five pounds. If I were 22 and doing 'Dreamgirls' -- bring it on! But that was a long time ago."
But Ralph is proud of what Elyse represents. "I say it's the Michelle Obama effect; the black girl is coming into her own," she says. "I'm the smartest of the group, I'm the wealthiest of the group, and I was the one who graduated at the top of her class."
Recent Broadway credits for Walsh, 54, include a Tony-nominated turn as Joanne in the 2007 revival of Stephen Sondheim's "Company" and a Tony-nominated performance as Trina in "Falsettos." "At my age, honey, to originate a role in a musical? It is always a lifelong dream," Walsh says.
She finds her character -- no-nonsense, earth mother Brenda -- a refreshing change from the brittle "cougar" roles she finds herself offered of late. "She's Everywoman; there's something about her that is universal," Walsh says.
Ziemba, 51, a Tony winner for her role in the musical "Contact," says of her character, Annie the pleaser: "She's not the kind of woman that we want to feel that we are, but inherently women are caretakers, whether they are the CEO of a company or a nurse. I feel like people are with me; we all know people like Annie."
All the women believe that the story will have special appeal to middle-aged women -- demographically a large part of the theater-going public already. "But it's going to be great for young people to see," Ralph says. "When they see us onstage, they are going to say: 'They are 50? Ooooh, they are fabulous."
Not the same old song
While the musical is about a sort of midlife girl group, "First Wives Club" also represents a comeback for a senior boy band: HDH. The Holland brothers and Dozier, who are all in their late 60s, ended their musical partnership in the mid-1970s.
With one foot out the door on his way from L.A. to San Diego to watch a rehearsal, an enthusiastic Brian Holland coined a word for the reunited team's first experience with a stage musical: "Exuberating!"
"First Wives Club" is not a jukebox musical. The hit makers are writing new songs for the show, borrowing from Motown tradition. Dozier credits his experience growing up in Detroit, listening to the gossip at his grandmother's in-home beauty shop while he swept the floors, for his insight into the pain of women done wrong by their men.
"It would all sink in, like a sponge," Dozier reminisces. "When it came time for me to look for ideas and subject matter, I went back to this place. This raises similar issues to some of the things we wrote in the 1960s, that really championed women's causes."
The issues may be timeless, but the team acknowledges that writing songs that illuminate story and character is a different process from trying to top the billboard charts. "Once you write a song, you have to get used to the book writer saying: 'We want to change that scene' -- Oh my God, all that time and work, and it's like for naught," Eddie Holland exclaims. "You have to get used to that emotional swing."
Holmes cut his creative teeth as a pop songwriter -- he wrote one of the biggest hits of the late 1970s, "Escape (The Piña Colada Song)." That experience helped him in translating the requirements of a theatrical musical to HDH. "I've had to describe what an '11 o'clock song' is to pop writers who never had the necessity to know the term," he says.
And what is an "11 o'clock song?" "If the show were an hour on the face of the clock, the 11 o'clock song is the one you do just before the end of Act 2 that blows everyone out of the room," Holmes says. "This is the last big number you're going to get. It's the bump -- the big bump."
In "First Wives Club," that exuberating 11 o'clock song is probably the finale "Welcome to the Club" -- by which point each wife has, in true musical theater tradition, found herself, found someone else, found the truth or spread her wings and flown. But it's way too early to tell which HDH song, or songs, will be the one that people will ultimately walk out singing. We won't know until opening night -- or maybe until Broadway.
As this creative team knows, you can't hurry musicals; you just have to wait.
---
Your essential guide to the arts in L.A.
Get Carolina A. Miranda's weekly newsletter for what's happening, plus openings, critics' picks and more.
You may occasionally receive promotional content from the Los Angeles Times.