In the studio: Iva Gueorguieva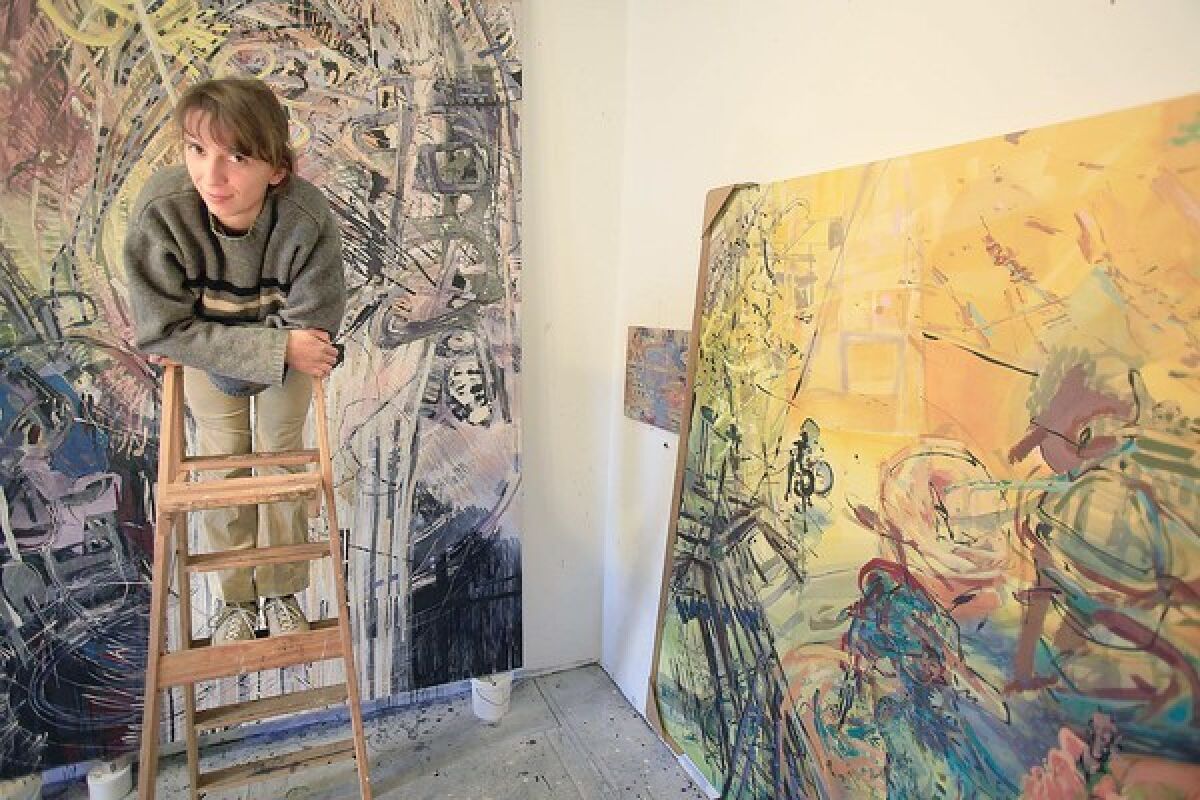 Nouns and adjectives go a long way to describe works of art, but the turbulence within Iva Gueorguieva's paintings demands verbs -- lots of verbs. Shapes billow, pulse and scatter; lines thrust and plummet; colors collide, dissolve, shriek and sigh. The paintings engulf the body. They send the eye skittering.
Motion, change and transmutation abound, but some also see violence in the work.
"I'm fine with it," Gueorguieva says after some thought. "I think the word is quite complex. There is this swirling big motion that does feel kind of violent and threatening, like fast-moving clouds or really heavy rain. The forces and directions and pushes -- everything is always in a continuous state of becoming, and there is a violence to becoming."
The flux in Gueorguieva's paintings might seem wholly abstract, conjured by an artist who at 35 enjoys the stability of a steady run of exhibition opportunities (the next, locally, at Angles Gallery's new Culver City space in April), teaching gigs at UCLA and Claremont Graduate University, as well as a house, husband and young son. But turmoil has had a real presence in her life and has become the defining condition of her work.
Born in Sofia, Bulgaria, Gueorguieva was two years into the traditional curriculum at an academy of applied arts in 1989 when the communist government collapsed and with it her inborn sense of order. "The whole society fell apart," she says, seated on a cardboard box in her downtown studio, sipping tea on a chilly morning.
"It was just hysteria. For half a year I didn't go to school. I just hung out with anarchists and student activists from the university, blocking streets. Everything that seemed solid was in a state of total fragmentation and disappearance. Overnight, everything changed in Bulgaria -- what you think of as a family, a job, basic things you take for granted."
Her family headed for Australia but ended up in inner-city Baltimore. Her mother, a doctor, and father, an engineer, found jobs in a candy factory, leaving Gueorguieva, then 16, in charge of her two younger brothers.
"We were like animals inside of a basement," she recalls. "It was a huge contrast to where I grew up. I had never seen a gun or heard a gunshot. I'd never seen a fire, and every day someone's getting stabbed, shot, chased. There's people doing heroin on the streets. We were so naive, we didn't quite understand what that was."
A turbulent time
The political upheaval, uprooting and resettling in an alien context ruptured Gueorguieva's sense of continuity and eventually generated the mood of indeterminacy in her paintings.
"Some of that explosiveness, that fragmentation, the multiplicity of spaces, the characters, the architecture in a state where you can't tell if it's being built or falling apart -- all of that comes from that experience. That has a lot to do with the space in the paintings, the things I think about and how I see the world around me."
She's also been strongly influenced by the Italian Futurists, James Ensor, George Grosz, Kurt Schwitters and Giorgio Morandi.
After several months in Baltimore, a neighbor who noticed that the family's children weren't in school came to the door and ended up guiding them through the transition to American life. Gueorguieva enrolled at the Baltimore School for the Arts and from there went on to study philosophy at Goucher College. "What I needed to do in college was learn to think. I felt like I could paint a bucket to look like a bucket, but so what? I felt disconnected."
She graduated in 1997, knowing she wanted to be a painter. After spending a year developing a portfolio, she entered the MFA program at the Tyler School of Art at Temple University, under the mentorship of painter Dona Nelson.
She felt pressure to move to New York but settled instead in New Orleans. She spent nearly four years there before, as she puts it, the combination of heat, corruption, pollution and general insanity drove her away. She and her husband, Matthew McGarvey, a sound artist and critical theorist, moved to L.A. in 2005, just a few months before Hurricane Katrina hit.
Shifting to the West Coast was "quite a stride into the unknown," since Gueorguieva didn't know anyone here, but, she says, "I always liked the art that came out of L.A. -- Ed Kienholz, the Light and Space artists, Ed Moses, Monique Prieto -- so I thought it would be OK." It's been harder for her to build a sense of community here than in Philadelphia or New Orleans, where artists lived in a more concentrated area, but the city has readily embraced her and her work. Since the move, she's had three solo gallery shows and been included in group shows.
Painting the maelstrom
Rebecca McGrew, who curated a show of Gueorguieva's paintings at the Pomona College Museum of Art in 2007, perceives in her work a dark political undercurrent, the power of caricature, the tragicomic and the absurd.
"Her work can be abstract, but there's a focus, a need to say something, to bring things to the attention of people. She brings together an emotional intensity and physical passion. She cares so deeply about the world and about art."
Her warm brown eyes smiling or widening with emphasis, Gueorguieva talks animatedly about her work, referring often to characters who show up in the maelstrom -- a general for instance who is chubby and clumsy in one painting but a monstrous half-man, half-machine in another. Portraits and self-portraits appear as well. Narrative possibilities surface but remain elusive. What prevails, throughout, is a visceral sense of urgency.
Recently, she has begun collaging pieces of muslin -- torn strips, cut shapes, dyed or drawn upon -- onto her canvases. The fragments introduce a second skin and with it new tensions between surface and image. She's preparing a batch of fabric pieces to bring with her to the Lux Art Institute in Encinitas, where she will be in residence from Jan. 16 through Feb. 6. During public hours, visitors can watch Gueorguieva work on her largest canvas, 150 inches high and 100 inches wide.
"The paintings always start with a situation or a visual proposition," she says. From there, she makes decisions and the canvas produces feedback.
"My will gets deflected by what's there. To be aware, to pay attention to false steps and mishaps for me is engaging with intuitive space. It's a level of dialogue that makes you a lot less aggressive, a lot less arrogant. It's an insistence on being able to change my mind. I think that's the energy that ends up in the paintings. It's not the energy of me doing big splashing gestures. It's much more slow and gentle and contemplative."
Get our L.A. Goes Out newsletter, with the week's best events, to help you explore and experience our city.
You may occasionally receive promotional content from the Los Angeles Times.