Culture and Trump: A free comic offers artist 'Resist!'-ance at the Hammer Museum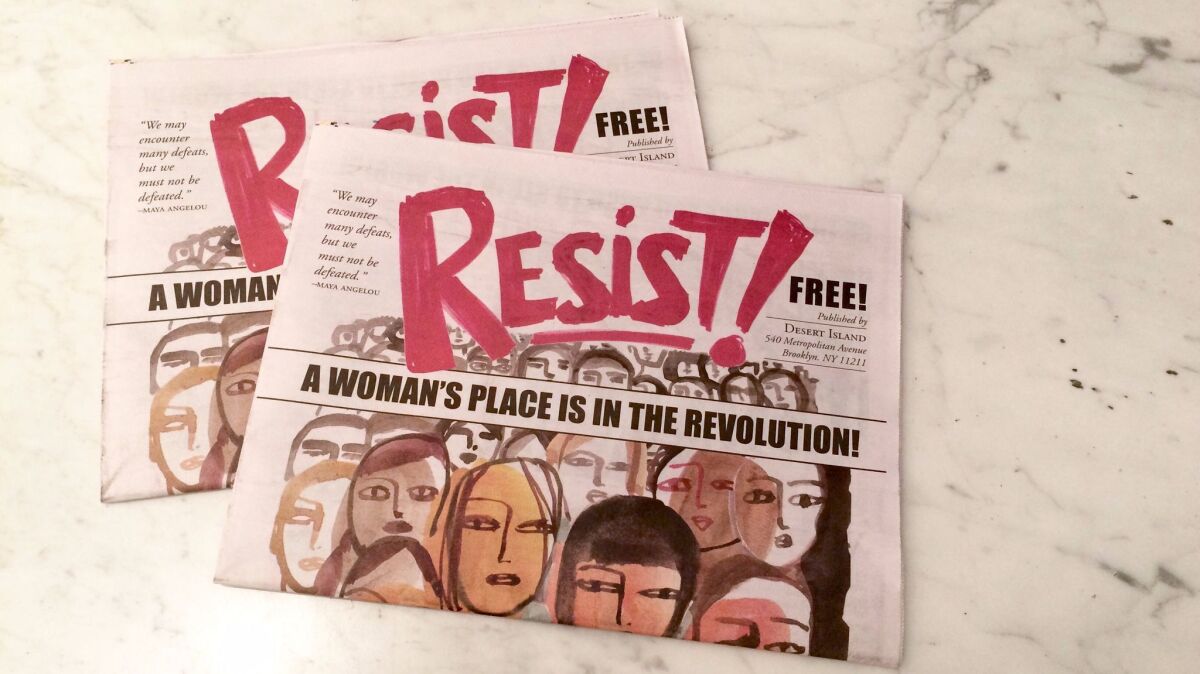 Stacked in piles around the Hammer Museum on Friday was a 40-page tabloid newspaper of comic art by women of all ages, creeds and races reacting to the presidential election of Donald Trump.
An inky black illustration by artist Sue Coe shows Trump in the shape of a tornado ripping the constitution apart. Another by Kim Johnson-Husu shows a bird perched on a sharp piece of concertina wire. And a full-page piece by Alison Bechdel, the comic artist behind the award-winning graphic memoir "Fun Home" that became the Tony Award-winning Broadway musical, shows groups of friends grappling with the results of the election.
The publication is titled "Resist!" and it was edited by New Yorker art director Françoise Mouly — the co-founder of the famed '80s-era comics magazine "Raw" — and her daughter Nadja Spiegelman. It is published by Desert Island Comics in New York City, and over the course of the inauguration weekend, 20,000 copies will be distributed for free at comic book shops, arts centers and protest marches.
"The quantity, quality, and the diversity of the work we collected are staggering," reads the editor's letter. "Artists of all genders, ethnicities, religions and sexual orientations, Midwestern artists and immigrants, celebrated cartoonists and 13-year-old girls heeded the call and grabbed their pens. The result is an outpouring so genuine it can't help but endure."
In L.A., the Secret Headquarters comic book shop in Silver Lake has aided with distribution, and the publication will be available at the Hammer Museum throughout the weekend.
The Hammer remained open Friday (despite some nationwide calls by activists for a general cultural strike). But the museum is following up with a special post-inauguration event on Feb. 6, when former CNN White House correspondent Jessica Yellin will lead a panel with various community leaders on how to take action in the wake of Trump's election.
--------------
This is one of several inaugural weekend dispatches in which I follow L.A.'s cultural institutions, big and small, to see how they are responding — or not — to the advent of the Trump administration.
See the most-read stories in Entertainment this hour »
Sign up for our weekly Essential Arts & Culture newsletter »
Twitter: @cmonstah
ALSO
Artist R.H. Quaytman blocks public access to her MOCA painting in protest of Trump inauguration
The L.A. artist who lip-synced Donald Trump's inauguration speech as a clown
Artist Edgar Arceneaux on inauguration day at LACMA recalls Reagan's inaugural gala
The Actors' Gang joins theater world's national call to create light for 'dark times'
Get our L.A. Goes Out newsletter, with the week's best events, to help you explore and experience our city.
You may occasionally receive promotional content from the Los Angeles Times.