Column: The SFMOMA effect: How the culture cluster around the renovated museum reflects the transformation of a San Francisco neighborhood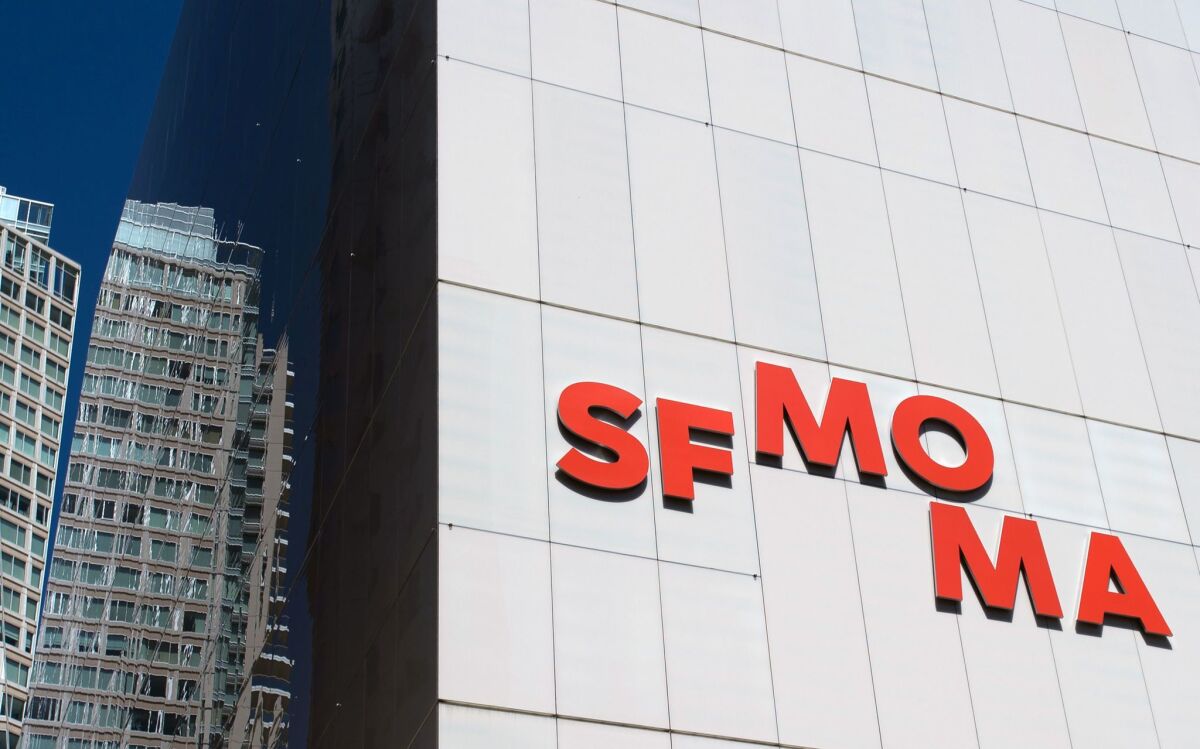 Reporting from San Francisco —
Photographer Michael Jang was on a San Francisco bus, near 4th and Howard streets, when he noticed a moribund parking lot inhabited by a lonesome Chevy. "Park and Lock By the Numbers," read the sign, "85 cents up to 12 hours."
The black-and-white image he shot that day from the bus captures a broad view of the city's South of Market district, circa 1976. The triangular profile of the Transamerica Pyramid, a building that had been completed just four years prior, is seen in the distance, along with the Gothic Revival tower of St. Patrick's Church on Mission Street and the Art Deco forms of the Pacific Bell tower on New Montgomery, backdrop to the seemingly abandoned Chevy under a moody pall of clouds.
It is a view of South of Market from an era in which the city was losing industry and population, a place about which a newspaper headline once asked, "S.F. Undergoing Decline?"
"It really looks like no one wants it — like people don't even want to park there for 85 cents," says Jang. "Obviously now you can't even take that picture because you'd be blocked by buildings."
The new South of Market
"South of Market," as the photographer's work is titled, today hangs in the San Francisco Museum of Modern Art, in the very neighborhood whose somnolent state Jang once captured on film.
The museum, at 3rd and Howard streets since 1995, reopened in mid-May after a three-year, $305-million renovation and expansion. Surrounding it is a restaurant-rich neighborhood with a W Hotel, the tony St. Regis and a new branch of the blue-chip Gagosian Gallery.
Like the rest of San Francisco, a lot has changed in South of Market — or SoMA, as it's come to be known.
"We have a more robust working community down here," says SFMOMA deputy director Ruth Berson, who has worked in the area for more than 15 years. "We're seeing people work and live downtown in a way that we didn't before."
In many ways, the unveiling of the new SFMOMA caps a period of transformation that speaks to forces at play in many U.S. cities — the rehabilitation of what had once been dilapidated urban cores. But the museum is also indicative of the role that high culture can play in that process. With its very presence, a museum can help shift the dynamics of a neighborhood.
South of Market, which stretches from the 101 Freeway to the waterfront between Market and 16th Streets, in recent years has drawn young professionals seeking walkable neighborhoods and loft living. The old PacBell tower depicted in Jang's photo? It's now the global headquarters for Yelp.
SIGN UP for our free Essential Arts & Culture newsletter »
Part of this revival has included the construction of an enviable cultural district featuring an array of museums. Along its northern edge, where Third and Fourth meet Mission Street, you'll find the Yerba Buena Center for the Arts, the Contemporary Jewish Museum, the Museum of the African Diaspora and the transformed SFMOMA.
Sometime in 2019, this cluster will be joined by the Mexican Museum, now in temporary digs at Fort Mason, an old army base on San Francisco's north end. It's expected to inhabit several floors of a new tower designed by Enrique Norten of Ten Arquitectos.
"SFMOMA is right there, it's really well trafficked," says Edgar De Sola, the Mexican Museum's COO, on the benefits of being in South of Market. "The big tech companies are all there, there are thousands of people coming through."
The SFMOMA renovation, overseen by the Norwegian architectural firm Snohetta, takes the South of Market culture zone to stratospheric levels. The museum has 170,000 square feet of exhibition space, a rack of new work to show off, dedicated galleries for its photography collection (the museum was a pioneer in collecting in this area), a restaurant manned by three-star Michelin chef Corey Lee and a street-level gallery that allows visitors to access a slice of the museum's collection without having to pay the $25 admission fee.
"The building represents an opportunity for us to mean a lot more to our community and beyond," Berson says. "We are thrilled to show more of our collection, present more temporary exhibitions and we're now in a position to provide free admission to people 18 and under."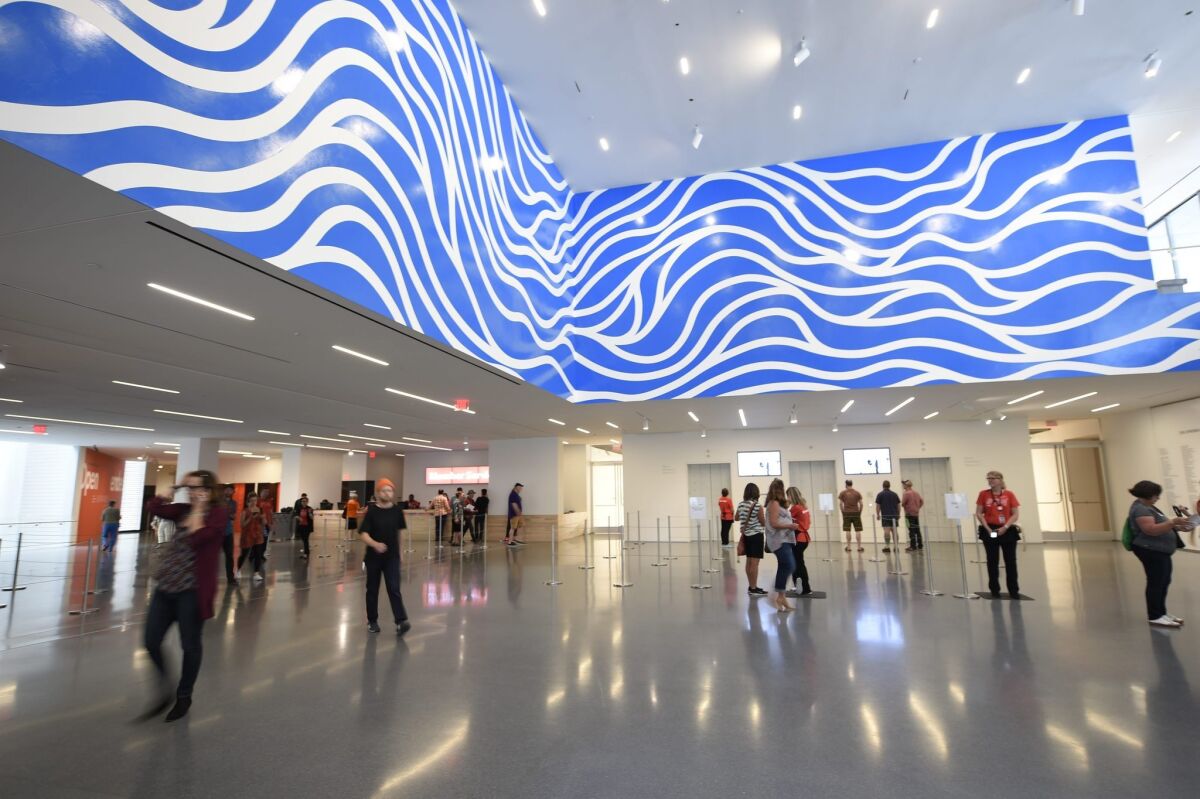 But in its glossy new incarnation, the museum is, in some ways, a marker of some of the less appealing aspects of urban renewal. A splashy new cultural institution can spell doom for artists and members of the working class who live in its orbit.
An extreme case is Spain's Guggenheim Bilbao.
"Bilbao was really successful in economic terms," says Nizan Shaked, an art historian and museum and curatorial studies professor at Long Beach State. "But there has also been a lot of critical work done about its effect on urban development, in the ways that it was used as a tool of gentrification. Populations get pushed away. It heightens stratification."
To be certain, Bilbao and SFMOMA can't be easily compared.
"Bilbao was this international museum that had to integrate into local communities," Shaked says. "SFMOMA is not a copy cat of that. It was already built. It was already part of the city."
A street divide
Founded in 1935, SFMOMA is a homegrown institution with a track record of supporting regional and avant-garde artists. It landed in South Market after 60 years at its original civic center location once re-development had already been underway for more than two decades. (It was preceded by the real game-changer in the neighborhood, the Moscone Center, which opened in the early 1980s.)
Market Street, for most of its life, has served as one of San Francisco's most prominent physical and social divides. A diagonal slash that connects the Castro to the Embarcadero, it was once known as "The Slot," for the iron tracks of the cable cars that were the dominant form of transportation in the late 19th century.
Novelist Jack London summed up the divide in a 1909 short story: "North of the Slot were the theaters, hotels, and shopping district, the banks and the staid, respectable business houses. South of the Slot were the factories, slums, laundries, machine-shops, boiler works, and the abodes of the working class."
In the '60s, the neighborhood became the site of San Francisco's first gay leather bar, the Tool Box, which opened at Fourth Street and Harrington in 1962. (It's since been replaced by Whole Foods.)
And during the '70s, the area drew artists, such Janet Delaney, a photographer who has spent years chronicling the shifts in its landscape. (She too has work featured in SFMOMA's inaugural show.)
"It wasn't Chinatown, it wasn't the Mission," says Delaney, of the neighborhood's welcoming nature. "No one was an outsider."
This may be why the re-opening of the new SFMOMA, with its emphasis on the blue chip art of the Fisher Collection, assembled by Gap founders Donald and Doris Fisher and on view at the museum as part of an unusual 100-year loan, drew sharp jabs from many critics for ... well, its exceeding blue chip-ness.
"Welcome to winner-take-all art history, and the new SFMOMA," wrote Jason Farago of the Guardian, "an often impressive, occasionally flabbergasting procession of big names and high prices. It's a mutated museum for a mutated city."
Ben Davis of Artnet described the museum as "a very expensive tombstone for the local art scene," since the wealth that makes these types of mega-institutions possible "tends to crowd out the art scene that they should really be servicing."
It's true that in a neighborhood (and a city) where issues of money and displacement are top of mind, it's hard to ignore the presence of a 10-story billowing white cloud of a building stuffed with world-class art — on a street that was at one point in the 20th century lined with cheap hotels and a tavern bearing the spectacular name "Mother Lode." To be fair, though, SFMOMA contains countless delicious sights, of the sort that can only be seen in San Francisco — including David Ireland's graceful sculpture "Broom Collection with Boom" or Robert Arneson's wry ceramic self-portrait "California Artist."
But as Times art critic Christopher Knight wrote of what he called the "blue-chip blowout" of the museum's opening, "Going forward, SFMOMA's challenge is to broaden the purview."
SFMOMA may not be single-handedly responsible for transforming South of Market or the city around it. But it certainly serves as a bellwether of the ways in which money increasingly defines and shapes life in the city. And perhaps the story of art a museum might choose to tell.
Staying relevant
SFMOMA, of course, isn't the only cultural institution to reside on the ashes of a working class district. In New York, the African American neighborhood of San Juan Hill was razed to make way for Lincoln Center. In Los Angeles, both the Museum of Contemporary Art and the Broad museum sit atop Bunker Hill, a neighborhood that once teemed with working men and an important community of American Indians, before being razed to build towers.
Berson says that SFMOMA has "looked long and hard" about what it can do to stay relevant to the broader community, not just the local elite. "Our commitment to triple the number of schoolchildren we serve — from 18,000 to 55,000 — that's a step in that direction," she says. "Being able to offer free admission to 18 and under is a big step for us. Let's not forget that 44,000 square feet of space is art-filled and people can use it free of charge."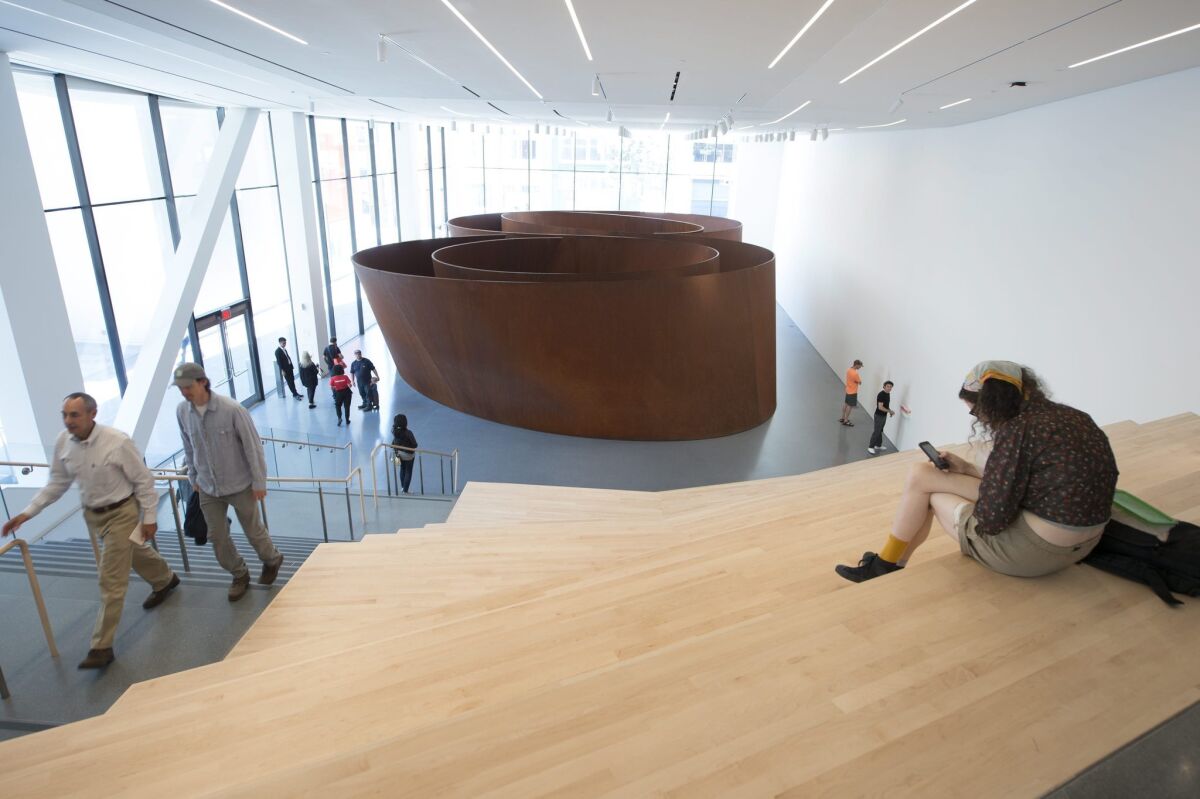 Moreover the museum nods to the neighborhood's roots in its debut photography exhibition, "California and the West: Photography and the Campaign for Art," which features works by Jang and Delaney, among others, that chronicle the neighborhood, the city, and the lives of its rich and poor.
It is perhaps in the galleries that the museum can best honor the soil that it stands on. Museums are institutions that hold culture in the public trust. That culture isn't just galleries full of paintings by Andy Warhol and Ellsworth Kelly. It's also the working men who helped build and rebuild the city — who worked the docks and drank cheap beer at the Mother Lode.
No city is without change. No neighborhood is the same from one generation to the next. In 1909, London noted as much in "South of the Slot." "The old San Francisco," he wrote, "is the San Francisco of only the other day."
But what a good museum does is gently remind us of what a place once was and what it might have been.
ALSO:
SFMOMA evaluating 'Triple Elvis' after visitor falls into a Warhol
Art Review: SFMOMA's expansion offers a deep dive into blue-chip artists' works
Architecture Review: SFMOMA's expansion tries mightily but ultimately rings a bit hollow
San Francisco Museum of Modern Art evaluating 'Triple Elvis' after visitor falls into a Warhol
SFMOMA sneak peek: More space, more dude art and an Ellsworth Kelly-Agnes Martin surprise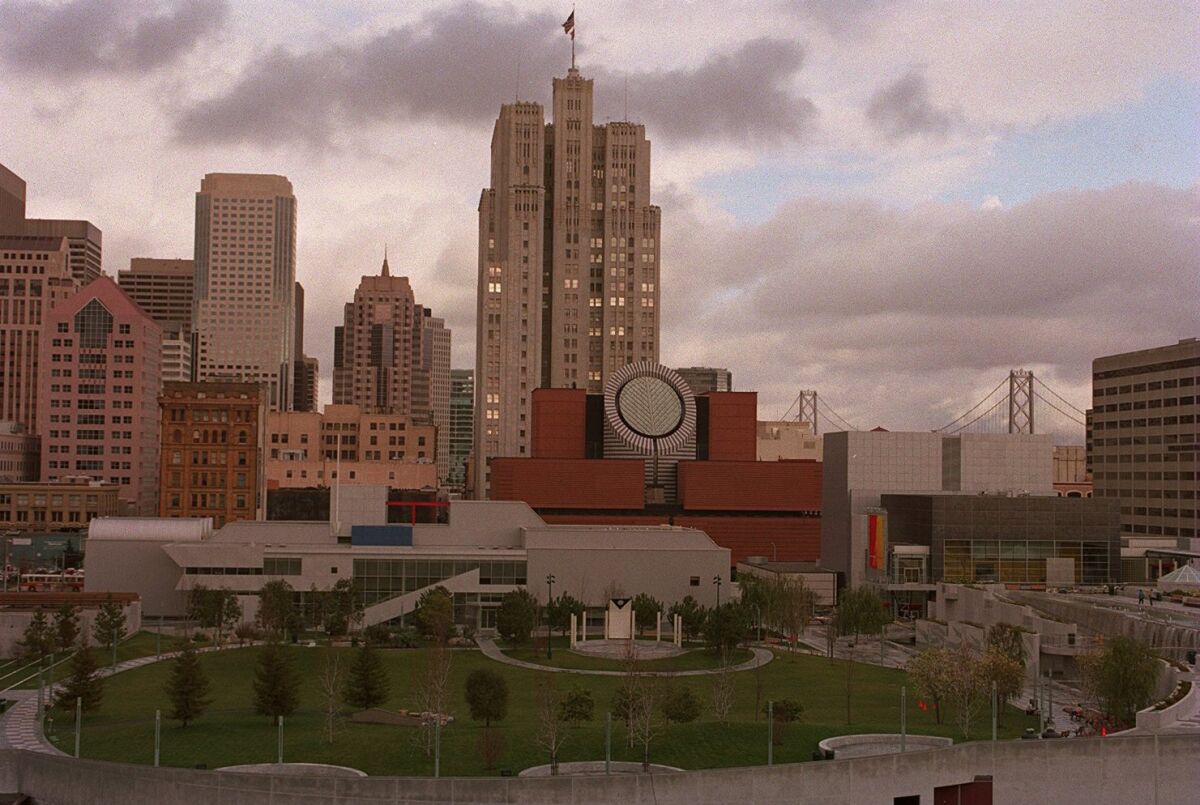 Find me on Twitter @cmonstah.
Get our L.A. Goes Out newsletter, with the week's best events, to help you explore and experience our city.
You may occasionally receive promotional content from the Los Angeles Times.