The 99-Seat Beat: Orson Bean and Alley Mills get lovey-dovey, Harold Pinter gets institutionalized
As the winter theater season catches hold, local stages are coming alive with timeless stories enacted by some of the area's best-loved performers. The first three shows are among the more intriguing openings on L.A.'s smaller stages this weekend; the fourth has been aloft for a couple of weeks already.
---
'Alright Then' at Pacific Resident Theatre
The essentials: Orson Bean, the all-around witty guy who was a mainstay of "The Tonight Show," "To Tell the Truth" and "Desperate Housewives," is back with more tales from his 89 years of life. His hit 2015 one-man show "Safe at Home" recounted his wily emergence from a volatile childhood. In a new companion piece, wife Alley Mills (of "The Wonder Years" and "The Bold and the Beautiful") joins him to sift through both of their lives and marvel at their quarter-century of marriage.
Why this? As Bean and Mills got to know each other, they wouldn't have seemed a likely couple. He was twice divorced; she'd never married. Plus, Bean jokes, her attitude was: "'You're 22 years older than me; you're going to die.'" But, he adds by phone from their home in Venice, not far from the performances, "I moved very quickly."
"Our story is hopeful," Mills says when Bean hands the phone to her. "We're two broken kids who met late in life and somehow managed to slug through our demons and stay together." Bean promises that they tell the tale with "a lot of laughs and quite a few songs."
Details: Pacific Resident Theatre, 703 Venice Blvd., Venice. Previews Friday and opens Saturday; runs 8 p.m. Thursdays-Saturdays, 3 p.m. Sundays; ends March 25. Preview, $15; run, $20-$34. (310) 822-8392, www.pacificresidenettheatre.com
---
'The Hothouse' by Antaeus Theatre Company
The essentials: Trouble is brewing at a sanitarium where one resident is dead and another has unexpectedly given birth. The guy in charge is named Roote. Might he be the root cause?
Why this? Institutional dysfunction. Unchecked power. These issues and more roil a darkly comic play that the late Harold Pinter wrote in 1958 but shelved until 1980. Actors are paired to alternate in roles, as is typical at Antaeus. The cast includes such local favorites as Peter Van Norden, JD Cullum, Leo Marks and Gregory Itzin. They are directed by Nike Doukas, an actress and dialect coach whose long list of appearances includes in the recent "King Charles III" at Pasadena Playhouse and Antaeus' 2016 "Hedda Gabler."
Details: Antaeus Theatre Company at the Kiki & David Gindler Performing Arts Center, 110 E. Broadway, Glendale. 8 p.m. Thursdays and Fridays, 2 and 8 p.m. Saturdays, 2 p.m. Sundays; ends March 11. $30 and $34. (818) 506-1983, www.antaeus.org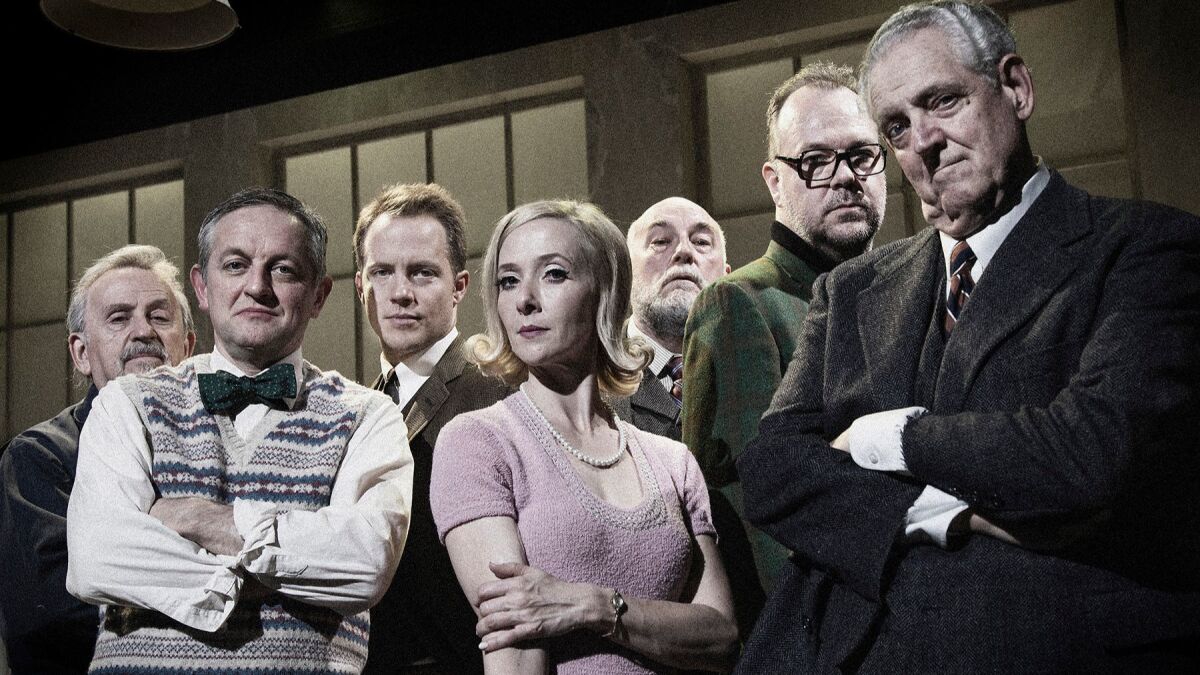 ---
'The Chinese Wall' by Group Rep
The essentials: This 1946 play by the Swiss playwright Max Frisch probes the impulse to build a 5,500-mile-long barrier, now known as the Great Wall of China. Against a backdrop of suppression, a ball is held to celebrate the wall's completion, with guests including Napoleon, Pontius Pilate and Christopher Columbus.
Why this? "It's a strange, strange play but very pertinent to the kind of xenophobia and closing off that our present administration seems to be choosing," says Larry Eisenberg, who directs Group Rep's production from a 1962 translation by James L. Rosenberg. Aside from trims and some added lines, he's doing the play — written in World War II's aftermath — as is, he says. But keep an eye on the videos and slides. And the necktie. They might look familiar.
Details: Group Rep at the Lonny Chapman Theatre, 10900 Burbank Blvd., North Hollywood. 8 p.m. Fridays and Saturdays, 2 p.m. Sundays; ends March 11. $20 and $25. (818) 763-5900, www.thegrouprep.com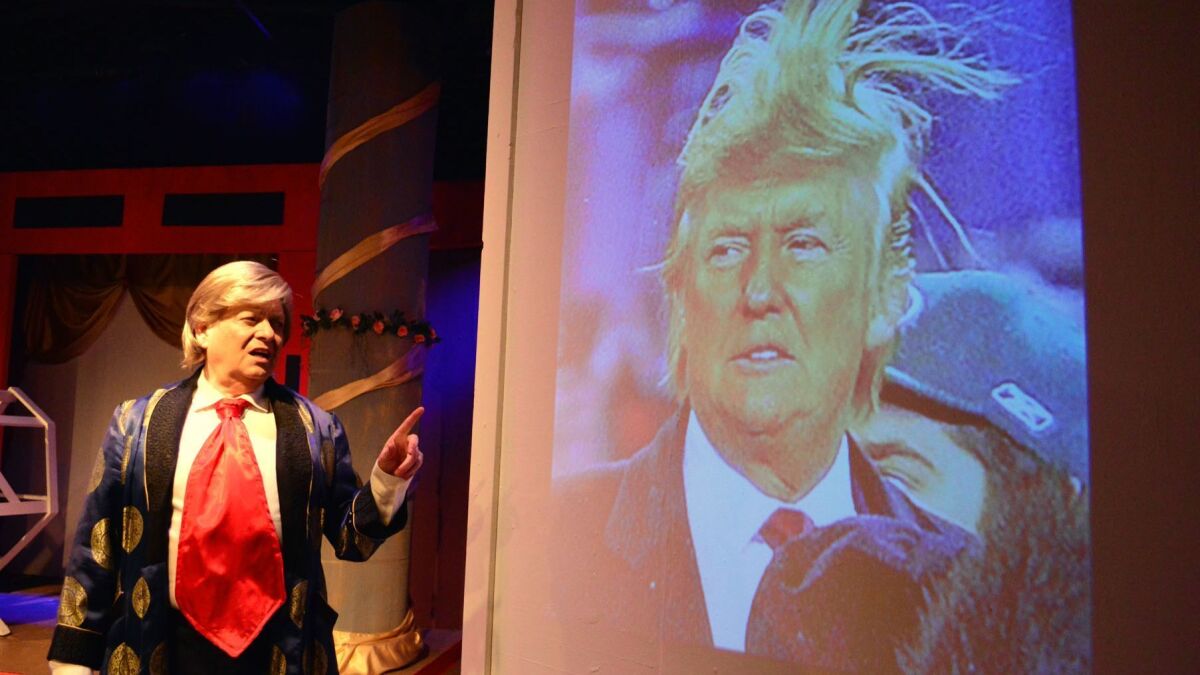 ---
'The Enchanted Nightingale' at the Garry Marshall
The essentials: Eternally family-friendly, Hans Christian Andersen's tale eavesdrops on an emperor who is enthralled by a nightingale's singing until he's given a mechanical, bejeweled bird and loses perspective on what's truly precious.
Why this? Listeners of all ages can learn plenty from this story's themes of fickleness versus constancy, nature versus machine and more. This family-focused presentation at the rechristened, 130-seat Garry Marshall (formerly Falcon) Theatre has been adapted by Joseph Leo Bwarie, the theater's artistic director, and Lori Marshall, daughter of the theater's namesake and long a proponent of family programming there. Tai chi and fan dancing are woven into the staging.
Details: Garry Marshall Theatre, 4252 W. Riverside Drive, Burbank. 11 a.m. Saturdays and Sundays, select 7 p.m. Fridays; ends March 18. $18 for children 12 and younger, $20 for adults. (818) 955-8101, www.garrymarshalltheatre.org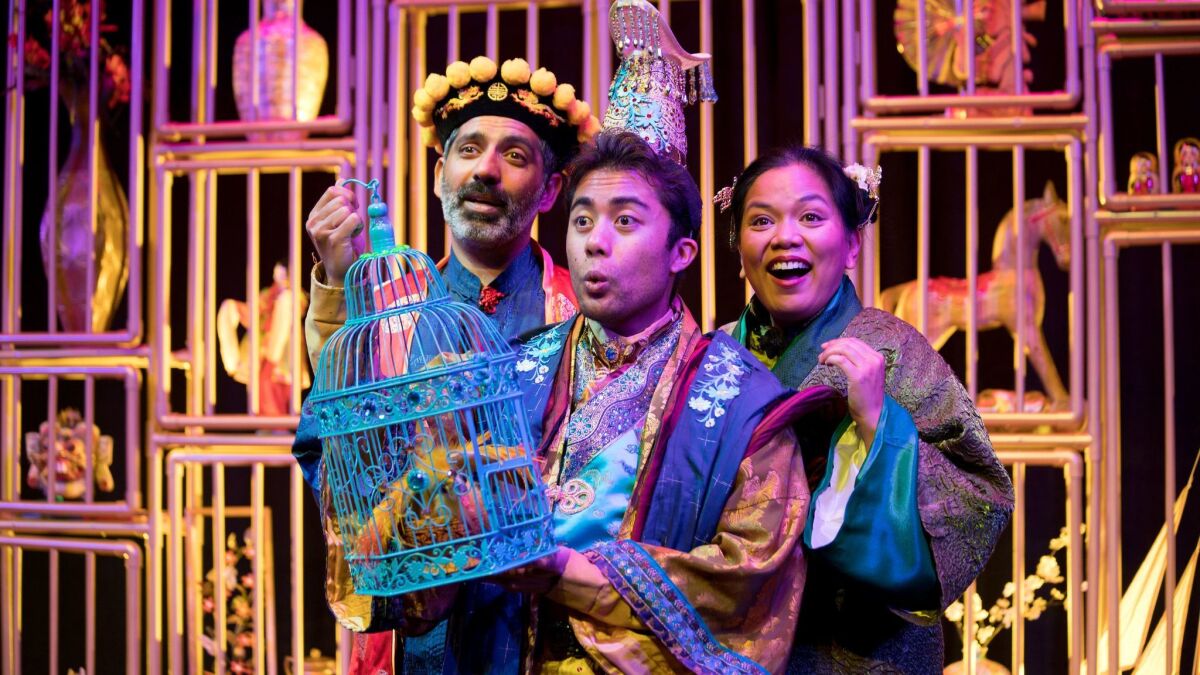 ---
The 99-Seat Beat appears every Friday. Our team of reviewers — people with more than 75 years of combined experience tracking local theater — shortlists current offerings at 99-seat theaters and other smaller venues. Some (but not all) recommendations are shows we've seen; others have caught our attention because of the track record of the company, playwright, director or cast. You can find more comprehensive theater listings posted every Sunday at latimes.com/arts.
Twitter: @darylhmiller
MORE THEATER:
Review: 'Aladdin' national tour at the Pantages
Temptations jukebox musical 'Ain't Too Proud' is coming to L.A.
---
Get our daily Entertainment newsletter
Get the day's top stories on Hollywood, film, television, music, arts, culture and more.
You may occasionally receive promotional content from the Los Angeles Times.