The 99-Seat Beat: History takes the stage with the HUAC era, the birth of diverse Boyle Heights and the makings of our fake-reality present
History figures prominently at Los Angeles' smaller theaters this weekend: a slice of L.A.'s past in "Remembering Boyle Heights"; the heated days of the House Un-American Activities Committee in "Finks"; and the early romance of Ronald and Nancy Reagan in "In a Booth at Chasen's"; as well as history in the making with John Fleck's nightmare of blurred reality in "Blacktop Highway."
'Finks' by Rogue Machine
What: The shadow of the House Un-American Activities Committee falls across the marriage of a rising comic and an actress-activist in early 1950s New York.
Why this? The husband and wife in Joe Gilford's "Finks" are fictionalized versions of his parents, Jack and Madeline Gilford. Jack you might remember as the originator of Hysterium in "A Funny Thing Happened on the Way to the Forum" and Herr Schultz in "Cabaret," or as Bernie Lefkowitz in the movie "Cocoon." Madeline also acted and, at the time they met, was organizing fundraisers for progressive causes. She raised money for global cooperation, fair labor, that sort of thing; certainly none of it communist, the younger Gilford says. A schism of belief is wider in the play than in real life, the Brooklyn, N.Y.-based playwright adds, but he wanted to show how the era could cause divides to gape open even within households. Most of all, he wants to convey the "fear and paranoia, betrayal and distrust, and the arbitrary absurdity" of the communist scare. "It was very Kafka-esque." The couple are portrayed in Rogue Machine's Los Angeles premiere by husband and wife French Stewart ("3rd Rock From the Sun") and Vanessa Claire Stewart (Keely Smith in the small-stage sensation "Louis & Keely: Live at the Sahara"). The staging is by Broadway/film/TV director Michael Pressman, a friend of the playwright's since boyhood and fellow child of the blacklist.
Details: Rogue Machine at Electric Lodge, 1416 Electric Ave., Venice. Opens Saturday. 8 p.m. Fridays, 3 p.m. Saturdays, 7 p.m. Sundays (some exceptions); ends Dec. 30. $40. (855) 585-5185, roguemachinetheatre.com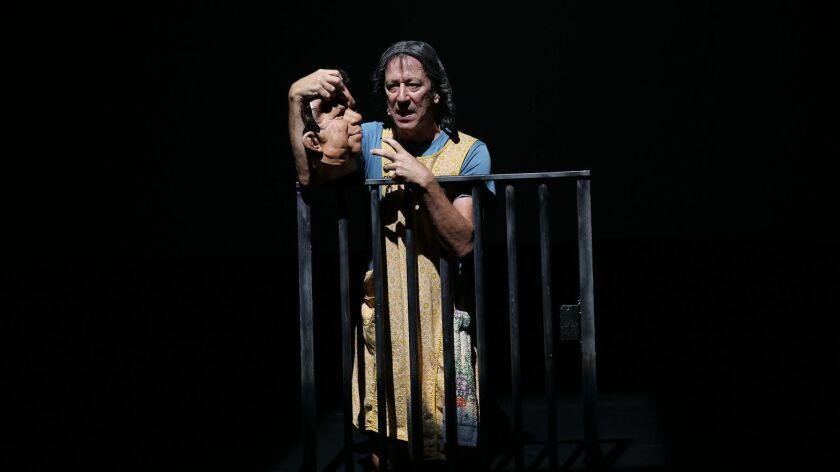 'Blacktop Highway' at the Odyssey
What: A house full of secrets; a stranger's knock at the door. You know what's ahead: horror. But because this is a solo show by John Fleck — a writer-performer with a singularly kaleidoscopic mind and chameleonic body — you won't be able to guess anything else.
Why this? With its interplay of live performance and video, "Blacktop Highway" is subtitled "A Gothic Horror Screenplayed on One Man's Body." Fleck portrays roughly a dozen humans, plus numerous animals, in a story about — as the Los Feliz-based performer puts it — "a peculiar family living along a highway in Maine" with "a lot of monsters in the closet." They're plenty scary, but the bigger horror might be the video, a looming presence that gradually threatens to swallow everything else. "We are so spiritually knee-deep in a fabricated reality," Fleck says, that "we don't know what's real anymore." Fleck's solo shows include "I Got the He-Be-She-Be's" and "Mad Women." You might also recognize him from TV, perhaps on "True Blood." Performed briefly at downtown's REDCAT in 2015, "Blacktop Highway" — running just more than an hour — returns in substantively evolved form and moves across town with longtime collaborator Randee Trabitz directing.
Details: A guest production at the Odyssey Theatre, 2055 S. Sepulveda Blvd., West L.A. 8 p.m. Fridays, Saturdays and Dec. 5 and 12, 2 p.m. Sundays (dark Thanksgiving weekend); ends Dec. 15. $17-$30. (310) 477-2055, Ext. 2; odysseytheatre.com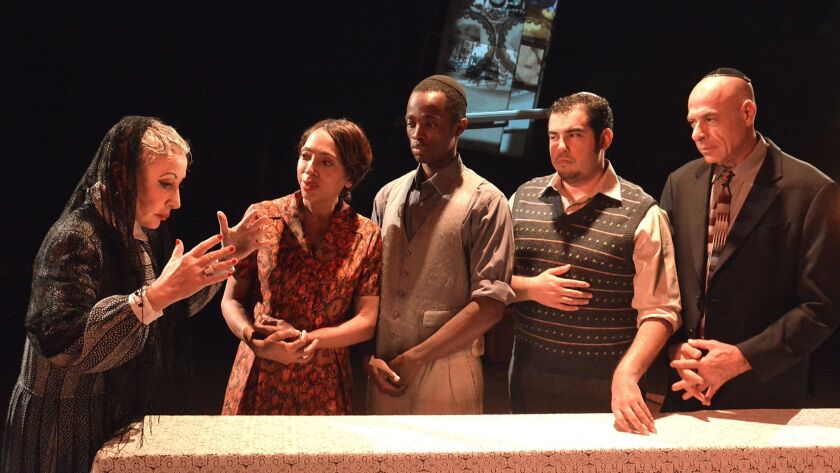 'Remembering Boyle Heights' at Casa 0101
What: Boyle Heights has long stood out among Los Angeles neighborhoods for its cultural diversity and artistic richness. A tour through time reminds us how this came to be.
Why this? "Remembering Boyle Heights" was collectively developed at the theater space Casa 0101 by "Real Women Have Curves" playwright Josefina Lopez, director Corky Dominguez and an 11-person acting ensemble chosen to reflect the neighborhood's diversity. Calling Boyle Heights "the Ellis Island of the West," Lopez, who is Casa's founding artistic director, puts particular emphasis on it as a place of openness in a past of housing covenants, when Latinos, Asians, blacks, Jews and others congregated there because they were barred elsewhere. "It put everyone together and made everyone equal, because they were being equally discriminated against, and that created this incredible tolerance and bonding," she says. Lopez, who grew up there, worries that the neighborhood's unique bonds are being undone as gentrification prices out its historic communities. It is, she says, "an erasure of a very colorful neighborhood." Casa 0101, a community resource since 2002, faces its own struggle for existence, but with support from an ongoing fundraising campaign, programming is scheduled into July, Lopez says.
Details: Casa 0101, 2102 E. 1st St., Boyle Heights. 7:45 p.m. Fridays and Saturdays, 4:45 p.m. Sundays (dark Nov. 23); ends Dec. 16. $15-$20. (323) 263-7684, casa0101.org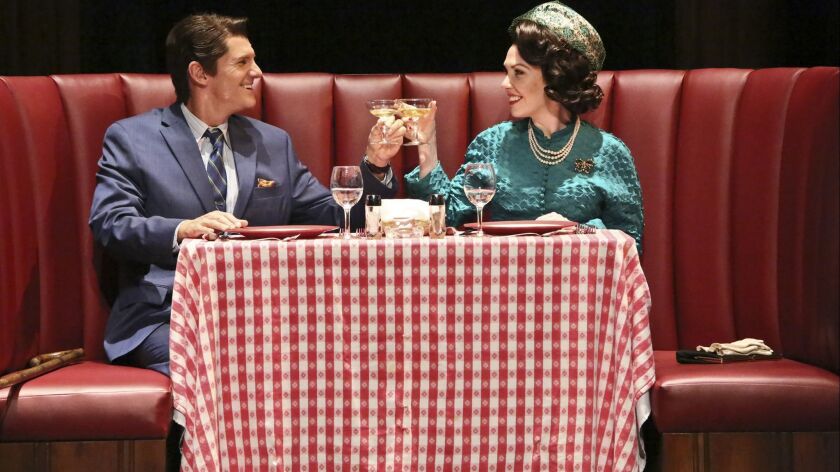 'In a Booth at Chasen's' at the El Portal
What: Who knows where romance will lead? The White House, perhaps? "In a Booth at Chasen's" begins with a 1949 blind date between an emerging actress and the divorced movie-star president of the Screen Actors' Guild. That means, of course, that this is the story of Nancy and Ronald Reagan.
Why this? The creative team behind this new musical includes Al Kasha, who wrote a campaign song for Reagan and became friendly with the couple. He and co-songwriter Phil Swann envisioned the show — with Sam Bennett writing the book — as a portrait of a smoothly functioning, productive partnership. "Nancy believed in him," Kasha says. Together, the Reagans became more than the sum of their parts. The show covers the 27 months of their courtship, which led to them being the sort of couple who, as Kasha recalls, "could finish each other's sentences." This sense of intimacy is reflected in the fact that the couple are the only characters, and the show runs just 90 minutes. The music has a late-1940s flavor. Kasha is a two-time Academy Award-winner for songs. Kay Cole directs the show, which is presented in the 360-seat main-stage theater at the El Portal.
Details: El Portal Theatre, 5269 Lankershim Blvd., North Hollywood. Opens 5 p.m. Sunday. 8 p.m. Fridays, 3 and 8 p.m. Saturdays, 3 p.m. Sundays (plus varied other times); ends Nov. 25. $24-$74. (818) 508-4200, inaboothatchasens.com
The 99-Seat Beat appears every Friday. Our reviewers shortlist offerings with an emphasis on smaller venues. Comprehensive theater listings are posted every Sunday at latimes.com/arts.
Twitter: @darylhmiller
---
Your essential guide to the arts in L.A.
Get Carolina A. Miranda's weekly newsletter for what's happening, plus openings, critics' picks and more.
You may occasionally receive promotional content from the Los Angeles Times.