New in L.A. theater: Liberal politics, heavy metal and an Asian 'Mamma Mia!'
If it's not one thing, it's your mother — a bit of bumper sticker wisdom, perhaps, but on the heels of Mother's Day it's an apropos adage for three of this week's selections from Southern California's smaller stages: IAMA Theatre Company's "Mama Metal," East West Players' "Mamma Mia!" and L.A. Theatreworks' "Die Mommy Die." First, though, we'll start with the story of middle-aged friends confronting the limits of their liberal values.
'At the Table' at the Road Theatre
The essentials: Close-knit thirtysomethings find their open-mindedness unraveling when they allow a newcomer on one of their weekend country retreats. Alcohol and other inebriants fuel the confrontations in the L.A. premiere of Michael Perlman's provocative 2015 play.
For the record:
1:50 p.m. May 17, 2019An earlier version of this article misidentified Justin Okin as Ray Paolantonio in a photo caption for "At the Table."
Why this? Starting with an argument over whether men should have a "place at the table" in debating abortion rights, Perlman's witty, realistic portrait peels away politeness and diplomacy to expose raw, difficult truths. Actor-director Judith Moreland's staging for the Road Theatre is well-suited to the company's proven facility with charged topics.
Details: The Road Theatre on Lankershim, 5108 Lankershim Blvd., North Hollywood. 8 p.m. Fridays and Saturdays, 2 p.m. Sundays, through July 7. $34. (818) 761-8838, roadtheatre.org
'Mama Metal' in Atwater Village
The essentials: In this meta-theatrical deconstruction of a mother-daughter relationship like no other, Sigrid Gilmer's raucous, semi-autobiographical new surreal comedy leapfrogs through efforts by her stand-in narrator (Courtney Sauls) to separate herself — and even her memories — from her domineering mom (Lee Sherman). In a dreamlike, hilariously self-reflective odyssey, Gilmer scrambles the three formative pillars of her identity: her mom, heavy metal music (personified by her imaginary band Demonic Afterbirth), and the American theater (with guest appearances by the great "mama drama" playwrights Eugene O'Neill and Tennessee Williams).
Why this? Gilmer declares at the play's outset that she refuses to offer easy catharsis or glib takeaways. She is part of a generation of African American playwrights exploring bold new stage possibilities, demonstrating command of theatrical rules and conventions even as they're gleefully breaking them.
Details: An IAMA Theatre Company production at Atwater Village Theatre, 3269 Casitas Ave., Los Angeles. In previews now, opens May 23. Performances 8 p.m. Fridays-Saturdays, 7 p.m. Sundays, through June 23. $40. 323-380-8843, iamatheatre.com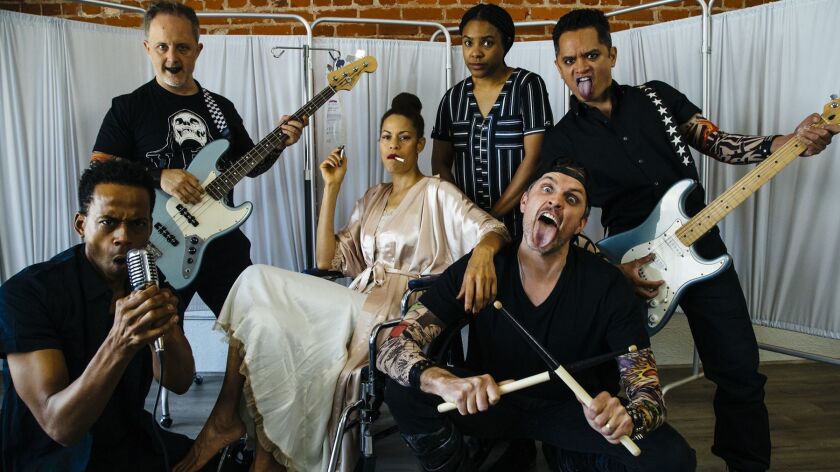 'Mamma Mia!' at East West Players
The essentials: In a lighter maternal key, East West Players revives the jukebox musical "Mamma Mia!" with a seasoned Asian American cast helmed by company Artistic Director Snehal Desai. Infectious disco-era hits by ABBA's Benny Andersson and Björn Ulvaeus propel Catherine Johnson's breezy story about a mom's free-spirited past that's left unresolved the question of her daughter's paternity, leaving three possible candidates to walk the bride-to-be down the aisle.
ONSTAGE: Last week on the 99-Seat Beat »
Why this? East West Players has opened doors for theater artists of color since 1965, building a track record of producing classic plays, musicals and new works with nontraditional casting. "Mamma Mia" is a slam-dunk.
Details: An East West Players production at David Henry Hwang Theater, 120 Judge John Aiso St., Los Angeles. 8 p.m. Thursdays-Fridays, 2 and 8 p.m. Saturdays, 2 p.m. Sundays, through June 9. $50-$75. (213) 625-7000, eastwestplayers.org
'Die Mommie Die' at L.A. Theatreworks
The essentials: L.A. Theatreworks presents Charles Busch's campy homage to "psycho-biddies" of 1960s low-budget movie melodramas that marked the last career gasps of Joan Crawford, Bette Davis, Lana Turner and other divas. Think "Whatever Happened to Baby Jane?" or "Die! Die! My Darling!" laced with over-the-top "Electra"-fying hysteria worthy of Sophocles.
Why this? Revised by Busch for LATW's radio broadcast format with additional dialog, this limited run features the author in full cross-dressing regalia, reprising his stage and film role as the homicidal has-been pop star-from-hell who terrorizes her equally damaged family. Also performing is Mark Capri, who costarred with Busch in the play's first production in 1999 at L.A.'s Coast Playhouse. Another original cast member, Carl Andress, directs.
Details: An L.A. Theatreworks production at James Bridges Theatre, 235 Charles E. Young Drive, Los Angeles. 8 p.m. Friday, 3 and 8 p.m. Saturday, 4 p.m. Sunday. Ends Sunday. $45-$65. (310) 827-0889, latw.org
The 99-Seat Beat appears every Friday. Our writers shortlist offerings with an emphasis on smaller venues. Some recommendations are shows we've seen; others are based on the track record of the company, playwright, director or cast.
The best way to support coverage of local theater is to become a digital subscriber and to read our news and reviews at latimes.com/arts.
---
From the Oscars to the Emmys.
Get the Envelope newsletter for exclusive awards season coverage, behind-the-scenes stories from the Envelope podcast and columnist Glenn Whipp's must-read analysis.
You may occasionally receive promotional content from the Los Angeles Times.