The 99-Seat Beat: 'Mulatto Love Child,' 'Deathtrap' and more on L.A.'s intimate stages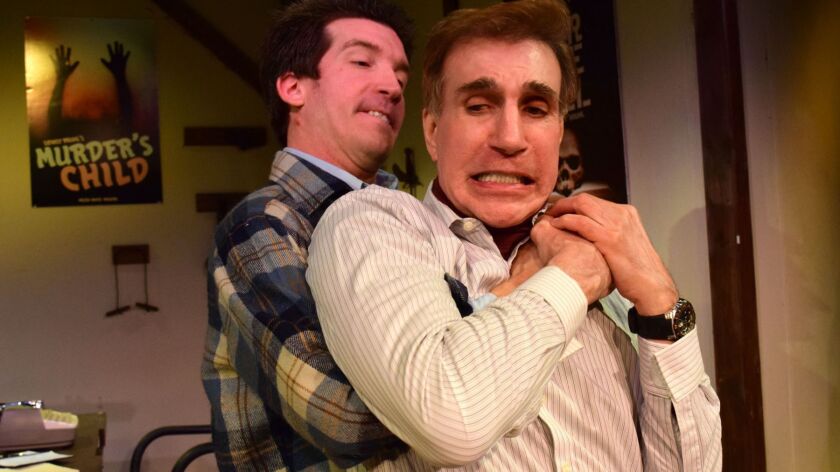 Being where you're not supposed to be, seeing what you're not supposed to see, hearing people say what they're not supposed to say — the threat and thrill of transgression can give so much power to live theater.
This week on L.A.'s intimate stages, actress Bellina Logan talks about growing up biracial in "Confessions of a Mulatto Love Child." Claire Booth Luce's modern classic "The Women" invades a vintage clothing store in Burbank. Echo Theater Company's "What Happened When" immerses the audience in the creepy action, and the Group Rep revives "Deathtrap," a play that uses every trick of stagecraft to keep its audience in the dark.
---
'Mulatto Love Child' at the LGBT Center
The essentials: Bellina Logan, whose TV roles have included Nurse Kit on "ER" and Fiona on "Sons of Anarchy," shares stories about her mixed-race parents and her tumultuous relationship with her eccentric mother.
Why this? Jon Imparato, director of cultural arts at the Los Angeles LGBT Center, encountered Logan's solo show at last year's Hollywood Fringe Festival and decided that it needed a wider audience. As he explained by email, "'Confessions of a Mulatto Love Child' really spoke to me. It is very funny and very moving at the same time — a real achievement in a solo play — and Bellina Logan's shape-shifting reminded me of Lily Tomlin's work in 'The Search for Signs of Intelligent Life in the Universe.'"
Details: Los Angeles LGBT Center's Davidson/Valentini Theatre, 1125 N. McCadden Place, Hollywood. Check website for schedule. $20. (323) 860-7300, lalgbtcenter.org.
---
'The Women' at Pinup Girl Boutique
The essentials: In 1936, Claire Booth Luce's comedy of manners "The Women" was the first play on Broadway with an entirely female cast. A giant leap for womankind? Well …
Luce's vain, bored, backstabbing Manhattan socialites make the loopiest contestants on "The Bachelor" look staid and levelheaded. "A conclave of all the hell-hags" is how the New York Times review described the original production's finale. In other words: Wheee! Archway Theatre Company has found an ingenious setting for this fashion-focused, fur-flying flame-fest: a vintage clothing boutique.
Why this? Have you ever wished you could buy the costume off an actress' back? The ensembles modeled by the 18-member cast — designed to evoke the 1960s, when Luce last updated her script — are available in a range of sizes, making for an evening of one-stop shopping-and-Schadenfreude.
Details: Archway Theatre Company at Pinup Girl Boutique, 3606 W. Magnolia Blvd., Burbank. 8 p.m. Fridays and Saturdays; ends April 21. $32. (818) 980-7529 or www.archwayla.com.
---
"What Happened When" at Echo
The essentials: Chris Fields puts the audience inches from the action in an immersive staging of Daniel Talbott's spooky memory play about three siblings snowed in at a farmhouse without electricity, hashing out the mysteries of their past by flashlight.
Why this? Fields and his team have a reputation for producing adventurous new work with strong casts, and Times theater critic Charles McNulty called Echo Theater "my go-to place in Los Angeles for symbiotic ensemble acting." Talbott, a member of Rattlestick Playwrights Theater, is also the author of "Slipping," a gay coming-of-age story that generated buzz when it played in L.A. in 2013. Time Out Chicago praised an earlier production of "What Happened When" for its "air of Pinterian menace."
Details: Echo Theater Company, Atwater Village Theatre, 3269 Casitas Ave., Los Angeles. 8 p.m. Tuesdays-Thursdays; opens April 12 and ends April 26. $34. (310) 307-3753 or www.EchoTheaterCompany.com
---
"Deathtrap" at the Lonny Chapman
The essentials: The prolific veteran director Jules Aaron directs this revival of the comic thriller by Ira Levin, a master of ingenious stage plotting who also wrote novels ("Rosemary's Baby," "The Stepford Wives") that proved catnip to movie studios.
Why this? "Deathtrap" may have acquired a whiff of the attic since it premiered in 1978, especially in its daring-for-its-time but timid-in-retrospect use of homosexuality as a plot device. (In his 1982 film adaptation, Sidney Lumet added a fiery onscreen kiss between two men that, although it isn't in the original script, made its way into subsequent stage revivals. Levin's estate has since denied that he intended the characters to be lovers.) Still it's hard to beat this "real stage stunner," as the Guardian once described the Tony-nominated play, for edge-of-your-seat twists and turns that are best experienced live. As director Aaron puts it, "There are very few theatrical genres that are as frightening and titillating as the roller-coaster ride of the well-honed thriller."
Details: The Group Rep, Lonny Chapman Theatre, 10900 Burbank Blvd., North Hollywood. 8 p.m. Fridays-Saturdays, 2 p.m. Sundays; ends May 20. $25. (818)763-5990, www.thegrouprep.com
---
The 99-Seat Beat appears every Friday. Our reviewers shortlist offerings with an emphasis on 99-seat theaters and other smaller venues. Some (but not all) recommendations are shows we've seen; others have caught our attention because of the track record of the company, playwright, director or cast. Comprehensive theater listings are posted every Sunday at latimes.com/arts
See all of our latest arts news and reviews at latimes.com/arts.
MORE THEATER:
2018-19 season preview for the Taper and Kirk Douglas
---
Inside the business of entertainment
The Wide Shot brings you news, analysis and insights on everything from streaming wars to production — and what it all means for the future.
You may occasionally receive promotional content from the Los Angeles Times.