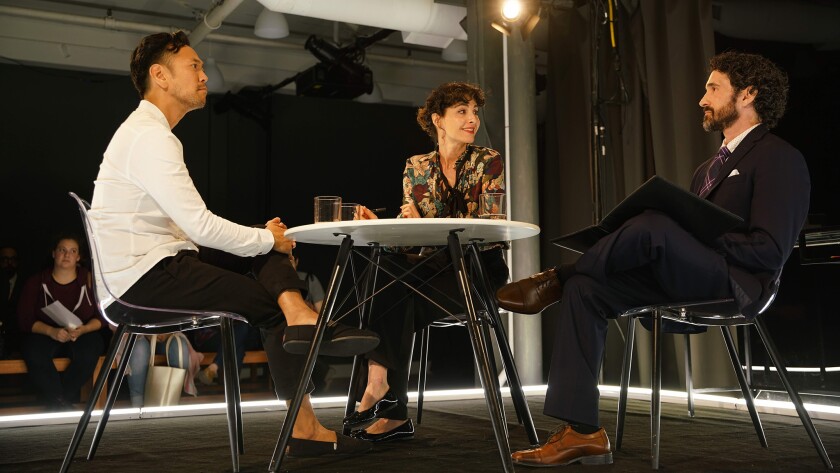 The immersive theater piece "Caught" plays out in a downtown L.A. art gallery. IAMA Theatre's "Redline" and "Sinner's Laundry" feature some familiar TV faces. "The Red Dress" unfolds as a multimedia period piece at the Odyssey, while pay-what-you-want Coeurage Theatre mounts Mary Zimmerman's "The Secret in the Wings." It's a busy time for L.A.'s smaller stages. Here are our weekly recommendations:
---
1. 'Caught' at Think Tank Gallery
The essentials: This immersive experience is performed at a downtown art gallery: What begins as an exhibition opening and lecture by a prominent Chinese dissident artist undergoes multiple assumption-busting reversals that ultimately call into question the very nature of objective perception.
Why this? For this first environmental staging of Christopher Chen's 2016 Obie award-winning brain teaser of a play, interactive theater specialist Ed Sylvanus Iskandar collaborated with local stage performers and designers, visual artists and restaurateurs. They use different parts of the gallery for the major plot twists. (And the drinks and hors d'oeuvres are real.)
Details: A Firefly Theater & Films, Vs. Theatre and Think Tank Gallery co-production at Think Tank Gallery, 939 Maple Ave., Los Angeles. 7:30 p.m. Thursdays through Sundays, ends Dec. 10. $45-$80. thinktank.gallery
---
2. 'Redline' and 'Sinner's Laundry' at Lounge Theatre
The essentials: Two premiering plays on the theme of penitence and redemption are running in repertory. "Redline" is a tense, tautly written two-hander by Christian Durso in which road rage and testosterone fuel the combustible reunion of an estranged father and son. "Sinner's Laundry," John Lavelle's existential sci-fi comedy, is set in a women's prison after the inexplicable mass disappearance of most of its population, leaving two leftover inmates locked in a rec room trying to make sense of their crimes, predicament and possible salvation. (Picture "Orange Is the New Black" meets "No Exit.")
Why this? Now in its 10th year, IAMA Theatre Company was founded by New York University Tisch School of the Arts graduates who've since gone on to Hollywood careers but never abandoned their commitment to professional, contemporary "theater for the streaming generation." "Sinner's Laundry" features Christine Woods of the late HBO series "Hello Ladies," and "Redline" stars James Eckhouse, whom nostalgic Gen-Xers will remember as dad Jim Walsh on "Beverly Hills, 90210."
Details: Lounge Theatre, 6201 Santa Monica Blvd., Los Angeles. Running in repertory through Nov. 19. $30. (323) 380-8843, www.iamatheatre.com
---
3. 'The Red Dress' at the Odyssey
The essentials: Set against the social and political turmoil of 1930s Germany, this star-crossed love story about a prominent Jewish actress, a rising German film director and a Nazi officer draws on the experiences of playwright Tania Wisbar's parents.
Why this? One of a vanishing breed of small-theater offerings produced under the Actors' Equity 99-Seat contract, the staging employs extensive multimedia elements to enhance the authenticity of personal history with stills, newsreels, newspapers, speeches and archival footage.
Details: An Argyle Road Productions presentation at Odyssey Theatre, 2055 S. Sepulveda Blvd., Los Angeles. 8 p.m. Fridays and Saturdays, 2 p.m. Sundays; ends Nov. 19. $30. (323) 960-5521, www.Plays411.com/reddress.
---
4. 'The Secret in the Wings' at Lankershim
The essentials: Playwright Mary Zimmerman blurs the boundaries between nightmares and reality in this descent through a series of nested stories-within-stories. A sinister babysitter with a tail plies a captive child with four unsettling tales adapted from the more obscure annals of European folklore.
Why this? Zimmerman is known for inventively adapting mythology and fairy tales to modern sensibilities. (Her memorably stylish water-themed "Metamorphoses" rippled across the Mark Taper stage in 2000.) The ambitious Coeurage Theatre Company regularly exceeds the standards and expectations that its populist pay-what-you-want ticket model might suggest.
Details: Lankershim Arts Center, 5108 Lankershim Blvd., North Hollywood. 8 p.m. Thursdays, Fridays and Saturdays from Nov. 11 to Dec. 16. Also 8 p.m. Nov. 22, dark Thanksgiving. (323) 944-2165, www.coeurage.org/sitw.
---
The 99-Seat Beat appears every Friday. Our team of reviewers, who have more than 50 years of combined experience tracking local theater, shortlist current offerings at 99-seat houses and other small venues. Some (but not all) recommendations are shows we've seen; others have caught our attention because of the track record of the company, playwright, director or cast. You can find more comprehensive theater listings posted every Sunday at latimes.com/arts.
SIGN UP for the free Essential Arts & Culture newsletter »
See all of our latest arts news and reviews at latimes.com/arts.
MORE THEATER:
Review: 'Yohen' with Danny Glover
Review: 'Underneath the Lintel' with Ayre Gross
Review: A gripping 'Taking Sides' at the Rubicon
Carrie Coon: At the top of her game
Review: A devastating revival of August Wilson's 'Gem of the Ocean'
Review: 'Bright Star' at the Ahmanson
Review: Immersive ghost stories in 'Kaidan Project'
Review: 'Resolving Hedda' at the Victory in Burbank
---
UPDATES:
For the record
10:25 a.m.: This article was corrected to say Christine Woods, not Courtney Sauls, starred in "Hello Ladies." Also, Woods' current production is "Sinner's Laundry" and James Eckhouse's current production is "Redline"; their respective titles had been transposed.
12:30 a.m.: This article was updated to reflect new ticket pricing for "Caught"
---