Review: 'Gem of the Ocean' at South Coast Rep: August Wilson provides ritual healing in a devastating revival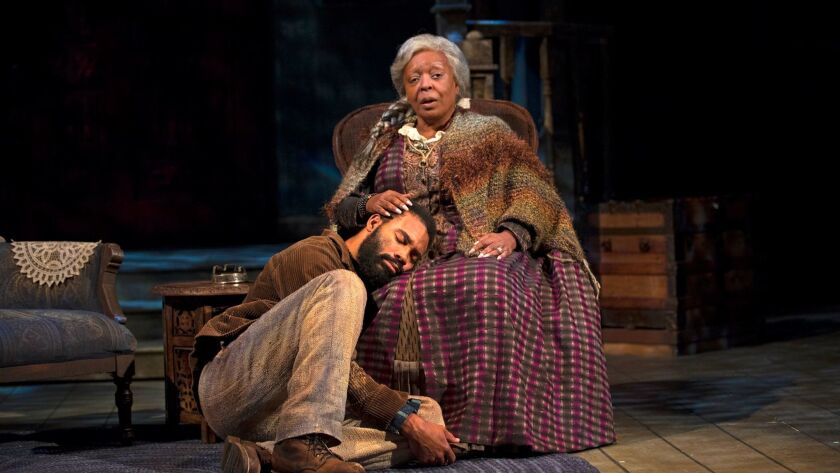 Theater Critic
"Gem of the Ocean" may not rank at the top of August Wilson's plays, but anyone doubting the soul-shaking power of this drama should brave Orange County traffic to see this wrenching new revival at South Coast Repertory.
Many will remember the 2003 Mark Taper Forum production that moved the following year to Broadway (where I first saw it), earning Phylicia Rashad a Tony nomination for her seismic performance as Aunt Ester, the former slave who is making the most of her freedom as a gatherer of strays and cleanser of souls. L. Scott Caldwell is just as memorable in the role, which she makes completely her own in Kent Gash's folksier staging.
As with nearly all the works in the playwright's 10-play cycle, "Gem of the Ocean" is set in Pittsburgh's Hill District. The year is 1904. The play was written after the indisputable masterpieces "Fences" and "Joe Turner's Come and Gone," but it occupies the first slot in Wilson's decade-by-decade exploration of 20th century African American life.
Slavery is still a living memory for the characters. Solly Two Kings (the astounding Cleavant Derricks), Ester's devoted suitor, carries with him a piece of the chain that used to be around his ankle. A former Underground Railroad conductor, he is looked down upon by some for peddling fertilizer he obtains by picking up after dogs, but he carries himself with the ferocious dignity of a freedom fighter.
The play is about the unfulfilled promise of emancipation and the struggle, both internal and external, to press forward in the cause of social justice. Citizen Barlow (Preston Butler III), an anxious young man from Alabama, arrives at Ester's doorstep after being told that this is where people come when they need their souls washed. Burdened by criminal guilt, he continues to wait outside even after Eli (Matt Orduña), the sentinel of Ester's "peaceful" house, tells him to call again in a few days' time.
"Gem" is closest in situation to "Joe Turner's Come and Gone," another drama about a broken wanderer in need of mending before he can be placed on the path of an awakened life. The community of characters drawn to Ester's place of refuge includes Black Mary (Shinelle Azoroh), who tends to the cooking and the housekeeping, and Rutherford Selig (Hal Landon Jr.), a white traveling peddler who soaks in the hospitality.
Caesar (Arnell Powell), Black Mary's fiery brother, is a local constable who takes great pride in brutally enforcing the law. His name tells you all you need to know about his relationship to power. When he darkens Ester's door, the household stiffens. He claims to stand against crime and chaos, but his method of justice is its own form of violence.
Uproar at the local mill has Caesar on the lookout for trouble. A man unjustly accused of stealing a bucket of nails drowned himself in the river rather than spend time in jail, and the workers are threatening to strike in protest. Citizen, whom Ester has taken in as a boarder, listens anxiously to the news. Suspicious of strangers, Caesar grills the newcomer on his means of employment, but doesn't yet know that Citizen, whose name his mother bestowed to commemorate freedom, had a role in the turmoil at the mill.
Wilson is what I'd call a wisdom writer. His plays are so rich in human experience and so profound in the connections they draw between the private and the public, the past and the present and the psychological and the spiritual that they can't help speaking to us as a moral guide.
Ritual is central to Wilson's playwriting: His dramas record the routines and manners of a culture typically shown in secondary relationship to white society. In "Gem," a theatrical ceremony resembling a sacrament is performed to cleanse Citizen's soul. Ester, who has an intuitive grasp of what those around her need to evolve, gathers her troops to take this lost young man, who reminds her of her dead son, on a mystical sea voyage to the City of the Bones, where their ancestors lie.
On an envisioned ship called the Gem of the Ocean, Citizen relives the trauma of the Middle Passage. Ester is establishing his place in history and giving him the opportunity to discover something at the center of his life beyond the crime that weighs so heavily on his conscience. She helps him expiate his guilt by contextualizing it in the story of his people.
In a voice that resounds like a prophet's, Caldwell's Ester leads Citizen back in time to the bottom of the sea and from there to the root of his spiritual being. Her power is boosted by the presence of Derricks' Solly, whose voice echoes down the corridors of history with the sound of divine reckoning. (Derricks, who also serves as the production's music director, speaks in a kind of rousing religious song.) The priestly ministrations of these two unforgettable performers compel every audience member to undergo Citizen's journey.
Gash's staging, which incorporates distractingly contemporizing projections between scenes, has a few weaknesses. Azoroh can seem disengaged in the early going, but she comes alive as Black Mary's anger rises. And there were moments when I doubted whether Butler possessed the gravity needed to bring Citizen fully to life, though he ultimately succeeds through the strength of Wilson's writing and the intensity of the other actors.
Although the exposition can seem lumpy at times, the play here convinces as both realism and allegory. Powell's Caesar is a believably formidable foil, and the character relationships, a reflection of the connections among cast members, deepen over time.
Wilson's words call us to a higher accounting of what is true and just. "What is your life worth, Mr. Citizen?" Ester thunderously asks. "That what you got to find out. You got to find a way to live in truth."
"Gem of the Ocean" exhorts us to meet the responsibility of truth that citizenship demands — a message that has only grown in urgency since Wilson wrote this grandly ambitious, devastatingly moving play.
♦ ♦ ♦ ♦ ♦ ♦ ♦ ♦ ♦ ♦
'Gem of the Ocean'
Where: South Coast Repertory, 655 Town Center Drive, Costa Mesa
When: 7:30 p.m. Tuesdays-Thursdays, 8 p.m. Fridays, 2:30 and 8 p.m. Saturdays, 2:30 and 7:30 p.m. Sundays; ends Nov. 11
Tickets: $31-$83
Info: (714) 708-5555 or www.scr.org
Running time: 2 hours, 45 minutes
SIGN UP for the free Essential Arts & Culture newsletter »charles.mcnulty@latimes.com
Follow me @charlesmcnulty
MORE ARTS NEWS AND REVIEWS:
'Bright Star' at the Ahmanson: Bluegrass, tears and a big, vacuous smile
A masterpiece painting, missing for a century, is hiding somewhere in L.A.
Carrie Coon, at the top of her game, returns to the stage where it all began
Tony winner Tonya Pinkins, back onstage with a story of gun violence and mother's loss
---
The complete guide to home viewing
Get Screen Gab for weekly recommendations, analysis, interviews and irreverent discussion of the TV and streaming movies everyone's talking about.
You may occasionally receive promotional content from the Los Angeles Times.